Alderman Eva Oosters: 'Utrecht's nightlife deserves a boost'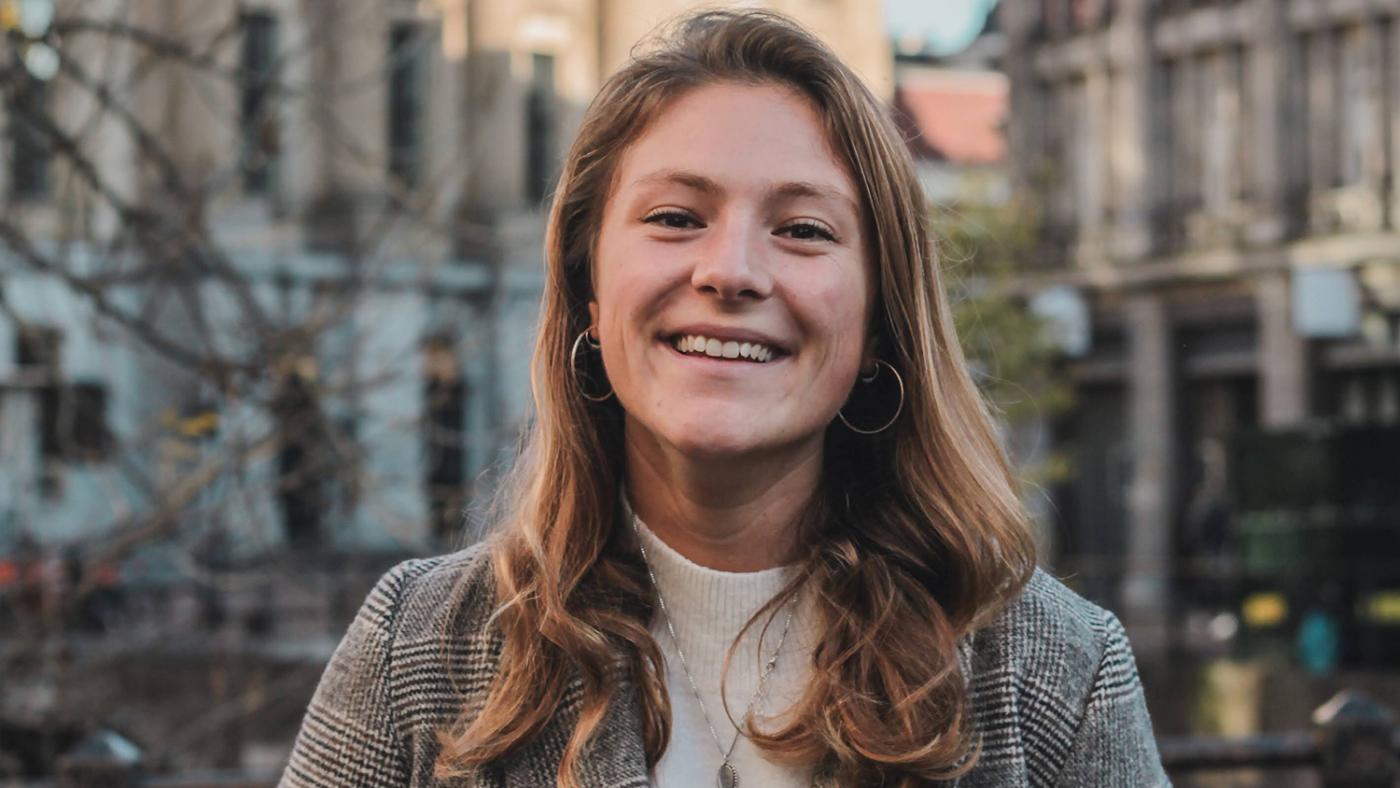 Photo: Mila Bertens
Her age occasionally leads to bitter remarks: youngster, little life experience, no cv. But that doesn't bother her. "No, it doesn't keep me up at night."
The prospective councilor's life has been a whirlwind lately. The business and the tension already started with the exploratory talks back in March, in which she participated together with Student & Starter party leader Esma Kendir. Roel van Gurp lead these exploratory talks, and later concluded that Student & Starter, GroenLinks, D66, PvdA and ChristenUnie would go together well in a coalition. With that news, the opportunity to become councilor became a reality for Oosters, who was officially nominated by her party at the end of May.
Oosters started studying Law at Utrecht University in 2015. Two years later, she also started a Bachelor's in History. Not because only one study bored her, she says, laughing, but rather because the honours program she pursued as part of her Law studies gave her the opportunity to visit courthouses and companies. Oosters loved this, but generally her Law studies did not always garner her enthusiasm. However, she has always thought history a fun and interesting field, which bolstered her to pursue it also.
Oosters is currently a Master's student Law and Politics of International Security in Amsterdam. She still has to write her final thesis, but she has been too busy lately. A few weeks ago she was finally able to speak with her supervisor, with whom she has agreed to work on her final chapter as much as possible until she is sworn in on June 9th. Oosters wants to finalize the thesis in her Summer holidays. The city government will start work on June 10th.
Drama school
Oosters came quite close to never starting at university at all. She doubted whether to go to drama school instead. "From primary school onwards I acted and did theatre. But the choice was made for me: I was not accepted at drama school, but I was able to go to university." Now, she has left her acting amibitions behind.
Before that, however, she played a few parts in tv series. In the first two years of secondary school, she starred in the youth series VRijland, which was broadcast daily. She was one of the three main characters and used to be a bit of a child star, she reluctantly admits. She played supporting roles in police series Moordvrouw and Flikken Maastricht. Aside from that, she was an extra in the short film Daniël, which was shown at the Dutch Film Festival in 2012.
She has been living in Utrecht since she first started at the UU, and used to be an active member of study association Sirius. She took part in committees, and in her second year she spent a year on its board. She also rowed at Triton, but mainly for fun: "We had a great time." A close-knit friendship group has formed as a result of her rowing days and her team, which consists of eight women, dines together every week. "I hope I will be able to continue doing that."
Candidate list
During her student days, at the end of 2017, she started looking for a political party that fit with her values. She found Student & Starter, and applied to become a candidate expecting to end up as number twenty on the list. "I would definitely have been active in help with the campaign, but instead I ended up becoming the number two. When we won two seats, I was suddenly part of the municipal council", she recounts enthusiastically.
As a 25-year-old, she is the youngest known councilor ever appointed in Utrecht. Her age occasionally leads to bitter remarks: 'youngster sits on Utrecht's municipal seat', wrote de Volkskrant in an interview. She was called vulnerable by the Utrecht edition of the AD due to her lack of life experience and extensive cv. There would be a 'risk of failure'.
"That doesn't trouble me", the upcoming councilor says matter-of-factly. She thinks it is logical that her age is a topic of conversation. "A point can be made about my lack of governing experience, but that also applied to other councilors. It is logical that it takes people aback a bit. What is happening? Is that allowed? But I have received a lot of positive responses from people who know me personally and as a council member. I feel very supported by that. No, it doesn't keep me up at night."
Young generation
In the same AD article her proud father, the King's Commissioner in Utrecht Hans Oosters, says her age is an advantage as it means that she is often surrounded with young people. She can then represent them in the municipal council. Oosters agrees with this. "I think it is good that a young person sits on the council, as they would bring in new ideas, which may lead to a different way of governing."
She continues, with self-awareness: "I think a breath of fresh air is good for any organisation, and I hope I get to bring that the next four years."
Night life
She will start with her portfiolio, which consists of culture (events included), sports, participation, environment and emissionless transportation. For each subject, she will be able to speak for half an hour on her goals and commitments. Student & Starter, in the meantime, has been succesful in getting more housing for young people. Their newest achievement is that it will become easier for three young people to rent a house. Up till now, this has been almost impossible due to the expensive permits that are needed.
"That is part of the new coalition agreement", Oosters says. Together with party leader Esma Kendir, Oosters managed this feat during the talks with the other parties. Student & Starter has also made sure that there is more focus on mental health, especially for young people. Oosters: "Utrecht's night life could also do with a push in the right direction. We have made plans and are able to finance them. We would love to see night life at the edges of the city thrive, so that the city centre will experience fewer disturbances. That is part of my culture portfolio, and I will be busy achieving it."
This article was previously published in Trajectum, the independent news medium for University of Applied Sciences Utrecht
Advertisement