Are you our 2022 campus columnist?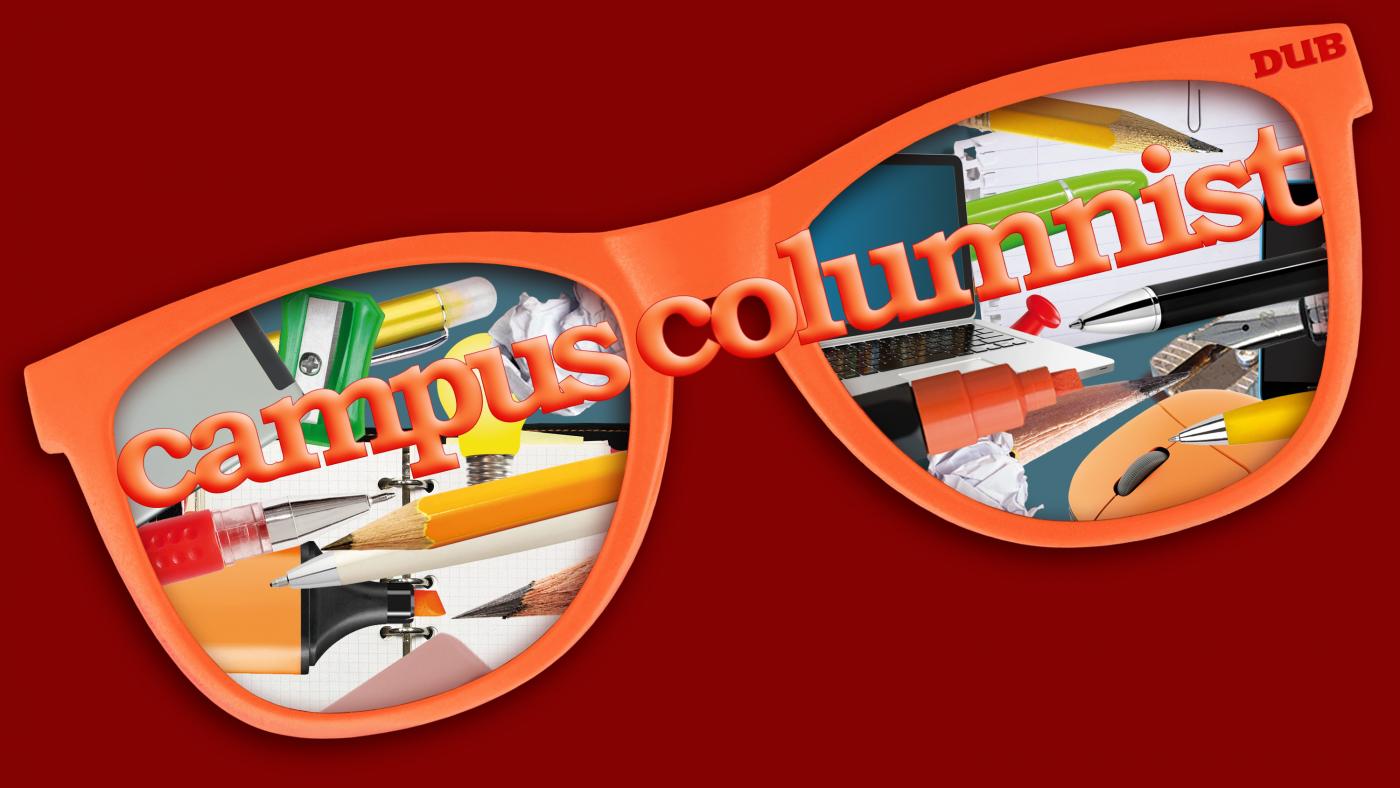 Photo: Shutterstock, illustration DUB
All students and employees of Utrecht University are eligible to enter the competition for the title of DUB's Campus Columnist in 2022. The winner will write a column for us every two weeks, starting in January. The columns can be written in either Dutch or English.
The campus columnist writes about topics related to the university or student life in Utrecht, offering a unique perspective. The jury is looking for someone who has a way with words. Wit is also highly appreciated. "The first and last sentences of a column are often the most important ones. Write smooth-running sentences and don't use overly intellectual language," advise the jury members. The campus columnist is encouraged to take a stand about current topics, making a clear statement in their columns. Preferably a statement that reflects on academia in a surprising, titillating way.
Wondering what you can write about? Here are a few examples: going back to campus after all the Covid lockdowns, social norms within student associations, students feeling lonely or depressed, the struggle to find a place to live, student debt, or the obstacles encountered when trying to write a thesis. Teachers' heavy workloads, working remotely or on campus, hybrid classes, creating a safe environment at the university, sustainability at the university, solidarity between students and teachers, bureaucratic nightmares when applying for a research grant, and student stress are also potential topics.
The jury will receive anonymised versions of the columns, which means they will not know who wrote them or whether the author is a student or staff member.
Personal feelings
The 2022 Campus Columnist will succeed the current two campus columnists, Sophie Hudson and Lili Szarvas.
Sophie studies at University College Utrecht (UCU). In her columns, written in Dutch, she's usually very open about her feelings. For example, Sophie has recently wrote about how the summer of 2021 was supposed to be her 'Hot Girl Summer' but ended up being a time in which she didn't feel hot at all, and the weather was far from summery. Her column about sex toy Satisfyer Pro, in which she discusses the emancipatory side of women's masturbation, caused quite a stir.
Lili is a Media & Culture student from Hungary. In her most recently column, Sea of Awkwardness, she describes the uneasy feeling of returning to university after all these months. Her style is poetic, full of creative metaphors. For example, she can make deep reflections on life inspired by something as simple as an omelette. Lili also draws her own illustrations to accompany her columns.
Three nominees
The jury will select three finalists, whose columns will be published on DUB later this year. The winner of the title of Campus Columnist 2022 will be announced at DUB's new year's party.  
The title of Campus Columnist comes with the Erik Hardeman stipend, worth 1,000 euros. For years, Hardeman wrote a weekly column titled Schreef for DUB's predecessor, U-blad. His columns talked about fraternities, the university board room, or the Institute of Raeto-Roman languages and cultures. Hardeman analysed the university life in an original way, with a little venom, but always with humour. After he left, DUB looked for a comparable, opinionated writer, to share their views on the university. That's how the Campus Columnist contest was born, in 2012.
Eligibility
All students and employees who are connected to Utrecht University on January 1, 2022 can participate. Students graduating in 2022 can participate as well.
How to participate
Send in two columns. They must contain surprising takes on university life and cannot exceed 500 words. Send the columns to m.j.agterberg@uu.nl before December 1st, 2021.
Who's in the jury
Once again, DUB has assembled a professional jury to judge all applications anonymously. It is composed of the following people:
-        Floris van den Berg is the most idiosyncratic Philosophy teacher at Utrecht University. He's connected to the Copernicus Institute for Sustainable Development. Van den Berg is not afraid of making firm statements about sustainability, animal ethics, and religion. He's written many books and columns, and has recently published a book titled Ask Me Anything, which stems from a project born in the classroom, in which he allowed his students to ask him literally anything. His list of published books also includes The happy vegan, The cheerful Atheist, and The Happy Nudist. He's also joined numerous TV shows, such as Rot op met je religie ('Bugger off with your religion', Ed), and The Halal Girls. Last but not least, Van den Berg has written several opinion pieces for DUB, covering topics such as meat consumption at the university.
-        Lisanne van Sadelhoff is a columnist for local newspaper AD Utrechts Nieuwsblad, as well as magazines Flair and Intermediair. Her AD columns talk about the city of Utrecht and how she experiences city life. Van Sadelhoff has earned national fame with her book You're young and you're grieving, which discussed how a young person deals with losing a loved one – in her case, her mother. She also works as a journalist for numerous media, like newspaper Volkskrant, TV show RTL Nieuws, glossy Linda, and in-depth journalism platform De Correspondent. Lisanne studied Dutch at Utrecht University.
-        Nina van der Bent has recently earned a Bachelor's degree in History & Philosophy from Utrecht University, and is now pursuing a Master's degree in Health Humanities at Tilburg University. In the past few years, Nina has written many columns for DUB, titled 'How do I survive…'. The things Nina has survived include annoying housemates and anxiety about the future.
-        Ries Agterberg, DUB's editor-in-chief, has studied Dutch at UU. He has published a number of books of poetry and a novella.
1,000-euro stipend
The campus columnist will receive the Erik Hardeman stipend worth 1,000 euros. In return, the campus columnist must write a column for DUB at least once every two weeks for one year.
Questions
Do you have any remaining questions about the position of campus columnist? Please send them to Ries Agterberg: m.j.agterberg@uu.nl.
Advertisement