'Being Jewish is not an issue at this university, thankfully'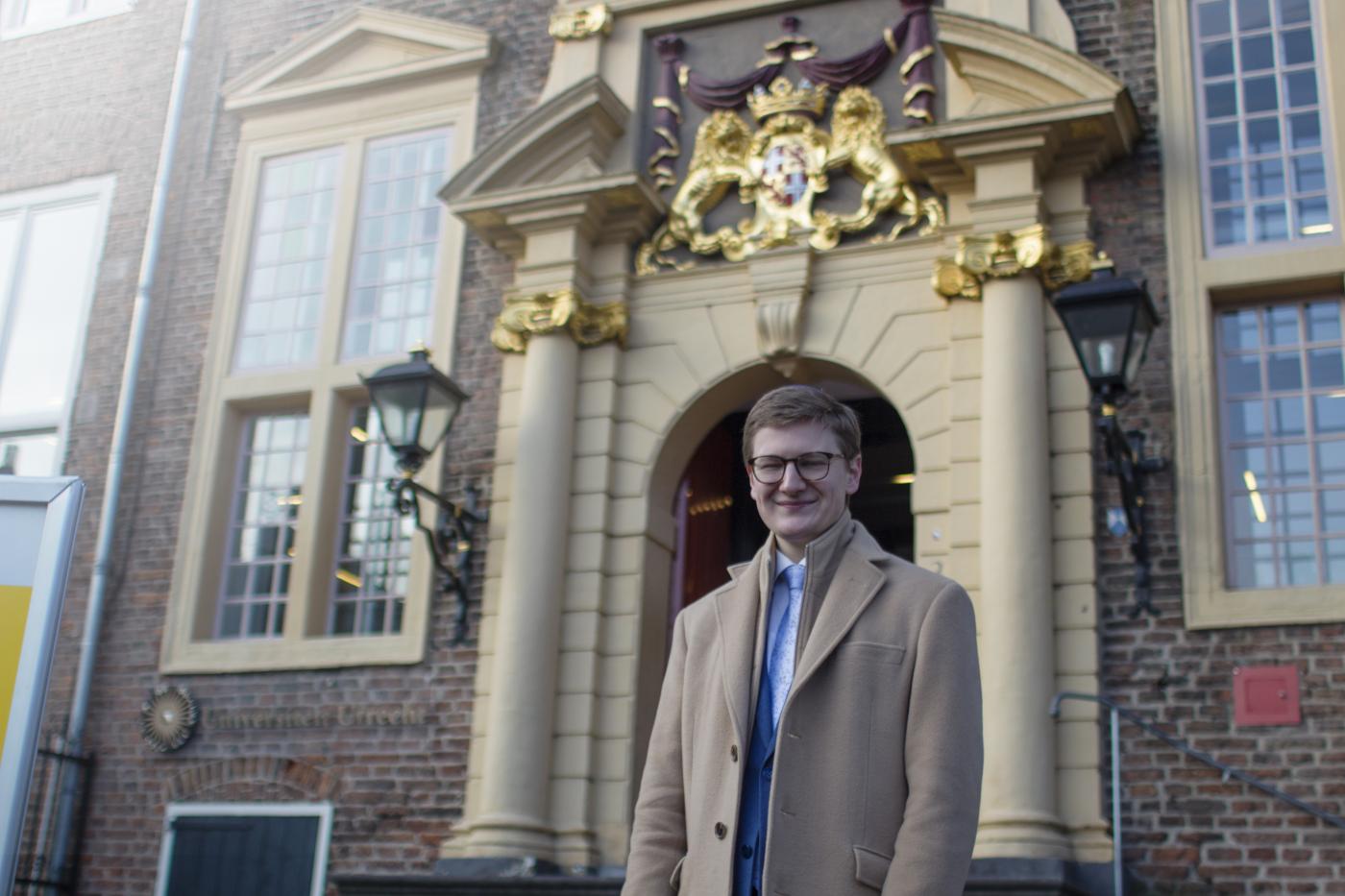 Foto: Simona Evstatieva
Squinting, twinkling eyes, and friendliness personified. For those who don't know any better, it's hard to imagine that Hidde van Koningsveld deals with threats almost daily, and files charges with the police several times a year. Still, that's exactly the case. It's all because of his work – he's policy officer at the Cidi (Centre for Information and Documentation Israel) – and his own, often provocative, Twitter behaviour.
To some, the fourth-year Law student is a Dutch poster boy for the ruthless Israel lobby. In a café in The Hague, Van Koningsveld – yarmulke on a somewhat elderly look, due to his neatly parted hair and jumper with button-down shirt over it – emphasises the independent and nuanced position the Cidi takes in matters relating to Israel. But he acknowledges that there's an ever-growing polarisation concerning the situation in the Middle East. "On social media, the tone gets intense rather quickly, of course. At the same time: there truly is a serious conflict going on. We note everything that's relevant. And reality can be ugly sometimes, unfortunately."
Reality can be ugly sometimes, unfortunately
Until around five years ago, there was nothing that suggested Hidde (23) would fight for the Jewish cause. He wasn't even Jewish. Neither was he ever a regular school pupil, however. One time, for instance, youth magazine Seven Days named him Youth of the Year (links in Dutch, ed.), because he'd made a number of videos that had gone viral, including one about Greek crisis migrants who complained about their stigmatisation in the Netherlands. DJ Martin Garrix was among the other nominees. Hidde, laughing: "Financially, he's done a bit better for himself later on."
Later, he was present at Humberto Tan's talk show because as a 16-year-old havo (secondary school) student, he'd declared his candidacy for mayor of Utrecht. "It was kind of a stunt to draw attention to the fact that the process of appointing a mayor is so utterly lacking in transparency. I like provoking people a little bit, doing crazy things. But I do want to make a point."
Oddly enough, the Law student is silent for a while when his conversion to Judaism in the past few years is mentioned. Even after some prodding, he's not interested in saying anything about this. His personal religious considerations, he says, are not tied to the work he's doing now. "I'm always asked about it, but I don't think it's something that's interesting for other people."
There's a lot of incomprehension about Israel and Jews in general
When he was eighteen, Hidde made his first of many trips to Israel. He'd much rather talk about that. He was impressed with the country and its people, made new friends there.
After an acquaintance had introduced him to Cijo, the youth branch of the Cidi, Van Koningsveld quickly became a board member. After that, he was chairman for two years. This year, he started working as a policy officer at the Cidi itself. "There's a lot of incomprehension about Israel and Jews in general. The Cidi tries to deal with this by spreading information, and organising meetings, events, and trips. My work is my passion."
This past spring, Hidde and his colleagues were quite the sensation after organising the action #keppelop (#wearyouryarmulke) on the Plein square in The Hague. It was a response to a quote from the German coordinator of combatting anti-Semitism, who discouraged people from wearing their yarmulke in certain places. The protest garnered a lot of attention in the media and politics.
"When I walk around outdoors, I receive regular verbal abuse, and other people tell me they sometimes wear a cap over their yarmulke. In the Netherlands, thankfully, it doesn't happen that often that people are truly threatened or harassed. But we don't want things in the Netherlands to become like they are in Germany or France."
You now live in the Schilderwijk neighbourhood in The Hague; previously, you lived in the Kanaleneiland neighbourhood in Utrecht. You could say you're sort of going looking for trouble?
"No, that's truly a coincidence. There are more factors involved when choosing a place to live. But you do notice there are more incidents in those neighbourhoods, and that there's also more verbal abuse. Filing charges is rather useless. The police are happy to talk to you, but won't do much. It's mostly just time consuming."
I receive verbal abuse when I walk around
Hidde says the Cidi's work is 'needed more than ever'. The interview in The Hague – close to the Cidi offices – happens at a time when missiles are being fired at Israel because one of the ringleaders of the Palestinian Islamic Jihad has been killed by Israelis. "In newspapers and on social media, you often read things that aren't correct, or were written down in such a way that it insinuates all sorts of things. At those times, we'll be behind our tweetdeck 24 hours a day, following the news in all other possible ways, and publishing our own articles."
An often-heard bit of criticism is that you tend to not be objective in your information, and that you're more an extension of Israel…
"We're independent and we're not financed by Israel, as some people think. And it's not the case that we always agree with the Israeli government; we do object, for instance, to the settlements on the West Bank. But it seems to be rather fashionable these days to criticise and attack Israel. And in the Netherlands, that goes hand in hand with attacking us."
Organisations like Een Ander Joods Geluid (Another Jewish Voice) more or less claim you are responsible for the Cidi's harsher 'right-wing' position. You often go after left-wing activists and politicians. You also regularly accuse critics of being anti-Semitic…
"Unfortunately, the rights of Israel and the Jewish population are mostly being protected by right-wing parties. That's a shame, because firing missiles at civilian targets should be unacceptable to all parties. But we emphasise that we're seeing danger in the extreme left, in Muslims, and in the far right. That means we're also increasingly worried about the powers behind, for instance, the recent attacks on a mosque in Halle, Germany."
"And sometimes, criticism on Israel is used as an excuse for anti-Semitic opinions. They'll say: 'when I'm talking about Zionists, I don't mean Jews.' That criticism, then, is a mask used to emphasise anti-Semitic stereotypes. You need to be able to look through that."
You can easily defame someone's character with such serious accusations…
"I object to anyone saying we're responsible for any defamation of character. In fact, we want to guard the thin line between criticism on Israel and anti-Semitism. That's a very thin line, that you need to watch closely. Whenever we think something's anti-Semitism, we say so."
Still, sometimes it does seem like you're actively widening the gap between pro- and opponents…
"Ah well, I'm mostly on Twitter when I'm bored, or when I'm actually doing something else. It's a very active way to spread a message, but I don't have a clear idea behind it. I think it's difficult to have a civilised discussion on social media. I'd love to have a great debate online, without resorting to name-calling on both sides."
Some people would call that final remark a chutzpah…
"When I disagree with something, I say so. Sometimes, I use harsh words to do so. But I'll also admit to being wrong when that's the case. And sometimes, I do press send too quickly, something I think many others experience too."
Sometimes, I press send too quickly
Several universities also had to deal with Van Koningsveld. He asked Tilburg university, for example, to take a stand for academic freedom and against anti-Semitism. But the board in Tilburg ignored his criticism about the 'one-sidedness' of a planned debate, in which two teachers were to discuss a possible economic boycott of Israel.
His greatest success, Hidde thinks, is the Cidi protest against a Palestinian activist's planned trip to Amsterdam. The activist had been convicted in the 1970's for a lethal attack in Jerusalem. In the end, she was secretly invited by a group of students in the Verrekijker, a squat house the VU University in Amsterdam condoned. The angry VU board later decided to close the squat house. Hidde: "You can have all sorts of political opinions, but it kind of ends when someone lets a bomb explode."
As for Utrecht University, Hidde hasn't had many complaints yet. As a student, he feels at home here. Israel is not a recurring topic in the lecture halls, although he's noticed during his classes on International Law that his fellow students' knowledge of Israel is limited. "But at other universities, and especially the VU University Amsterdam, Jewish students regularly have nasty experiences. In Utrecht, being Jewish is not an issue, thankfully. Students and teachers are respectful and friendly.
"The only thing the university should change, are the days off for religious holidays. The Netherlands Institute for Human Rights states students have a right to days off for religious holidays, but every September sees me in conflict with teachers about this. 'Yeah, but that would mean everyone should also get a day off for Eid,' they'll say. That's true. That should happen, too."
In Utrecht, students and teachers are respectful and friendly
His Law studies have since come in useful in his work on multiple occasions. He's closely involved with the legal cases started by the Cidi. He himself won a high-profile case two years ago, against a man who, oddly enough, had called Cidi-representative Van Koningsveld a nazi and anti-Semite online.
This year, Hidde intends to graduate from his Bachelor's programme, after which he'll likely start a Master's in Leiden ("just that bit closer to The Hague"). He's not aiming for a classic law profession like lawyer or judge: his work at the Cidi is too important for that. "What I'm doing now is fun and inspiring. I hope to be able to do this for a long time."

Who are the Promising Fifteen of 2019?
Mid-December, DUB will present the third edition of the 'Promising Fifteen'. Which fifteen UU students were remarkable in 2019 because of their athletic achievements, studies, volunteer work or other reasons? Until that time, we'll give a sneak peek every week by publishing an extensive interview with one of the students we chose. This article about Hidde is the third of those. Read the interviews or check out the fifteen students who were promising in 2017 (in Dutch, ed.) and 2018.