Read in Dutch
The USP Campusbike is meant for employees and students working or studying at Utrecht Science Park. They can be found on the entire USP campus and beyond. You can also get a Campusbike in De Bilt, Bilthoven, and the Bunnik train station. Bus stop 'Tunneltje' in De Bilt will get an additional fourteen bikes. The number of bicycles at the Bilthoven train station will be doubled to twenty, and the north side of the Bilthoven station will get a new bike shed with ten share-bikes. Soon, the train station in Bunnik will also get additional bicycles. The new bikes have pink and black wheels, and will be available to borrow starting next month.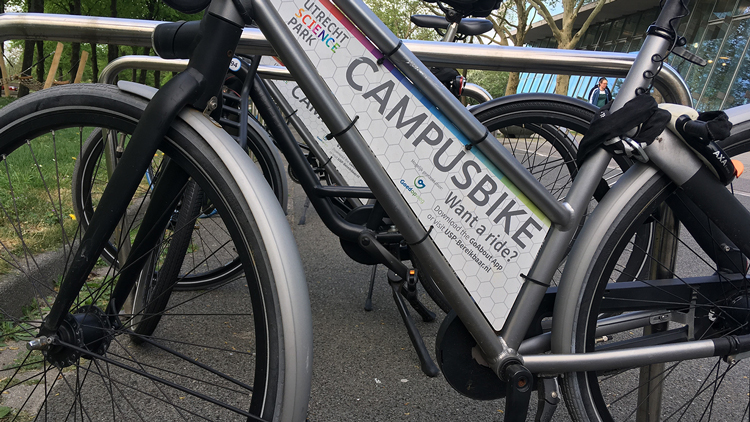 Jacco Lammers from operator GoAbout, says the bike sharing service is a success. "In early 2019, the Campusbikes were used for a total of 10,000 bike rides." You can borrow a USP Campusbike through the GoAbout app. Users use the app to unlock the bicycles and lock them again. The bike can be returned to any Campusbike shed.
Extra bicycles
The OV-fiets is also gaining popularity, amongst both students and commuters in Utrecht, says NS spokesperson Carola Belderbos. Late last year, the transportation company placed six hundred new bikes near Utrecht stations, while also increasing the number of OV-fietsen in other cities. Soon, the number of bicycles and OV-fiets rental terminals will again be increased. It's not yet known where these terminals will be installed. Belderbos: "Compared to 2017, there was an almost 30 percent increase of OV-fiets usage in Utrecht last year." The NS bikes are meant for people who travel by public transport, and wish to finish their journeys by bike.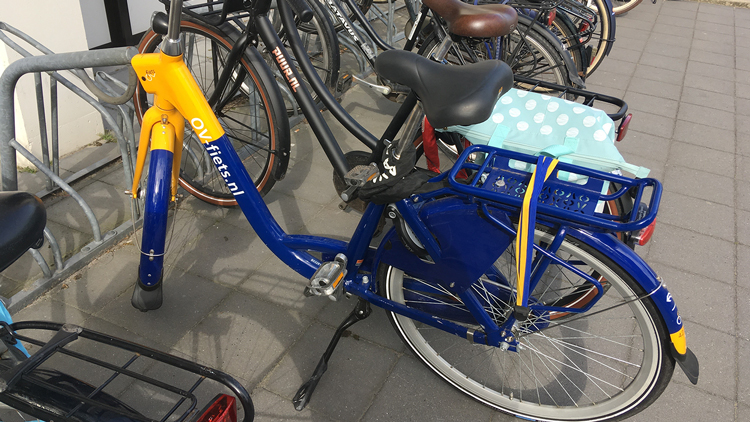 The NS bikes in Utrecht can be rented from train stations, the Uithof university library, and numerous locations in the city centre. At self-service locations, users can rent the bike by themselves, using their OV chip card, and in other cases, they can obtain a key from the NS bike shed operator. The bicycle has to be returned to its original location after use.
Bachelor's student Annabel from Australia is studying at the UU this semester, and rented an ov-bike for a friend who's visiting for a few days. "I didn't have an extra bike for him. The ov-bike is easy to rent, and cheap." Her friend Jonty has been using the bike for a day now. His backpack is on the luggage rack. "The straps are nice, but this bike has backpedal brakes. I would've preferred handbrakes."
Golden bike
Swapfiets also says it's becoming more popular among the students of Utrecht. The bike was first spotted during the introduction days in 2017. "This week, we surprised the 10,000th user in Utrecht with a golden subscription bicycle," says spokesperson Pleunie de Wild. She says Swapfiets isn't just popular among students, but among young professionals as well.
Last month, Swapfiets opened a service store at the Oudkerkhof. De Wild says this might be a partial cause of the company's increased popularity. "The past few months, we've had the start of the new semester, and the start of spring. Utrecht is a bicycle city. Every day, 125,000 people in Utrecht use their bikes. The market in this city is quite large. Multiple bicycle rental agencies can coexist." Unlike the OV-fiets and the USP Campusbike, Swapfiets users do get their own personal bicycle. They don't have to return it to a specific bike shed, and they can take it home. If it's broken, they can exchange it for a new one. Swapfietsen are recognizable by their blue front tires.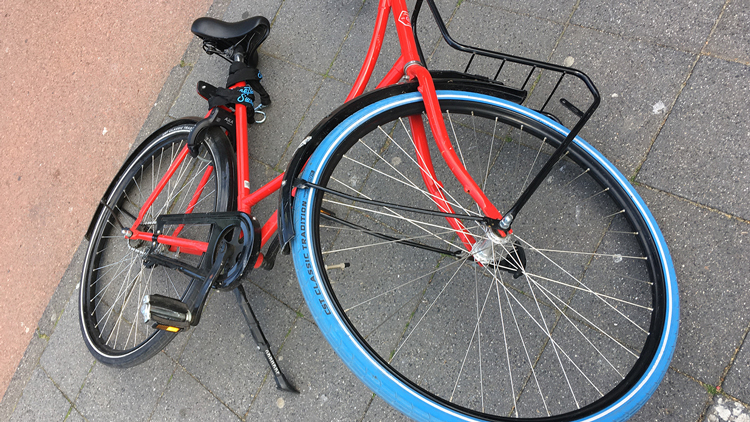 Annabel has her own Swapfiets. "It's cheaper and more reliable than buying a bike. Swapfiets provides great service." Law student Willem has been using his Swapfiets for two years now, and has been using it every single day. "My bike got stolen very often, but ever since I started using Swapfiets, I don't have that problem anymore. It's quite convenient that you don't have to fix your own bike. Many people have Swapfiets bikes so it can be tricky to find mine among the sea of bikes in bike parkings. It is quite expensive compared to other alternatives."
Network
Despite all the competition, there's a new player in town. Last week Tuesday saw the launch of a trial run with share-bikes from Donkey Republic, recognizable by their orange frames. The living lab share-bikes are part of national research programme Smart Cycling Futures. The UU, the University of Amsterdam, TU Eindhoven, and Hogeschool Windesheim join together with municipalities and provinces to study the role of share-bikes in a healthy, livable city. The focus right now is on keeping the USP accessible and reachable. Two hundred bikes have already been placed at the USP, at train stations in Utrecht, Bunnik, De Bilt, and Zeist, in the city centre, and the municipal bike parkings. This summer will see an additional five hundred bicycles be placed in, among other places, Lombok, Overvecht, Kanaleneiland, and Tuinwijk. "It's going to be a network. There's going to be a bike available every two hundred metres," says project leader Freek Feuss. These share-bikes are supposed to replace individual bikes that are barely ever used, leaving more free parking spots available.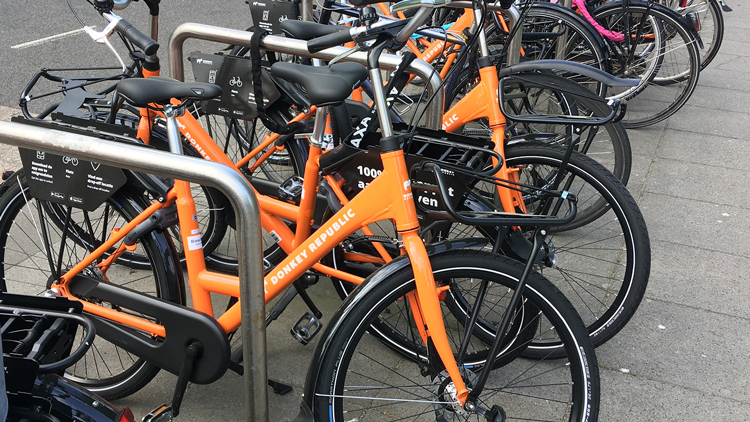 For now, the plan is for the Living Lab to last two years, but if these share-bikes are popular, Deuss says they'll remain in place. The bicycles can be borrowed and returned through the Donkey Republic app. When you use the app, you can rent a share-bike, take out a subscription, and lock and unlock the bicycle. Donkey Republic bicycles can be borrowed for a maximum of two weeks at a time. These bikes can be returned to any bike parking or 'Hub' that has Donkey Republic bicycles.
What does it cost?
Donkey Republic share-bikes
An unlimited subscription for these living lab share-bikes costs 18 euros a month. Borrowing a bike without a subscription (JustRide) is also possible through use of the Donkey Republic app. In that case, users pay after ending their bike ride. For a 15-minute bike ride the user pays € 1.50. A Donkey Republic bike becomes relatively cheaper the longer you use it: renting a bike for an hour costs 3 euros, six hours costs 8 euros, and using one for a full day costs 12  euro.
USP Campusbike
For a single ride on a Campusbike, users pay an initial fee of 60 cents. Every thirty minutes the bike is in use costs another 30 cents. There are two types of subscriptions. The 'regular use' package costs 2 euros a month. This subscription makes using the bikes a little cheaper: 40 cents initial fee and 10 cents for every half hour. The 'often' subscription costs 10 euros a month. With this subscription, users don't pay the initial fees, and bike rides of less than four hours are always free. After these four hours, users pay ten cents for every half hour. Website Campusbike only in Dutch.
Swapfiets
A regular Swapfiets usually costs € 16.50, but students pay € 13.50 a month. A luxurious bicycle with seven gears costs 19.50 euros. The student discount doesn't apply to this bike.
OV-fiets
Unlimited use of OV-fiets bikes costs 1 cent a year for verification of personal identification information and payment information. Than you'll pay € 3.85 for every ride. You do need to have a personal OV chip card for your OV-fiets subscription, which costs 7.50 euros.