The development of the research careers of the 'young blood' series
Cancer researcher Snippert is at the cusp of a breakthrough
Hugo Snippert (35)
Previous interview: January, 2015
Then: senior postdoctoral researcher at the department of Molecular Cancer Research at the UMC Utrecht
Now: assistant professor and group leader at the department of Molecular Cancer Research at the UMC Utrecht
Old dog: Hans Clevers, professor of Molecular Genetics at the Hubrecht Institute – Royal Netherlands Academy of Arts and Sciences
Champions League in sight
Top-level sports, 'long shots' and winning gold: the previous interview, held in January 2015 with 'young blood Hugo Snippert and 'old dog' Hans Clevers, was filled with sports metaphors. Snippert wanted to push through to the Champions League of science with his own top team. The research group at the department of Molecular Cancer Research he's leading, has done its warming up.
Snippert: "During the last interview, I was still assembling that group. A time like that is tempestuous, Wild West-like. If you're doing groundbreaking research, sometimes you'll have to take leaps of faith, try many different things. By now, some projects are starting to become more concrete, a line is forming in there."
Snippert and his researchers film cells in tumors with a microscope. "That way, we can see the entire behavior of the cells, and we hope to visualize the evolution of a tumor."
Snippert is, arguably, playing in the Champions League of science now. When is he going to move on to the finals? "I feel like I'm still at the cusp of that big break. But it's going to happen." Then, self-consciously: "If you ask me this question in five years, you'll probably get the same answer. Because once I've had that big break, I'll want one every year. A bigger one every time. I'll raise the bar a little higher every time."
Can you still hear Hans Clevers' voice inside your head sometimes?
"Yes, almost daily. I'll hear, for example: 'Is your planning still correct?' Or: 'Do the most important experiment first.' Even though it may take longer, Hans will stress, you should still start with it. Because if that experiment doesn't show what it should show, then the others will be pointless, too."
---
Legal expert Marie Elske Gispen continues her scientific career in Groningen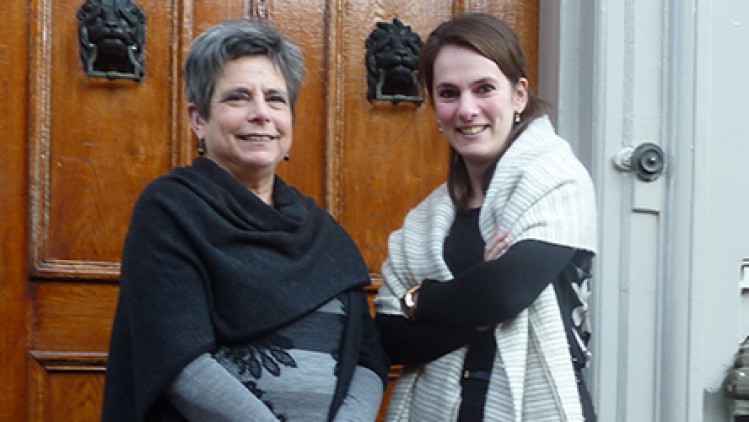 Marie Elske Gispen (31)
Previous interview: March, 2015
Then: PhD candidate at the Study and Information Center for Human Rights
Now: Postdoctoral researcher at the University of Groningen
Old dog: Jenny Goldschmidt, (emeritus) professor Human Rights
'I pressed send and was on my way to Groningen'
Four months before legal expert Marie Elske Gispen finished her dissertation with old dog Jenny Goldschmidt, she had found a new job. The University of Groningen wanted her to work there as a postdoctoral researcher in a large research project on the tobacco industry and children's rights.
Amazing, of course, but for Gispen, one thing was clear: the PhD, which she was still in the middle of during the March, 2015 interview, had to be finished first. Gispen: "It was my greatest nightmare: being haunted by an unfinished study. In science, the PhD is like an aptitude test, and for that test, I needed to finish my dissertation." The project in Groningen was delayed specifically for Gispen. "On September 1, 2016, my dissertation would have to be finished, and my new job would start. In a matter of speaking, I pressed the 'send' button, and jumped into the car to go to Groningen."
Is this flying start a sign of a glorious scientific career to come? Gispen can only hope so. "I definitely have scientific ambitions, and I'm trying to realize them now. It's tricky to make it in science, and you're not going to get anywhere by working 40 hours a week. Thankfully, I'm a workaholic, and I really love what I do."
Do you still hear Jenny Goldsmidt's voice inside your head sometimes?
"There was one thing she'd say sometimes, casually, in moments where I'd be rushing myself. It was very simple: 'Quality above quantity.' That lesson is one I definitely carry with me."
---
Biologist Sjon Hartman has to be patient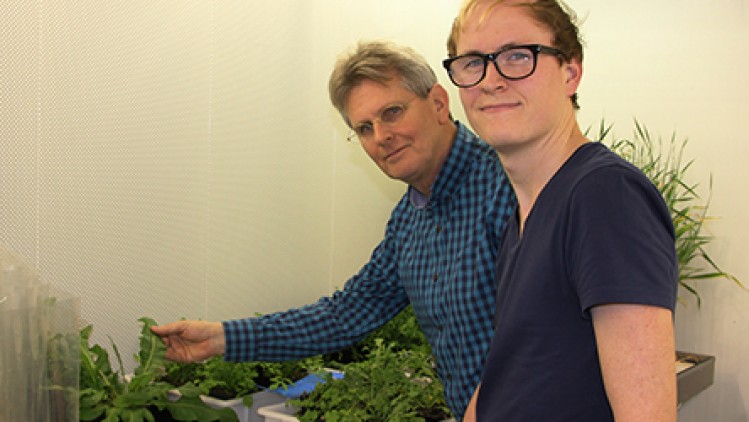 Sjon Hartman (30)
Previous interview: January, 2016
Then: PhD candidate at the department of Biology
Now: PhD candidate at the department of Biology
Old dog: Rens Voesenek, professor of ecyphysiology of plants
Sadder, but a lot wiser
"To advance in science by a millimeter, you have to do an incredible amount of work, and contribute a lot of creativity." Said by old dog Rens Voesenek in the previous interview in January 2016, held with him and Sjon Hartman. The 'young blood' was at the start of his PhD research on the plant hormone ethylene. That organic compound plays a part in the survival chances of plants during floods.
More than two years later, Hartman, who sounds wiser but also sadder, acknowledges the truth in Voesenek's statement. "We've learned a lot already, but we also have to admit that it's much more complex than we thought." Recreating the control situation – plants without the ethylene hormone – turns out to depend on many different factors, such as light, temperature, and the plant's age. That means weeks of sowing, harvesting, and collecting data, sometimes without any results. Hartman: "Science is passion, but sometimes, it can be tedious and boring as well."
And despite the setbacks, Hartman expects he'll finish his research within the given time. And the passion for science is still very much alive in him. He gladly shows it. "For the theater concept Science Battle, I'm often on stage to talk about my research. I hope to regain the trust between science and audience."
Do you still hear Rens Voesenek's voice inside your head sometimes?
"He's still my supervisor, so I hear his voice in real life a lot. When I hear him inside my head, he's saying: 'Focus! Don't try to do everything at once.' I think he's right. Sadly, science is slow. If everything were fast and easy, everything would've been done already, and we wouldn't have a job."
---
Humanities researcher Olivieri is steering more towards valorization than towards becoming professor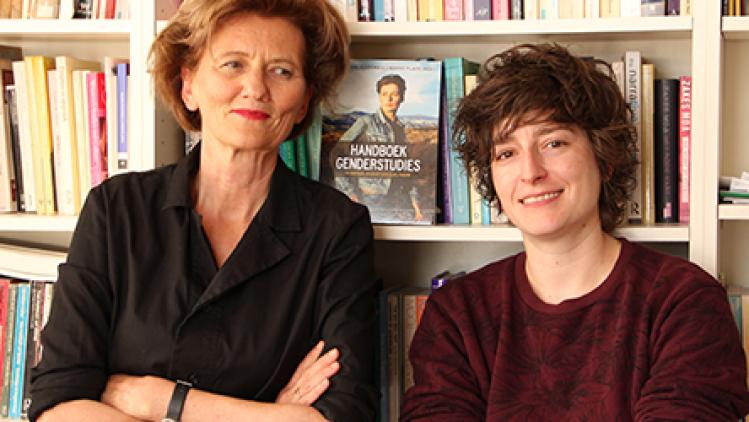 Domitilla Olivieri (40)
Previous interview: June, 2016
Then: assistant professor at the department of Media and Culture
Now: assistant professor at the department of Media and Culture
Old dog: Rosemarie Buikema, professor of Art, Culture and Diversity
Steady growth without emergencies
No big explosions. Steadily onwards, building step by step. That's how assistant professor Domitilla Oliviera describes the progress of her academic career since the last interview in June 2016. Olivieri: "Before this interview, there was a moment when I thought – 'oh boy, I do need to be able to talk about a big achievement, a huge research proposal for instance.' But I actually like this steady growth, without crises and emergencies, much better."
The Italian manages to keep a cool head in the competitive world of science. That doesn't mean that she doesn't experience stress, however. That's mostly caused by the unrest at the university. "In the past two years, the workload has increased. There are constantly changes going on in faculties and departments, and I have no idea where it's all going. That's exhausting."
It's not surprising that Olivieri, whose research focuses on the cross-section of gender studies and film, is looking more and more to the world outside of academia. "I've noticed I'm being asked more and more to speak at art institutions and at festivals. That's a big achievement to me, because it shows my work is interesting to a larger audience."
She's not following in the footsteps of her old dog, professor Rosemarie Buikema? "Haha, as a woman, a lesbian, and a feminist, I should want that, of course, because being a professor will otherwise still be more of a white men's job. But I don't feel the need. Professors are mostly managers, really. I'm seeing the same in Rosemarie, most of her time is spent in meetings."
Do you still hear Rosemarie Buikema's voice inside your head sometimes?
"I don't hear a specific sentence in my head, it's more a feeling that comes to me. Whenever I'm facing any problems, she'll be saying something like: 'I understand the issues you're dealing with. I've dealt with them too. But you know what? Give it some time, and think about it calmly.' Rosemarie is still a mentor to me."
---
So far, there have been fifteen episodes of 'young blood, old dog' since the series started on DUB in June 2014. They were all written in Dutch. Do you want to read through them? Click on this link.
Translation: Indra Spronk