The Dutch elections in a nutshell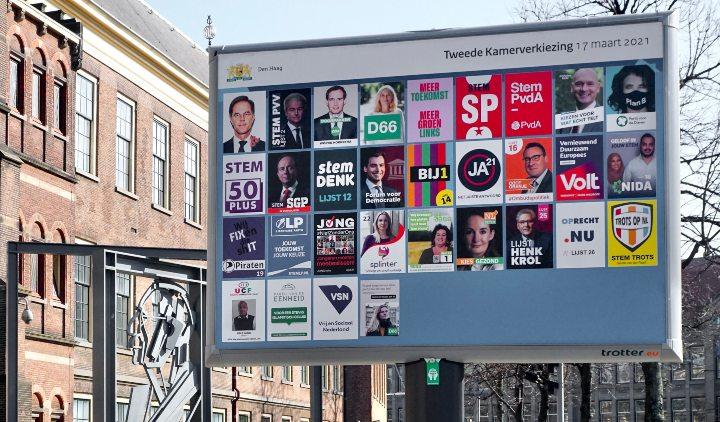 Billboard featuring some of the 37 parties registered for the parliamentary elections this year. Photo: Roel Wijnants via Flickr, CC
Colourful posters, video advertisements, flyers in the letterbox: you've probably noticed by now that the Netherlands is readying its citizens to go vote. But how does it all work, exactly?
Coronavirus changes
The parliamentary elections are set to take place on March 17. Voting stations are located in communal buildings, such as churches, libraries, schools, and train stations. Because of the pandemic, citizens above 70 years old may vote by mail. Those at a higher risk of developing severe symptoms can also vote earlier, on March 15 and 16. Moreover, the websites of the municipalities will inform how crowded the polling stations are.
What's at stake 
The elections occur every four years. They establish how many of the 150 seats available the parties will gain in the lower house of Parliament, which is called Second Chamber (Tweede Kamer in Dutch). The number of seats is determined by proportional representation and voters choose among an approved party list of candidates.
So, what does the Tweede Kamer do? They propose or amend legislation and keep an eye on what the ministers are doing. The Senate (Eerste Kamer or First Chamber), with its 75 members, either approves or rejects that legislation. The members of Senate are elected every four years by the members of the 12 provincial councils. The king is the official head of state. 
After the elections
A majority is needed in the House of Representatives to carry through decisions. Usually, the party that wins the most votes chooses several other parties to form a coalition. This way, they do obtain a majority, making it easier and more efficient to rule.
However, forming a coalition has been a difficult task in the past few decades, which can be attributed to the increasing polarisation in society, as well as party fragmentation (the creation of more and more small parties). A total of 37 parties are running for the forthcoming election. A record: the Dutch haven't seen so many parties on the ballot paper since World War II.
After the last elections in 2017, it took 225 days for a coalition to be formed, breaking the record of 208 days in 1977. In the end, winning party VVD (with Mark Rutte as Prime Minister) joined forces with the CDA (Christian Democratic Appeal), D66 (a center-right party) and ChristenUnie (Christian Union).
In January 2021, this government collapsed over a child welfare scandal. Around 10,000 families, some of whom were racially profiled, were wrongfully accused of fraud and forced to repay tens of thousands of euros in subsidies.
Clara Löffler (21), an exchange student from Germany studying at the Utrecht University of Applied Sciences (Hogeschool Utrecht), heard about the Cabinet's resignation through German media. "I guess it's because I live in my international bubble", she says. "I don't know much about the elections and so I haven't really looked into them. But I did hear that Prime Minister Mark Rutte – I'm not sure how to pronounce his name – will probably win again".
Some internationals feel the university could take some responsibility in informing its students about the elections. Marina (22), a UU Master's student from Spain, is one of them. She and her classmates were told a little bit about the political parties forming the government, but apart from that, they don't know much about Dutch politics.
The political parties
Mark Rutte's VVD is the largest party in the Netherlands today. They are known for their conservative-liberal ideology. The past three governments have been led by VVD, and Rutte was Prime Minister in all three of them.
Some of the Dutch parties differentiate themselves by pinpointing a specific area of interest. That's the case of GroenLinks (Green Left), for example, best known for its focus on climate policy. 50Plus is a party representing the interests of citizens aged 50 and above. Its biggest goal is to improve pensions. JONG is a party founded and aimed at young people. The oldest political party in the Netherlands, the SGP, is a traditional Christian party, paying heed to religion.
Perhaps the best-known Dutch party abroad is the PVV, led by Geert Wilders. Wilders made the news several times in recent years for his far-right ideology and anti-Islamic views, leading to demonstrations in numerous parts of the world. In 2017, his party came second in the elections, but PVV didn't join the coalition because many other parties vowed to not work with them from the get-go.
Another thing the PVV stands for is Nexit, the Dutch version of Brexit. For those who disagree with that idea, there's a new party on the list: Volt. Active in several countries across Europe, Volt promotes a stronger European Union. Speculations are that it will attract younger voters, including students, gaining at least one seat in the House of Representatives.
Campaigning amidst a pandemic
Because of all the lockdown restrictions, campaigning was slightly different this time. Since people are not moving around as much, parties have concentrated their campaigning efforts online, although posters and flyers are still distributed.
Debates between the party leaders were also held on the radio and television. Notably, in the first television debate, held on February 28, the top candidates were asked to debate against a member of the audience. The most memorable moment was when Rutte was confronted by a victim of the child welfare scandal. She asked Rutte several times why he had not stepped down as party leader, since all other ministers involved had done so. The Prime Minister offered his apologies, but also mentioned that a lot of things have gone well during his term and that he is proud of that.
The image of the party leader is extremely important for a party's success. Though each party writes an electoral programme stating their ideology and plans, most Dutch citizens do not read it. Some prominent themes in this year's elections include climate change, atomic energy, and the student loan system.
When can international students vote?
International students and expats do not have the right to vote for the parliamentary elections. To be able to vote, you must be a Dutch citizen aged 18 or older. Some Dutch citizens had their voting rights removed, though, but that's an exception. It only occurs when someone severly breaks the law.
However, if you come from a country within the European Union (EU), you may vote for the municipal elections, provided that you have a registered address in the Netherlands. The next municipal elections will take place in 2022. You can also vote for Dutch candidates in the European Parliamentary elections.
If you are a student from a country outside the EU, you can only vote in the municipal elections if you have been registered in the Netherlands for more than five years. You can also be a candidate yourself.
Photo: Roel Wijnants via Flickr, CC