The Electoral Women want to entice students to vote with entertainment-filled evening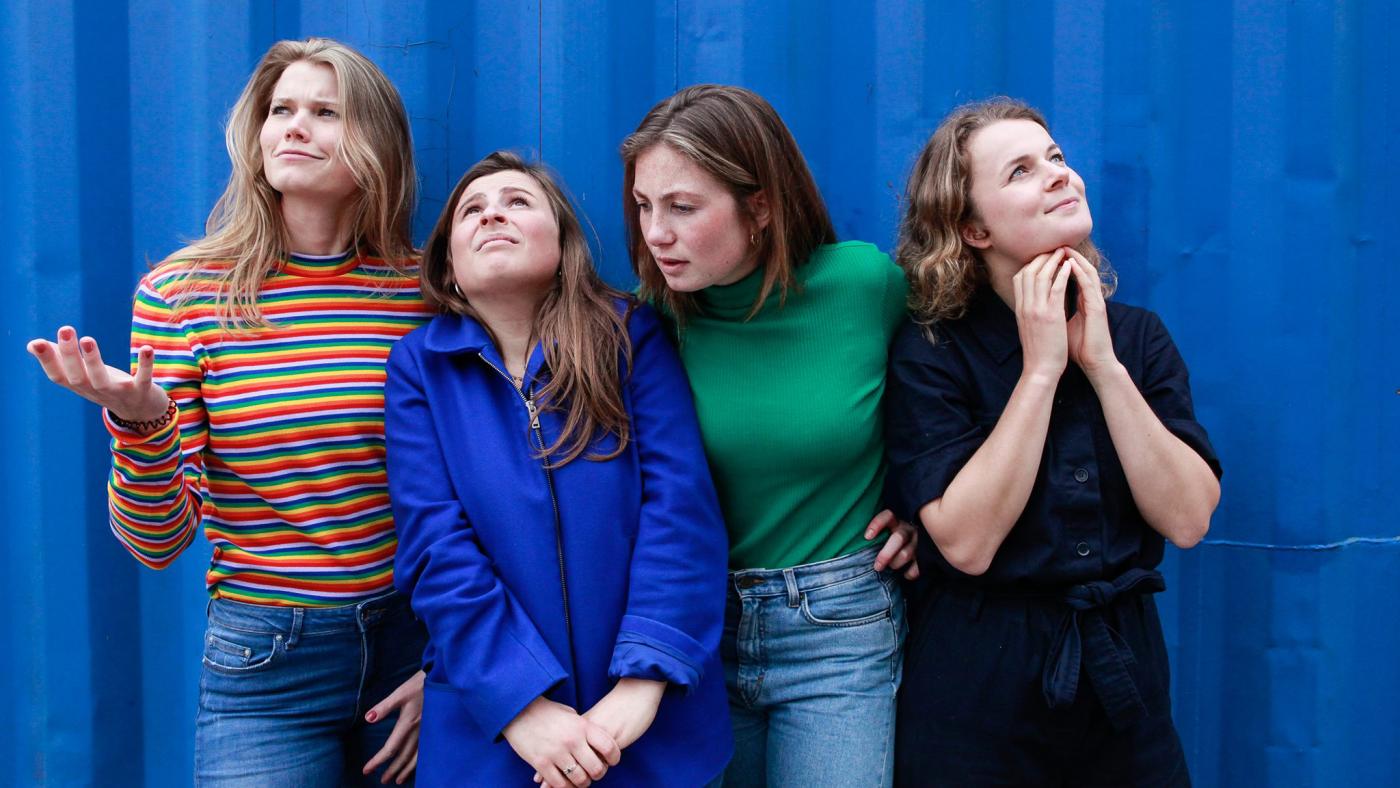 Electoral Women Jesler, Sara, Pien, and Mies created a special show for students.
The Electoral Women's first big show took place on Monday in the Winkel van Sinkel in Utrecht. It was sold out, and on Facebook, people were desperately trying to get tickets at the last minute. That's a good sign, says Mies Bos, Law student at the UU, and member of The Electoral Women.
"The idea for The Electoral Women originated from conversations during dinner. Whenever a topic like the EU came up, we noticed that there wasn't much knowledge about it at all. Of course the EU is a very complex topic. Often, students don't dare to ask questions about how things work, because they fear being judged for it."
This lack of knowledge, Bos says, is the cause of the low turnout amongst students during the 2014 European elections. "Knowing this, we got the idea to do something to inform students like ourselves about the EU."
Own research
Because the ladies themselves didn't know much about the EU either, they started approaching members of the European Parliament to figure out how the EU actually works. They also read up on the subject, and podcasts proved to be very useful as well.
"With all the information we collected, we created a very general (and boring) presentation, in which we showcased all the important subjects. We chose four themes: migration, economy, climate, and the future of the EU. These were the themes we wanted to address in our show. We then translated the content to a 'presentation' filled with theatre, song, and play. Everything to make the contents more fun for students."
Goal: go vote
The most important goal The Electoral Women have is to get students to go and vote, regardless of the party they want to vote for. "So much is happening in Europe, and we as voters can influence it all."
Eventually, the women had a story they wanted to tell. "From that moment on, it was a matter of preparing and practicing. We did a try-out of the show recently at an mbo school, ROC Nieuwegein. It was a little tricky, looking back on it, because in principle the show was written for an hbo/university audience. But the mbo students were all fascinated, even the teachers affirmed it."
After Monday, the collective performws on Tuesday in a sold-out Lighthouse (The Hague University). On Wednesday, they will release a podcast, and then Thursday, it'll be time to vote. And afterwards?
"We're not sure yet what we'll do after. What we do know is that we're continuing. Everything has led to so much enthusiasm, we have to do something with it. So this is definitely not the end of The Electoral Women."
Video in Dutch: