Five student associations at risk of losing UU/HU subsidies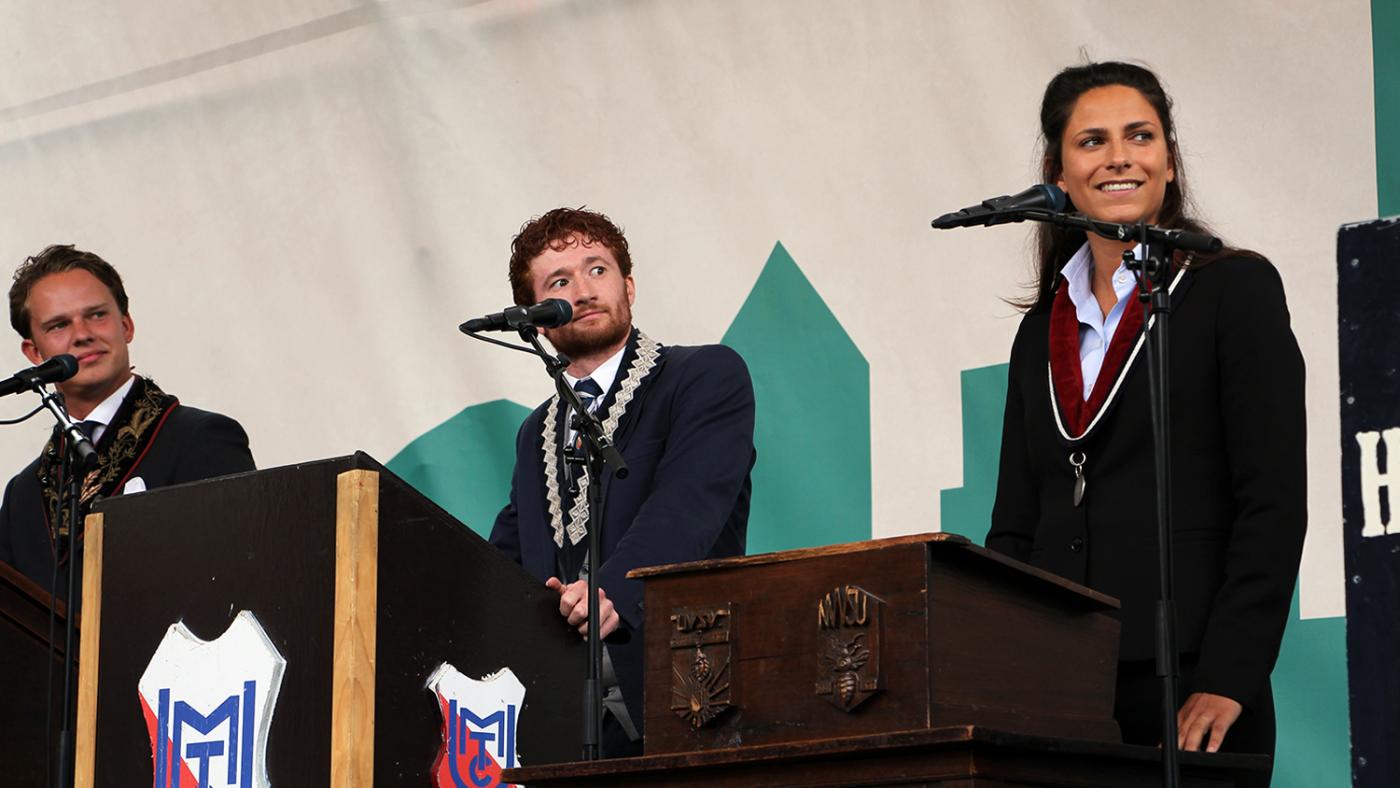 Association debate during the Utrecht Introduction Time 2018. Photo: DUB
The three-year assessment conducted by the UU and HU showed that over 20 percent of the members of student associations UVSV, USV, and Biton, and sports associations De Domrenner and SBU are not, or no longer, students at either the HU or UU. That means they no longer qualify for the requirements for financial support from these educational institutions. The associations then assumed they'd lose their subsidies.
But the Executive Boards of the HU and UU decided to grant an exception to the five associations, which currently receive 137,700 euros of subsidy each year, because the university and the university of applied sciences feel it's important to have a varied selection of associations active. If the clubs manage to prove by October 1st – over a year after the original reference date – that at least 80% of their members are students enrolled at either HU or UU, they will only lose a part of their financial support.
How big the cut will be depends on the percentage of members that are enrolled at the HU or UU. The associations will lose a quarter or half of their board subsidies. In practice, the cut can also be bigger or smaller, because the associations are also assessed on a number of other criteria.
| | | | |
| --- | --- | --- | --- |
| Association | Board subsidie 2016-2019 | Board subsidie 2019-2022 | Decrease |
| SBU | 8 | 5 | 38% |
| De Domrenner | 6 | 4 | 33% |
| Biton | 73 | 40 | 45% |
| USC | 117 | 78 | 33% |
| UVSV | 120 | 103 | 14% |
Dilemma for Biton, surprise for UVSV
Losing nearly half of its board subsidies is a bitter pill for association Biton, says president Willemijn Ros - although she simultaneously emphasises that she understands the UU has to adhere to its policies. "I'm glad there's a compromise, because according the policy framework we shouldn't get any board subsidies at all, but that doesn't mean it doesn't hurt within our association."
"At Biton, we've got a full-time board consisting of seven students, but starting next academic year, we'll have forty board months in which we can only fully compensate four board members. The next board will face a dilemma: they'll either have to split the subsidies between seven people, or give the subsidies in full to four people." The choice is painful either way, because without full-time compensation, the board members aren't eligible for the so-called tuition-free board year. That regulation states that full-time board members don't have to pay tuition, but do retain the right to their student OV card and the option of taking out student loans at DUO.
At UVSV, it's as yet unclear what the actual consequences will be of losing seventeen board grants. It came as a surprise that the association doesn't meet the 80-20 rule this year, says ab actis Minke van der Helm. "The ratio amongst our students had always been fine in earlier assessments, so we hadn't taken into account the possibility that we wouldn't meet the requirement this year."
The ab actis says the association hasn't selected its members based on where they study in the past few years. "It has never been necessary. It's a shame it's going wrong now, because in the other elements of the assessment, we performed well." Student dean Nina Keulers counters that the 80-20 rule isn't new, and associations could in fact have anticipated these results. In her opinion, the HU and UU have in fact been lenient by giving the associations another chance to meet the requirements.
Board grant
Student associations and study associations receive financial support from the HU and UU, because both institutions feel that academic development isn't limited to the lecture halls. Nearly all of the available 1,442,425 euros is spent on subsidies for student board members. This is compensation for their (possible) study delays. One grant equals 425 euro; a full-time board year for one student equals ten times that amount. In that case, a student will receive 425 euros every month, for ten months. If associations receive less money, for instance because they have part-time board members, they spread out the money. Student associations that wish to be eligible for this financial compensation have to have at least one hundred members. Additionally, at least 80 percent of the members have to currently study at the HU or UU, or to have studied there no more than a year ago.
Selection at the gate to save the subsidies
If cycling association De Domrenner, basketball club SBU, and the student associations UVSV, USC, and Biton don't want to lose their subsidies in full, they've got a lot of work to do. But how do you make sure the percentage of HU and UU students among your members will grow? The associations don't have a solution at the ready. Minke, from UVSV: "You don't want to ask your current members to cancel their memberships."
One option is selecting new members based on which institution they're studying at. That would be unique, says Iris van Noort of the National Chamber of Societies (LKvV). There are no associations in the Netherlands that currently use anything similar to this. What counts is that new members are students at a higher education institution. "It'd be a shame if associations in Utrecht have to disappoint people because they're afraid to lose their subsidies otherwise."
Chiel van Griethuysen, treasurer at cycling association De Domrenner, also thinks new members will have to be the ones to help facilitate the change. He doesn't see any other options of meeting the requirement. "We don't just receive financial support from the university, but from Olympos too. One of the requirements for both of these subsidies is that we have a minimum of one hundred members. We're only barely past that mark. Which means that if we ask people to cancel their membership in order to meet the 80-20 ratio, we'd still lose our subsidies because we don't have enough members." This despite the fact that the association and its current members does meet the requirements for the Olympos subsidy, says Chiel. "For that subsidy, 80 percent of your members have to have an Olympos sports card, and you can apply for one even if you're not a UU/HU student."
Utrecht's students are mobile
One of the reasons associations are having more and more trouble meeting the requirements, is that students don't always do their Bachelor's and Master's programmes at the same university, says Minke. Data from the VSNU says the number of students that switched universities after graduating from their Bachelor's consistently increased by 8 to 9 percent throughout the past few years.
"But," Utrecht University student dean Nina Keulers counters, "ex-students from UU and HU are still counted for a full year." In reality, however, that's not enough, says UVSV's Minke. She sees that students don't immediately start their Master's after finishing their Bachelor's, but take a year off to do an internship, for instance. "There's quite a lot of pressure on students to finish their Bachelor's programmes quickly, so you see many students taking a bit of extra time afterwards to develop themselves."
Iris of the LKvV suspects the central location of the city of Utrecht plays a part in students' mobility. "In Utrecht it's incredibly common to do your Master's elsewhere after finishing your Bachelor's in Utrecht, because so many other university cities are nearby. If you live in Maastricht, you're not going to switch to a different city that easily because there's a huge distance to the next university." That central location means students who receive negative binding study advice can also study elsewhere without having to move – and without having to leave their student associations.
Chiel, from De Domrenner, also sees the central location of the city influences their member list. "Students stay at their parents' home for longer as well, but that doesn't mean they don't apply for student associations. They do this in their hometown more often than they do it in the city where they're studying. So we have members who live with their parents in Utrecht, but study in Amsterdam, for example." And those students are exactly the ones who threaten the continuance of the board subsidies now.
Aside from students' mobility, there's another factor at play at Biton, says president Willemijn Ros. The association's own data shows that around 20 percent of its members study at different institutions than the HU and UU, but not always in a different city. "Our association also attracts quite a number of HKU students and MBO students from Utrecht. I personally think it's wonderful that we're open to anyone who wants to join, and I feel like it's also a social expectation of us, but it's putting us at a disadvantage now."
'Utrecht one of the strictest'
Because the 80-20 rule seems to make it very difficult for associations, the student members of the University Council proposed in January to relax the norm. "Compared to other Dutch university cities, the Utrecht rule is one of the strictest. In Tilburg, Groningen and Eindhoven for example, there's no percentage rule at all, and Radboud University Nijmegen abolished the rule that 60 percent had to be enrolled at that university. In Amsterdam, VU University Amsterdam demands that an organisation should have at least 75 VU students as members."
Still, the student council members don't want to take things as far as in other cities, and thus propose a 70-30 rule. The U-Council students feel that's relaxed enough for now, because in practice, many associations would be able to meet those requirements. In this assessment, there would only have been two associations that would not have had the required 70-30 ratio.
"If there'd been a 70-30 rule, we would've made it," says Minke. "But other student associations would've been eligible for subsidies when they aren't eligible now, so the question is what effect this would have. Perhaps the money would have to be shared amongst more associations then."
University council member Eise Nota acknowledges that several associations would be eligible if the 80-20 rule is relaxed. He doesn't expect associations will have to expect major changes because of it, however. The disadvantages of the current policies weigh heavier, he says. "There are associations that actively enacted policies to ensure they met the 80-20 rule, but that wasn't appreciated. Associations don't feel it's fair that they have to reject some students – HKU students for example. It also doesn't fit with the ambition to attract a diverse group of members. So I hope we'll get this adjusted for the assessment in three years' time."
What else will change this coming academic year?
As UVSV, USC, Biton, De Domrenner, and SBU will lose part of their subsidies, 94 board subsidies will be made available. Of these, 37 subsidies (16,575 euros) will be added to the budget for project grants. Associations can request additional funds from this budget for special occasions such as lustrums. The remaining subsidies will go to existing associations that are growing, and associations that will receive board subsidies for the first time. The associations that passed the assessment for the first time this year are: Helios, Het Zinkstuk, Insan, Anteros, and foundation Advident.
Aside from board subsidies, some associations can also receive a basic subsidy. This financial support is meant for the maintenance of associations and for taking care of its core tasks, according to UU student dean Nina Keulers. The assessment showed, however, that four associations made a profit. "The basic subsidy was only a small part of their budget in those cases." As a result, the UU and HU have decided the basic subsidy should instead be spent on other associations. That subsidy will therefore be slowly phased out in these associations, starting October 1st. In the first year, the association will receive the entire subsidy, 75 percent the second year, 50 percent in the third year, and then the subsidy will end.