UU launches centre for electron microscopy
Four faculties join forces to conduct essential research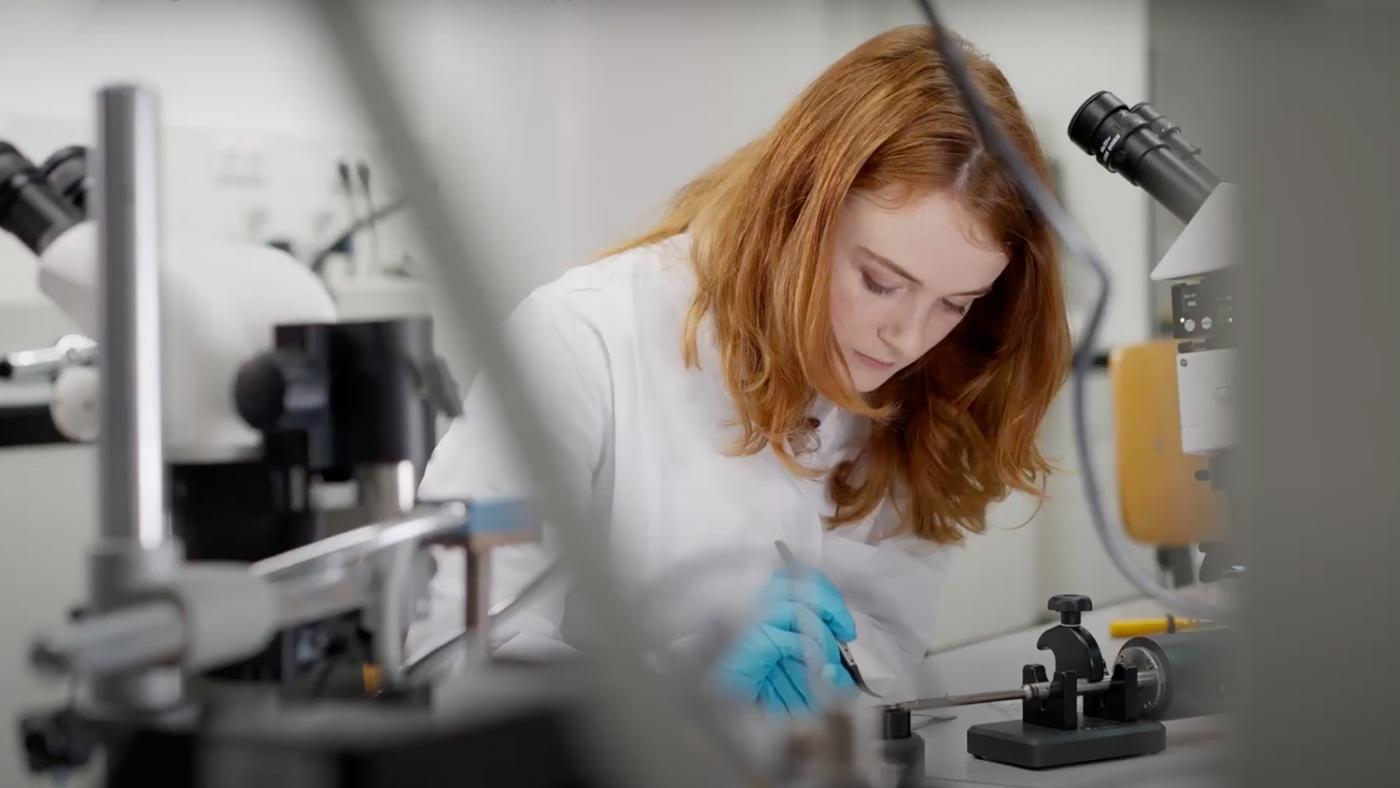 Photos: screenshots from a video published by Utrecht University
"Are people still leaving the building after the 43rd fire alarm?" jokes Peter Blok, from Real Estate & Campus. He was responsible for commissioning the construction of the Life Sciences cluster in the David de Wied building. This brings a smile to the faces of almost everyone present and it also sets the tone for the inauguration: relief. The building, whose first pole went into the ground back in September 2019, has been finally completed, all microscopes are inside and research is taking place at full speed again.
It's not just about the electron microscopes themselves, which cost between 1 and 5 million euros each. It's mostly about the fact that they have finally been reunited in the same building, which allows different scientific fields to be combined. In addition, the annexe offers the perfect atmosphere for these sensitive apparatuses: you can't see from the outside but the extension was built on top of four blocks containing 35 tons of concrete each, which sits on springs to stop vibrations from the outside. Additional space has also been reserved for better microscopes yet to be developed. In the words of UU President Anton Pijpers, the university is now completely ready for the future.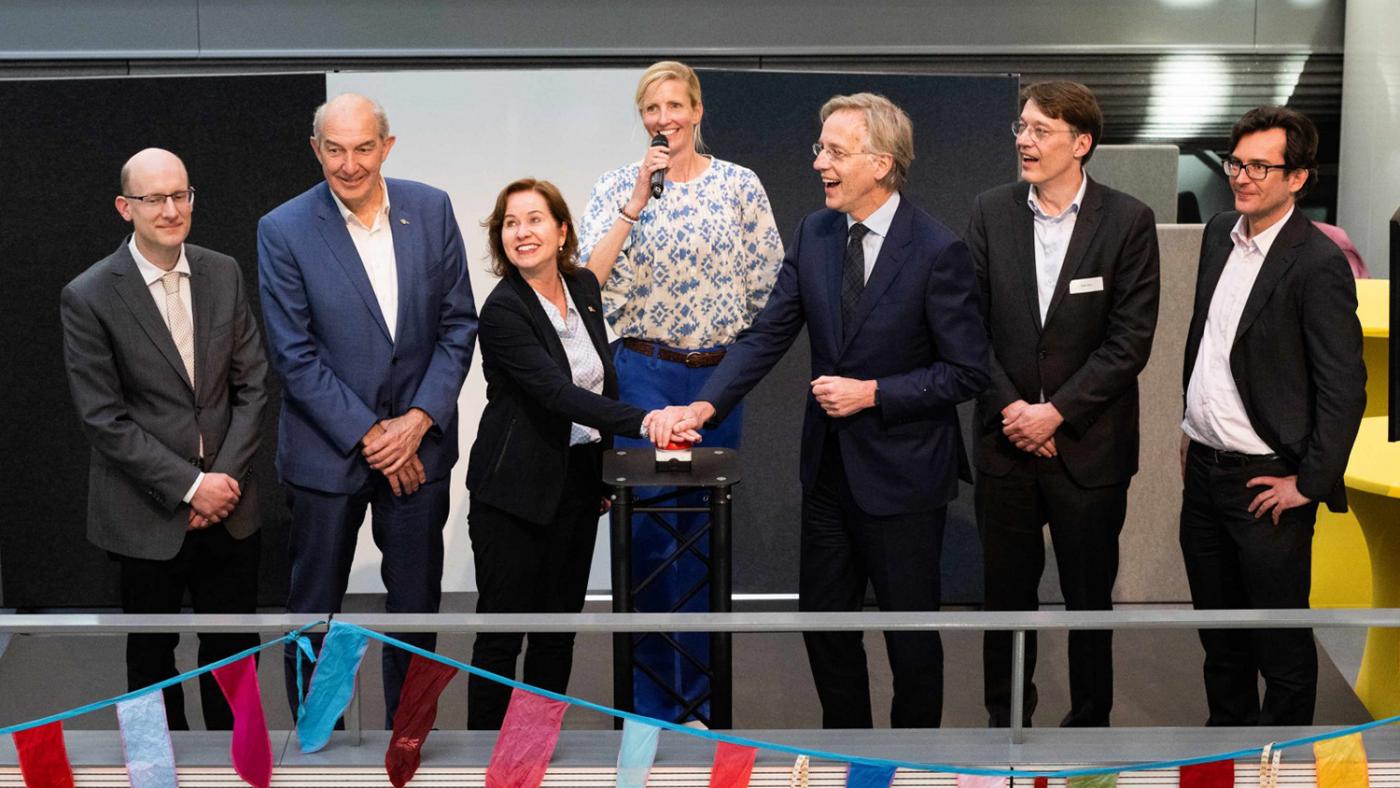 The inauguration of the Electron Microscope Centre. Photo: Robert Oosterbroek, Utrecht University
"The core idea is fundamental research. We have managed to bring four faculties together. The research projects to be carried out in this centre address societal issues, thus fully aligning with our university's objectives." He was referring to the Faculties of Science, Geosciences, Veterinary Medicine, and Medicine. As for the issues, they range from fertility to tectonic plates, from sustainable catalysis to viruses. Or, as underscored by the Faculty of Geosciences, from planet to atom.
Although the four faculties were already working together to some extent, the collaboration wasn't substantial but rather at a more material level. Geosciences, for example, used microscopes from the University Medical Centre. Now, the new centre has to ensure substantive collaborations. This will be arranged through internal seminars as well as through simple means such as a cosy coffee corner where people can bump into each other. Isabel Arends, dean of the Faculty of Science, hopes it will also become a hosting centre for researchers across the Netherlands.
The term researchers actually includes people from every level. Practical classes will be provided there to both undergraduate and graduate students, who can also choose to write their thesis about one of the research groups working there. Marijn van Huis, director of the Electron Microscopy Centre, explains that it is possible to grow in several areas. "In terms of research, [the centre] offers opportunities because these fine facilities enable us to come up with research proposals that will generate new PhD or postdoc positions. Since the centre has so many different techniques in-house, researchers are able to learn from each other." As an example, he mentions freezing techniques (cryo-EM) developed for biological samples. "They can be used for radiation-sensitive soft matter in materials science."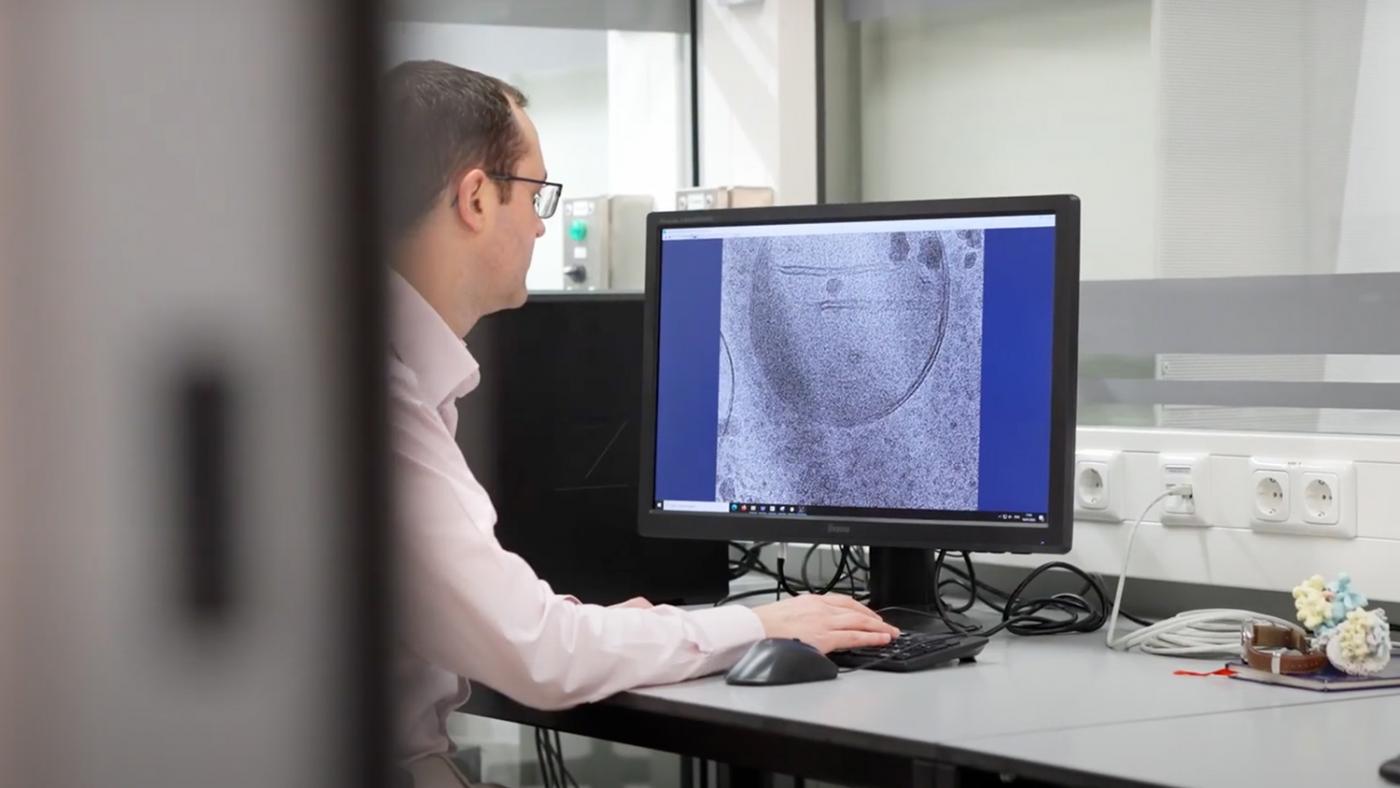 It isn't yet clear what type of new research will be possible in this new centre as that depends on what the cooperation will bring. There is a lot of speculation going on, however. Many of the researchers present point out that they would like to work with mathematicians and artificial intelligence more often, so they can develop new image-processing techniques instead of purchasing them from the microscopes' suppliers. Others have more tangible plans, like being able to colour images — electron microscopy doesn't work with lights and thus is often black/white. They would also like to work outside the vacuum of the electron microscope, thus in the presence of a gas or liquid, which enables nano parts to be depicted in their "real" chemical environment.
Minister Dijkgraaf, who admitted a vicarious pride as a UU graduate, appreciates all this uncertainty. "Science is a can-opener. What exactly are you going to do? If you knew that, you would no longer need research. That's why this centre is also a metaphor for all science."