Four students from Utrecht we have to keep an eye on after the summer...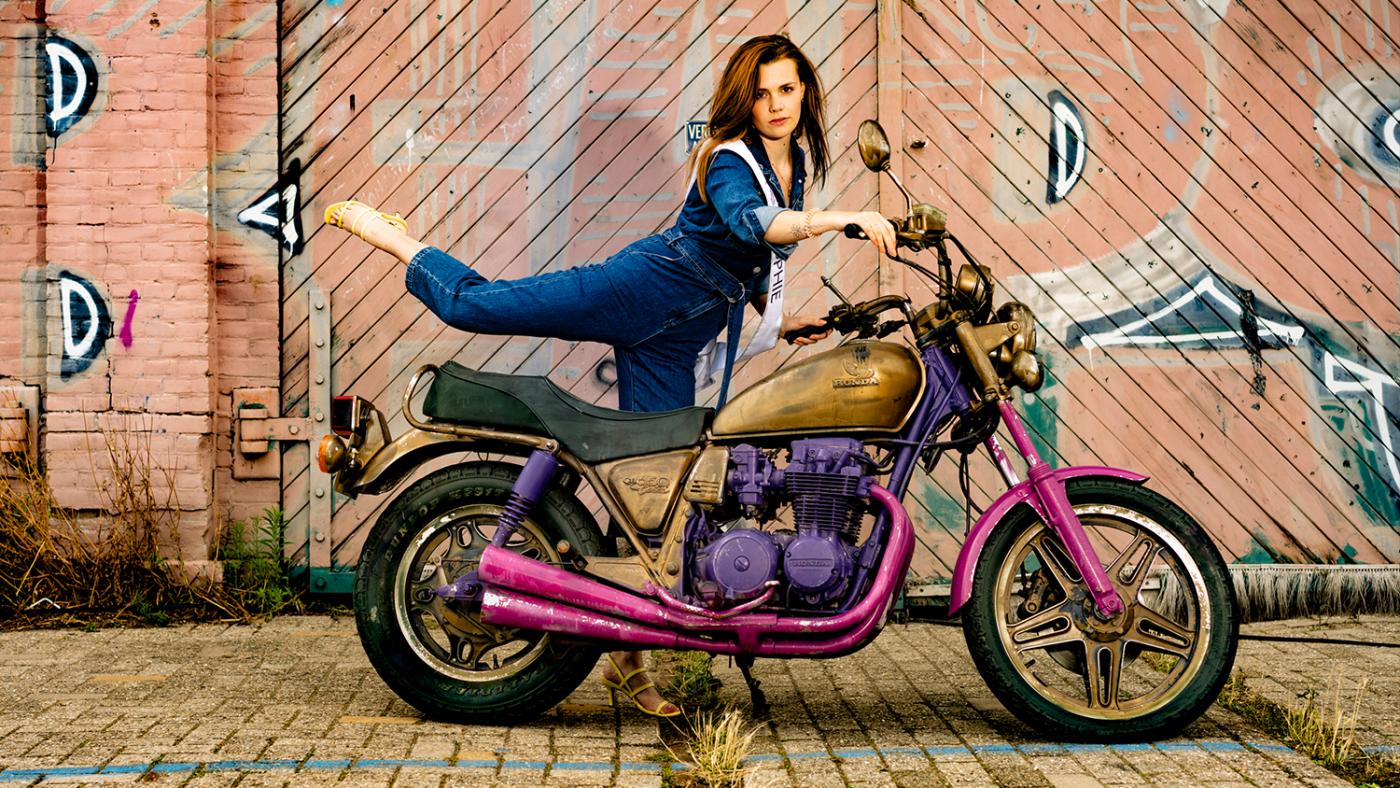 Miss Netherlands candidate and UU student Sophie Alink. Photo: Ivar Pel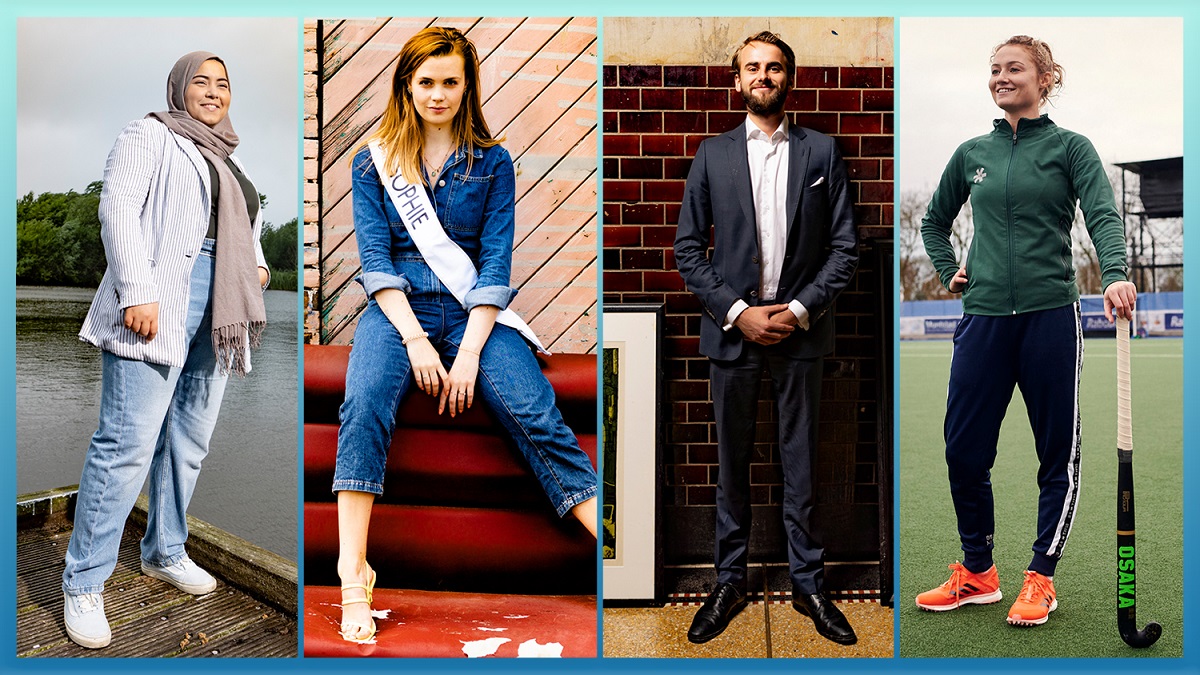 Law student Fedoua Ouchan invests in a university without racism and discrimination.

Student Media and Culture Sophie Alink wants to pursue a TV career through the Miss Netherlands pageant.

Master student Michiel van Nederpelt hopes for the most beautiful lustrum ever of the UU and the Utrechtsch Studenten Corps.

Student of Psychology Marijn Veen aims for hockey gold at the Olympics after a severe concussion.
---

As a member of the University's diversity task force, law student Fedoua Ouchan (25) will be even busier after the summer. The social debate about racism and discrimination is extremely relevant, and the UU Executive Board wants students and staff to talk to each other as well. "When everyone feels welcome, you get more out of your student time and from your studies."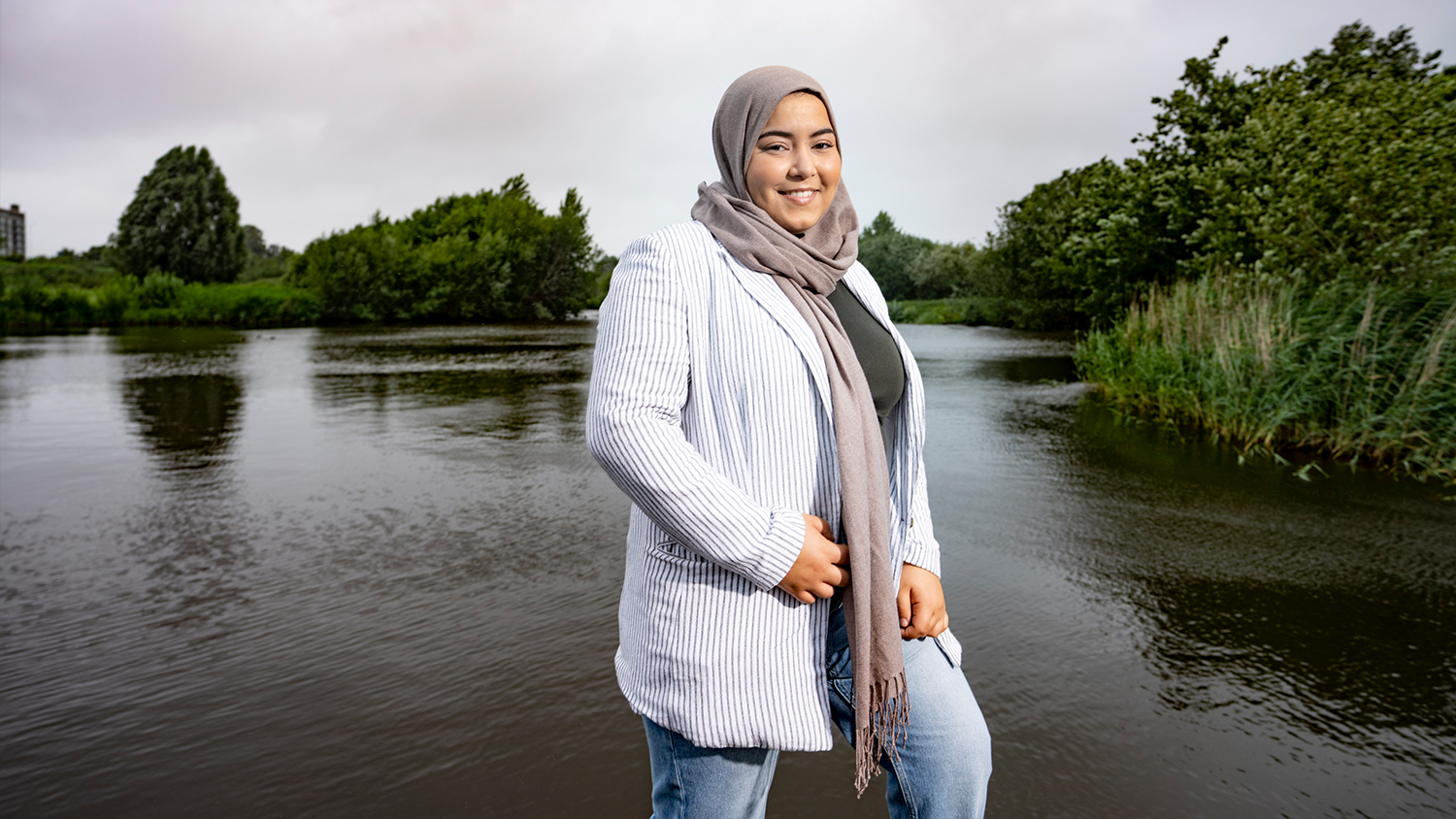 Photo: Ivar Pel
"I feel the Black Lives Matter movement works like an eye opener. It would be nice if people realise that discussion is necessary to create awareness. We sometimes normalise and downplay events that actually discriminate."
"Like many others, I, too, am affected by this. A headscarf and accentless and fluent Dutch? "Well integrated! Apparently, it's impossible that you were born in the Netherlands. I also experience it within my studies. My fellow students linked a theft case to 'Moroccans' and therefore to me. The fact that a student yells 'I've lost my phone, Fedoua don't you have it in your bag', is insane."
"As president of the student association INSAN, I was already committed to a more inclusive University, but I felt I was not being heard enough. That's why I wanted to be on the University Council, but in the end I didn't make it. When I was able to become a student member of the Task Force, it was an opportunity to increase the effect of the things I was already doing."
"The Task Force wants everyone to feel welcome at the University, regardless of sexual orientation, ethnicity, religion or whatever. I myself am committed to such an atmosphere. That way, you enjoy going to university and get more out of your time as a student and your studies. It's also important for the quality of education and the mental health of students.
"With the Taskforce we are now focusing on inclusive curricula and a more diverse intake of students and staff. These themes will certainly be reflected in the meetings we want to organise on racism and discrimination. We also hope to contribute to further awareness-raising, for example by providing unconscious-bias training to staff and student administrators."
"But we call on everyone to think along with us and come up with suggestions for activities. As a student member, I not only want to contribute my own vision, but also the ideas of other students. So if students miss something or want to put more emphasis on something, they can email me."
"I'll be busy, because I want to graduate next year, too. Because of all the extracurricular activities and side jobs, I've got a study delay. But I will continue to work as a pharmacist's assistant and I will also continue to volunteer for the College of Human Rights in Utrecht and for the new educational project Charm-EU."
---

Sophie Alink (20) is one of the ten candidates who will compete for the title Miss Netherlands in September. The bachelor student Media and Culture will therefore also be followed in the RTL reality series 'Op Jacht naar de Kroon' (Hunt to the Crown). Her goal? A career as a TV presenter. "If I work hard, my name will be in credits in a few years."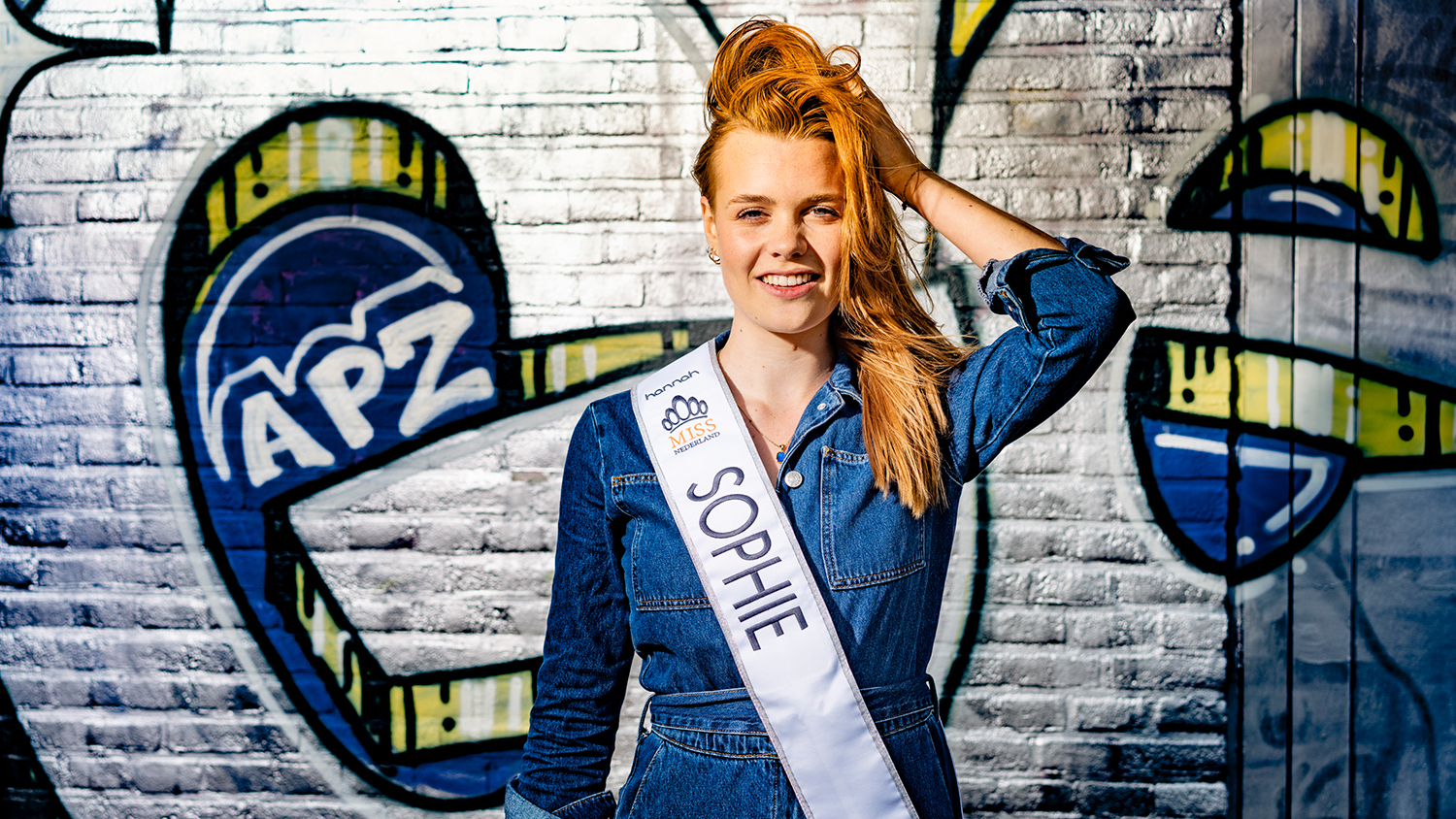 Photo: Ivar Pel
"I was one of those kids that jumped into every family video, incredibly annoying of course. I knew very early on that I wanted to do 'something with TV'. When a high school teacher noticed after a pleading match that his work would have failed if I didn't become a presenter, I really knew what my goal had to be. A role model? Someone like Geraldine Kemper. Her programmes at BNN/Vara are on the edge, are cheeky, but they're really about something."
"When I was in Valencia for a gap year, my sister took pictures of me and sent them to the organisation of Miss Holland. In the end, I was one of the eighty girls who were allowed to come to a casting round. After two selection rounds I was in the last ten."
"I see this as a unique opportunity to improve my skills and make contacts. We get presentation and interview training and we work with well-known photographers such as William Rutten and with RTL producers. Of course I can only benefit from that. I even know now what it's like when GeenStijl writes ugly things about you, haha."
"This election is about more than just walking around in your bikini and smiling sweetly. I'm not a size 34 myself and on my Instagram you can sometimes just see my rolls. That authenticity is important to me. Of course, it helps if you have a nice face, but it's mainly about having a beautiful look, that you have a story, and that you stand for something."
"I now use my social media to draw attention to lonely students. In my first months in Spain I also felt desperate. I had nice colleagues and roommates, but no one to talk to. In the end I managed to change that, but there must be a lot of students who are always lonely. There are organisations that can help, but students often don't know that".
"Who knows? I may be Miss Holland from September. Then you'll be a kind of public face, go to events and dedicate yourself to charity. And you get to go to the Miss Universe pageant. Of course I want to win, but everything I'm going through right now takes me further".
"Yeah, I'm very focused on my goals. I believe that - if I work hard – there is no other way than that my name will be in the credits of a TV show within a few years. First I have to finish my bachelor's, because I've worked quite a bit for that, too."
---

Not only the University, but also the Utrechtsch Studenten Corps will celebrate its 385th anniversary. Michiel van Nederpelt (24) and his lustrum committee have to ensure an unforgettable year. The president, who completed a bachelor's degree in chemistry and a premaster's degree in corporate finance at UU, is looking forward to the year with full confidence.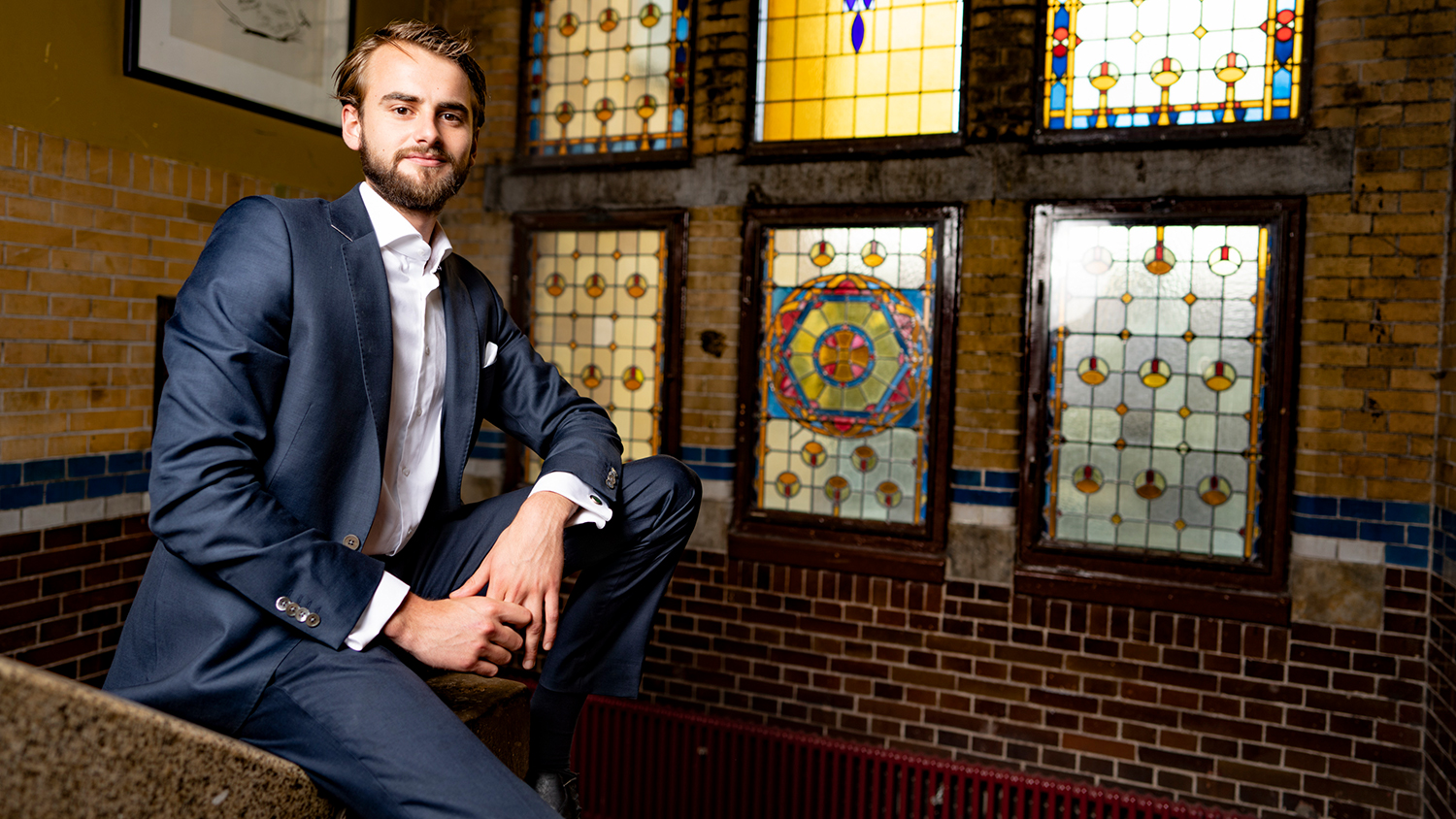 Photo Ivar Pel

"The USC doesn't have a clear founding date. We came into being 'in the mists of time', as is always so beautifully put. For our lustra, we will keep the founding year of the University, 1636. At lustrum festivities, we often celebrate in a huge way, in the past especially with the famous parades: the masquerades. In 1906, for example, the theme was Germanicus and the Circus Maximus was reconstructed on the Maliebaan. More than five thousand people came to watch the horse races".
"Those historic parties serve as a fantastic example. Unfortunately, I can't say anything about what's happening this time and what the theme is this year, yet. In any case, there will be an exhibition about 185 years of Utrecht as a student city. For this project, USC members have been digitising old glass and copper negatives in cellars for eight years. But there will also be a masquerade, a dinner with Utrecht senior citizens and a number of other social projects. Utrecht is a fantastic city that we enjoy enormously, which is why we also want to give something back."
"As president of the lustrum committee I also have the honour to represent the concerns and interests of all students from Utrecht in the UU lustrum committee. A lot is expected from that lustrum committee; we have to organise the most beautiful lustrum year Utrecht has ever seen".
"I'd also like to involve the whole city in this celebration year. The corps isn't loved by everyone and there are a lot of prejudices. We want to change that attitude and show that USC can do a lot with and for the city. Unfortunately, corona is obviously an extremely difficult factor. We need to build in 'safeties' and prepare for different scenarios. What does the one and a half-metre requirement mean, what does a second wave mean, and what if a vaccine arrives on time?"
"There won't be much studying for me next year. My agenda is full of fun meetings and preparations for all the activities. But I always imagine to walk away with my group from the last day of the lustrum, that nothing went wrong, all the people of Utrecht had a fantastic year, and we can look back on the most beautiful, exciting and tiring year of our lives".
---

Marijn Veen (23) is one of the greatest hockey talents in the world. A concussion threatened the Utrecht psychology student's participation in the Olympics. "It feels like corona is giving me a second chance."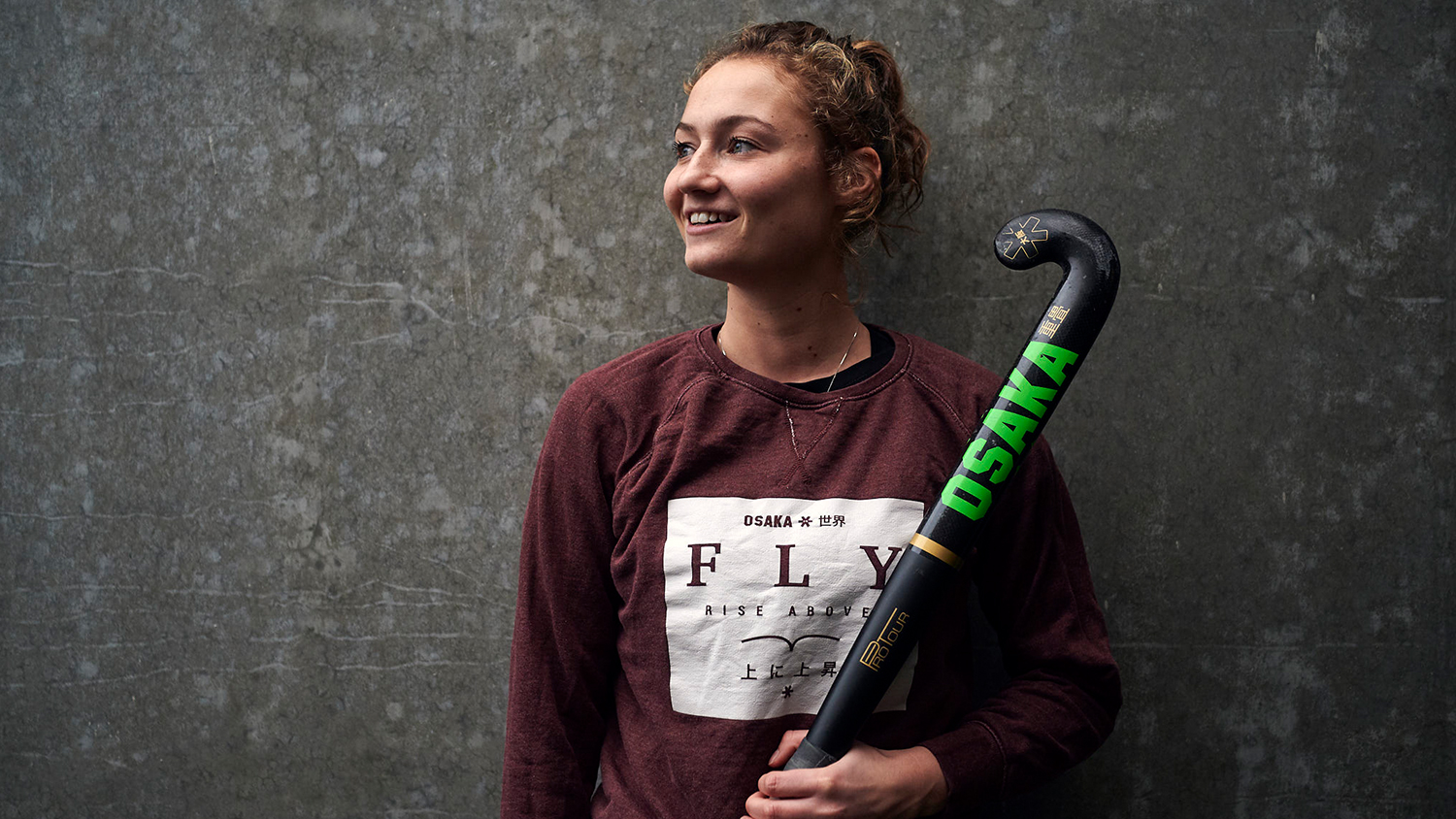 Photo: Bram Berkien

"I just couldn't do anything after that car accident in September. The smallest things were too hard for me. I couldn't even watch Netflix, let alone play sports or study. I knew it had become almost impossible to make it to the Olympics. But I didn't want to give up."
"Because of corona and the postponement of the Olympics, all the pressure and stress disappeared. For me, that was very pleasant. Recovering as quickly as possible was no longer necessary. And I was able to enjoy the little things again. Going out to dinner and having fun with friends, for example. It felt like I was getting a second chance."
"Due to my concussion, I was mostly unable to study last year. This spring, I slowly started again. I have to say: I loved the fact that I could study online at home. Working via a computer screen is still very tiring for me, but I am so happy with the freedom I now have. Other students may miss the social contacts or the discipline, but I don't have that at all."
"Slowly, I'm working my way back up to the top. With the Dutch selection we are in training again. Last week we were allowed to play a game again for the first time, that was a great feeling. It wasn't easy to start again. We built it up slowly, but I still spent evenings on the couch with aching muscles all over my body."
"Hopefully I'll play at my first Olympics next summer. I don't want to think about the possibility that corona will make that impossible and there won't be any Olympics at all. For me it's written in big letters in my diary and that's what I'm going for. But first I will have to prove myself at my club in Amsterdam. The competition for a place in the selection for Tokyo is big."