History student wants to participate in "Utrecht's" Vuelta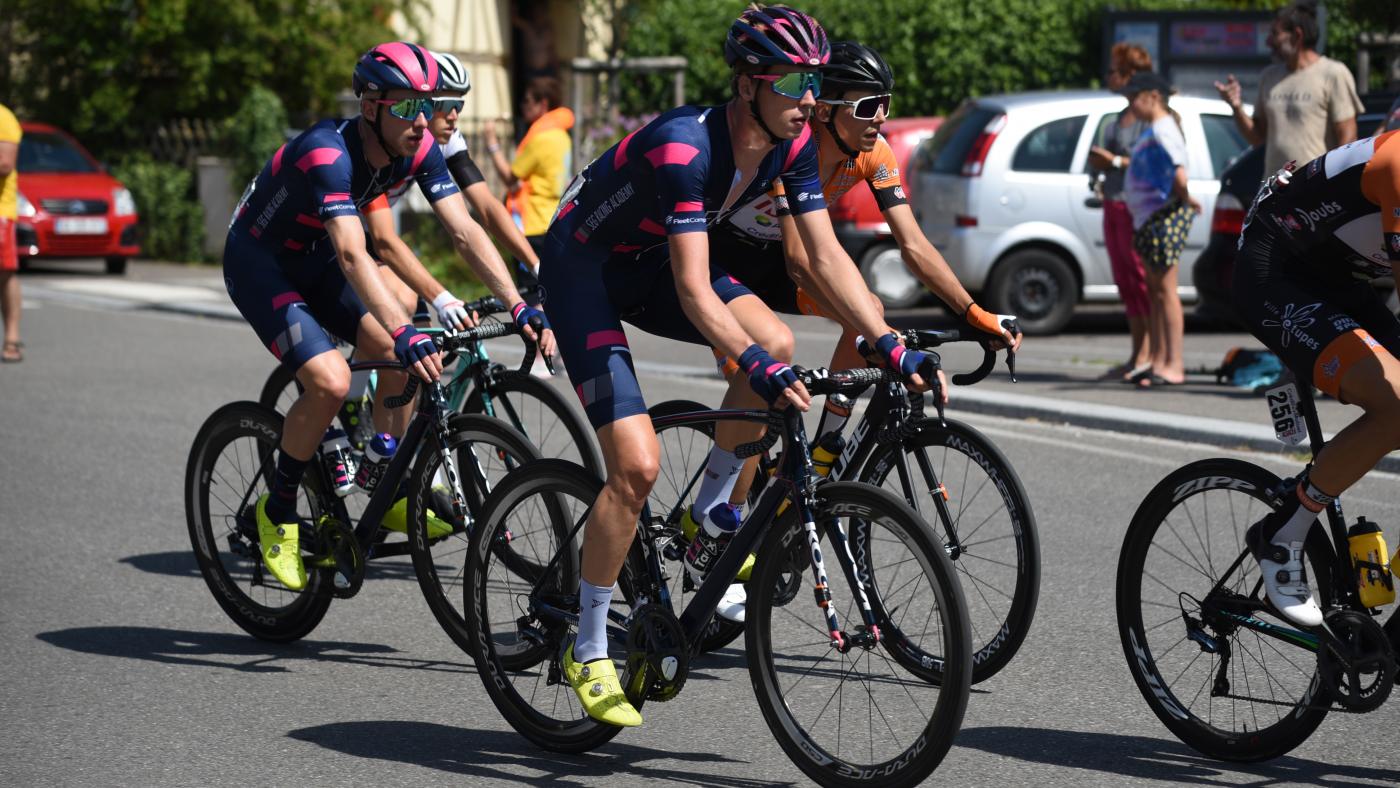 Thymen Arensman hopes for a career like Tom Dumoulin. Photo: Lizzie Haumesser
"Thymen Arensman does not exist". Last year, 19-year-old Utrecht history student Thymen Arensman could not have received a nicer compliment after his second place in the French race for promising talent Tour de l'Avenir in 2018. The tweet from sports publicist Frank Heinen to journalist and former pro Thijs Zonneveld refers to a silent agreement among prominent cycling followers. To prevent large talents from collapsing under the pressure, they should not be bombarded the next Tour de France winner. It is preferred to let them ripen and pretend they don't exist.
But there is no doubt that Thymen Arensman may have a bright future. And certainly not now that the man who just stayed ahead of him in the Tour de l'Avenir, the Slovenian Tadej Pogačar, became the big revelation in this year's Tour of Spain. "It is really bizarre to see that he is already winning stages at that level and finishes high in the rankings," says Arensman in a café on the Jaarbeursplein. It gives him confidence. "Last year, I just rode to the top with him."
But Arensman finds it just as "bizarre" to see that the Slovenian looks much more fit than last year. "I think he might be two kilos lighter. And he must have gained strength. He must owe that to his new World Tour team. I want to take those steps in the coming years as well."
From July on, the second-year student is under contract with Sunweb, the German top formation where Tom Dumoulin developed from a somewhat choppy time trialist to a slender but extremely strong tour rider. With his 1.90 meters, Arensman is not the prototype climbing goat. But with his tawny shape, he does not carry much weight. Riding uphill is going very well for him now. "Tom Dumoulin and Chris Froome are also quite tall, I compare myself to them. But every kilo is one extra if you have to cycle up. The goal is: being as light as possible with as much power as possible. "
With a bit of luck, Arensman will be at the start of the Vuelta in a little over a year with the team that star Dumoulin left this year. The tour then starts in Utrecht with a team time trial from the Jaarbeursplein. The second stage ends in De Uithof. His team has already hinted that there is a real chance he will be selected. "I'm really looking forward to that. How awesome is it to race through the streets of Utrecht with the team in front of an audience of millions?"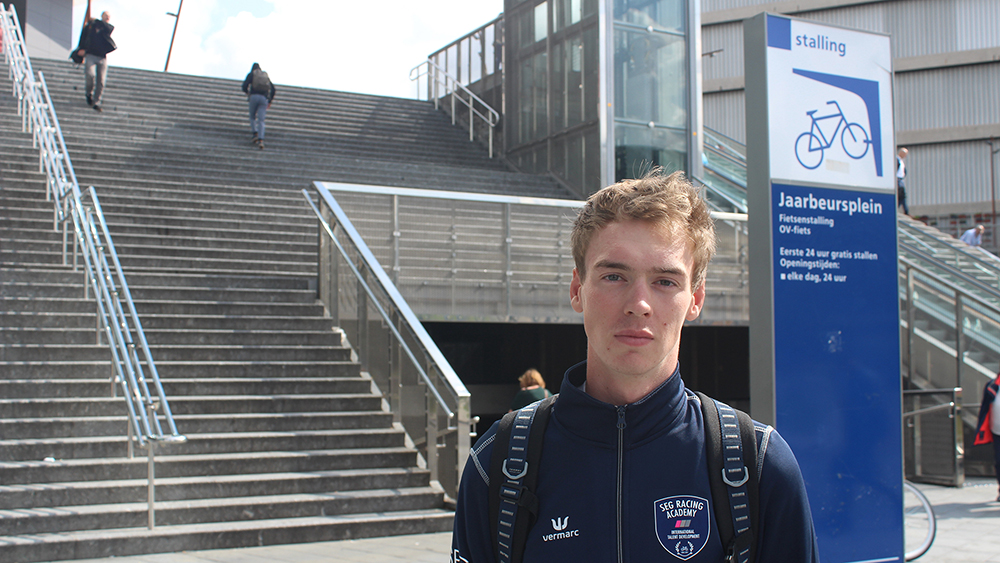 Arensman grew up in a real cycling family in Deil in the Betuwe. Father, mother, uncles, aunts, almost all of them cycled. Often at a fairly high level. Holidays in France meant: cycling up the mountains. "At parties they still often talk about me being a 10-year-old kid at bend 2 on Alpe d'Huez really needing to be curbed. I just wanted to go up as fast as possible. "
As a teenager, he cycled to high school every day, 13 kilometres back and 13 kilometres back. As hard as possible. On his regular city bike, but with a watch on his wrist that showed his heartrate and time. "I had to be faster than the train, at least. Maybe that cycling against the wind helped and made me ride faster up the mountain now."
The interest in history was already aroused then. He played Grepolis online, in which you recreated ancient Greek cities, or he read books about the Vikings. "And then figure out what was real and what was made up. I still find that very interesting."
After choosing to study History in Utrecht, he hoped to be able to combine his lectures with his daily training. But at the university it was impossible to find a place to park his expensive bike. A pity, but according to Arensman, the study also offers enough time and space to plan his rides of sometimes four hours. Or for training courses and competitions abroad. "It is primarily a matter of being assertive. Contact teachers and coordinators in advance and come up with solutions and alternatives yourself. Then it will all work out. "
I like to go my own way
Fellow students and teachers are not really interested yet in Arensman's achievements. "I am that boy who is sometimes gone for a month and then shows up again. I don't have much to do with others. But that's okay: I like to go my own way. I like to study alone and I like to cycle alone. That was apparent early on: at the test practice of the football club I was not happy at all. Waiting for someone else to give you a ball? Not for me. When cycling, I was able to determine for myself how fast I strained myself."
Similarly, Arensman the student is an exception in the peloton. None of his current or future teammates commit to a serious study besides cycling. He had to decline all invitations from cycling colleagues to have at it in a distant country after the season. "Everyone says that you cannot combine a study with cycling. So far I have proven that it is possible. "
Soon I will receive daily messages that tell me what and how much I can eat
Arensman is happy that he is supported by his new employer. Last year, the bigger professional teams already knocked on the student's door. But Arensman wanted to wait with the step to the really big games. Together with Sunweb, he decided to let his contract start next summer. This made it possible to study for another year as well.
"I am physically ready, but not yet mentally. In races, I have to learn to waste less energy. In addition, professional life demands a lot from you. If I were already riding for Sunweb, I would not be here with a cappuccino and a cookie. There, you get daily messages with what and how much you can eat. You have to live for your sport completely. I consciously choose that. But I am still young and can now present myself for another year in a few nice competitions, for example the Tour of Italy for Promising Talent.
"Moreover, I really want to finish my bachelor's. That is something you can always fall back on, if it doesn't work out as you hope it does. That is, of course, still possible. At least now I can finish my second year. We have to take a look at how my final year will work out, but I am definitely planning to get my bachelor's degree. "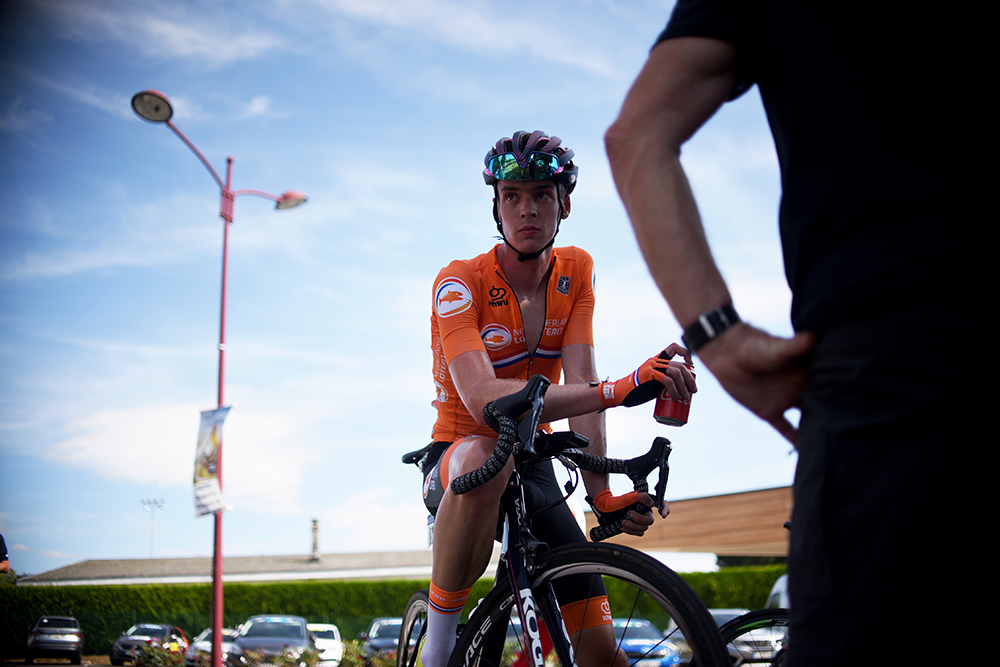 Arensman has become well aware this year of the fact that top sports life is tied to a thread. Arensman went down three times. During a training ride after a lecture, he bumped into a toddler who unexpectedly hit the road with his kart. Result: a broken collarbone and an operation. The fact that the boy broke his leg and needed to rehabilitate made everything even worse. The races after his recovery were also quite disappointing. Both in the Tour of Italy and in "his" Tour de l "Avenir, he fell and had to give up.
You must accept the risk
Moreover, the cycling world stood still for a moment after the Belgian Bjorg Lambrecht died in an accident in the race. "That is terrible, of course, you know it can happen to anyone in an instant. In the first races after a crash you also have a tendency to hang in the back of the peloton, but you have to flip the switch and accept the risk."
So, look ahead. After the team time trial, the second stage of the Tour of Spain will pass by his parental home next year. "My mother has already announced to arrange vans for the residents of the care home where she works. They are all fans of mine. I especially hope for beautiful things like that."