Project has UU scientists talking to library visitors
How about talking to someone outside your bubble?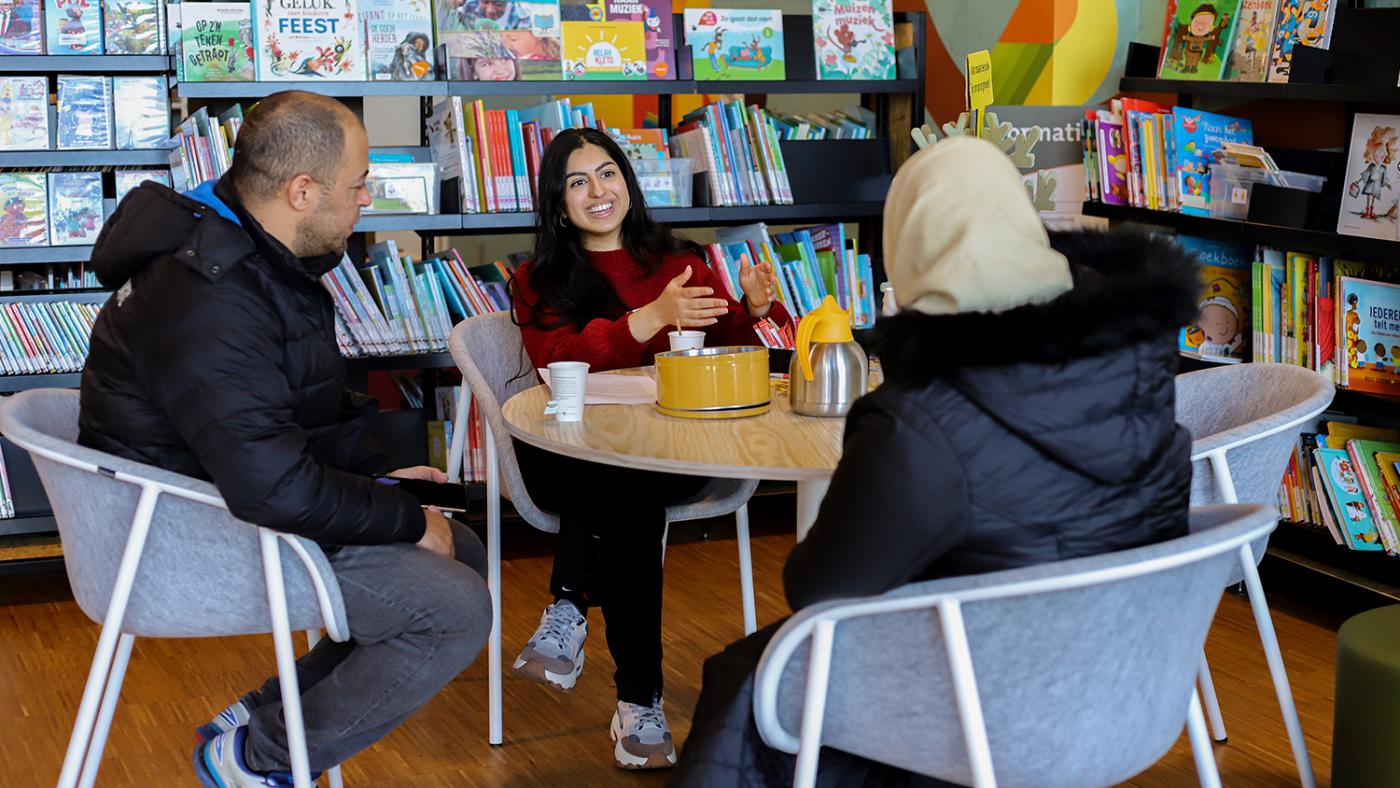 Researcher Saira Wahid talks to a library visitor. Photos: Ebru Aydin
Tagay, from Ethiopia, goes to the Overvecht library two to three days a week, sometimes even four. He says his daughter is a bit shy but overcomes that as soon as she starts playing with other kids in the library. While she plays, he studies Dutch and prepares to get a truck licence.
"What makes a place great to grow up in?" Jikke Wams, Healthcare Ethicist and Researcher at the Princess Maxima Centre for Paediatric Oncology, asks him. She's referring to a question displayed on a table between the book cabinets. "There's a huge difference between growing up in the Netherlands and Ethiopia", answers Tagay. "The country is poor and lacks infrastructure. As a child, I spent a lot of time playing outside with the kids from my neighbourhood. When you're a child, it's very important to be able to play with other kids — perhaps that's one of the most important things. Just like having loving parents who support you in what you do." Tagay enjoys talking to scientists. "I always learn something new when I talk to people."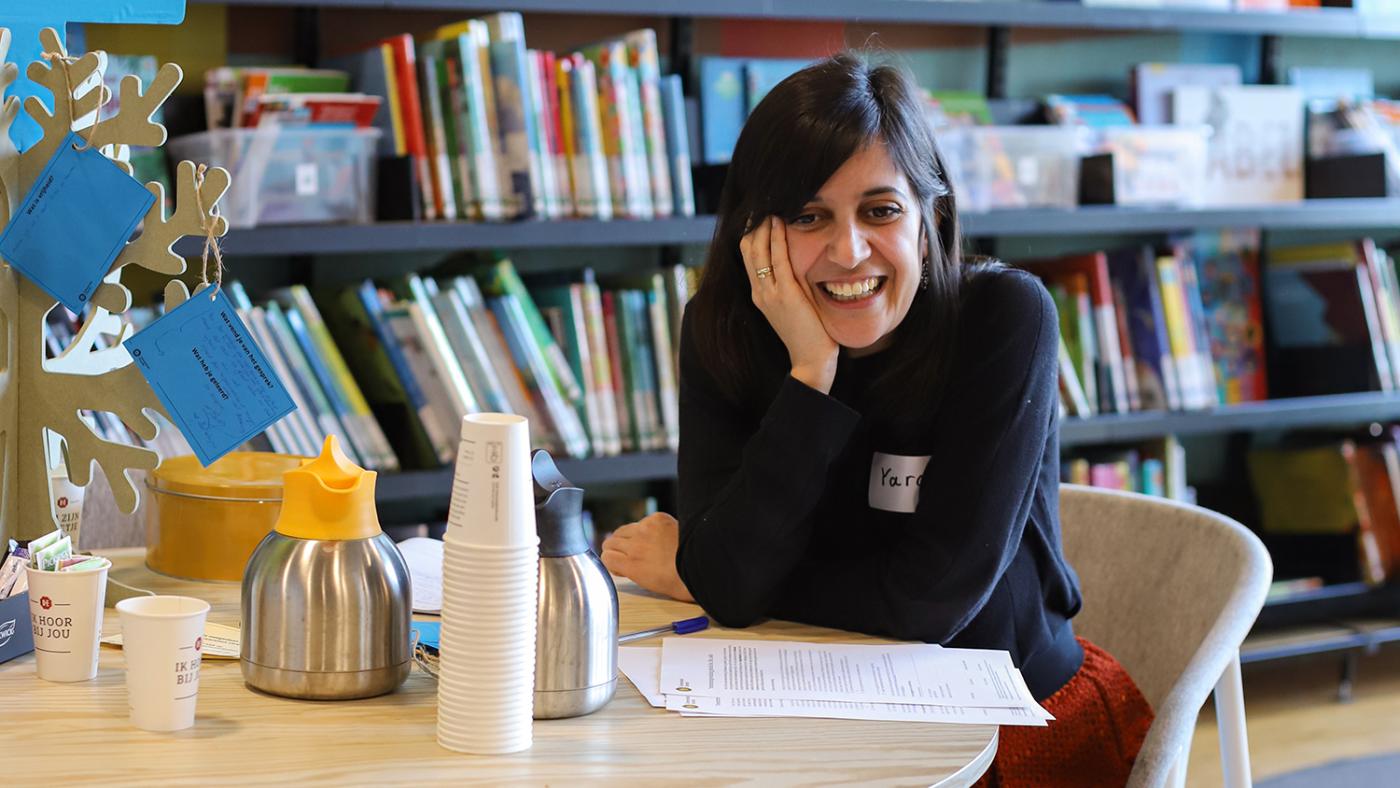 Building bridges
Nineteen scientists from Utrecht University had about three hundred conversations with people visiting Utrecht's libraries. The project was carried out for two weeks in November 2022 and the libraries included addresses in the city centre and the neighbourhoods of Overvecht, Zuilen and Kanaleneiland.
Even over Morgen is part of UU's public engagement programme, in which the university tries to get a broader audience engaged with the world of science. Last year, scientists talked to library visitors to collect questions for the Utrecht Research Agenda. These questions were used as a starting point for the conversations of the second edition of Even over Morgen.
"It's important that people know how knowledge is gained, how to find answers to certain questions and how scientists are working on that at the university", says Lieke Dekker, the Project Leader of Even over Morgen.
"This might even lead people to make choices in their everyday lives differently. They might start questioning what they're being told more often instead of just taking new information for granted. Through our public engagement programmes, we strive to spark something in people."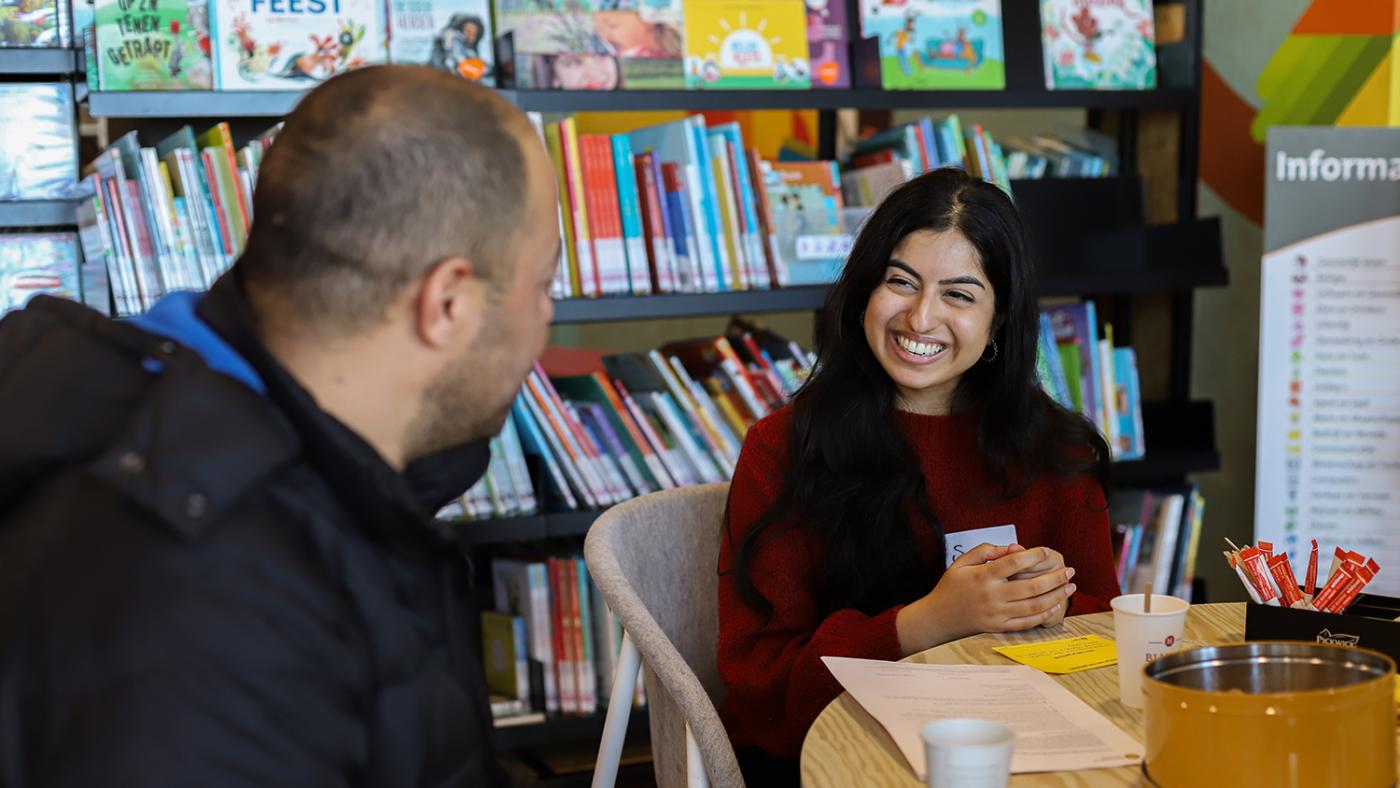 Personal stories
In addition to what makes a place great to grow up in, the library conversations addressed freedom, recycling and the benefits of doing a regular health check-up. People told all kinds of personal stories, according to researcher Jikke Wans. Despite all their differences, they seem to have similar ideas about what safety, love and a nice childhood mean.
"It's important to have lots of support from family and friends", expat Francesca agrees. She grew up in a small, close-knit community in Southern Italy, studied in Milan and now works in the Netherlands as an accountant. Her son is playing with the other kids in the library while she's looking for Dutch books. She's just started a language course.
The competitive housing market affects her directly. "I live in a temporary home," Francesca explains. "That's my biggest concern right now because, without a home, I'm missing out on a basic need. Also for my child."
According to Francesca, this is part of the reason why it's so important that researchers talk to people from all walks of life. "That way, they can gain an insight into what people are dealing with, such as the personal impact that the housing shortage is having on people. I would like to see us have more of these conversations, about other subjects as well. It starts a discussion and it's a good way to approach people who don't follow science."
"This is also beneficial in terms of tolerance and mutual understanding," Wams adds. According to her, in a fast-paced society such as ours, people are sometimes way too focused on themselves, thus forgetting to engage with others. "How can you have a wonderful conversation about research topics or life questions with people you don't speak to on a daily basis? I've come to realise that, if you're open to it, it can happen fast, regardless of whether you already know each other."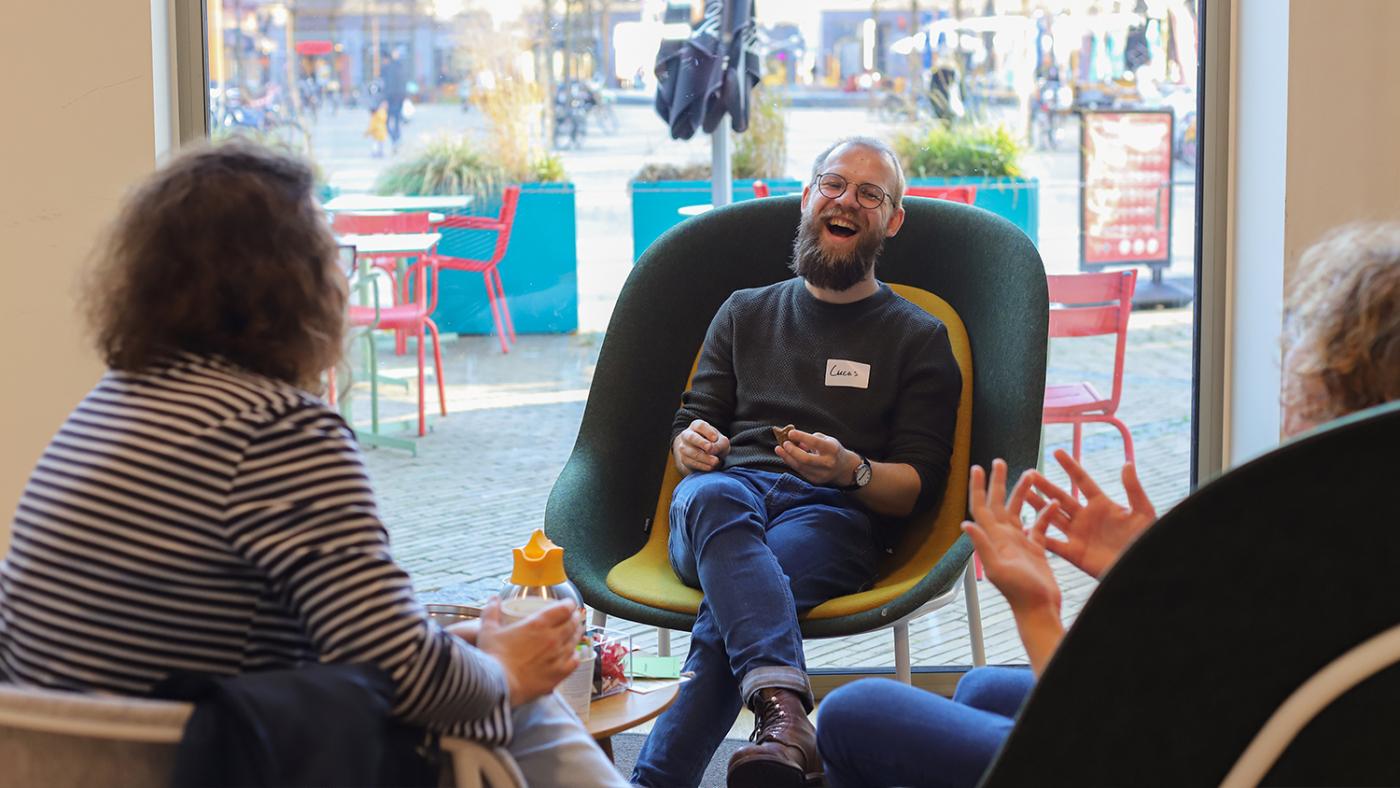 Onderzoeker Lucas Roorda (REBO).
Broadening your horizon
A little further down the hall, one finds the biologist Jonas Mars. He asks whether it's good to take regular health tests and it turns out that have very different opinions on that. "But it's interesting to hear other points of view and get a sense of how people think about these kinds of matters," he ponders.
"We're not having enough of these dialogues", he adds. "The conversations I usually have with family, friends and colleagues are often about the same things. People often agree with me. Well, not always, but in any case, they do not completely disagree with me."
According to the researcher, it's educational to talk to people who don't agree with you. "It makes you think about your own arguments. Up until now, everyone has always said something interesting in a conversation, even the ones I don't agree with. When they write down what they've learned from the conversation, it's the same thing I have learned from the conversation."
Mars thinks the university should strive to close the gap with society. "I think that the university is pretty far off from society. One of the reasons for that is that most of its employees are highly educated people. It's good for the university to be in touch with people from all societal groups. After all, universities get a lot of money from the government. People should know what is done with it."
Advertisement