Is it the future?
Hybrid education divides students and teachers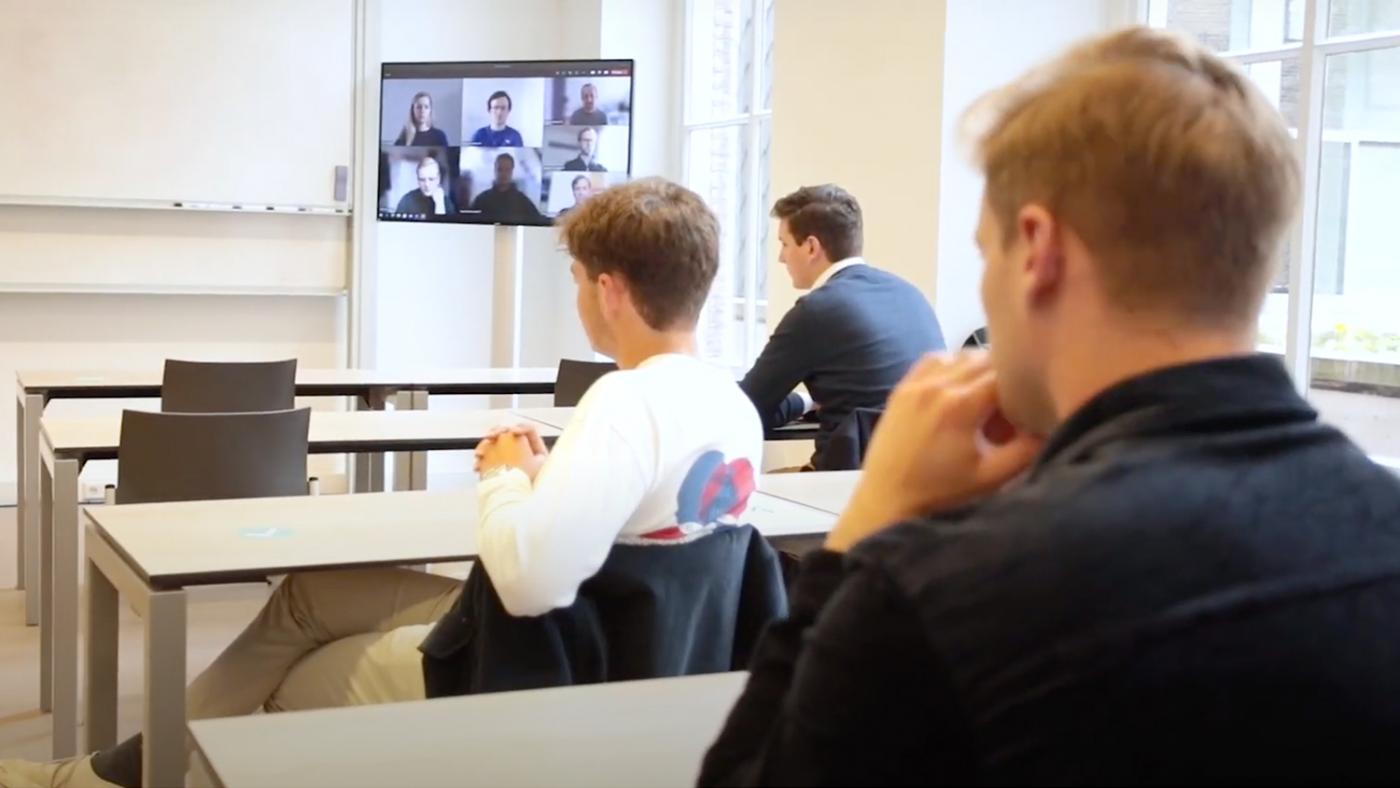 Etzel van Dooren giving a hybrid class in 2021. Photo: screenshot from a YouTube video published by UU
The monitors and pedal systems in the hybrid lecture halls of Utrecht University gathered dust during the last block before the summer break. During the pandemic, when only a few students could be present in the classroom, 44 rooms were equipped with technology enabling lecturers to teach in person and online simultaneously. After the restrictions to combat the spread of Covid-19 were lifted, teachers were encouraged to start teaching in person again. It is up to each teacher to decide whether or not to livestream their classes or offer recordings online, but in reality, the vast majority of classes can only be followed in person now.
As a general rule, the classes of Marine Sciences teacher Peter Bijl are not meant to also be attended online. He teaches his seminars in a hybrid classroom in the Ruppert building, but would rather return to the old way of teaching. "Hybrid and online education were a fantastic solution when we had no other choice but I think we should stop offering both of them as soon as possible," he says, arguing that the quality of this type of education is significantly lower and that students tend to lose interest and motivation easily. His students are only allowed to attend classes online in exceptional cases, such as when they're ill or have other significant reasons.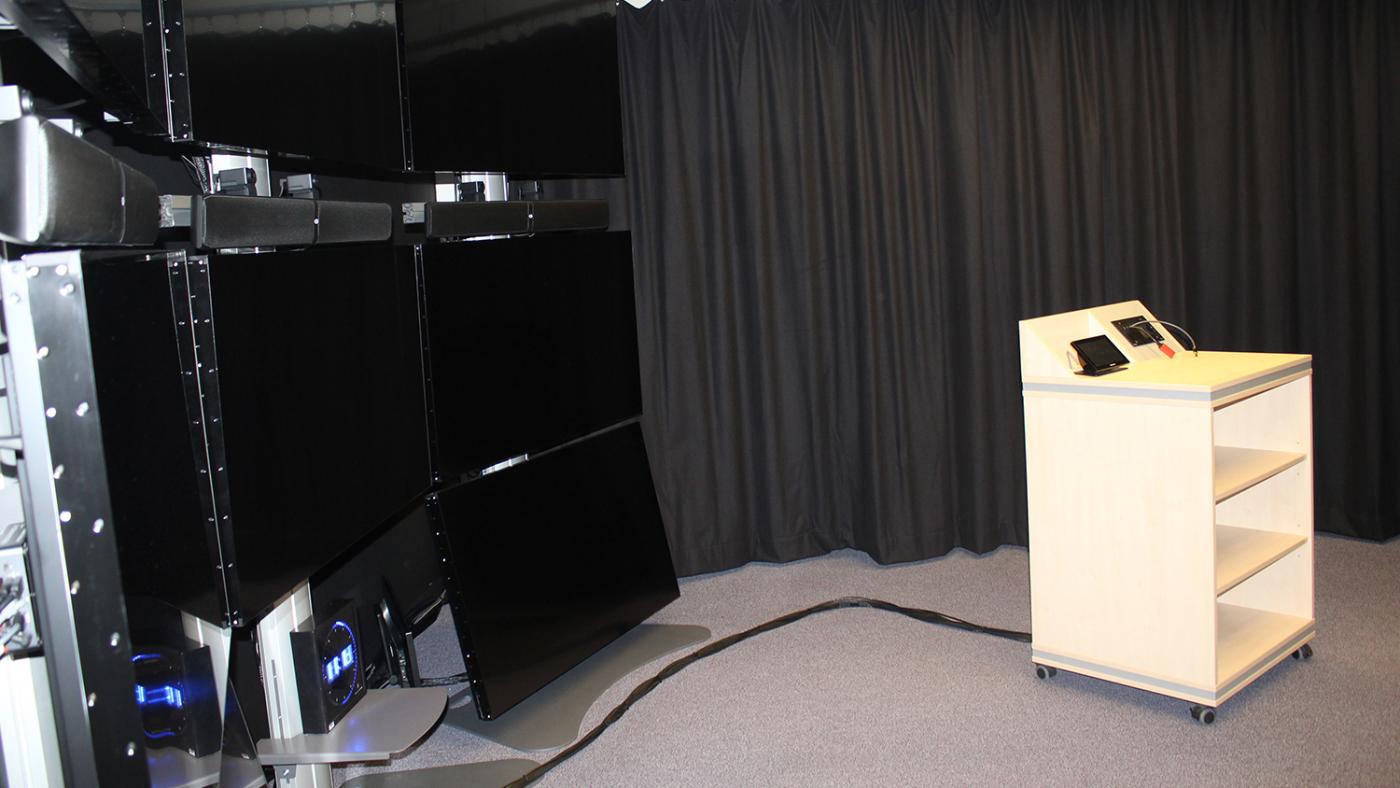 One of the Future Learning Spaces equipped for online teaching. Photo from 2021, DUB
If you're sick
To the Head of Education, Renée Filius, it is understandable that teachers are not using hybrid classrooms often as the format influences the interaction between students and teachers. "In certain types of class, it's simply impossible to pay attention to a group of students in the classroom and a group of students online at the same time. It's often at the expense of either of these groups. In terms of didactics, it is usually better to offer a class entirely in person," she says.  This is evident when one looks at the schedule of the current semester. The university's recommendation is to keep on teaching in person and only a handful of teachers and educational directors are making use of the hybrid option.
Like Bijl, most teachers are restricting the use of Teams to students who are unable to go to class because they have Covid or due to other major circumstances. Even so, they say that they would prefer their classes to be 100 percent in person. "It takes much more effort to engage people and get them to interact through a screen," complains the Assistant Professor in Public Health Ingrid Swaans, who currently has one student watching her classes online because of a Covid infection. She will keep on offering this option for the foreseeable future because she doesn't want to influence her students to come to class when they have Covid-related symptoms.
Does hybrid education truly have a place at the university?
Will this "light" form of hybrid education become the norm? If it were up to some students, yes. "I have a long commute by train, so I would like to have the option to attend lectures online," says Emmekene, a student in Marine Sciences, noting that she does appreciate being able to go back to campus again and that it is easier for her to pay attention when she is physically present. Fellow student Mart says the same. "It's just more fun to be in class in person and you can also absorb the content better."
The students have also noticed that hybrid education can sometimes be an easy excuse to stay at home and not participate actively. That's why most teachers offering this option require students to explain their reasons for attending a class online. A good thing, according to Psychology student Megan: "It's nice to have an alternative way to attend a class when you're sick." But online lectures have a few disadvantages too. For example, classes often have to end fifteen minutes early because teachers aren't always familiarised with the technology. It is also not uncommon for the students who participate online to be forgotten about halfway through the lecture.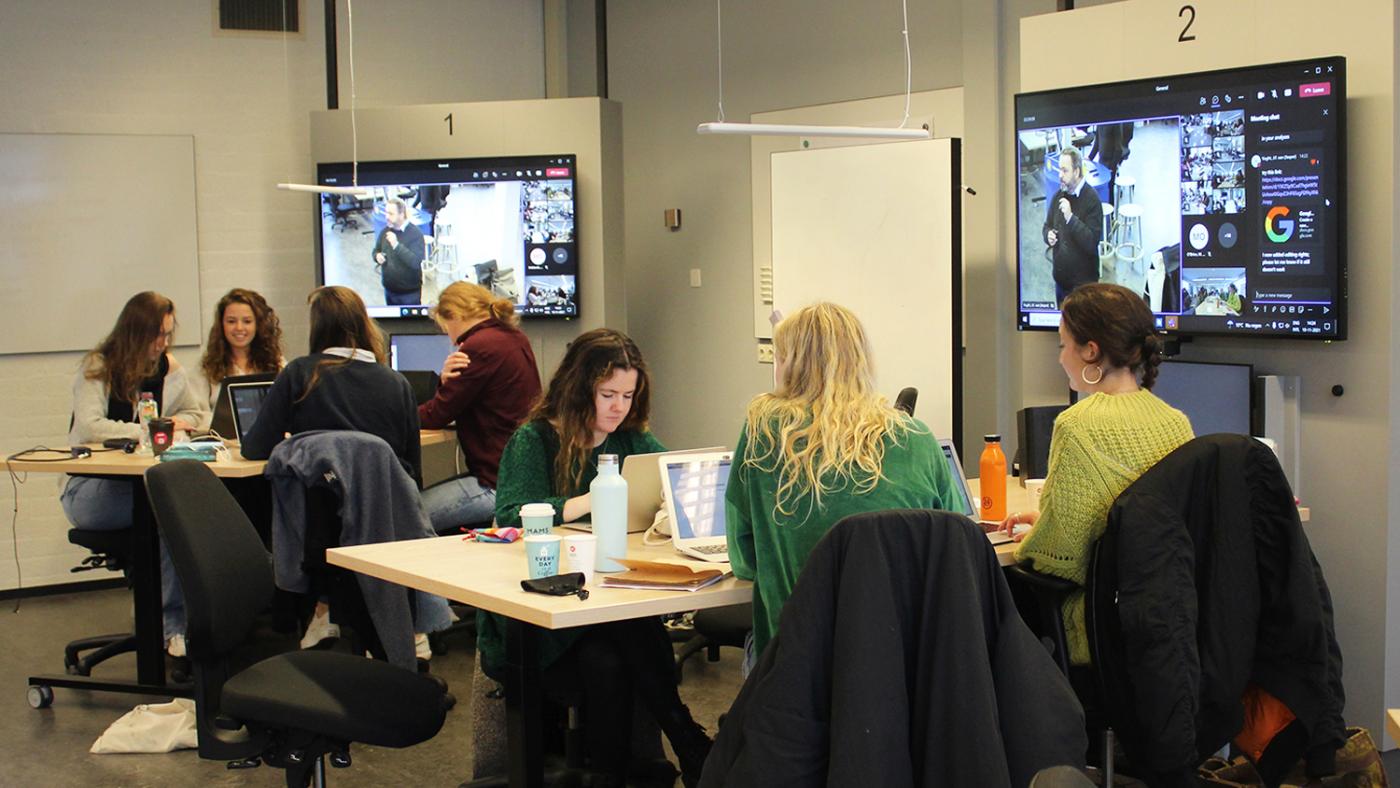 New lecture halls. Photo from 2021, DUB
Heavier workload
Etzel van Dooren, a guest lecturer at the Faculty of Law, Economics and Governance and a lawyer at DVDW, can relate. "When only one or two students attend online, teachers tend to pay more attention to the students who are there in person," he explains. Recently, while teaching a hybrid course, Van Dooren arrived fifteen minutes earlier to ensure everything was working. This way, he would have enough time to fix any problems. Combined with the task of constantly having to speak to two groups of students, hybrid education often means a heavier workload, according to Van Dooren and all other teachers consulted by DUB for this article. Although Van Dooren is enthusiastic about the hybrid classrooms, he prefers teaching in person. "Another advantage of face-to-face classes is that they offer a lot of opportunities for informal conversation. That's when you get to ask how students are doing and how they are experiencing the class."
In addition, the teachers think that the technical and social shortcomings of online and hybrid education end up reducing the quality of the class. "Students should not just learn from me, they should also learn from each other. These interactions occur much more frequently in offline seminars," ponders Bijl. Since students tend to participate less during online seminars, it is harder for teachers to see if they actually understand the subject matter. They can't read students' body language either, which makes it hard to assess whether they are going too fast or too slow. "It's hard to adjust the content or the tempo to the audience," says Bijl.
Are hybrid classes the solution or the problem?
Even with all these limitations, online education can still make a big difference for some groups of students, such as foreigners struggling to find a place to live, part-time students that live far away, and students with a disability, to name but a few. For the latter, online classes have actually made education more accessible. Student Luna explains: "Because of my depression, I don't always have the energy to take a train to Utrecht. I would prefer to attend classes in person, as you can interact with the others more easily, but that isn't always possible for me," she explains. Through her research Master's in Development and Socialisation in Childhood and Adolescence (DaSCA), she met students a pregnant student and students suffering from chronic fatigue, who have benefited from online lectures.
Since Luna did not meet the requirements for online participation in her study program, she chose to drop two subjects. DaSCA's Educational Director, Professor Maja Dekovic, explains that the programme is facing a dilemma when it comes to cases like this. "At DaSCA, seminars and interactions between students and teachers are key. Since that doesn't happen as much online, education falls short, making it difficult for online students to achieve their goals." In addition, as a research director, she does not want to run the risk of online education disadvantaging students who attend in person.
Luna admits that it is difficult to follow an entire lecture online, but she prefers doing that to not attending at all. She also feels that the university could help make online education easier for teachers by properly supporting them and offering them courses.
According to Renée Filius, students are best served by talking about these issues with their study advisor, just like they used to do before the pandemic. The correct approach for this kind of dilemma may differ depending on the type of disability and the type of education. Students that have to quarantine but would still like to participate in lectures that fully take place on-site can listen in passively, without detracting from the experience of the students attending in person. Large study programmes with several seminars per course could also examine whether they can set up one of those seminars online. But Filius does not want every seminar to have a group of online attendees. "This may be a solution for some international students and part-time students, but the group attending in person, who will be disadvantaged from this, is much larger."