Inflation makes eating together a necessity
'Indonesian fried rice, deadline 5:00 pm, six people max'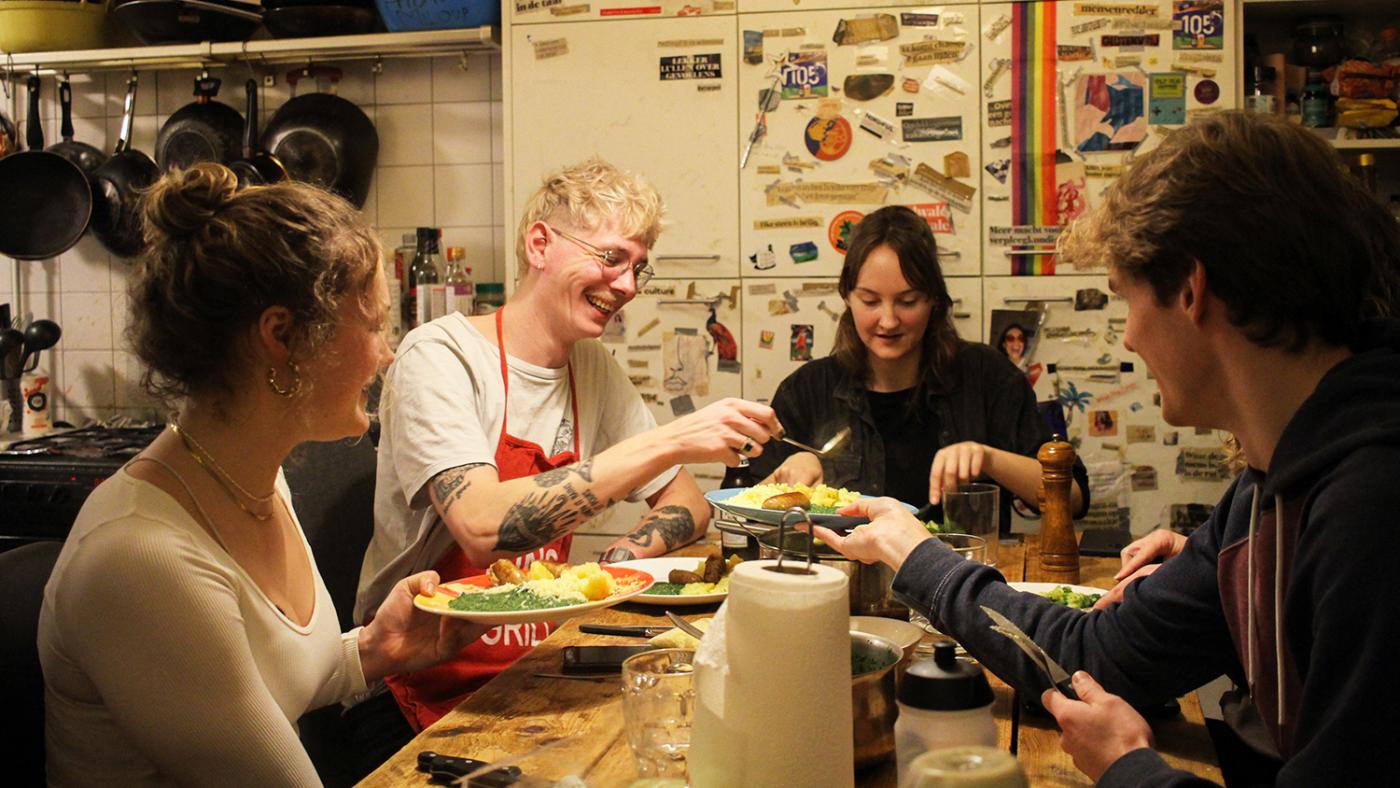 Eating together is no longer a choice in this IBB kitchen. Photos: Lei Visser
Bravely, you hold your card against the machine. Seven euros and fifty cents are a bit much for pasta with tomato sauce and veggies but you're (almost) an adult and very responsible, so you can afford this, of course. Oh well, what did you expect, with such an infla… Beep, beep, beep. This familiar, merciless sound marks the end of your dinner plans: you don't have enough money in your bank account. Disappointed, you pay just for the spaghetti. There should be a bottle of ketchup lying around at home somewhere.
It's a stereotypical image: the broke student devouring spaghetti with ketchup out of bare necessity. Although not all students need to keep an eye on their expenses, some of them certainly do. Most don't have to go as far as eating spaghetti with ketchup on the regular, though: Students sharing a flat often eat together, which is much more affordable — even more so now that inflation is reaching record highs.  So, what is it actually like, having dinner together in a student home? And to what extent is inflation influencing the way they eat? Five IBB residents fill us in.
It's a typical evening in this IBB home: ten students are bouncing through a fuming, not exactly spacious kitchen. There's shouting, debating — tofu or minced meat? — and people stirring through the same pan with multiple ladles. Today's menu: creamed spinach with potatoes and currywurst. "It costs just 1.30 euros per person!" says the Clinical Health Sciences student Milou, proudly, as she puts the pans on the table.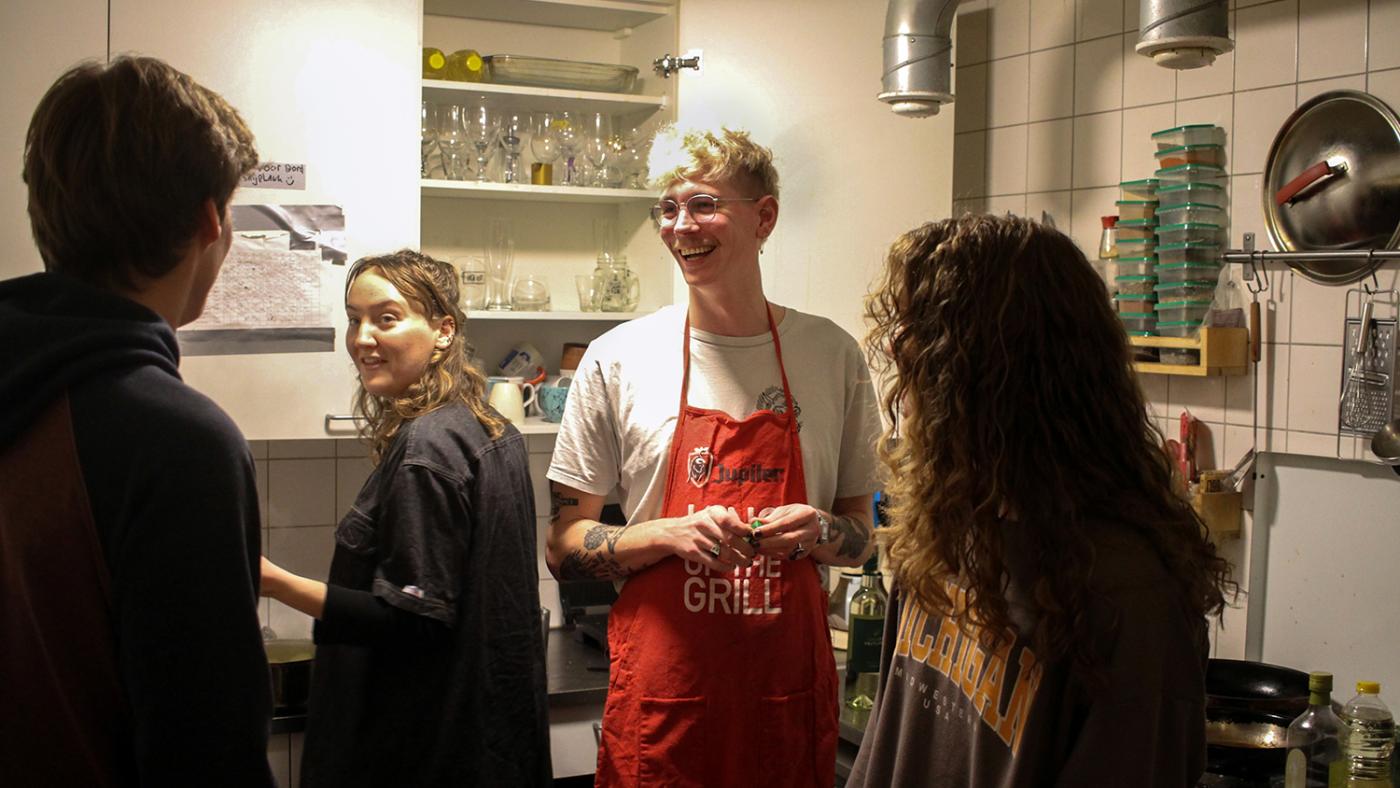 The binding factor
In this flat, which accommodates a total of fifteen students, the roommates eat together every evening. "Not only is this cheaper but it's also a bit of a necessity," Milou explains. She points at the bulging kitchen. "Can you imagine fifteen people behind that little stove?" But, mostly, they have dinner together because it's fun. Daniël (29), a student of Dutch Language and Culture, even calls dinner the "binding factor" in their home. After all, the students usually meet when the living room flocks with empty stomachs. Having breakfast and lunch together is pretty common for them, too. Their afternoon go-to dish is fried rice. "That's when everyone gets a plate and we talk about our day together."
It may seem complicated to cook for so many people but here they have managed to come up with a clever system. Usually, the schedule is set through WhatsApp. Daniël explains: "Someone says something like 'Indonesian fried rice, deadline 5:00 pm, six people max' and those who want to join can sign up. Then, there will be a shopping team and a cooking team. The rest will wash the dishes. As for the costs, they are put into a who-paid-what sheet and divided evenly among everyone who participated."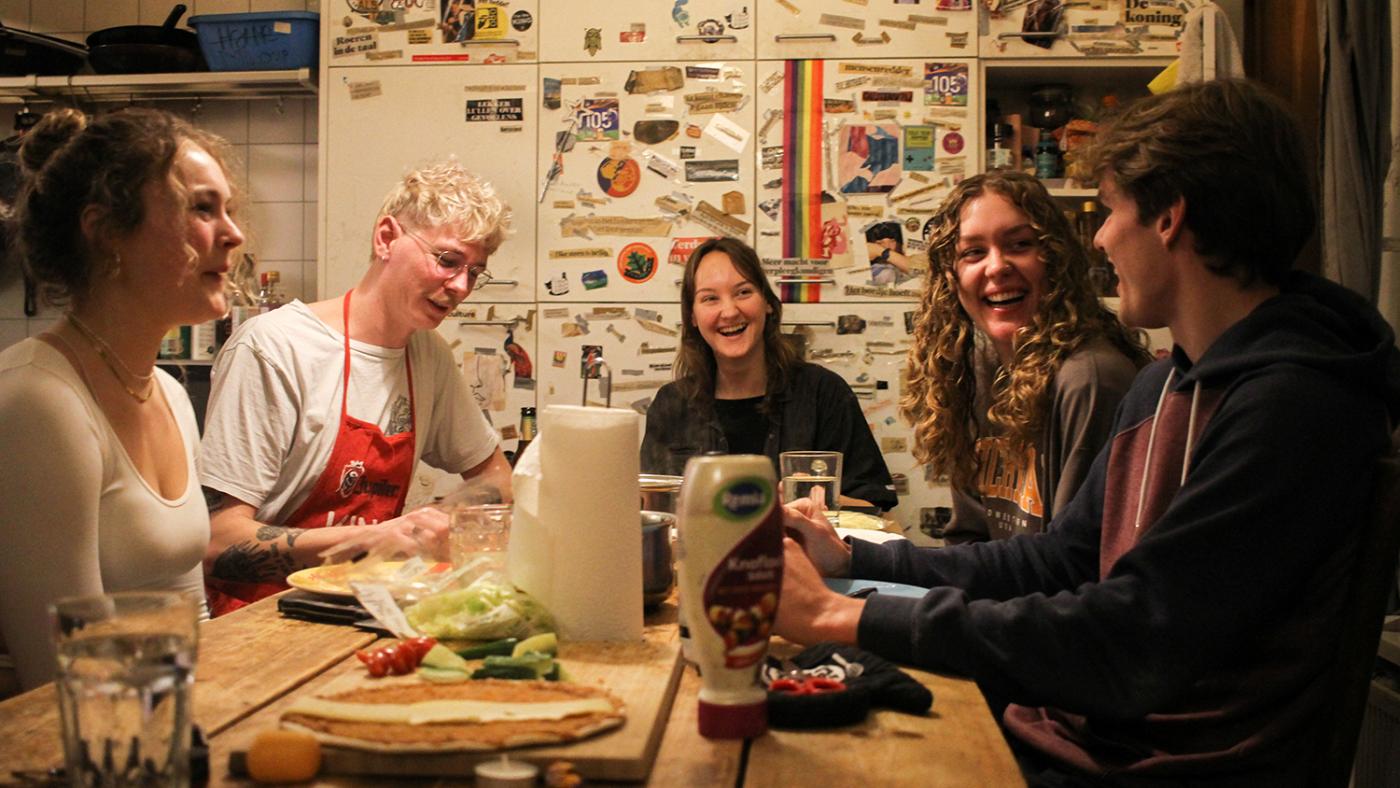 What are the most frequently cooked recipes in your kitchen?
Daniël: "Greek meatballs, no doubt. We make them every month. It's basically meatballs, rice, and tomato sauce."
Myrthe (23, Clinical Psychology): "I think it shares the first spot with wraps. We eat them with vegetarian chicken schnitzel, which is fucking delicious."
From now on, DUB is going to verify the costs of a popular dish among students a few times a year to check whether the price is increasing. The meal in question is pasta with pesto and chicken. Do you guys eat that often, too?
Myrthe starts to beam: "Oh wow, pasta pesto!" It gets her a disapproving look from the others. She adds: "Yeah, I get pretty shamed for that around here."
Daniël: "With just a little bit more effort, you can make things that taste so much better."
Milou: "But maybe we're not that representative. There are quite a few foodies and amateur cooks in our home so we cook unusual things often."
Jess (25, Gender Studies): "Yeah, I have a more posh diet here than I do at my parent's house."
They name a few examples of unusual dishes they make on a regular basis: sushi, soup (for which they make their own broth)... At Christmas, there was even lobster on the menu. They're almost afraid to say it out loud.
That sounds pretty luxurious. Do you have any agreements about how much a meal can cost?
Myrthe: "No. If you sign up for dinner, then you just pay your share of whatever it costs."
Dennis (Economics and Chemistry): "But usually nobody goes all out. We're all students, so we're all in the same boat. If something turns out to be too expensive, we look for a cheaper alternative."
Milou: "Like this afternoon. I was at the supermarket and I had a lettucefinch in my hands but it really was too expensive. So we went for the currywurst instead."
Daniël: "Well, I guess you can't have lobster every night."
It looks like you can still have a pretty good dinner. Have you actually noticed that the prices have increased?
Boy, do they notice. The question is met with loud sighs, moaning and what-the-fucks.
Daniël (jokingly): "That lobster is now sixty euros!"
Jess: "Seriously, even Garlan cream cheese costs 1.20 euros now"
Garlan used to be the cheapest brand of herbal cream cheese, with a price far below one euro.
According to the students, other products that have become remarkably more expensive include: a large chunk of cheese (which went from five to seven euros), sunflower oil (fourteen bucks for four bottles), chicken, and chocolate. The other day, someone bought a banana for eighty cents. Not to mention the increased prices for rent, alcoholic drinks, and festival tickets — which causes a second round of sighing and moaning. Prices are skyrocketing, indeed.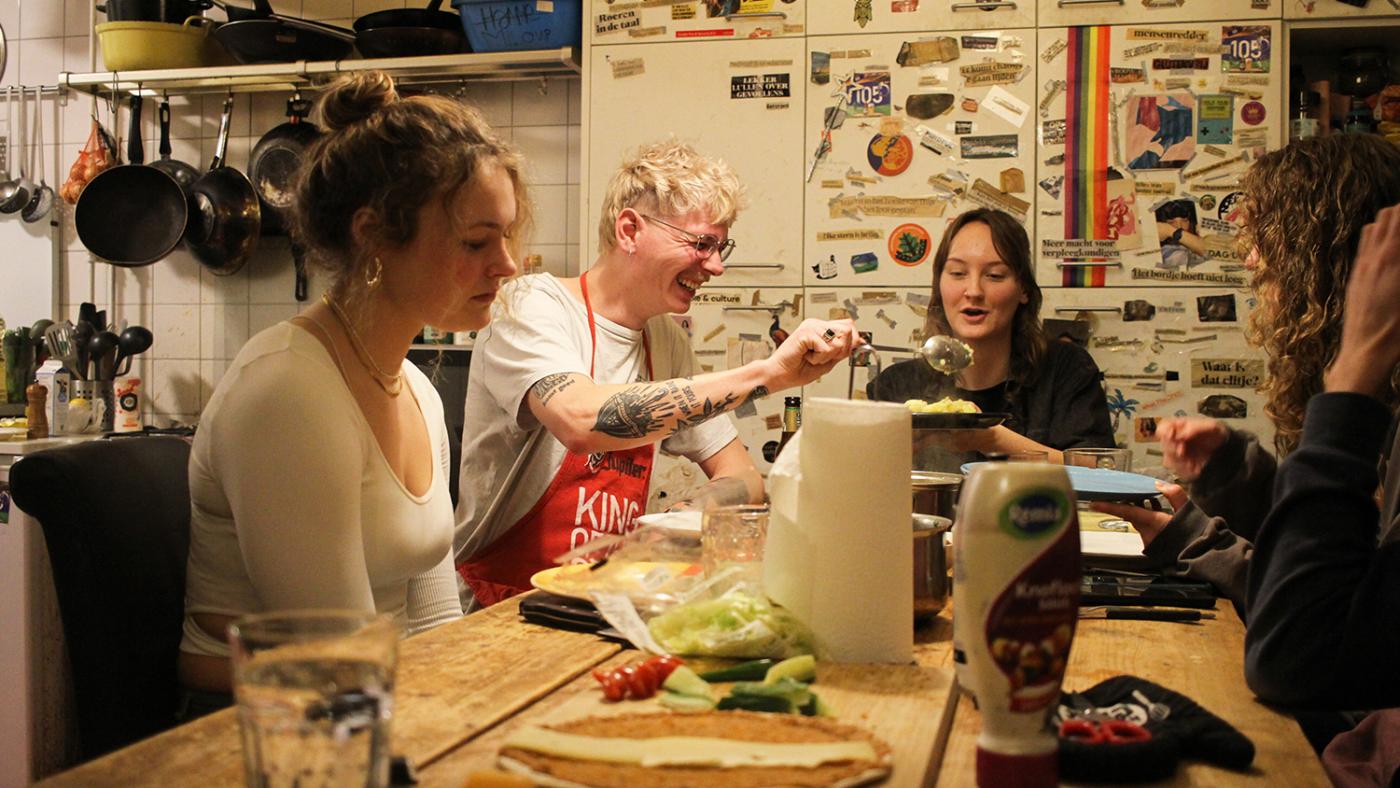 As a result of inflation, have you changed the way you do your grocery shopping?
Dennis: "Yes, we're doing our groceries together more often, so we can benefit from 'Buy two, get one for free' deals at Jumbo."
Milou: "I've taken to checking out Jumbo's flyers. My dinner plans depend on what's on offer."
Jess: "But we're not that fanatic in adjusting. The fact that we're still going to Jumbo confirms it. We're just lazy, we do it because it's just around the corner. But it's a much more expensive supermarket chain than Lidl or Aldi."
In addition, the housemates note that it would be cheaper to buy groceries for the whole week at once. But they don't have room for all that as each roommate has their own shelf in the pantry. Besides, students often don't know by Monday where they're going to be on Friday and what they will want to eat then.
So you do notice the price increase and it affects individual shopping. Has communal eating changed as well?
Jess: "No. If you eat with a lot of people, it's cheaper. So, we don't have to pay as much attention to it."
Milou: "Yes, but I do notice that the price per person has gone up. Now we spend three to four euros per person but, a few years ago, two euros really was the max."
Still, these roommates have chosen not to cut costs on their shared dinners for now. That might change if prices rise even further but the economics student in the house doesn't expect that to happen.
Jess: "We just think it's important to cook and eat extensively. That's not only beneficial for your mental health but also in terms of our bond with each other."
Daniel: "Like I said, food is a binding factor."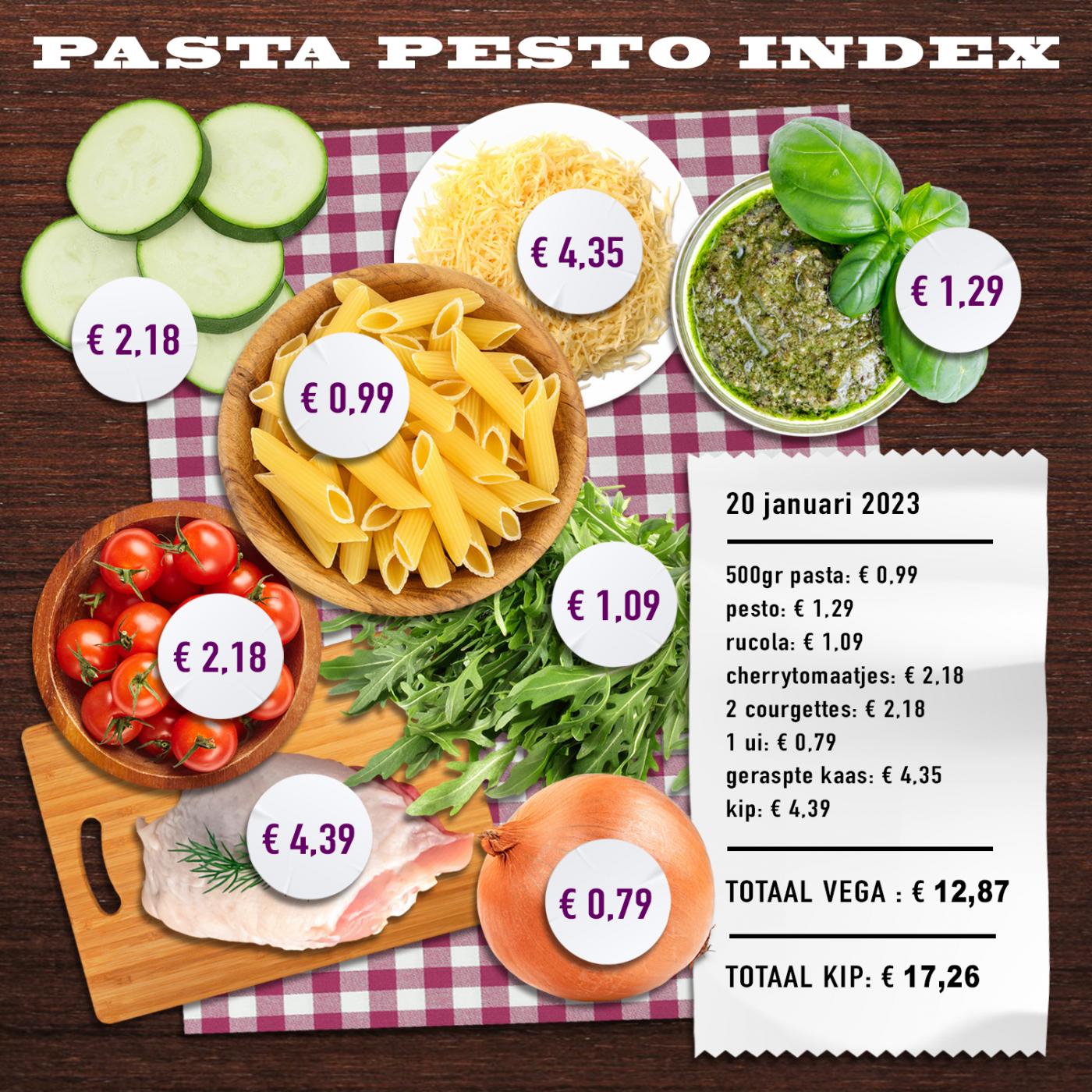 Pasta with pesto index on January 20, 2023: 12.87 euros (vegetarian); 17.26 euros (with chicken) for four people
Based on Jumbo prices. On November 29, the costs amounted to 11.84 euros (vegetarian) and 15.86 (with chicken). That's an increase of 8.7 percent for the vegetarian version and 8.8 percent for the version with chicken.
 

20-01-2023

29-11-2022

Penne (500 g) 

0.99 – Jumbo's own brand

0.99 – own brand

Pesto (200g)

1.29 – own brand

1.29 – own brand

Arugula (85 g)

1.09

1.00

Cherry tomatoes (500g or two boxes)

2.18 – own brand

2.18 – own brand

2 zucchinis

2.18

2.18

1 onion (price per 2 units)

0.79

0.65

Grated cheese (175 g)

4.35 - own brand

3.55 – own brand

OPTIONAL: Free-range chicken thigh filet (4 units)

4.39 (price per kilogram: 12.54)

4.02 (price per kilogram: 11.49)

 

 

 

Total

12.87 (vegetarian)

17.26 (with chicken)

11.84 (vegetarian) 

15.86 (with chicken)

Per person

3.22 (vegetarian)

4.32 (with chicken)

2.96 (vegetarian)

3,97 (with chicken)