Internationals want to learn Dutch, but drop out quickly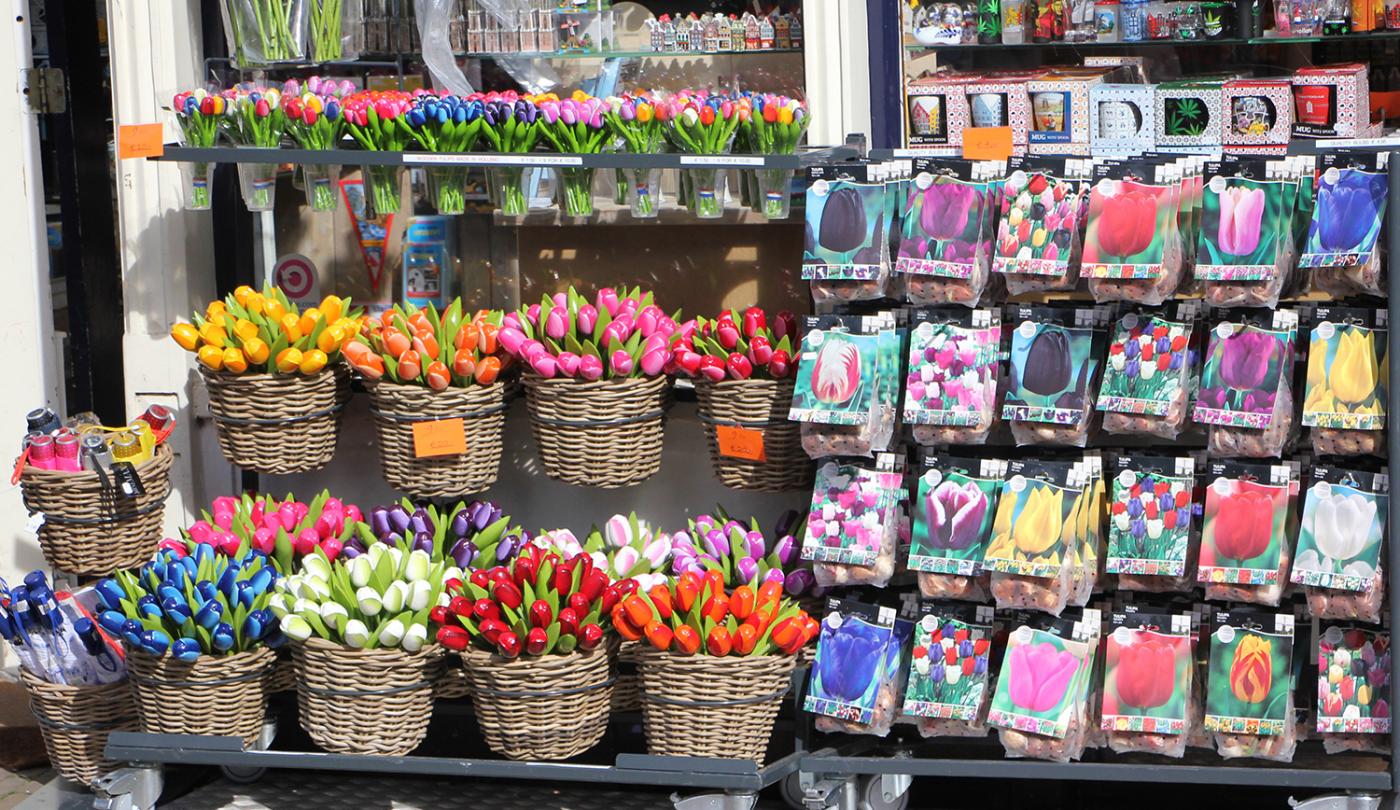 Picture DUB
Despite the warm spring weather, six international students are inside in classrooms instead of outside on a terrace. The Erasmus Student Network beginner Dutch class is teaching them to distinguish between diphthongs like 'ui' and 'eu', to introduce themselves in Dutch, and to give each other directions to the Central Station. They have an hour and a half of class every Wednesday afternoon for ten weeks. "It's interesting to learn different languages and cultures, and I'm here for my own entertainment," says American exchange student Talha. Job opportunities in the Netherlands also play a role, says Master's student Violet. "After I graduate I may want to stay here for work, but many jobs require you to be able to speak Dutch."
In the classroom, volunteer teacher Andrea names the hours on the clock in Dutch one by one. Most of her students are Erasmus exchange students who join because they want to find their way around Utrecht, she says. "When they're in a supermarket at the check-out, they want to know at least a little bit of what's going on." Andrea says the course is a good first step to learn the basics. "The starting level is very low, and it only costs 14 euros. That's why there are also many students who join for fun." Aside from the low starting level, it also seems like there's a low number of students making it to the end: Andrea's class is supposed to have 25 students. "After a few classes, only about ten show up."
Value for the knowledge economy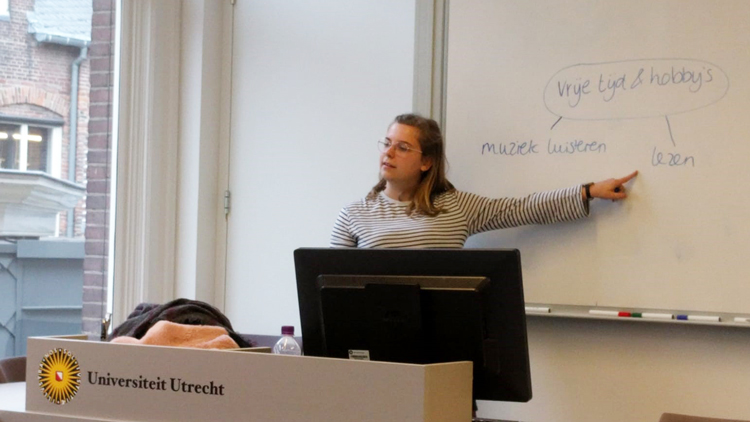 That learning Dutch is a value to both education and the student, is obvious. It can help fix the language barrier between Dutch and international students, and help both students make new international contacts. That's good for international students, who often deal with feelings of loneliness, but also for education itself, which can be enriched by the exchange of international knowledge and visions. The taskforce Internationalisation advises in its report that all international students and employees should take Dutch courses up to A1 level for their social skills. 
Learning Dutch also comes with economic benefits, the taskforce writes. Language courses help bond with and keep international talent, and that's valuable to the Dutch knowledge economy. If 19 percent of foreign students in the Netherlands stays here, this would contribute 740 million euros a year to government finances, the CPB says. In 2013, this was reason enough for former education minister Bussemaker to present an action plan Internationalisation that highly emphasised language. "For true social integration and finding a job in the Netherlands, it's necessary to be able to speak Dutch."
International student syndrome 
​​​​​​​Since then, the UU has offered various courses. 2016 saw the launch of the ESN introduction course, and last year, the university started offering a free online Dutch course. Language policy officer Femke van der Geest calls it an introductory course. "Our goal is for students to get used to how Dutch sounds, learn a few useful words, and get to know the city." For that reason, the course contents are aimed at locals. There are exercises in which the students have to look up the opening hours of TivoliVredenburg, and name bicycle parts. "Mostly, we hope we can enthuse students to keep learning."
Just like in the ESN introduction course, many students drop out. "They use the course a lot before they come to the Netherlands, but once they're here they're so busy, and you see a huge drop in course activity," says Van der Geest. Integration coordinator Guusje Hoogendoorn from the ESN says busy schedules play a role in students dropping out from their course as well. She recognises it as a symptom of international student syndrome. "You arrive in a country filled with enthusiasm, and you want to do everything and so you sign up for everything. After a month or so, you realise you've spread yourself a little thin, and there's also the study programme to spend time on, so you often drop extracurricular activities like language courses."
Although they don't reach the A1 level recommended by the taskforce, the exchange students seem to be satisfied with the basic courses offered by the ESN and university. "They're often in the Netherlands for half a year, and they're not planning to use the language at any time in their lives," Hoogendoorn says. A1 is the lowest level of language proficiency. For civic integration exams, people have to make it to A2 level – or B1 level after 2021. With B1 level you can enrol in mbo schooling. People who want to enrol in Dutch hbo or university programmes have to have passed the B2 exam. 
Busy studies, full courses
The Master's students however, stay in the Netherlands for longer periods of time, and sometimes stay here after graduating to work here. "We see many Master's students who want to keep learning. So we introduced a ten-week follow-up course last year," Hoogendoorn says. Students who actually want to speak Dutch at work will still have to keep learning after taking this course, but the means to do so are limited.
Many Master's students, for instance, don't have enough time to invest in learning a language. Graduate Kristiana noticed this in her class during her Master's in International Relations. "Perhaps 10 percent of my fellow students was trying to learn Dutch. Some of them wanted to learn Dutch, but didn't know how long they'd be staying here, so they prioritised their studies." With some effort, she managed to combine her studies with Dutch courses at the Volksuniversiteit. "In the weeks surrounding my exams, I could only do the bare necessities for y course."
Master's student Hannah didn't have enough time to learn Dutch, too. "Aside from my studies, I work part-time in a bar, so I'm busy enough as it is. And anyway, I heard many courses are already full." Many of the Dutch courses the university offers are, indeed, already fully booked or even overloaded. The weekly Dutch lessons voluntarily provided by the International Neighbour Group usually only have room for 60 percent of people who apply. And although many students dropped out, the ESN beginner course was also fully booked this last autumn.
If eager-to-learn students still want to keep learning, they'll have to go language institute Babel, or they'll have to search outside the confines of the university for suitable language education. Master's student Kristiana chose the latter. "When I came here for my studies, the UU didn't mention anything about language courses. By chance, I found out that you can request municipal subsidies to study Dutch at the Volksuniversiteit for a lower price. I thought the Babel courses were far too expensive."
It's necessary anyway to work on using Dutch outside of taking courses, Kristiana advises. "You have to be exposed to the language by surrounding yourself with Dutch people. You can do this by getting a job, for example, or do volunteer work, or join a study association or a sports club. I did volunteer work, and then I became chairwoman of ESN Utrecht." It's quite the search for internationals to find Dutch speaking and listening experience, she says. "In education, Dutch people speak English, and if you try to speak Dutch, they often switch to English anyway."