Jakub Grabmüller: Czech star rower in a Utrecht Triton house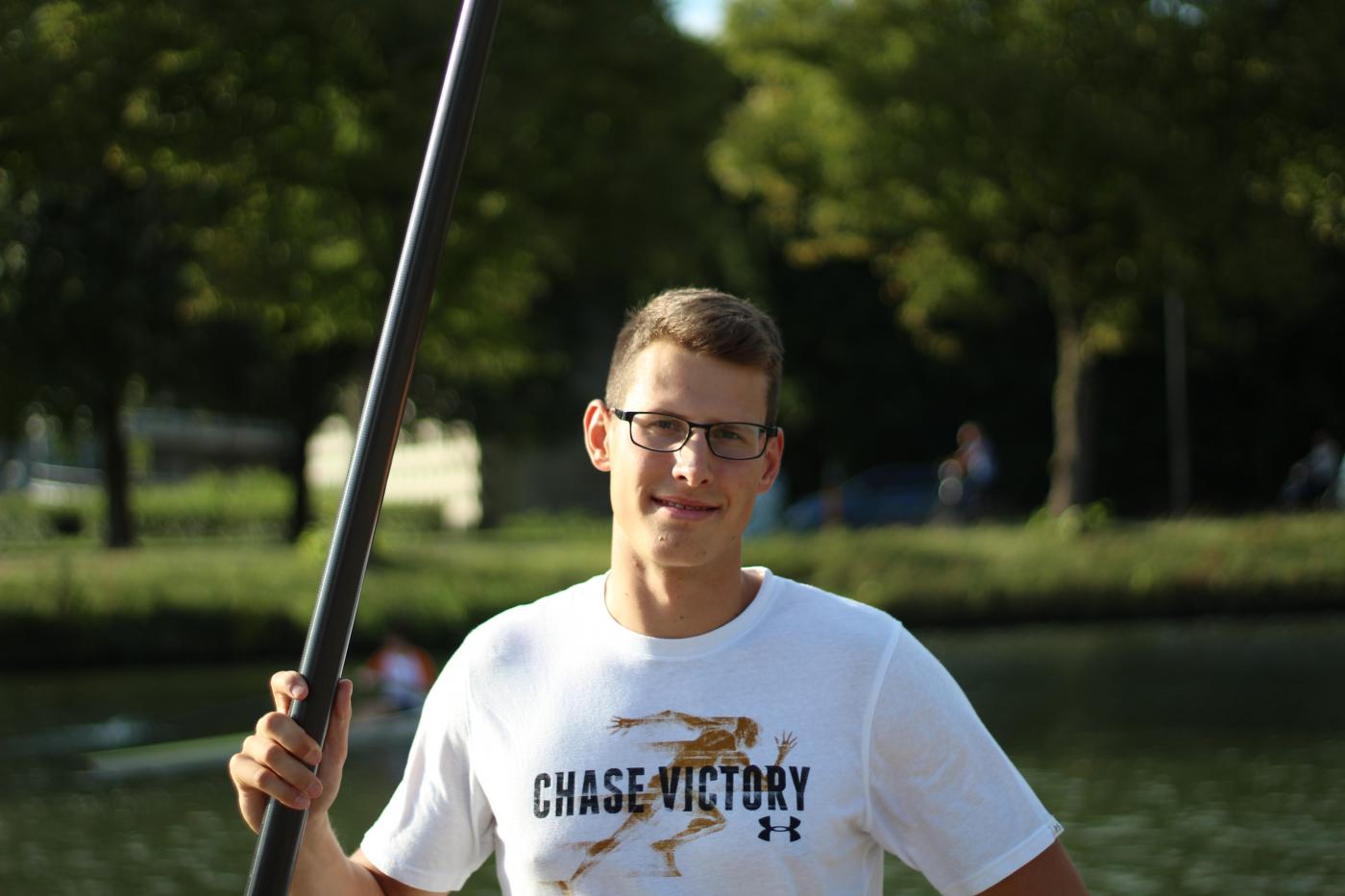 Jakub Grabmüller: I wanted a challenge in my studies. Photo: DUB
When Jakub Grabmüller (22) walks into the city centre University Library in mid-September, he has only just returned from the world rowing championships in the Bulgarian city of Plovdiv. With three team members from the Czech team, he came in ninth. It's a spot that opens up possibilities of competing in the 2020 Tokyo Olympics.
But for now, the bachelor degree student is focusing on his studies in Business Economics. "I have to catch up on some things. To keep up, I'm taking three courses instead of two now," he says. "If I pass all my classes, I'll graduate this year. Otherwise, it'll be three years and a little bit more."
Combining sports and studies is doable, Jakub thinks. "Time management is very important," he explains. "Right now, I have more time to devote to my studies and to have a semblance of a social life, because I don't have training in the next three weeks."
Training at 7.30
His regular training programme means his days are scheduled down to the minute. "I train with Triton twice a day. My first training session is at 7.30 in the morning. Then, I rush to the university to go to class, rush back home for lunch, and then I have another class or seminar in the afternoon. In the late afternoon, I train again, and in the evenings, I have time to relax at home, or to do some work if necessary."
He joins the competitive Triton team for his daily training sessions. "I've noticed that it's really helped me improve," he says. "They're at a very high level. I train with people who have, for example, won a bronze medal at the Olympics in Rio de Janeiro. It's a very competitive group."
During periods filled with training programmes, his professional athlete status helps. "It makes it easier to discuss with course coordinators about what I can or cannot do. In some cases, for example, I can do the required reading ahead of time." Thanks to the professional athlete status, there are different requirements for his presence in class as well. "That's especially convenient near the end of the year. I have training camp with the national team a few times in February and March. I'll be abroad for two weeks, which means I lose four out of nine course weeks."
His UU classmates send him notes during his training camps. "There's time to study, but after all the training sessions I'm so tired I barely ever do," he says. "And sometimes, I just really don't feel like it. But I wanted some challenge in my studies. It was one of the reasons I came to the Netherlands."
Big rowing culture
Even on his first day with Triton, it became clear to Grabmüller how different rowing culture in the Netherlands is compared to the Czech Republic. "It's such a students' sport here. In the Czech Republic, you start rowing when you're ten, and you quit when you go to college. It's just a hobby there." It would've been impossible for him to combine rowing and studying there. "Even in high school, teachers felt I had to choose between school and sports."
Another thing he noticed was the drinking culture at the rowing club. "In the Czech Republic, it's quite common to have a chat with a few people and drink one beer, which then turns into three beers. And after those three beers, it's maybe 9 in the evening, and you go home. At Triton, you either don't drink at all, or you go all-in."
Aside from rowing, he's also found a lot of friends among the Triton members. "I'm living in a Triton house now, along with eleven Dutch people," he says. "It makes it easier to integrate. I've noticed that doing any kind of activity together, such as rowing, strengthens friendships. It's far more effective than when you just see each other in class."
Marry a Dutch woman
The combination of sports and studies was what made him choose the Netherlands. "Rowing culture is very big here, especially among students. It's comparable to the UK or the USA." For a little while, he couldn't decide whether to enroll at the UU, or at the University of Amsterdam. "I chose Utrecht because the academic programme appealed to me more, and because people had told me Coen Eggenkamp is a good coach."
After his good results with the Czech team, the thought of perhaps rowing for the national Dutch team lingers in his mind. "That would mean obtaining the Dutch nationality first, though," Grabmüller says. "I'd have to live here for at least five years. Or marry a Dutch woman, I'm not sure which route's faster," he jokes.
Jakub: "When you're a rower for the Netherlands, international success comes faster, because the Dutch rowing team is very strong. It's harder to make the team, though. That's definitely easier in the Czech Republic, but then it's harder to get good international results. It'd be amazing to hear the Czech national anthem at a rowing match."