Jeroen van der Lely chooses Literary science studies over professional football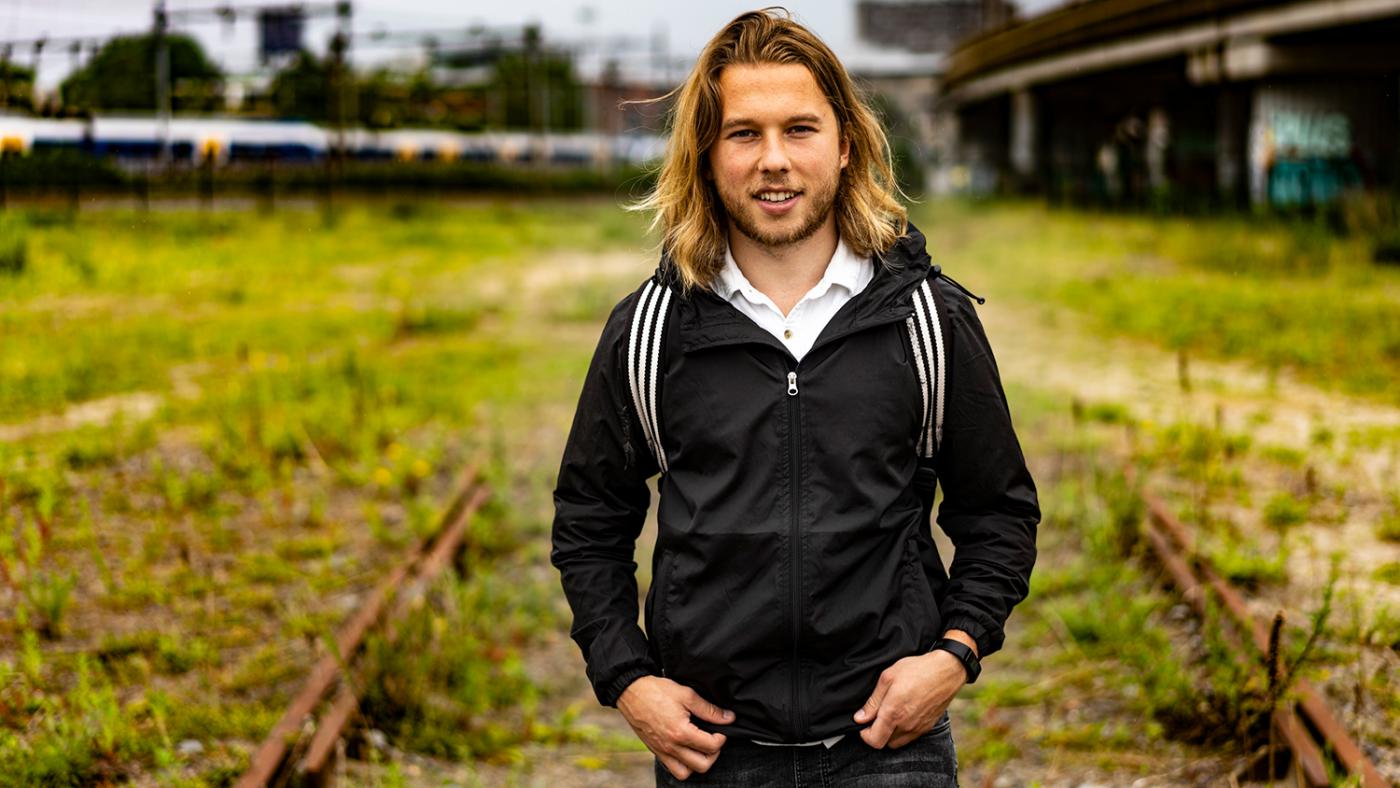 Photos: Ivar Pel
Those who think in stereotypes would not see a professional football player when they look at Jeroen van der Lely. He doesn't drive an expensive Mercedes Maybach, doesn't wear sunglasses or Beats by Dre headphones, and there's no sexy blonde walking by his side. He arrives by train, carrying a black rucksack, and wearing a black hoodie and black jeans. Orders green tea.
Okay, he does have tattoos. On his right arm, there's a bee. A random choice, back when ex-teammate and good friend Peet Bijen ('bees' in Dutch) was celebrating his birthday. Gave him quite the shock, too. There's another tattoo on his chest, he says; his brother has the same one: 'Brothers by blood, mates by choice'. They and a third brother live together in an apartment in Enschede, where people recognise him regularly. In Utrecht, the former FC Twente footballer can walk around incognito. 'If my future classmates ask if they know me from something, I'll tell them: from the interview with DUB.'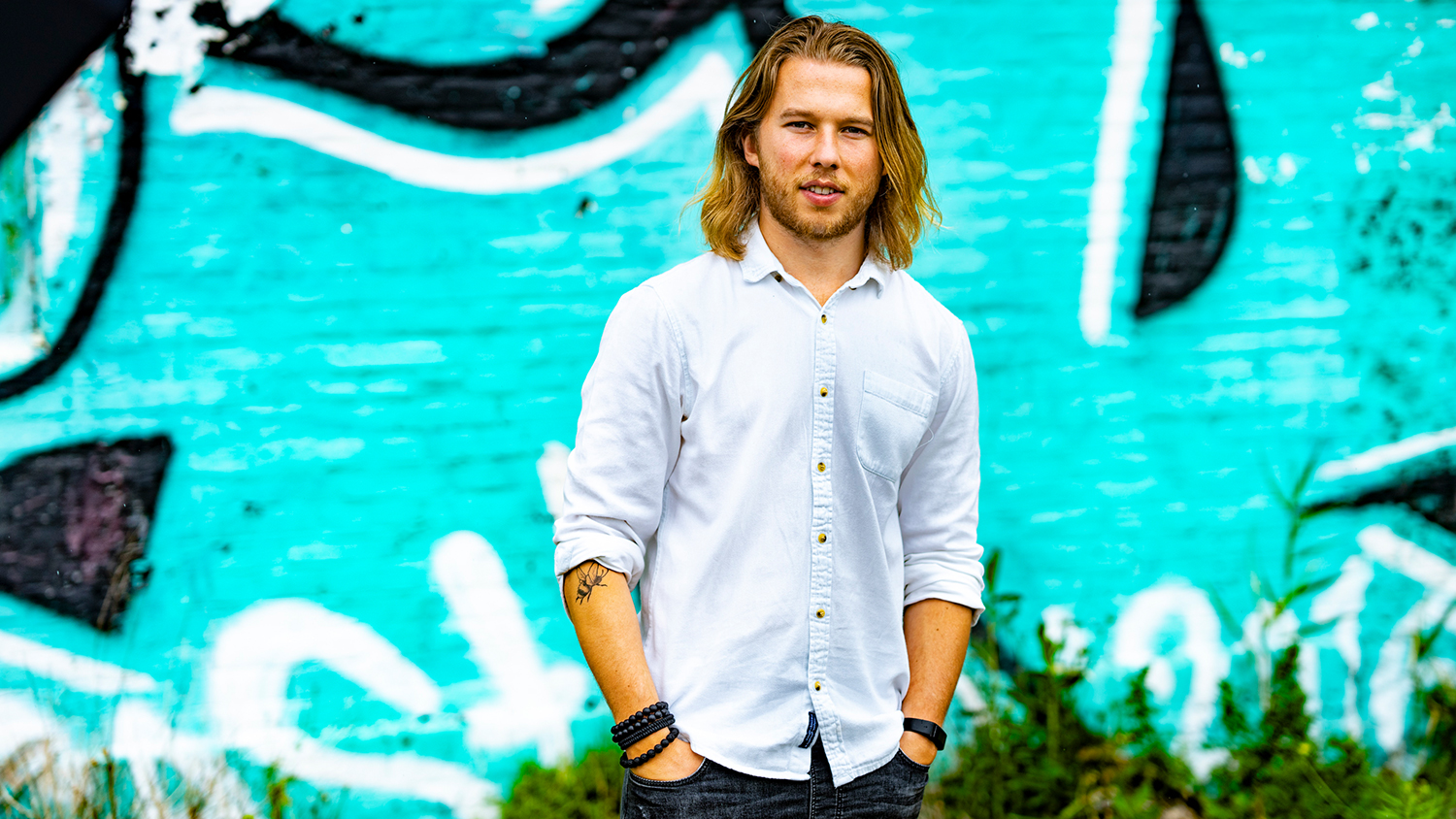 Jeroen is relaxed. He was supposed to go travel for a few months. The corona crisis means he has more time to prepare for a new life. Every now and then, he'll look at houses in Utrecht, or outside of the city: he likes a quiet environment. Earlier this year, he decided to quit football and register for the Literary science programme in Utrecht. A decision that had been a long time in the making
Because of Hakim Ziyech, I felt that everything in football is about achieving
This insight first came in 2015, on a summer night in Almelo. It was supposed to be his moment. After years of the FC Twente youth academy, Jeroen is ready to make his debut in Twente's first team, against archrival Heracles Almelo no less. As a left back. This was his childhood dream: becoming a professional football player, play in sold-out stadiums. Play well, be cheered on by his own fans.
In reality, the opponent's winger runs circles around him. After ninety minutes of running, Jeroen walks off the field with his head down. 2-0 loss. FC Twente captain Hakim Ziyech talks to the media and complains about the quality of his team's defence. The world of football is tough as nails. Jeroen isn't.
"Nothing against Ziyech, because he's a great guy and a really good football player, but that was the first time that I felt very strongly that everything is about achieving. Constantly performing, the competitiveness. That didn't stroke with my personality. I'm more the type of just having fun together, you know. I enjoyed the mornings the most. Eating breakfast, having fun, laughing. And the different cultures, and different types of people.
"That's weird, because that used to be so different. In the youth teams with amateur club De Zweef in Nijverdal, I could really hate myself if we didn't win a match, and I would shout at everyone. But I noticed that I did start to create a sort of distance with football. It occupied my mind less and less, and started looking for options of doing other, more interesting things with my life. Reading and studying, for instance."
Meeting friends was not an option
Some professional football players are always able to see the fun game in football, but Jeroen loses that part. He studies philosophy on the side, but notices that he doesn't have the energy for it. "Football asked a lot of me, mentally. I really needed time to relax to recharge."
He quits professional soccer in 2017, but changes his mind after conversations with others. It was his dream, after all, so he decides to continue. Other players cheer him up, like the experienced German player Chinedu Ede, who sees Jeroen's talent. "He made me realise that I should develop that talent, when at that time, all I could see is what I couldn't do."
Jeroen's greatest move in his career is a piercing pass against that same Ede. And yet, things don't improve. He feels as though he's getting worse, not better. And he's placed in the field less and less. The stress increases, because Twente isn't doing too well. "You realise there's so much at stake, and you focus on that. Hanging out with friends was not an option." Twente is relegated to a lower league, and in that division, Jeroen ends up in the audience, of all places 
How long did I want to remain a football player?
With a team in Denmark, where the general level of football is a little lower, he tries to find the fun again. "That was a beautiful adventure, I enjoyed the city of Aalborg. But I also noticed that I didn't have any motivation anymore to boost myself for the training sessions. One question kept singing around in my head: how long do I want to play football? I also wanted to go to college at some point. I could've stayed with Vendsyssel FF until the summer, but once I ended up second string, it was clear: I quit."
"Now, there's rest, more energy, time to read, time for friends. But there are things I miss, too. When we won a game in the Grolsch Veste, almost thirty thousand people would sing for us. That's a beautiful feeling. I'd be on cloud nine for the rest of the evening. There was also the kick you'd get from a duel. In 2016, we beat Ajax with a penalty in the final minute. That was such a beautiful game, man."
Watching TV shows all day doesn't make me happy
His career shaped him in a way. "I'd always been a quiet guy, until I really got to know someone. Nowadays, I talk to people a lot more. I've learnt to be more assertive, to stand up for myself, and don't let myself get pushed around. I'm living inside my own head a lot less."
"I've also learnt discipline. I can motivate myself for so many different things, even less fun things. You can lie in bed and watch TV shows all day, but that doesn't make me happy. This is an approach I'll be able to use at university soon. I've got a clear structure in my days. I eat healthy food, I work out. When I see how other former football players end up after their careers, I think: that's not going to happen to me."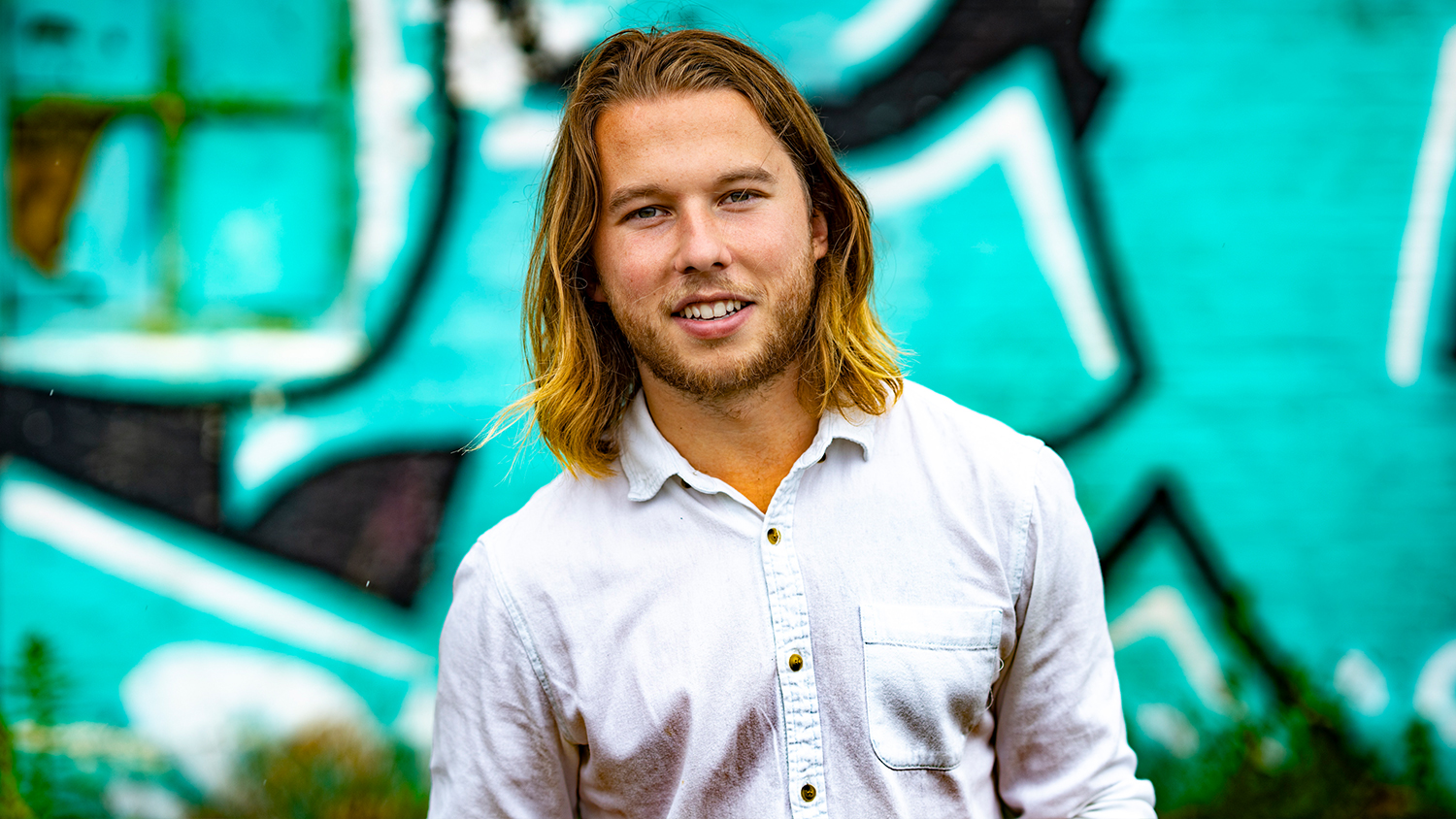 I want to learn how to look at texts critically
In his apartment in Enschede, he throws himself into his books. "I'm currently reading Bird by Bird by Anne Lamott, a book about writing. And I've been reading about stoicism a lot lately. That's a life philosophy. A former philosophy teacher of mine recommended it. I'm also reading a lot of fiction. Joel Dicker is my favourite author. He creates amazing books. Great mysteries, where everything comes together in the end. As a reader, you're surprised at the plot twists every time. He's got a great, flowing style. I can really lose myself in a book like that."

He considered studying mathematics, as his father had done before him, but literary science suits him better, because of his interests. "But I don't have any idea of what I'd want to do after this. I had never heard of this study programme either. It feels like a broad programme to me, where you learn to look at texts in a certain way. Right now, I usually assume that whatever I read is true. I want to learn a more critical outlook. I hope that I'll know better what I want to do, and can then do a Master's that leads to that."
His previous study was three years ago. "I have no idea how to study anymore. I'm looking forward to it. It feels like I'm four years younger, so that's fun."
Training sessions two, three times a week? I'm not sure I'm up for that now
He still plays football. He practices with his brother at his old club, De Zweef in Nijverdal, Overijssel, where he grew up. Next season, he does want to play football, but he's not sure where yet. Perhaps in Nijverdal, perhaps in Utrecht – depending on where he thinks he'll be in the weekends.
Utrecht third division team Hercules already contacted the former professional. 'I liked that. But it's still quite a high level. With serious commitments, like training sessions two, three times a week. I'm not sure I'm up for that now. Perhaps I'd like it better to play at a lower level.' Perhaps with student team Odysseus? He's heard of them. 'I don't know yet.'
Living, studying, social life and football; all options are open for Jeroen van der Lely. A new adventure beckons. So, book clubs and amateur football teams in Utrecht: grab your chance. And be sure to mention how much fun there's to be had