Law teacher says:
Law students aren't engaged enough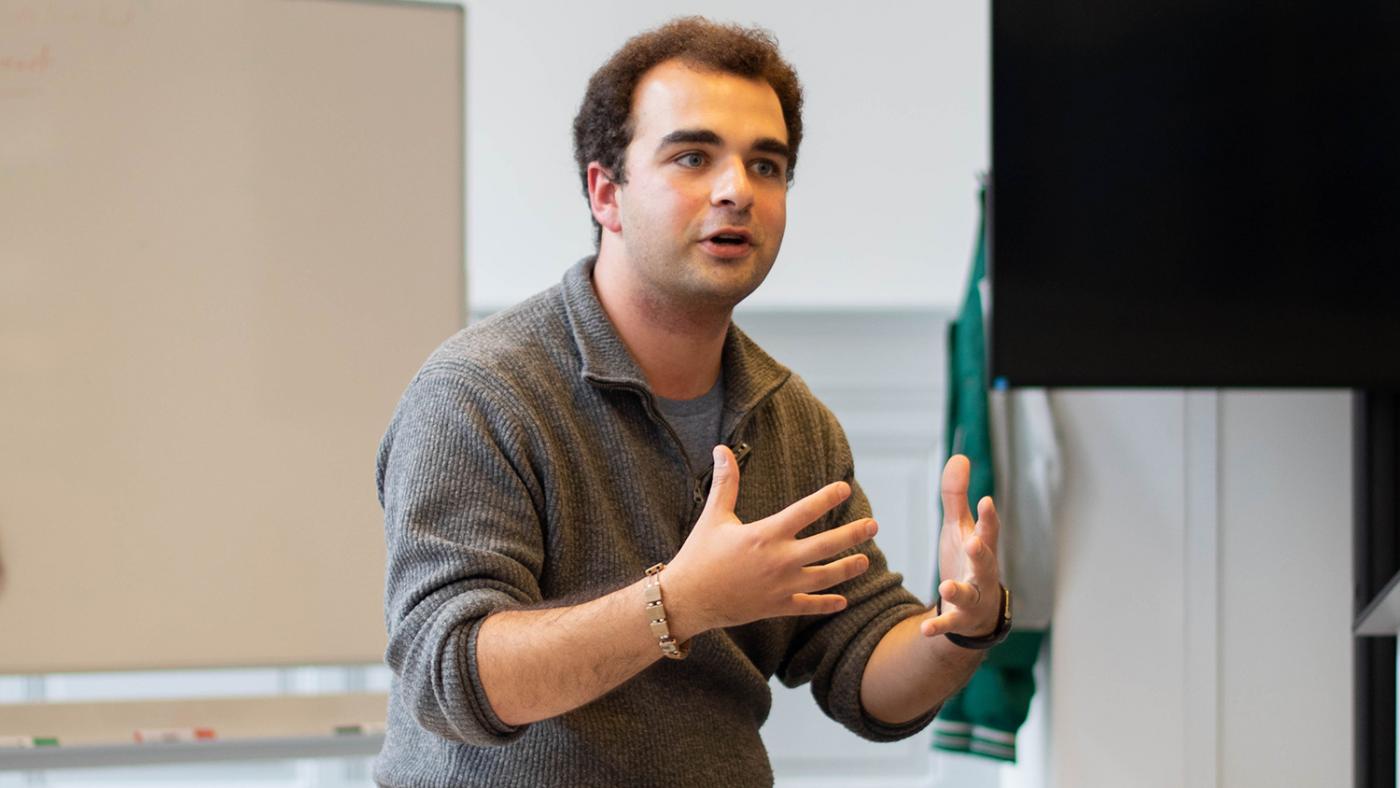 Photos: Tara van den Broek
Whenever Junior Professor Tony Barshini asks first-year students why they chose to study Law in the first place, the answers are a bit saddening. "I'm often told that they want a good job that pays decent money. Apparently, that's a prominent motivation to pursue an academic study."
Barshini knows that watching trendy legal drama series and reading about huge lawsuits and corporate deals end up influencing young people to study Law. He also suggests that high schools might not be all that skilled in preparing their students for university education. Still, in times of massive crises involving the climate, refugees, housing and poverty, one would hope that law students would be interested in the role that Law will play in each of these challenges.
"It's totally fine with me if you come here to become the next Harvey Specter (lawyer from TV series Suits, Ed), but the law is so much broader and richer than that. I suppose I may also expect you to be prepared to think along if I ask you a question like 'What is a rule of law?' or 'What is justice?' Yet, whenever I ask these questions, you can hear the crickets chirping. They're so disengaged. After the pandemic, it seems as though students just want to catch up on the credits that aren't part of the fixed curriculum. At least that's my experience. I only teach first-year and second-year students."
'They are so uninterested'
As a university teacher, Barshini (25) is still wet behind the ears. He is well aware of the stereotype of the law student who has no idea what they want to study, so they choose Law because of its job prospects. He doesn't know whether the stereotype rings true and, if so, if it's gotten any worse in recent times. He has no idea if students enrolled in other programmes are any different, either. "I can only talk about what I see happening around me with young law students."
But, when he was still a student, he already noticed how everything in the study programme seemed to revolve around how to make a career, preferably in a commercial field. "Three weeks after I started studying at the Law College, I was already having salmon sandwiches with my study association at some big office in Amsterdam Zuid." The Utrecht Law College is a more demanding Bachelor's track for a select group of highly motivated students.
Barshini doesn't think there are many differences between the students enrolled in the Law College and the students enrolled in the regular Law programme. "I recognise the same things in both groups of students."
'Students volunteer at the legal advice centre only to check a box in their CV'
A few months ago, Barshini wrote an op-ed in the Dutch newspaper Trouw, arguing that students are being underexposed to the academic and human sides of Law. In his opinion, this can cause considerable social damages in the future, when lawyers with an interest in social advocacy will be hard to come by. "Students who are inspired and engaged and consciously make this choice hardly exist."
He is aware that social advocacy doesn't pay well. Even so, he attributes the lack of interest in it to a broader context in which it's all about finding a good job. "Students volunteer at the legal advice centre, which offers free legal advice to the citizens because it's one of the boxes they feel like they have to tick in their resume. They don't do that out of conviction."
It's a situation Barshini watches with dismay, considering his life trajectory. His parents came from Syria to the Netherlands as refugees in 1997. The family spent years pursuing legal procedures to be allowed to stay. "My parents didn't speak the language and, as a child, you can feel their despair. At a certain point I thought: next time I enter a courtroom, I do want to understand what's going on."
That was his initial motivation to study Law, but now what moves him is the mission to improve the programme. "As a university student, you should know what Law means in society. Failure or success in life is being more and more seen as some kind of personal choice, and students partake in that point view. Well, it's not a personal choice and there's plenty of evidence for that. Just look at the child benefits scandal."
His opinion piece in the newspaper was met with many assenting responses. Law professors seem concerned all across the country. The only objection came from a representative of the legal advice centre, who stated that, nowadays, students are selected on their intrinsic motivation.
In another op-ed, this time published by the newspaper Financieel Dagblad, UU Master's student Douwe de Lange presented a similar plea as that of Barshini. According to him, students who say they would like to work for an environmental organisation on the first day of classes are usually ridiculed by their peers. "They get scornful chuckles," he writes.
'Their interest is hardly nurtured by the programme'
Barshini stresses that the ball should not be put solely in the students' court. Nor should the responsibility lie solely in the hands of the big law and consultancy firms that pamper students and student associations with sponsorship money. "There are plenty of students who do understand why it's important to be engaged socially as a lawyer. But their interest is hardly nurtured by the programme itself."
According to Barshini, Law schools should also care about the social education of their students. Ideally, the young professor would like to see smaller schools that would be more selective of their students, in addition to differentiating themselves more, but that's a distant prospect.
In addition, Barshini knows that the curricula are largely consumed by the requirements of the so-called civil effect. In order to gain admission to the bar in the Netherlands, students must acquire "civil effect" by following compulsory courses that qualify them to work as lawyers, judges or public prosecutors. These tracks are best known as the "toga trajectories".
"The question is: should the university, as an academical and independent knowledge institution, profile itself as a sort of vocational school in this manner? I don't think so," provokes Barshini. "Sure, a third of all Law students end up in one of the 'toga' professions, but I don't know if that's enough reason to make the entire study programme revolve around that."
He also thinks that many courses are all about teaching students formulas to solve a case. "They have to learn these formulas and I teach them because I don't want to disadvantage them. But it's not really academic, nor is it scientific. There are maybe two or three courses covering that non-material side of Law, where we can sit down and calmly explain and discuss a concept. That's not enough."
'We should ask ourselves some basic questions'
Barshini says that his colleagues agree with him, but adjustments to the curriculum aren't a priority at this time. "I get that. Changing a programme is something quite radical that takes a lot of time. And time is something teachers really don't have right now."
Even so, he thinks that teachers should discuss whether the other, "human" side of the law should be addressed more. The educational board should make sure that this conversation takes place. "It all comes down to the fact that we should ask ourselves some basic questions: 'What are we educating students for?' 'What are our plans regarding certain elements of the law?"
He is convinced that small things can make a lot of difference. For instance, some Utrecht Law College students came up with the idea of organising meetings about social advocacy with people from the field. Barshini is also going to invite students to watch a number of documentaries, including Alleen Tegen De Staat (Alone Against the State, Ed), a Dutch film in which five mothers talk about the impact of the child benefits scandal in their lives. "I hope students will pick up something from that."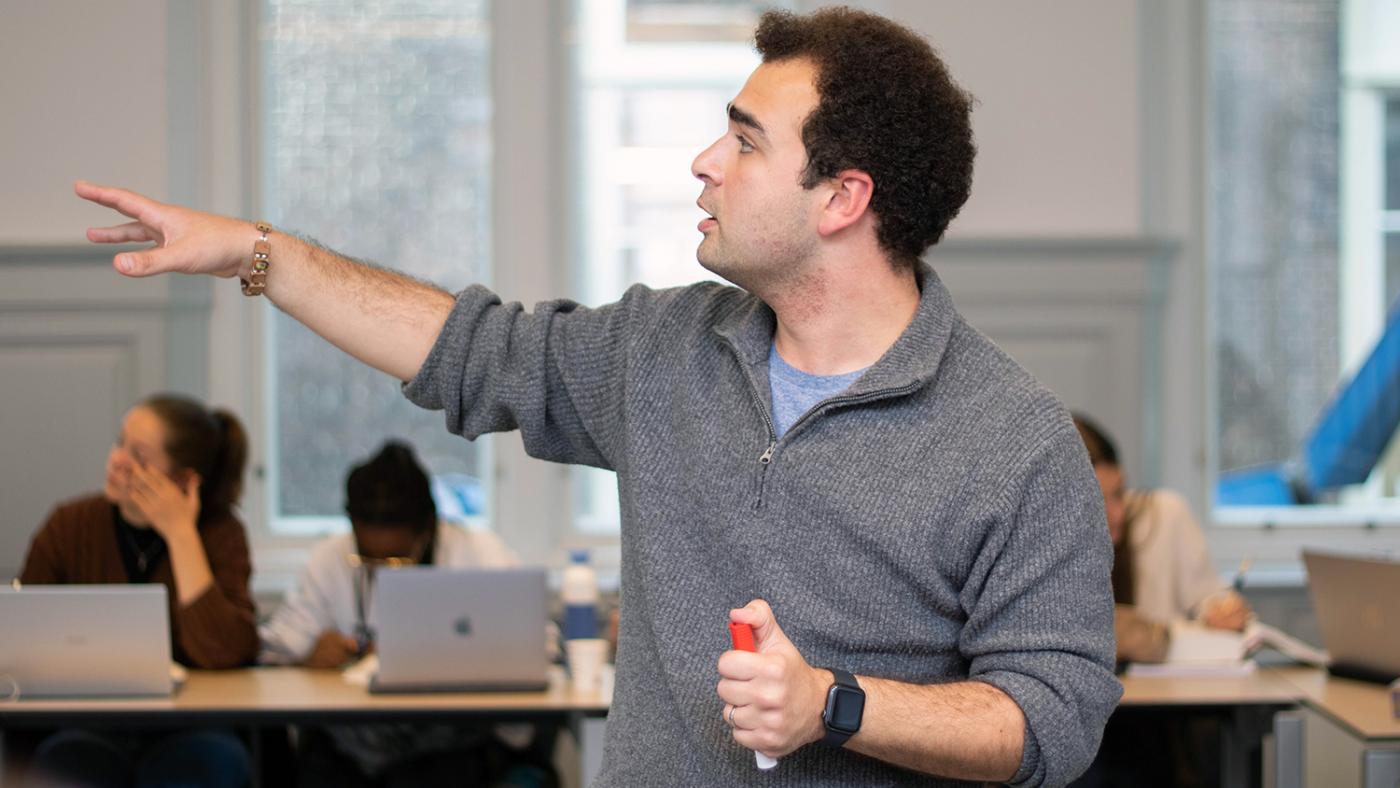 Law Education Director says: 
'Many students are socially engaged'
Following the op-eds published by the Dutch newspapers Trouw and Het Financieel Dagblad arguing that law students are not socially engaged, the Member of Parliament Michiel van Nispen (Socialist Party) posed some questions to the Minister of Justice. One of these questions was whether the minister was concerned about the students who study Law solely because of their financial prospects.
Weerwind replied that he considers the personal development and sense of social responsibility of students something of great importance. However, he stated that the responsibility to educate "independent, critical people interested in contributing to society with their talents" lies in the hands of the universities. 
Bald de Vries, Education Director of the new Bachelor's in Law at UU, feels that many students are sold short when people say they're not "intrinsically" motivated. Moreover, he doesn't think that Law students lack an eye for the social relevance of their studies.
"The fact that students believe they can find a certain level of security with regard to a professional career doesn't mean they're not socially engaged," De Vries stated in an e-mail to DUB after being questioned about the topic. "After talking with students, we've seen that many don't relate at all with the image sketched in the newspaper. They don't relate to it themselves and they don't see their own friends that way, either." 
In addition, De Vries finds that the recurrent reference to the offices at Amsterdam Zuidas "paints a caricature" of educational programmes whose only purpose is to supply the big offices in Amsterdam with talent, when, in reality, "only a small percentage of our graduates work there."
The fact that the study programme has a so-called "toga trajectory" preparing the students for professional practice has mainly to do with the legal requirements for the "civil effect", De Vries explains. "You must have spent enough hours on legal courses to be able to become a judge or a lawyer (also in social law!) ( ...) That doesn't mean you have to choose a toga profession, certainly not, many other choices are possible. And made."
De Vries emphasises that Law is a scientific study in which legal literature is an important part of the study, just as much as legislation and case law. "Considering the content and learning objectives of the courses and the final objectives of the programme, I don't see a focus on 'commercial application.'"
In addition to a content-focused line and a skills-focused line, UU's Bachelor's programme in Law features a context-focused line in which law is placed in a scientific and social context. According to De Vries, the programme is currently investigating whether this learning line is adequately reflected in all courses. "But what I see is that current social developments are incorporated by many courses thanks to in-depth lectures on current affairs."
 
Advertisement