Limapad residents allegedly 'exploited' by housing organisation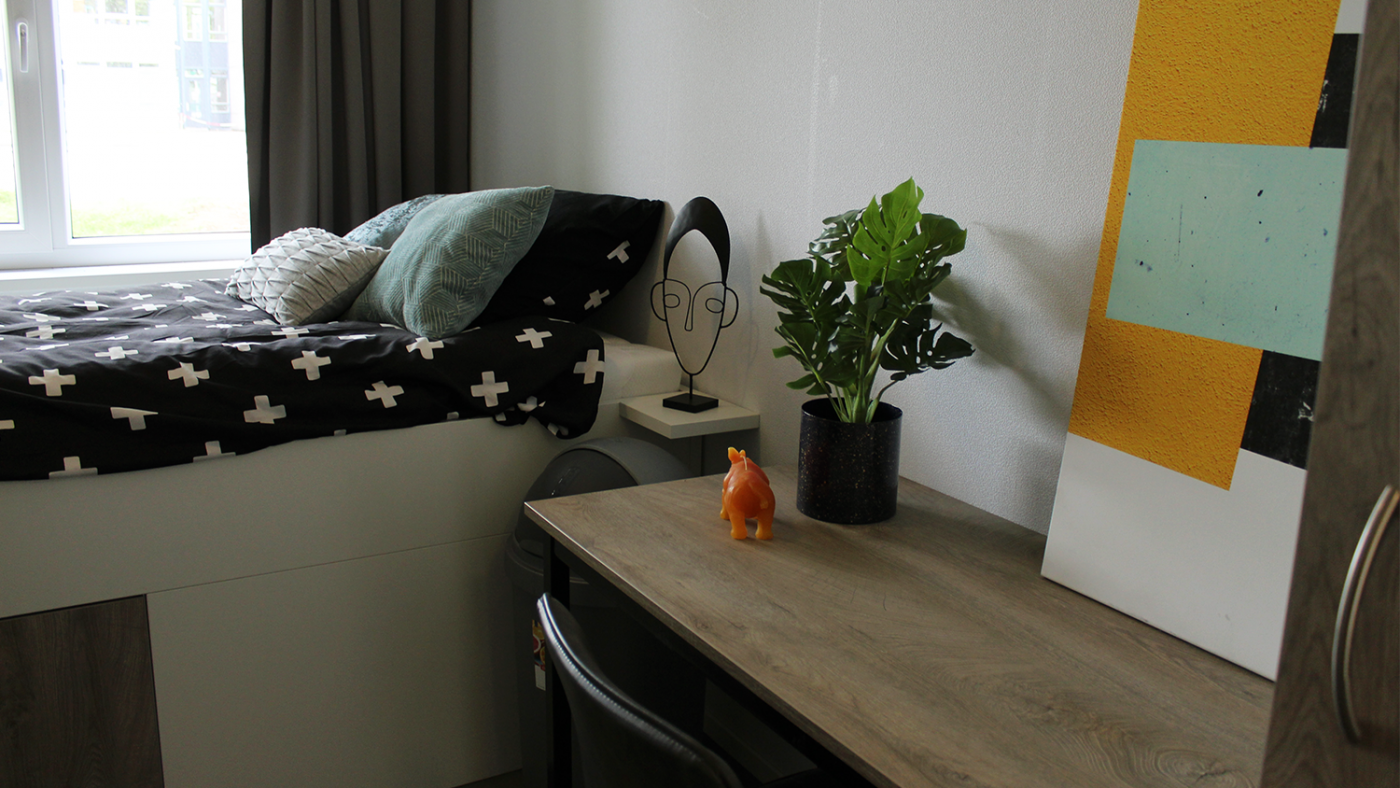 One of the rooms in the Campus 030 complex, located on Limapad in the Utrecht Science Park. Photo: DUB
Last year, Utrecht University signed a long-term deal with housing organisation Camelot leasing the land located right next to the Veterinary Medicine grounds. The goal was to reduce the dire housing shortage in Utrecht. Two skyscrapers comprising four hundred studios were built at record speed and rented out just as quickly to UU students and employees, most of them coming from abroad.
The experience of living there, however, isn't quite what those students and employees expected. A total of 84 tenants joined forces with Rood to pen a letter to Camelot, in which they complain about the "exorbitant" rent, "unreasonable" cleaning and service fees, documents that aren't available in English, lack of transparency, and defects in the building.
Former University Council member Floris Boudens is one of the protesters. "Tenants pay over 700 euros a month and the studios are smaller than what Camelot advertised: they're 16 rather than 18 square metres. Not to mention the ridiculous extra costs, such as having to pay 7 euros for each time they do their laundry. It's truly outrageous."
Poor communication
In the tendering procedure for the housing complex, UU required all communication with tenants to be done in both Dutch and English, for the sake of the internationals who would live there. It turns out that Camelot is not keeping this promise: several documents are simply not available in English.
"Camelot is clearly taking advantage of international students who are desperately looking for a place to live when they come to Utrecht. We can't read all the documents, so we don't know our rights, or where to turn to when we have something to complain about. We don't know all the Dutch rules either. To think the university is actually promoting these studios on its website!" says an international Master's student living at the Limapad. He asked to remain anonymous.
Like numerous other residents, she also had issues with the heating in her room. "There was a very cold week in December and it was hard to get in touch with someone from Camelot to fix the heating in my room, so I proposed buying a radiant heater and Camelot would reimburse me for it later. They said that wasn't an option, and just kept telling me that they would send someone the next day. It ended up taking nine days. It felt like I was talking to a wall that was treating me like a stupid child."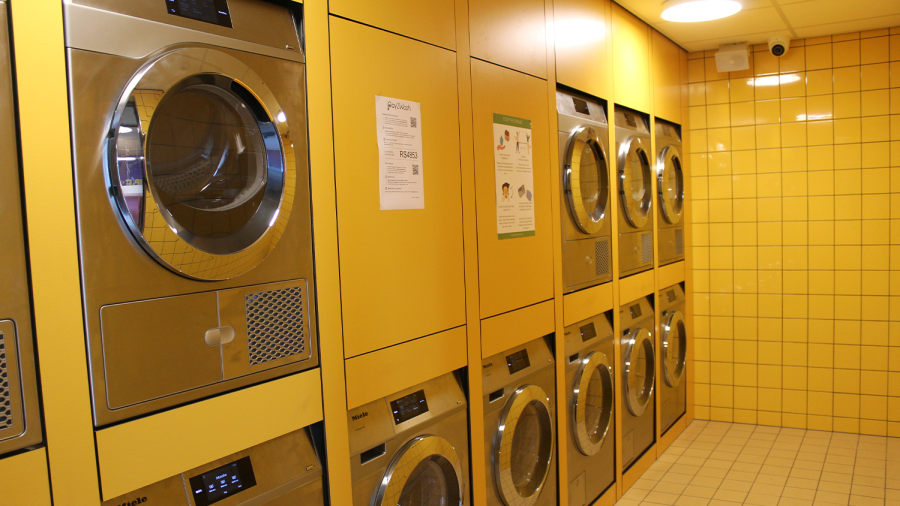 Laundromat inside one of the Campus 030 buildings on Limapad. Photo: DUB
Maartje, another resident of Campus 030, also complains about Camelot's communication. "It looks like the company is trying to make money from us in every possible way. I felt conned, because I constantly ran into unpleasant surprises that Camelot could have informed me about, but didn't. The rent cost more than I'd expected, then there were the laundry costs, and I had to pay a 90 euro-fine one day when I closed my door and my keys were still inside. I would discourage anyone from moving in here. It also feels very unsafe: it's extremely noisy, people don't respect each other and break things in the common rooms. Camelot isn't monitoring that at all." DUB has recently written about the parties that regularly take place in the housing complex despite the coronavirus pandemic.
Legal
Rood's letter came out on December 10 and demanded a reply before the new year. Camelot responded on December 30 – in Dutch only, claiming they had no time to have the text translated. Despite the many complaints, it looks like everything the company is doing is legal, says Boudens. "But just because it's legal, doesn't mean it's good. The demand for student housing in Utrecht is huge. The entire market is gridlocked, so students have no choice but to rent from a slumlord." Bob de Vilder, Camelot's founder and spokesperson, says it's unreasonable to blame them for this situation. "We just built four hundred homes. That's just a drop in the ocean, but we're doing our part."
De Vilder adds that the rent should have cost even more, had they followed the "WWS" (home assessment system, in the Dutch acronym). "The basic rent could have been more than 720 euros, but we've agreed with the university to charge a basic rent of 520 euros. Besides, residents can apply for rent benefits (huurtoeslag). I understand that some students may think that's unreasonable, but they're newly-built, fully furnished studios. Is there anywhere in Utrecht where that would be cheaper?"
Service fees
Apart from the 520 euro-basic rent, residents pay 135 euros in service fees and 70 euros for furniture costs. Residents complain that Camelot isn't clear about how those fees were calculated. De Vilder says that's mentioned in their contracts, and that the fees cover water, electricity and maintenance costs, among other things.
"I understand that international students may not be familiar with the Dutch system when it comes to service fees, because in other countries there's just a fixed rent. Here, tenants pay the service fees in advance, and they're refunded at the end of the year if they've used less than what they paid for. The service fees are currently based on an estimate because the complex is brand new, but when the final statement comes in June, I don't mind if students come take a look at the calculations. The university is allowed to look at all the bills and the final statement, too. We're not even allowed to turn a profit on the service fees."
What about the studios that are smaller than the 18 square metres advertised? "That's because of the common rooms in the building. We're allowed to include some of that space, according to a certain distribution key," De Vilder says. "The net area is indeed smaller than 18 square metres. Perhaps it's better to state that in our advertisements in the future."
Sneaking in to do laundry
Campus 030 residents aren't allowed to have a washing machine in their studios. They're supposed to use the building's laundromat, which charges 7 euros for washing and drying – a price deemed excessive by many. Camelot reacted by saying that the price is in accordance with the rest of the laundromat market. "Students don't have to do their laundry there. They're free to take their laundry elsewhere, to other laundromats or their parents," Bob de Vilder says. However, the nearest public laundromat is in the city centre. "Ridiculous. That's like telling me I can choose whether or not to eat," an angry resident replies.
The result? Limapad residents were sneaking in the SSH Johanna building around the corner to do their laundry. Johanna's residents board issued a statement saying that that shouldn't happen, and decided to lock the door to their laundry room. Only Johanna's residents can open it now.
The price difference is significant: Johanna's residents pay 4 euros a month for the laundromat, plus one euro every time they do their laundry. That price includes detergent, while the Campus 030 residents have to use their own. Moreover, Johanna decided to allow its residents to do their laundry for free during lockdown because the machines are operated with 50-cent coins, which are hard to get when all the stores are closed and students have nowhere to go for change.
In its letter, Camelot says it wants to extend an olive branch to the tenants. When moving into a studio, tenants have to pay a 1000-euro deposit, plus a 100 euro-cleaning fee for when they leave the apartment. Camelot is now offering them the option of cleaning the studio themselves when they move out, so they'd get the 100-euro advance back if it's clean enough. De Vilder: "The 100-euro advance is really necessary, considering the state some studios are in when the tenant moves out. They're mostly international students who just get up and leave all of the sudden".
Another complaint made by students is the 90 euro-fee they have to pay if they lose their keys. They're also upset that they're not allowed to copy their keys. De Vilder says that the decision was made to prevent students from illegally subletting their rooms. "If we give them two keys, we're taking a risk. As for those 90 euros when someone loses their keys, people don't usually lose their keys at 2:00 pm. More often than not, that happens at four in the morning and then someone has to come and solve that problem immediately." In response to Rood's letter, Camelot is now considering giving students a second key after all, which they could give to a neighbour in case they lock themselves out.
"Exploiting students as much as they can"
So, are the tenants satisfied with Camelot's response? "Of course not. They're basically saying that they're going to continue to exploit students as much as they can within the confines of the law. The only positive thing about their response is that it was issued it in time, and that all documents will be translated to English from now on. I genuinely don't understand why the university would collaborate with a company like this," says Boudens.
Annelies Waterlander, spokesperson for Utrecht University, thinks it's a shame that some of the tenants are having a bad experience living at Campus 030. "But the development and operation are Camelot's responsibility. They're fully responsible for the buildings' operations and services".
The UU had a number of criteria for selecting an organisation during the tendering procedure, including a proper complaints procedure, the presence of a local manager who would be the tenants' main point of contact, and that all communication towards the tenants would have to be done bilingually. Additionally, the rent should comply with the WWS regulations and students would have to be eligible for rental benefits. "However, we didn't set any conditions for other service costs, such as the use of washing machines."
"Because of the student housing shortage, the UU wanted to provide more temporary housing in the Utrecht Science Park as quickly as possible. Of course we'd like to have the rooms be as cheap as possible for our students, but at the same time, the requirements in the tendering procedure had to be realistic," Waterlander explains. If the university had had more requirements, a 15 year-project like this would probably not have been profitable enough to be interesting to housing corporations and, therefore, not have happened at all.
If Camelot doesn't keep to the agreements that were made during the tendering process and stipulated by the lease contract, the UU can address them about it. Waterlander assures that the university will keep a close eye on this case.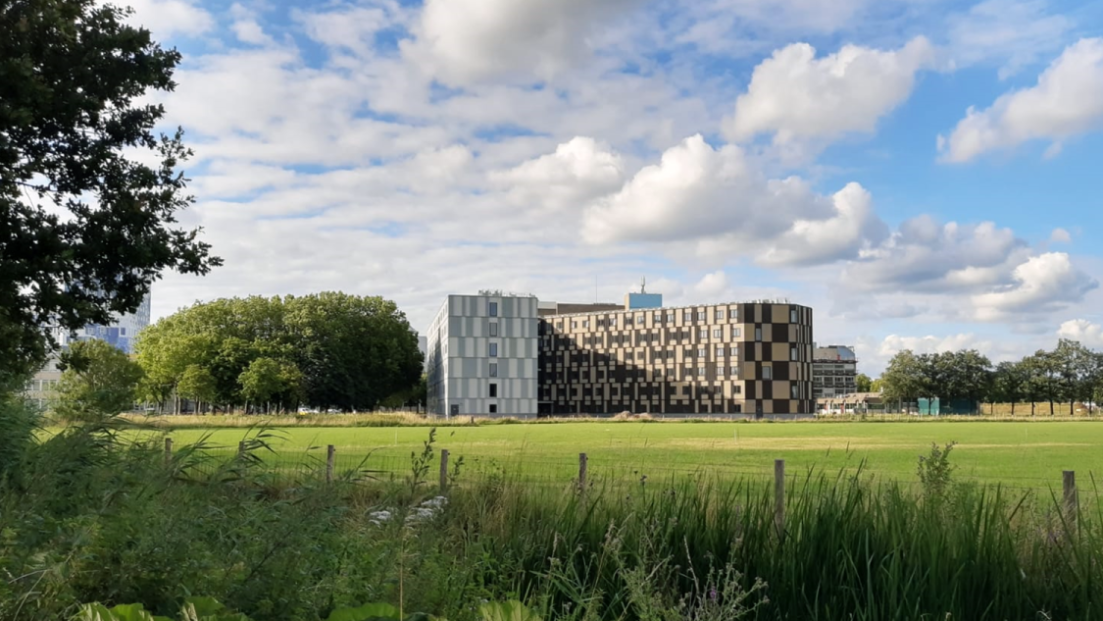 Slumlord of the year
Rood is not going to let this go. "It would be great if the university would adopt affordability as a more important criterion in the tendering procedure", Boudens wishes. Since the tenants don't feel heard by Camelot, Rood plans to meet with them to discuss the next steps. The Utrecht branch of Rood also has plans to nominate Camelot for the title of 'slumlord of the year'.
Utrecht students are not the only ones complaining about the housing organisation. In Eindhoven, students also complained of high rent, poor communication, and overdue maintenance. Newspaper NRC Handelsblad also published an exposé (link in Dutch) about Camelot's 'heartless rental practices'.
Camelot states that it takes all complaints to heart, and that it wants to improve its communication and operations. Residents are also welcome to send their complaints directly to De Vilder by emailing him at b.devilder@cameloteurope.com