More and more students go for a second Master's: 'I was missing something in my first Master's'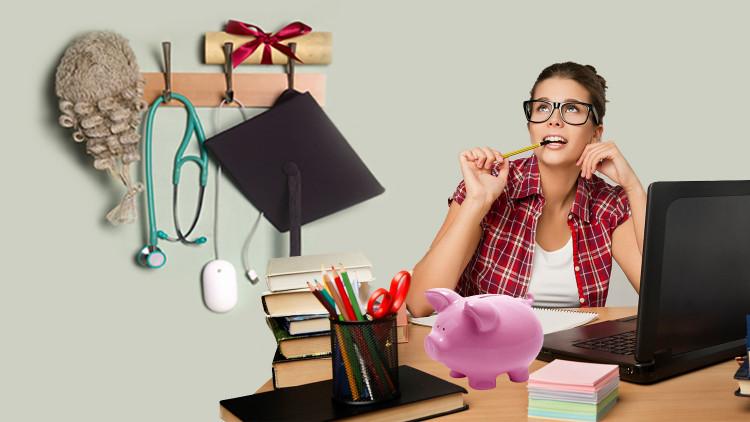 Photo: 123rf. Illustration: DUB
Two years ago, when I graduated from my Bachelor's in English, I wasn't sure if I wanted to follow a Master's programme. I specialised in literature during my Bachelor's, so I didn't know what else I would learn in a literature Master's. Reading a few more books is something I could do by myself, I thought.
Still, after a year working full time for an academic publisher, I decided to quit my job and enrol in the Literature Today Master's programme at Utrecht University. I missed reading from early morning to late at night and writing essays that busted my brain.
Today, I'm six months into my second Master's degree in South Asia studies at Leiden University – and I've been noticing, this year more than ever, that I'm not the only one. There are plenty more students who aren't satisfied with just one Master's degree.
Let's look at the data
Although the national data for this academic year haven't been published yet, it was already obvious in October that there was a significant increase in the number of students – both Dutch and international -- doing two Master's at Utrecht University. At the moment, 168 students are registered for two Master's programmes, 155 of them Dutch. That's up from 145 students in 2019, of which 137 were Dutch. A 16 percent increase compared to last year.
Although the absolute numbers may not seem like a lot, they only account for the students doing both Master's at UU. Many others, including myself, are pursuing their second Master's at a different university, so they're not included in the data.
Shall we look at the national data, then? According to the Dutch Education Office (also known as DUO, acronym for Dienst Uitvoering Onderwijs), the number of students pursuing more than one Master's degree has increased across the country, from 2,802 students in 2010 to 5,320 in 2019. That means 4.7 percent of all Master's students in the Netherlands were doing two Master's in 2019, up from 3.5 percent nine years prior.
[Article continues below the graphs]
DUO data:
| | | | |
| --- | --- | --- | --- |
| Number of Master's programmes pursued | 1 | 2 | 3 or more |
| 2010 | 77.730 | 2.802 | 71 |
| 2011 | 79.454 | 2.843 | 80 |
| 2012 | 82.636 | 2.508 | 86 |
| 2013 | 87.81 | 3.415 | 146 |
| 2014 | 90.066 | 4.200 | 156 |
| 2015 | 94.444 | 4.457 | 145 |
| 2016 | 97.083 | 4.639 | 183 |
| 2017 | 100.401 | 4.847 | 195 |
| 2018 | 103.885 | 5.038 | 190 |
| 2019 | 106.575 | 5.320 | 191 |
| | | | | | | | | | | |
| --- | --- | --- | --- | --- | --- | --- | --- | --- | --- | --- |
| Number of Master's programmes pursued | 2010 | 2011 | 2012 | 2013 | 2014 | 2015 | 2016 | 2017 | 2018 | 2019 |
| 1 | 96,4% | 96,5% | 97,0% | 96,1% | 95,4% | 95,4% | 95,3% | 95,2% | 95,2% | 95,1% |
| 2 | 3,5% | 3,5% | 2,9% | 3,8% | 4,4% | 4,5% | 4,6% | 4,6% | 4,6% | 4,7% |
| 3 or more | 0,1% | 0,1% | 0,1% | 0,2% | 0,2% | 0,1% | 0,2% | 0,2% | 0,2% | 0,2% |
As seen in the graphs above, there's been a significant increase in the number of students going for two Master's and the number of students doing three or more Master's has more than doubled. DUO mentions two main factors influencing these numbers: first, the fine for students taking too long to complete their studies, which was introduced in 2011 and abolished in 2012, leading to a significant drop in the number of students doing a second Master's in that period. The loan system introduced in 2015 had a similar effect, slowing down the increase in the number of students doing a second Master's.
Missing context
There are students doing a second Master's in every possible discipline. Take medicine student Frédérique, for example, who was already enrolled in her Master's in Medicine at UU when she decided to do something quite different: a one-year Master's in Health Economics, Policy and Law at Erasmus University Rotterdam. This academic year, she hopes to graduate from her three-year Master's in Medicine after all. "Although I was really happy with my decision to study medicine, I was missing a bit of context in the curriculum", Frédérique justifies. "I've always had broad interests and I thought it was a shame that the UU curriculum paid little to no attention to how the healthcare system is organised".
I also spoke with David, who enrolled in a research Master's in Philosophy at the Radboud University in Nijmegen following a Bachelor's in Philosophy at the UU. In his second year, he decided to also do a Master's in Social Geography. "I wanted something that's more concrete," he explains. "The Master's in Philosophy felt too abstract."
At first, David thought that his first choice of Master's had perhaps been a mistake. "But I changed my mind about that because the Master's in Social Geography wasn't all that either. Social Geography is very much an 'ivory tower'. Instead of doing fieldwork and studying a phenomenon up close (migration in Greece, for instance), many geographers are satisfied with reading policy documents, so they get stuck in abstractions."
Things were different for Frédérique. "I really see my second Master's as an addition to the first one because I still want to work as a doctor in a hospital", she says. I don't regret my decision to do my Master's in Literature either. I, too, chose a second Master's to get what was missing in my first one: more South-Asian literature.

Pros and cons
Renée Filius, Head of Education of the Students, Education and Research department, says that the increasing number of students doing a second Master's has both benefits and downsides. The most important benefit is the broader, interdisciplinary development those students get – something that the university aims to encourage. "But whether that should be achieved through two Master's programmes, remains the question. There are other ways to achieve this goal, like doing volunteer work, for instance".
As for the downside, Filius stresses that students should take the increased workload into account. "Otherwise you run the risk that everything becomes superficial. You only study to pass your courses".
She encourages UU students to take courses in other disciplines nevertheless. "It definitely enriches their university experience, even if it takes more time for students from different disciplines to understand each other", she ponders. It also requires more organisation on the university's part. "Exams in two different programmes can be scheduled at the same time, for example". That's whe she would recommend doing two Master's consecutively, rather than simultaneously.   
Although that may be better in terms of workload, it's definitely not the best option financially. One of the reasons why Dutch and European students start a second Master's before even finishing the first one is because that costs less money. Students who haven't officially graduated from their first Master's continue to pay the subsidised tuition, also known as statutory fee (2,134 euros yearly), while those who already have a Master's diploma must pay the full, 'institutional fee' (11,464 euros yearly, the same fee required of non-EEA students, regardless of how many diplomas they have).
"It was a conscious decision", explains David, "otherwise it'd be extremely expensive". This loophole is actually a hindrance to the university, because the subsidies are paid per student, so the university's extra costs will not be reimbursed by the government. "The faculty or study programme isn't going to notice", Filius explains. "But, if it happens often, the institution itself will. With the current numbers, it isn't that bad, so it's not really problem at the moment".
Understanding our complex world a little better
Lyle Muns, president of national student union LSVb, is happy with the increase in the number of students doing a second Master's. He, too, deems the interdisciplinary development of students an important asset. "That way, you get more and more intersections between separate research disciplines. If you've done two Master's programmes, you can look at these intersections, and then get more cross-pollination between different scientific domains and disciplines. Our world is becoming more and more complex, so this cross-pollination is increasingly necessary to understand the world".
David and Frédérique agree. He thinks doing two Master's has gotten him acquainted with different perspectives, while Frédérique believes her second Master's will help her "become a better doctor, with a better understanding of the complex world of health care."
More opportunities in the labour market?
According to LSVb's president, the increasing number of students doing a second is a result of the ever-growing competitiveness of today's labour market. "A Bachelor's degree isn't all that special anymore. Students need to do much more to stand out, such as volunteering, serving in a participatory body, or getting a second degree."
That's not what Frédérique had in mind when she decided to do her second Master's. "I don't think my second Master's improves my chances on the labour market". She says the teachers at her Medicine programme told a fellow student that an additional Master's degree doesn't make that much of a difference when looking for a position as training specialist.
The labour market for Medicine students is probably less competitive than the humanities one, which I chose. I also think that the Medicine programme is more job-oriented than Literature. As a literature student, you learn that the labour market is a horrible place, where you have to fight for a simple, underpaid position – and that's precisely why the idea of postponing my entry into that world, a detour so to say, seemed so interesting.
David adds that curiosity can also play a big role in the choice to do a second Master's. "You can do two completely different things and explore subjects outside your comfort zone," he explains. Not to mention people change. Frédérique thinks that many students realise that they have other interests after graduating from their first Master's. Finally, she notes that there are many more Master's degrees today in comparison to a decade ago. "Perhaps we're seeing a rise because there's so much choice nowadays".
Corona effect
Last but definitely not least, corona may be having an additional effect on the number of students going for a second Master's degree. The rise in students pursuing two or more Master's was unprecedented at UU in 2020. Frédérique thinks it's plausible. "There are probably a lot of students thinking 'you know what? I'm going to postpone looking for a job for about a year'."
"That makes sense to me," says Filius, remembering that corona has also led students to obtain more credits (ECTS) – after all, they are taking more courses and passing their courses more often. "There isn't much to do, so students are spending more time on their studies," she explains. "The question is what will happen when more activities are possible again. Will students then spend less time on their studies than usual, because they need to catch up on their social life?"
Costs of a second Master's
Jane, David, and Frédérique are all doing their second Master's alongside their first, thus delaying their graduation from the first one. That way, they'll pay the regular tuition fee (statutory fee) of 2,134 euros per academic year. Jane, for example, pays her tuition to the UU, where she's doing her first Master's, and pays nothing at all to Leiden University. Due to the heavy workload, her first programme is a bit delayed.
Those who start a second Master's degree after graduating pay the much higher institutional fee, which can be 11,464 euros, 13,553 euros, or 22,894 euros. There are some exceptions to this rule: if your second Master's is in education or health care, then you still pay the statutory fee because those are fields with a shortage of professionals. However, your first Master's must not be in those fields.
Want to know more? Take a look at the tuition fee page on the UU website.