New Bachelor provides students with broader perspectives on healthcare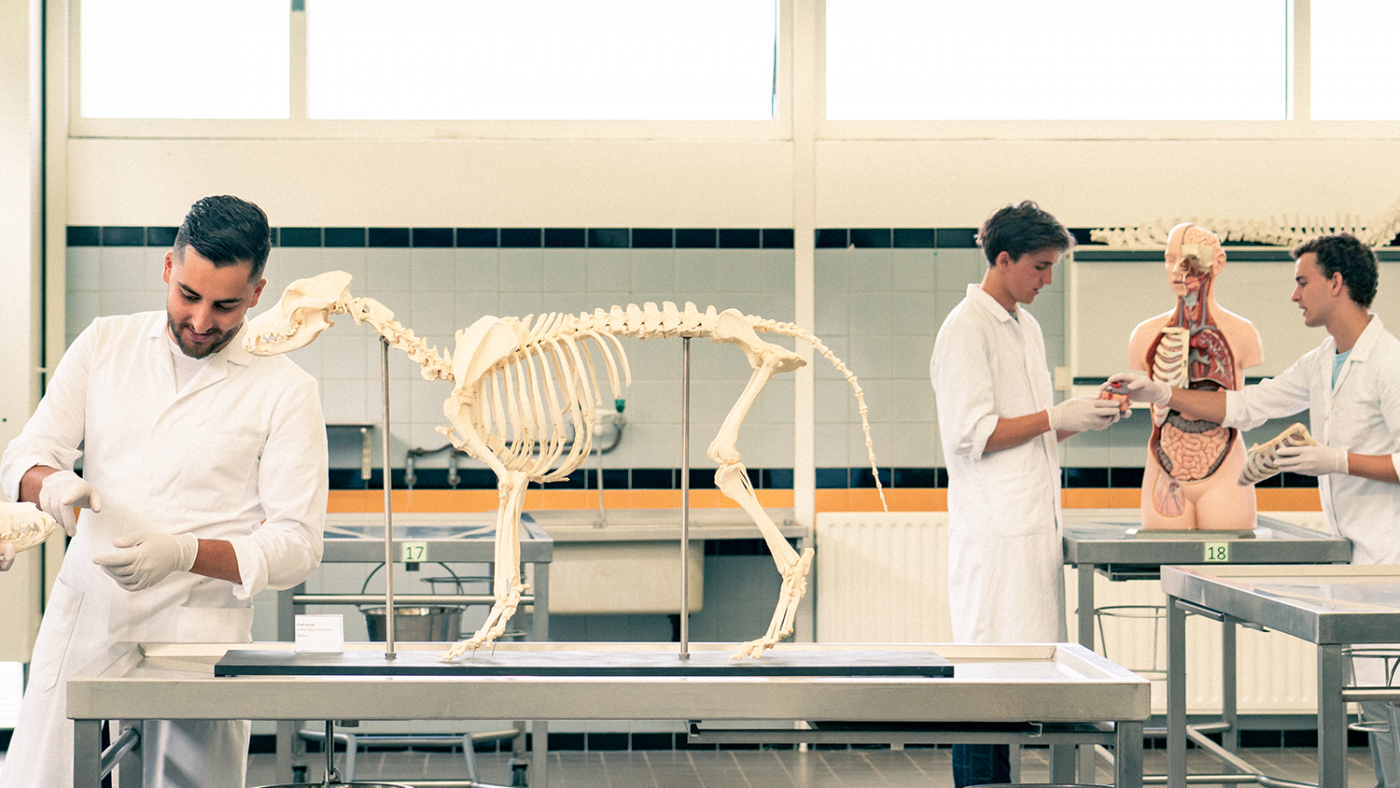 In the new bachelor's degree in Care, Health & Society, students get to deal with animal health as well as human health. Photo: Bas Niemans
The Bachelor is an interdisciplinary mix of Medicine, Veterinary Medicine and Pharmacy, with specific attention for a broad development of the student. After the Bachelor, the students can enrol in virtually any master of these educations. Program director Wim Kremer has been setting up the new programme since 2016, together with an interdisciplinary team of lecturers led by Renske van Gestel. In June, the Bachelor passed the 'Test New Education' of the NVAO, which acknowledged the quality and innovative character of the Bachelor. In September 2022, a maximum of 50 students will be able to start with the programme. In the succeeding years, this could increase to 75 or 100 students.
Initially, the Bachelor had a working name of 'Comparative Medicine' and would have been entirely in English. However, that is off the table as they primarily want to prepare students for the masters, which are in Dutch. The primary language is thus Dutch and the name 'Zorg, Gezondheid & Samenleving'.

Innovative
Very relevant in these times: the corona pandemic has highlighted once again that the health of humans and animals are very closely related. With significant medical-societal issues, like an infectious virus transferred from animal to man, professionals must be well informed and have a broad understanding of society. Because of this, they could tackle problems interprofessional and innovative, state the lecturers behind the Bachelor.
For example, this broad vision is also helpful with a different current issue: the view on animal husbandry. Kremer: "Think of the discussions about intensive life stock breeding and the preventive use of antibiotics. But how will move society and sector into a certain direction?" Also, the recent unrest around vaccinations is a medical-societal theme that fits the programme well. "It is important to understand where the fact that so many people walk around with anti-vax ideas originates from."

Practical education
Since the programme is much broader than the traditional bachelors of Medicine, Veterinary Medicine and Pharmacy, the practical education has been organised differently. Students will receive an extensive education about the rudimentary systems of body and health, but are presented less specific or applied case studies. Kremer: "Students are taught how a body works, what sickness and health are, but it is more about understanding the underlying principles and systems. An udder infection of a cow could for instance show what a bacterium could cause, but the case study of the cow is only a side matter. Students must understand what a bacterium does. That is equally important in Medicine, Veterinary Medicine and Pharmacy."

According to Kremer, it makes little difference whether you're talking about people or animals to understand this. "If you know how a heart functions in a frog, it also teaches you how a heart functions in a human, cow or giraffe. That contributes to a deeper understanding than if we only discuss humans." This also returns within the practical courses: "Of course we will perform dissections on a body a few times, but whether it is a bovine animal, horse or human: that is less important."

Transition to the masters
Students will enjoy a lot of freedom during the last semester of the third and final year, which will allow them to prepare themselves more specifically for a clinical master through electives. They could enrol in virtually every related master within the domain of Medicine, Veterinary Medicine and Pharmacy. Included is the Selective Utrecht Medical Master (Summa) training to become a doctor-researcher.

The question is whether the transition to the masters will run smoothly. Kremer thinks it should be good that the students will be admitted to these 'traditional' masters. "We want to realise a more diverse student population in the follow-up masters. We trust the students. As they can illuminate an issue from multiple perspectives and different educational backgrounds, all students will learn more. A student who came through this Bachelor has an open attitude. If he is confronted with something he doesn't know, he won't be shouting 'I haven't been taught this', but he will say 'Oh how nice, something new to learn.'"
Selection
The new Bachelor will select students. "We are looking for a specific type of students: creative minds with courage, who naturally seek knowledge and understanding. Next to the technology of Medicine and Veterinary Medicine our students are also interested in for example philosophy and philosophy of life. We want to attract students who are not afraid to colour outside of the lines. Thus we will have to admit who like the fact that not everything is structured. We want students who compete with themselves. No prices for the best students or anything like that; we want someone who conquers himself."
The Bachelor chooses for programmatically testing instead of testing the purely factual knowledge of a student. "The student will no longer be constantly measured against a yardstick; the student is responsible for his own learning. The assessment will not be based on summative tests but on the overall performance throughout the year. At different moments you will receive feedback as a student from lecturers, other students and people from the work field during an internship. You will have to reflect on that feedback, and the way you can handle the feedback is decisive for your continuation of the programme."
Additionally, the student is able to compose a large part of its own programme. "Not all of the education is definitely scheduled. Students receive a large responsibility for the choice of their courses. We are thinking about blocks of 10 weeks, with 8 weeks of education followed by an education-free week in which students could do internships to look around in society or read a good book together. Afterwards, there is a step back week in which academic skills are central, such as writing a good essay."
In this way, the broad Bachelor will offer much space for academic and personal development next to knowledge and skills around the rudimentary body and health systems. Kremer hopes that the programme could contribute to a different type of life science professional, who dares to look over the borders of its own profession and who better understands society and his own role within it.


Advertisement