Pitfalls and tips when doing a job interview through the webcam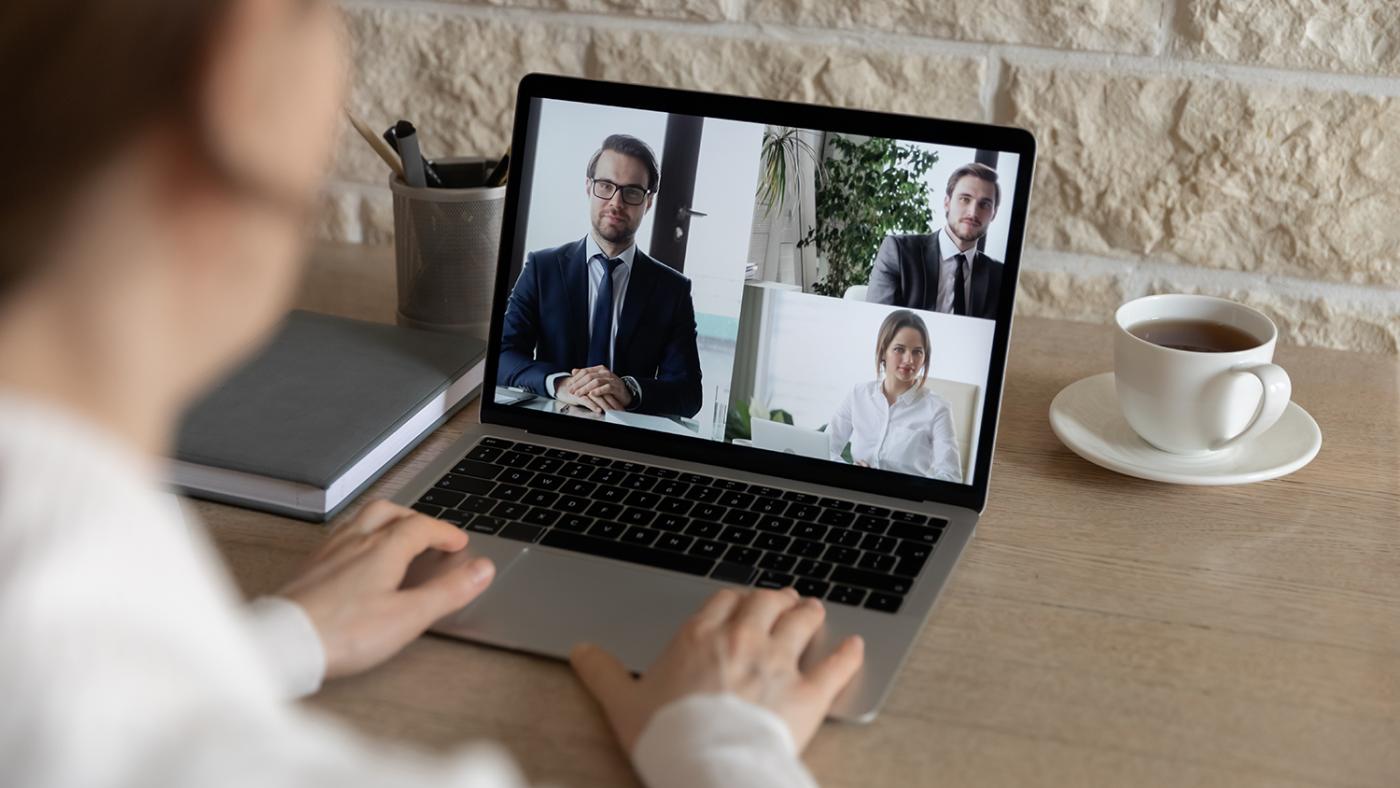 As a student, there's no way around it: whether it's for an internship, a side job or a 'real' job, you're going to have to go through a job interview at some point. But, due to the pandemic, interviews are happening through the webcam more and more. Travel restrictions, quarantines and working from home mandates are slowly turning online job interviews into the norm. No more searching for the right address, waiting for hours at the reception area, or keeping a straight face after the coffee burns your tongue. Or will all these things come back as soon as the pandemic is over?
Therese Albers, Career Officer at UU, thinks that the online version is here to stay. "It's highly efficient and effective, as people no longer have to travel. Besides, you can get a good impression of someone rather quickly". She reckons that, in the future, we'll have hybrid interviewing process, in which the first conversation takes place online and the second or third one are in person.
Online interviews: a blessing or a curse?
Annegreet, a Master's student of History of Politics and Society, noticed the change last year, when she applied for a job at the National Institute for Public Health and the Environment (RIVM in the dutch acronym). Her first interview took place online, while the second one was on location. Last week, she had another job interview, which happened online as well. But she doesn't deem it ideal.  "Reading people is a lot harder when you see or hear them moderately and can't rely on their body language", she says. She also feels she's missing out on something by not seeing the location she's applying to work at. "I got absolutely no feeling about the people and the workplace. I really missed that a lot".
Two years ago, Marissa graduated from the Master's in Sociology and Social Research. She now works at the Court of Audit, for which she's glad to have been interviewed in person. "It's a bit more informal: you talk to each other while having coffee, you get some more background information abut the workplace and you get to see other people. That gives you a much better impression of where you'll be working at". Albers also mentions the informal conversation right before the interview itself as something that can make a difference. "When you're applying for a job offline, you arrive somewhere, you're put at ease. Hopefully, you're offered a nice cup of coffee and you get to walk to the room with the person who's going to interview you, and there you meet the other people from the application committee. With an online interview, you just get a link, log on, and that's it, you immediately have to tell your story. That means you have to be on your toes right away to make a good impression".
Whether an online job interview is an advantage or a disadvantage depends on the student, according to Albers. "Some people are much more comfortable in their own surroundings, while others thrive when seeing others in person". Annegreet belongs to the last group. "I'm not that much 'on' when I'm at home, wearing appropriate clothes only from the waist up", she says. "The tension in advance makes you nervous, but it also activates you. You make more of an effort that way".
Motivational video
Iris is following the pre-Master's programme Clinical Child, Family and Education Studies and will soon have job interviews for an internship. To distinguish herself from other candidates, she decided to send something more original than a motivational letter: she made a video to introduce herself. "That way, the recruiters will have a better image of me. A written letter with a picture gives a completely different impression than a moving image". If she gets invited for an interview, she hopes it's going to be in person.
Marissa also prefers to have at least one face-to-face interview in the application process, but she still sees advantages to online encounters. "It's a bit like cheating, but I always keep some written answers near me', she confesses. "Before the interview starts, I think about what they might ask and what I could answer. Then, I write that down so I can read it if I get too nervous and forget". Annegreet doesn't shy away from a cheat sheet either. "You can have a second screen next to you, so you can ask questions about what's written in the vacancy", she advises. "For example: 'the vacancy says this and that, so could you tell me a bit more about that?' I don't think I would do that spontaneously in a regular job interview".
Tips
Before entering the chatroom, Annegreet takes a good look at the background visible behind her. She doesn't like using the standard Teams backgrounds. "It makes you look like an avatar", she justifies. Instead, she prefers her surroundings to say something about her. "I usually sit on my couch, where the background is a painting and a green wall, which is a lot cooler than your typical student room, with a rack of clothes, a filthy laundry basket, and a pile of clothes on a chair".
However, do make sure that the background isn't too distractive, advises Albers. "If the background is busy, the interviewer might look at the painting or the bookcase behind you instead of looking at you". She also has another piece of advice, which is rather counterintuitive. "A smart thing to do is to look into the camera every now and then. We have the tendency to look at the screen. If you look straight into the camera, it looks like you're looking at them in the eye, which creates an extra connection with the person. I also recommend testing the Internet connection and the programme you will use for the interview before you start. Last but not least, if you have a cat that loves to take a stroll over your keyboard, keep it in another room for a while.
On February 8, 9 and 10, UU's Career Services hold the Career Days. The programme includes workshops to increase the chance of being invited for a job interview, like one on LinkedIn and another one on how to write a good motivational letter. In addition, several companies are going to take part in the event, introducing themselves to the students. You can see the programme in full at 
carrieredag.uu.nl
.
Advertisement