Read in Dutch
The interdisciplinary, English-taught Bachelor's programme Philosophy, Politics and Economics (PPE) was launched three years ago as a collaboration between the faculties of Humanities and Law. PPE students are taught a set of specially-designed courses from the disciplines of Philosophy, Economics, and Public Administration. It's a broad programme that ties in with the trend of interdisciplinary research. The fact it is taught in English is not incidental: the goal is to recruit at least 40 percent of the students from abroad.
The Bachelor's programme is selective and the tuition fee, high. At the moment, PPE costs 4,337 euros annually for Dutch and EU students; and 12,578 euros for students from outside the EU. When launched, the programme was presented as an 'honours' programme, as informed by DUB at the time.
The graduation of the first batch of PPE students is coming soon. They assumed their diplomas would mention they had completed an 'honours' programme, but that wasn't the case. They found out, by chance, that the programme actually didn't have the honours status. "That came as a shock. When I enrolled, even the website stated in a huge font that it was an 'honours' programme, but the board told us we had misunderstood", recollects third-year student Vita Verheij.
"In a conversation with an educational advisor, it suddenly became clear that there was a lot confusion about that. Soon after, we received an e-mail from the PPE board emphasising that the programme did not have 'honours' status. The 'honours' mention on the website was suddenly gone, too", says Vita.
False pretences
Although the students say they have had a nice experience with the programme and the staff, that moment planted a seed of suspicion, and students felt increasingly uneasy. "Many felt that had been misled, like they'd started a study programme under false pretences, all the while also being the guinnea pigs. We're paying twice as much in tuition fees, and they're expecting a lot from us", Thomas Kroes complains.
Thomas is also in his final year. Alongside Vita and three fellow students, he assembled a file about the issue. University Council member Kick Rechsteiner helped present it to the Executive Board.
The file contains, among other things, screenshots from the UU website, whose PPE page proclaimed 'honours' in a large font, as well as e-mail conversations between students and the programme board. The students also describe all the extracurricular activities they do. "We've really worked hard to build a community. We started doing so on day one. We've established a study association, organised extra talks, etcetera", enumerates Thomas.
Vita agrees: "We're highly committed students. We've established committees and we're also taking other courses apart from the core curriculum. After our exam weeks, we also have 'step back weeks' involving big interdisciplinary projects. One time, a teacher even e-mailed us saying they expect us to actively participate in that project week, due to the honours nature of our programme".
What's worth more?
The PPE programme was allowed to charge a higher tuition fee and be highly selective about its students because it received a 'BKKI' mark, which stands for Bijzonder Kenmerk Kleinschalig en Intensief Onderwijs ('special trademark small-scale and intensive education'), an accreditation from educational quality assurance agency NVAO, which only exists in the Netherlands and Flanders. In Utrecht, Liberal Arts and Sciences at University College Utrecht and University College Roosevelt also qualify as BKKI programmes. The Governance programme is also allowed to select its students.
The question is what is worth more: a BKKI mark, or the 'honours' distinction? The PPE board says the 'honours' term doesn't have any nationally or internationally acknowledged status. Universities can apply them where they see fit. In that sense, the BKKI is more exclusive – but it's only used in the Netherlands and Flanders.
This is a sensitive subject among PPE students. "Some people were afraid their diploma will be less valuable", says Thomas. Some students were satisfied with the board's explanation, while others held firm to the honours term. "PPE is an international programme, and on the labour market, BKKI just holds less meaning than the term 'honours'", explains Thomas.
Confusion
Programme director Dorothea Gädeke laments the confusion. When the discussion first started, her predecessor Rutger Claassen was still the director, so she can't go into detail about the communication with students back then. She can, however, understand what went wrong: "the term BKKI was translated to honours on the website, and that led to the idea that this was an honours programme".
She emphasises that 'honours' doesn't have the same meaning everywhere in the world. "The term is used quite loosely: it has different meanings depending on where you go. In South Africa and Australia, for example, it's a one-year degree programme in between the Bachelor's and the Master's, while elsewhere it's more like a specification of good grades. In the Netherlands, honours means an addition to the standard Bachelor's programme". That means that graduates always have to explain to future employers what 'honours' actually means, just like they may have to explain BKKI.
The Executive Board's solution
The Executive Board has decided that, from now on, all BKKI programmes are allowed to call themselves 'honours college'. This new term will be included on the diplomas. That means Utrecht University now has two different types of honours: honours programmes (as we were used to, with additional courses and activities on top of the regular Bachelor's programme), and honours colleges (BKKI programmes like PPE, UCU, UCR, and Governance).
"From now on, PPE students will have a note on their diploma supplement stating they've done their Bachelor's at an honours college", states policy officer Els Roza. "They also have the option of participating in an honours programme, which can be done next to their regular studies, through which they can obtain an honours certificate".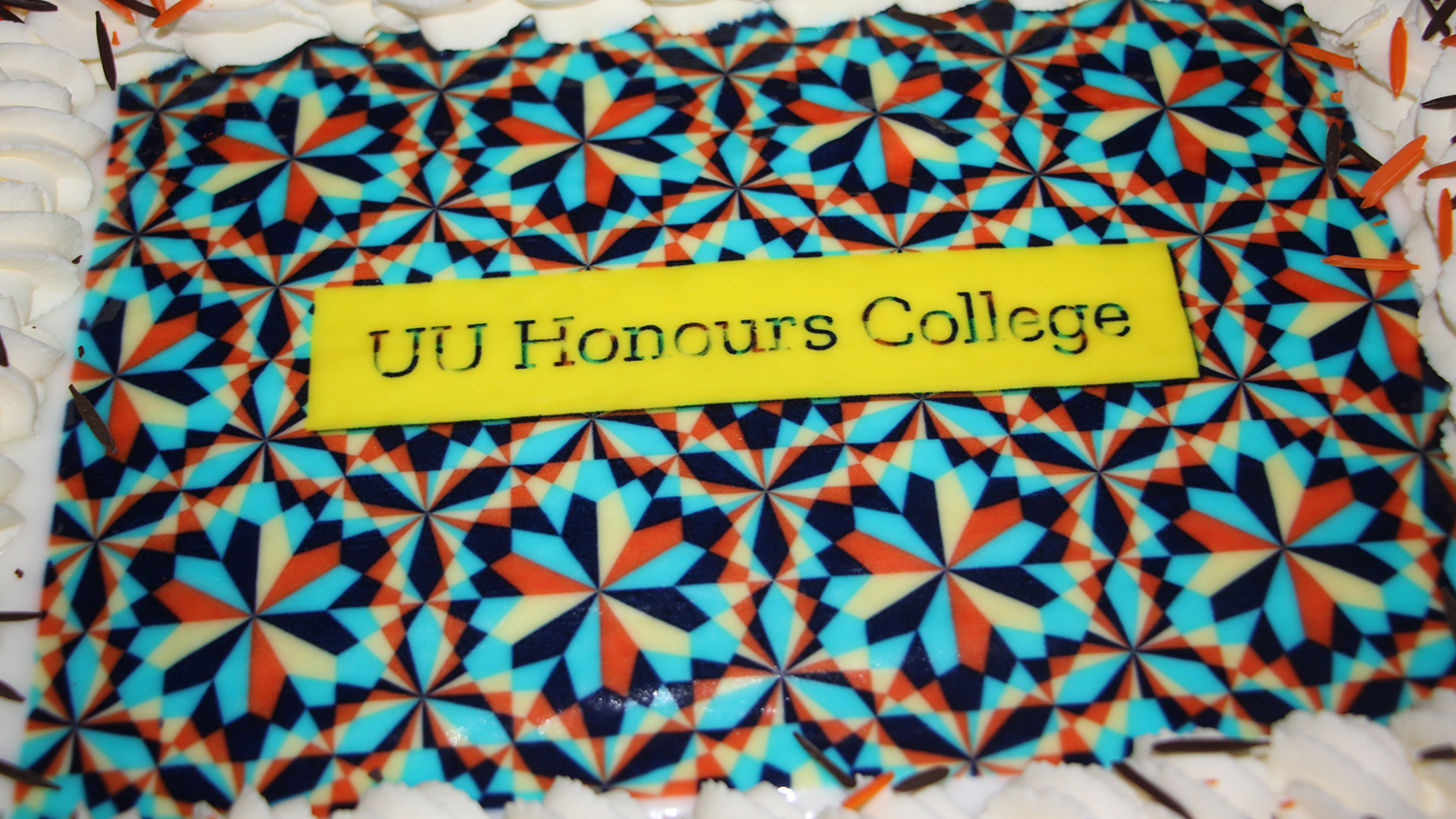 Unprotected term
Programme director Dorothea Gädeke is happy that the board has created a distinction between the honours programmes and honours colleges like PPE, and that the term will be mentioned on the diploma. She still maintains, however, that nothing's really changed in practice. "The status of the BKKI programmes remains the same. The university has decided to give all BKKI programmes the unprotected term of 'honours college'. That creates a clear distinction between the honours programmes and the honours colleges. You can only request an honours certificate if you've done an honours programme".
For the PPE students who were afraid the value of their diplomas would decrease, they can rest assured that the 'honours' term will be featured on their diploma. Whether the term 'honours college' will actually be used for all BKKI programmes, that remains unclear. The Governance programme, for example, hasn't decided yet whether or not they'll do it, according to Roza. "They're currently investigating what that would mean for the programme, and how their students feel about it".
Vita is "stoked" with the outcome. "The process started by accident, and this is the best possible outcome. We didn't know for sure if this would work". Thomas is satisfied, too: "PPE is a great programme and it would be a shame if a disappointment like this would put a negative spin on your college days. It's good that this issue was solved".
New honours vision
The PPE programme is not the only place where a discussion about honours education is happening at UU. A memo titled 'New vision on honours education 2021-2025' was published in February following a meeting of the University Council about Education, Research, and Student Affairs. During that meeting, UU Rector Henk Kummeling stated that the interpretations about what an honours education entails vary at the moment. Sometimes, it's 'embedded' in a programme, while at other times it's separate from the programme, or organised at a faculty or university level. That's why it's important to create a clearer honours profile, so that people outside the university know what to expect from someone with an honours diploma.
The new honours vision was published after conversations with students, teachers, vice-deans of education, and the Honours Dean. The document outlines the changes the Executive Board would like to implement in the future, such as making sure that honours programmes consist of 50 percent multidisciplinary education. More attention should also be paid to leadership competences and the strenghtening of transitional skills. Additionally, the honours programme should be available in separate modules, starting in the second year of one's studies, and students should obtain all 45 credits in the extracurricular programme. At the moment, only 15 of the 45 credits are mandatory.
The new Honours Dean, Stephanie Rosenkranz, is set to play a large role in the vision's implementation plan. Rosenkranz will succeed Michael Burke on April 1, when his term ends. It's expected that the new honours education will be fully implemented by the 2022-2023 academic year.