RAG week to address sexual violence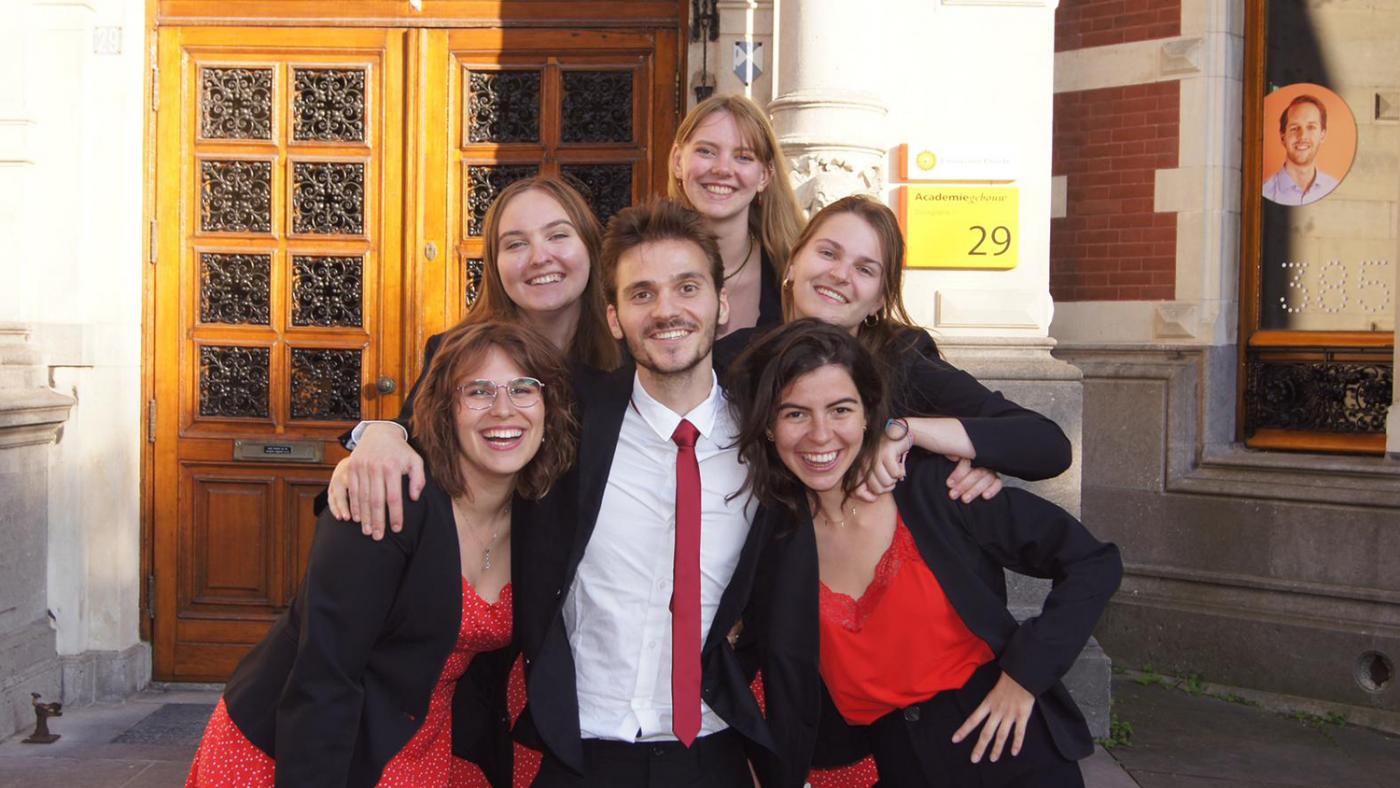 The 2021-2022 RAG week board. Photo: Stichting RAGweek Utrecht
In the RAG week (short for Raise and Give), students raise money for two charities. This year, the charities chosen are Milieudefensie (Climate Defence) and Centrum Seksueel Geweld Utrecht (Utrecht Sexual Violence Centre, CSG in the Dutch acronym). "Twice as many associations have joined compared to last year," say organisers Roos Nolten (21) and Chris Camminga (25), both part of the board of the RAGweek Foundation in Utrecht. "We've noticed that the topics of sustainability and mental health are very popular among students. Everyone engages with it and wants to help."
Half of the collected money goes to the CSG. Janna Teeuwen works as a case manager and psychologist at the CSG and was happy when she heard the news that they were chosen as a charity. "Apart from the fact that people get involved and we can help victims with that money, we think it's wonderful that Utrecht students find this theme so important. We carry it together," says Teeuwen.
But what is the CSG exactly and what can they do for students? "Doctors, the police, psychologists, the Wilhelmina Children Hospital, the Dutch Municipal Health Service, Victim Help Netherlands, lawyers, and Safe at Home are all partners who work together at the CSG," Teeuwen explains. "Each victim who comes to the CSG is assessed for their needs, what help is needed and who should come together." These get-togethers take place at the UMC Utrecht.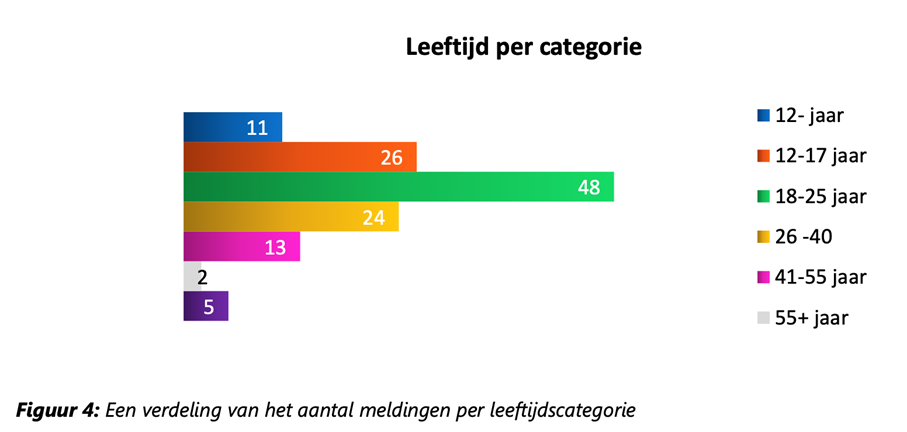 Source: CSG annual report
Campagne gericht op studenten
Like any other inhabitant of Utrecht, students will be helped if they have experienced some form of sexual violence, either recently or in the past. In 2022, the CSG gave on average a hundred times advice and 14 times immediate care each month. For two years, the CSG has also set up a campaign specifically aimed at students. "With the boards and confidential advisors of student associations and educational institutions, we try to make the way to the CSG clearer," says Teeuwen. "Many students also experience sexual violence, and they don't always know where to find us."
But why play such a role among students? "On the one hand, it has to do with being a young adult", Teeuwen speculates. Breaking away from your parents often goes hand in hand with pushing boundaries, including in the area of sexual development. "But additionally, this subject is openly discussed by this generation. It is present within media and politics and we find this important."
To break patterns of sexually transgressive behaviour, there are several possibilities. "Victim blaming is a major issue," says Teeuwen. This happens three-quarters of the time when a victim wants to tell their story. I would never walk there at night, or I would never do that are ways are phrases that are often heard in this way. "People say it out of self-protection. They are shocked and don't want to believe that this could happen to them as well. But by doing so, you make the victim responsible for something someone else has done against the law." 
Toolkit
The CSG developed a toolkit for all associations, universities, and vocational colleges to take further action among students. "How does sexual violence among students occur, how could you respond, what care is available. That is the information we could deliver directly to the students via the toolkit."
And with success, because since the launch of the toolkit, there have been many reactions from the boards. "Boards are sending us emails presenting anonymous cases and asking us for help. But we also receive questions on adapting policies to reduce sexually transgressive behaviour", says Teeuwen. Additionally, confidential advisors and student psychologists from universities and vocational colleges now are able to find the CSG to seek advice.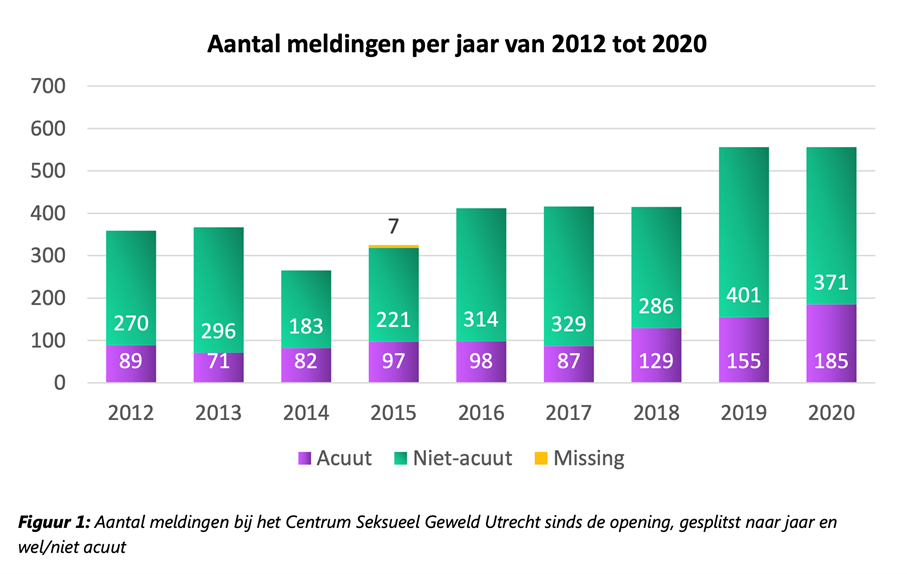 Source: CSG Annual report
UMTC taking steps
Student association UMTC is one of those who are actively in touch with the CSG. This student association has taken many steps to make sexually transgressive behaviour a subject of discussion in the past year. "On the advice of the CSG, we have arranged for lectures to be held in autumn for our first-year students on asking consent and sexually transgressive behaviour," says Mirte Blok (22), ab Actis from UMTC. Additionally, Mirte has organised a focus group in October about transgressive behaviour, where two employees of the CSG were present. The toolkit has been given to UMTC's confidential advisors and the posters have been put up at the club. "I notice that people talk about it more now", says Mirte.
The previous board of UMTC had prepared documents describing how UMTC deals with transgressive behaviour and how to prevent it. Before, there was no or hardly any policy for this. For serious offences, members face suspension or expulsion.
"From the moment that students become a member, we want to clarify that we always ask for consent here. This is how we do it here; Otherwise, you have no business here," says Mirte, "only then can the cultural change be initiated." With this, Mirthe means the "culture among students where it is, for example, cool to be the alfa guy and boast to your friend about sleeping with girls." She says that within UMTC, this is "fortunately" no longer the case. "but unfortunately, sexual transgressive behaviour still occurs. I haven't received any notification of it during the previous year but statistically, it is naïve to think that it doesn't happen within UMTC."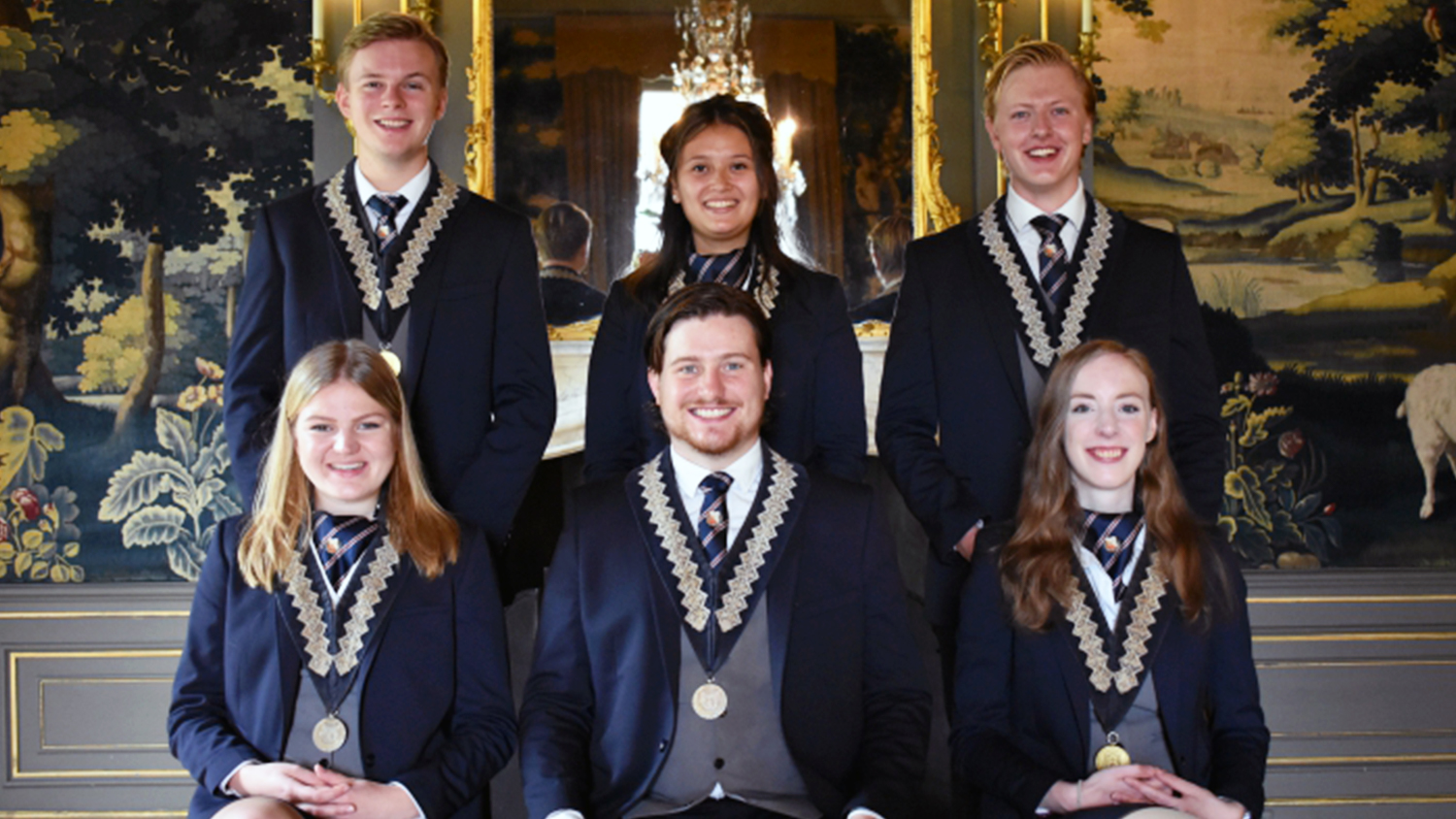 De senaat van studentenvereniging UMTC, foto van de vereniging
Joint effort
And thus, UMTC participates in the RAG week, just like Unitas, Veritas, Biton, Odysseus, STU-dance, AIESEC and numerous other associations. Within UMTC, a separate committee has been set up for the RAG-week, which organises an auction, among other things. Last year they managed to raise over 2000 euros, the highest amount of all associations.
The CSG wants to redesign the rooms where victims end up in the UMC Utrecht with the raised money. At this moment, these people are received in a bare hospital room. "Apart from it being not an atmospheric room, we have noticed that it is impractical to accommodate the various disciplines (such as police officers, doctors and forensic aid workers) together," says Teeuwen. The victim is examined for injuries, STDs, and pregnancy in this room. "Now the hospital ward is being rebuilt and the CSG receives two rooms. With the raised money, we want to turn these into a nice and warm environment."
The CSG is available 24/7 on telephone number 0800-0188 and via chat on www.chatmetcsg.nl or the website. Do you want to participate in the RAG week activities? You can register here.
What is the RAG week?
Set to take place from March 14-20, the RAG week is going to have a number of activities to raise money for two charities. The activities are organised by the board of the RAG week foundation and by the student, study and sports associations. They range from bake sales and theme parties, to swimming competitions and lectures. In this way, the board tries to enlarge the social engagement of students and contribute to charity. 2022 is the fifteenth time that the RAG week takes place in Utrecht. Last year 10,000 euros were raised.