Medical topics stand out
Seven Utrecht-based researchers getting Vici grant worth 1.5 million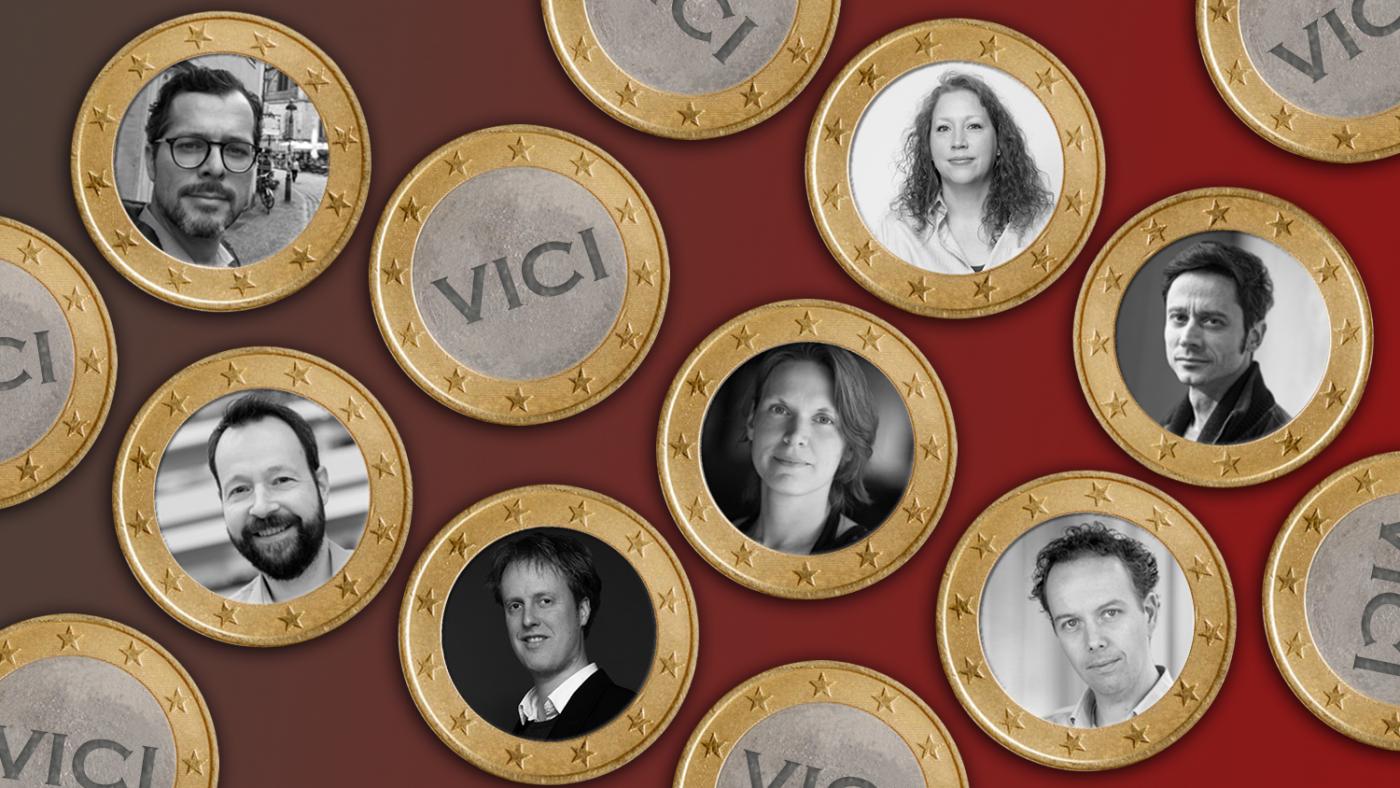 Photo: 123rf. Illustration by DUB
The Vici grants are part of NWO's talent programme. They are meant for senior researchers with their own innovative line of research in which younger researchers also participate. The idea is to enable them to expand their research group further. In addition to the Vici grants, NWO also distributes the Veni grant and the Vidi grant. 
With a Vici grant, laureates can carry out their research for five years. Most grants went to researchers in the exact and natural sciences (12), followed by social sciences and humanities (11), medicine and health (7) and, finally, the applied and engineering sciences (4).
Vici grants 2022

 
 
 
 

TU Delft

 
 
 
 

5

Utrecht University

 
 
 

4

University of Groningen

 
 

3

Twente University

 
 
 

3

Leiden University

 
 
 

3

UMC Utrecht

 
 
 

3

Radboud University Nijmegen

 
 

2

TU Eindhoven

 
 
 

1

Dutch Brain Institute

 
 

1

Dutch Cancer Institute

 
 

1

Erasmus MC

 
 
 

1

Radboud UMC

 
 
 

1

Leiden UMC

 
 
 

1

Groningen UMC

 
 
 

1

Maastricht University

 
 

1

Wageningen University

 
 

1

University of Amsterdam

 
 

1

Tilburg University

 
 
 

1

Total

 
 
 
 

34
A common point of criticism against NWO's talent programme is that it costs researchers a lot of time and effort to write applications for these grants while the vast majority is not going to be honoured. This time, only 13 percent of applicants were successful, against 11 percent in the 2011 round. Even NWO itself thinks that's too low. "We would like 25 percent of grant applications in the open competition and the talent programme to be honoured," said NWO chair Marcel Levi last year. "That's a lot. In some programmes, we're closer to 10 percent."
Utrecht University usually does well in the competition. In 2021, at least 10 grants went to Utrecht, of which two were given to UMCU. 2019, the year had the poorest results: only two grants were conceded to Utrecht, one for a researcher who worked in Eindhoven half of the time. From 2018 backward, Utrecht managed to score 6 grants a year.

So now there are seven, only one of which to Social Sciences. All others are connected to the Faculty of Science or UMCU. The winning research projects are the following:
Christian Lange: Senses in the Islamic World between 1500 and 1900
Cultural identity is closely linked to the senses: what and how we see, hear, smell, taste and feel. This research studies the five senses in the three so-called "gunpowder empires": the Turkish Ottomans (1281–1924), Persian Safavids (1501–1722), and Indian Mughals (1526–1858). This project will show how the senses were portrayed in texts, objects and the like throughout Islamic cultural history. In this way, it aims to shed light on fundamental, but hitherto ignored, aspects of Islamic history and test them against common assumptions about Islam and Islamic culture.
Erik van Sebille: Predicting how tiny pieces of plastic move and how to clean them up
Plastic items bigger than a few centimetres, also known as macroplastics, are a visible demonstration of ocean pollution. They have a significant impact on sea life, even more so when they turn into microplastics. It is hard to predict how macroplastics spreads out as that can vary greatly in terms of days and kilometres depending on the size of the piece of plastic. This research project will develop a computer model to understand this variation and predict the number of macroplastics in the Northwestern European seas and coasts. It can be used to optimise beach cleanups in order to avoid the formation of microplastics and reduce the impact on sea life.
Tuncay Baubec: Systematic testing the role of DNA methylation on gene activity
Our genome contains more than 20,000 genes and the activity of each one of them must be tightly regulated to promote cell function and prevent cancer. Changes or edits to DNA can help us to gain insight into this regulation and switch off genes without changing their DNA sequence. An example of such a change is DNA methylation, an epigenetic control that is an important layer of gene regulation. It isn't yet clear which genes react to DNA methylation and how this repression gets regulated. Using a combination of experimental and computational analyses, the researchers want to systematically test the role of DNA methylation on gene activity and gain important insights into the impact of this modification on cell functioning.
Bert Janssen: Visualisation of the role of proteins in tissues
Protein molecules determine the distance between cells in the body. At the same time, protein molecules on cell surfaces are affected by this distance. This feedback affects the formation and functioning of tissues, as well as diseases such as cancer and neuronal disorders. The researchers will visualise how proteins determine these distances and influence the function of tissues at an atomic level.
Suzan Rooijakkers: Mapping how our immune system clears bacteria
Bacterial infections are becoming increasingly difficult to treat because of antibiotic resistance. The researchers will map out how our immune system clears bacteria, unravelling why our largest antibodies are better at killing bacteria. This knowledge can be used to develop better vaccines or antibody therapies against bacteria.
Cora Nijboer: Stem cell research to repair brain damage in babies
If a baby suffers brain damage at birth, this has major consequences for their development. Recent research shows that stem cell therapy can reduce brain damage in newborns. Using advanced techniques, this project is set to investigate how stem cells provide new brain cells that can repair brain networks, and how we can optimise stem cell therapy.
Niels Eijkelkamp: Looking for a therapy to address chronic pain
One in five people suffers from chronic pain. This research project will investigate how nerve cells and immune cells work together to actively switch off pain after inflammation. This knowledge is necessary to understand why chronic pain arises and find targets for the development of much-needed therapies for chronic pain.
Advertisement