Starting your studies in times of corona: 'I'd been looking forward to the UIT week'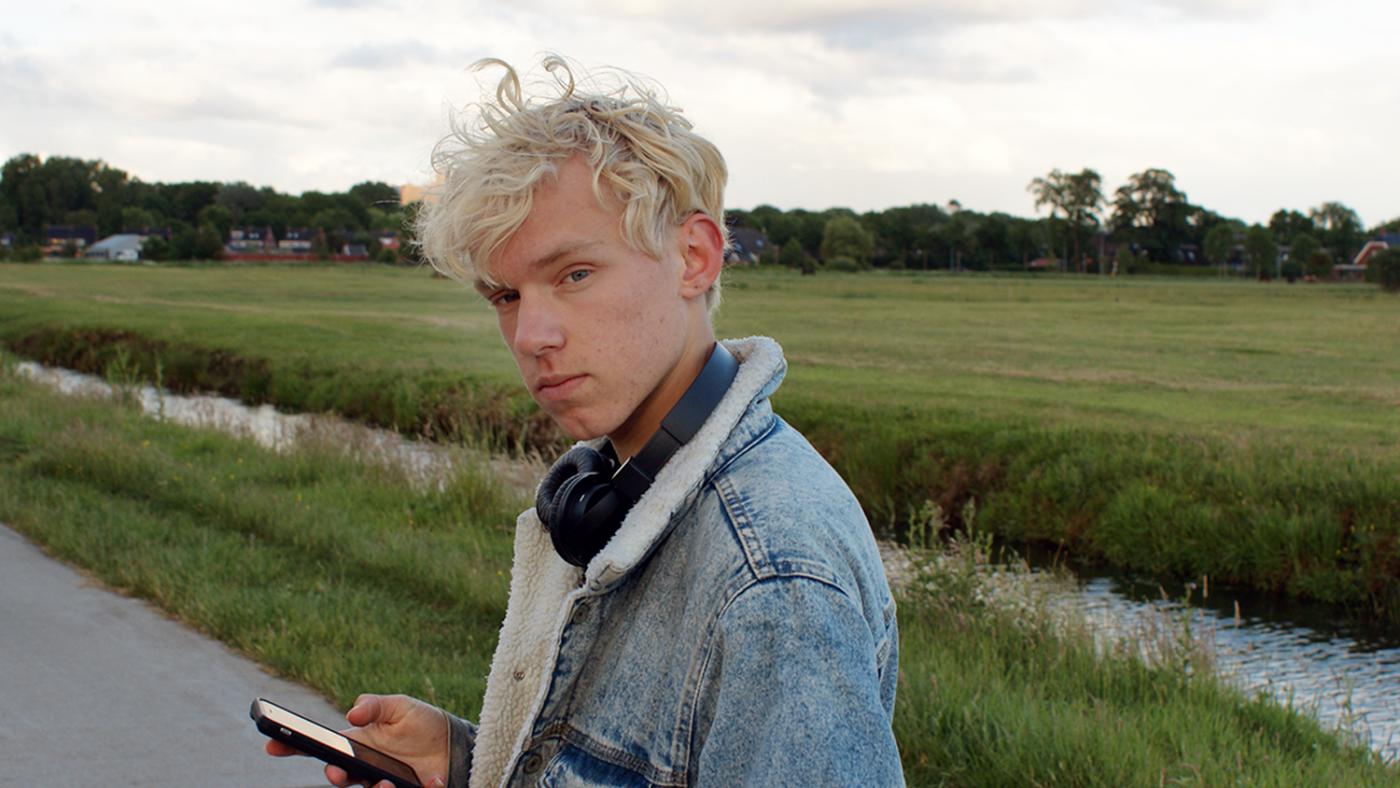 Isabel: 'I like to sing; I'll audition for Dekoor next month'

Isabel Redder (17)
Is from Coevorden, lives in student housing in Hilversum
Graduated from secondary school (gymnasium) this year
Starting the Bachelor's in Language and Cultural Studies
"Corona or no corona, I'm going to study! This is the ideal Bachelor's programme for me: it's a broad study programme, and I'm good at languages. I just don't know what I want to do later, but friends have told me that the UU is good at guiding you and helping you make decisions. That's one of the reasons I chose Utrecht. The universities of Groningen and Nijmegen seemed more interesting at first, but after the orientation days, I felt like these Bachelor's programmes didn't offer me exactly what I was looking for. After an orientation day at the UU, I thought: wow, this is it. Another reason I wanted to give Utrecht a chance is that four of my friends are already students here, and two other friends of mine are also starting here this year.
"During the UIT, I also tried rowing with Orca. That was fun to do, but I feel like sports associations might not really be my thing. My UIT mentors came up with assignments we could do in small groups, like taking a picture with the Dom. That's a great way to get to know some other students. I also watched the digital UIT to get to know the city and student life a little bit. That was very cool, too!
"I think that studying from home a lot can get very lonely, which is why I want to meet up with classmates to study together. I've already met four through a Facebook group for people looking for rooms. I've also signed up for study association Alias. Aside from that, I would like to join a choir in Utrecht. I like to sing, and as a child, I sang in the international children's choir Voices Musikschule Niedergrafschaft, with which I've sang abroad, and won awards. I get to audition for Dekoor Close Harmony in September, and perhaps for women's choir Medusa, too.
"I've been living in student housing in Hilversum for a few weeks now. I have seven housemates. Three of them are also first-year students. Travelling from Coevorden to Utrecht takes at least two hours, and I've got a chronic intestinal condition, Crohn's. That's an auto-immune affliction which makes travelling by train quite risky. At some point, I do want to live in Utrecht, because that's easier when you have activities in the evening. I've already responded to over twenty rooms in Facebook groups, but most houses are looking for someone who's a little older. I found the room in Hilversum through an ex-colleague of my father's. I think finding a room through your network is probably the only way to get one."
---
Kenrick: 'I want to explore a new city'


Kenrick Ye (21)
Is from Enschede, and has a room in Utrecht
Completed the Bachelor's in Communication Science at the University of Twente
Starting the pre-master in Sustainable Business & Innovation
"I did primary school, secondary school, and my Bachelor's in Enschede, and I'm ready for a new environment. Utrecht is a lively place, and is well connected with other cities. At the UU, I can do part of my Master's abroad, and this university focuses on sustainability a lot. The latter is what drew me in. In this Master's programme, I want to learn how earth is warming, and how sustainability can be of added value to companies.
"I probably would've made the same choices even if there hadn't been a corona crisis. Perhaps I would've visited more open days at other universities. The open day at the UU wasn't cancelled, and after visiting, I was already convinced I wanted to continue my studies here.
"I found a room in Utrecht two weeks ago. A friend of mine lives there too, we've known each other since primary school. When I move to Utrecht in early September, I'll be able to build my life in this city, and become more independent. I'd had a few interview evenings before I got this room, and although I wasn't chosen then, I did enjoy getting to know new people.
"I'd been looking forward to the UIT week; my group and I had made plans to hang out in the Griftpark together, and explore Utrecht. Sadly, this was cancelled a week earlier. I didn't keep track of the online UIT. When the academic year starts, I will meet up with the people from my UIT group again.
"A lot of classes will probably be online; that'll make it harder to make social connections, and I'll definitely miss that. For that reason, I might join an association. I was a guitarist in a band, and I practiced kickboxing until I injured my knee last year. My knee has since healed, and I want to start kickboxing again."
---
Annelise: 'This academic Year, I'll live at home and focus on mu studies'

Annelise Matser (17)
Is from Amersfoort
Graduated from secondary school (vwo) this year
Starting the Bachelor's in Chemistry
"In secondary school, I enjoyed chemistry, and I was good at it. That's why I want to continue with it. At the UU, the chemistry programme is fairly broad, and I'll be able to choose Humanities/Social Sciences courses at the same time as well. The university is close to my home, so I don't have to travel very far. I already know people who are studying in Utrecht, but that's not why I chose this city.
"In my first year, I'll keep living at my parents' house, so I can focus on my studies. Perhaps I'll find a room in Utrecht afterwards; it seems like a great experience to have, because it'll make me more independent. If I do move out on my own, I'll get a student loan if necessary. This year, my parents are paying my tuition, and I'll pay for the years after that, because I've got a part-time job. Since last month, I've been working at the pastry department at the Hema in the centre of Amersfoort.
"I hope I'll get to go to Utrecht for classes a lot. I think the practicum sessions will be held at the university at any rate. Studying at university seems more fun than working from home anyway; you have more interaction with others.
"I participated in the UIT earlier this month, mostly so I could get to know the city, associations, and student orchestras, but also to meet new people. I've played the flute for twelve years, and would love to play in a student orchestra. I prefer making music with peers, because you have more in common with each other.
"The UIT was a lot of fun. I did a rowing workshop with Triton through my UIT mentors, but would rather join an orchestra. I also visited the student associations during my intro week, and I walked around town with my group and mentor students. My group and I also joined an online general knowledge pub quiz – and won."
---
Olivier: 'I want to be in the Randstad, but Amsterdam, Rotterdam and the Hague are too big for me'

Olivier Slebos (18)
Is from Groningen, has a room in Nieuwegein
Graduated secondary school (vwo) this summer
Starting his Bachelor's in Governance
"Utrecht just seems like a fun city to me. I wanted to leave Groningen and move to the Randstad metropolitan area, but I feel like Amsterdam, Rotterdam, and the Hague are a little too big for me. This study programme includes everything I like, like politics, economics, sociology, and law. I was immediately enthusiastic when I found it during an open day.
"This academic year, I'll have classes at the university twice a week, so I'll see my classmates regularly. But I also want to join my study association, a political youth association, or a sports association, to start building a more social student life. I love discussions, but I'm not entirely sure about my political preference yet. I also like to exercise, rollerblading especially. Sometimes I work out at home. Maybe I'll join a rowing association, that seems like fun, too.
"I hope to find a room in Utrecht soon; it's hard, and I hate that I don't get many responses. I'm not in too much of a rush to find a room, because I only have two days of classes in Utrecht. I'm moving to my new room in Nieuwegein this week; it'll be easier to find a place in Utrecht from there.
"My sister is studying Medicine at the UU, and a few of my former classmates are also going to study here after the summer. It's nice to know a few people in Utrecht already. I also went to the UIT; I explored the city with my group, and had some drinks at fun places. I love the Winkel van Sinkel; it's so different from other buildings in size and appearance. That's what makes a city fun.
"It was nice to get to know other people who are in the same boat. It gave me the confidence to feel that it's going to be okay, getting to know people this year and building a life in Utrecht, despite the corona measures. I'm not going to be put out by it. I'm looking forward to this academic year."
Advertisement