'Strikes? I don't have time to strike'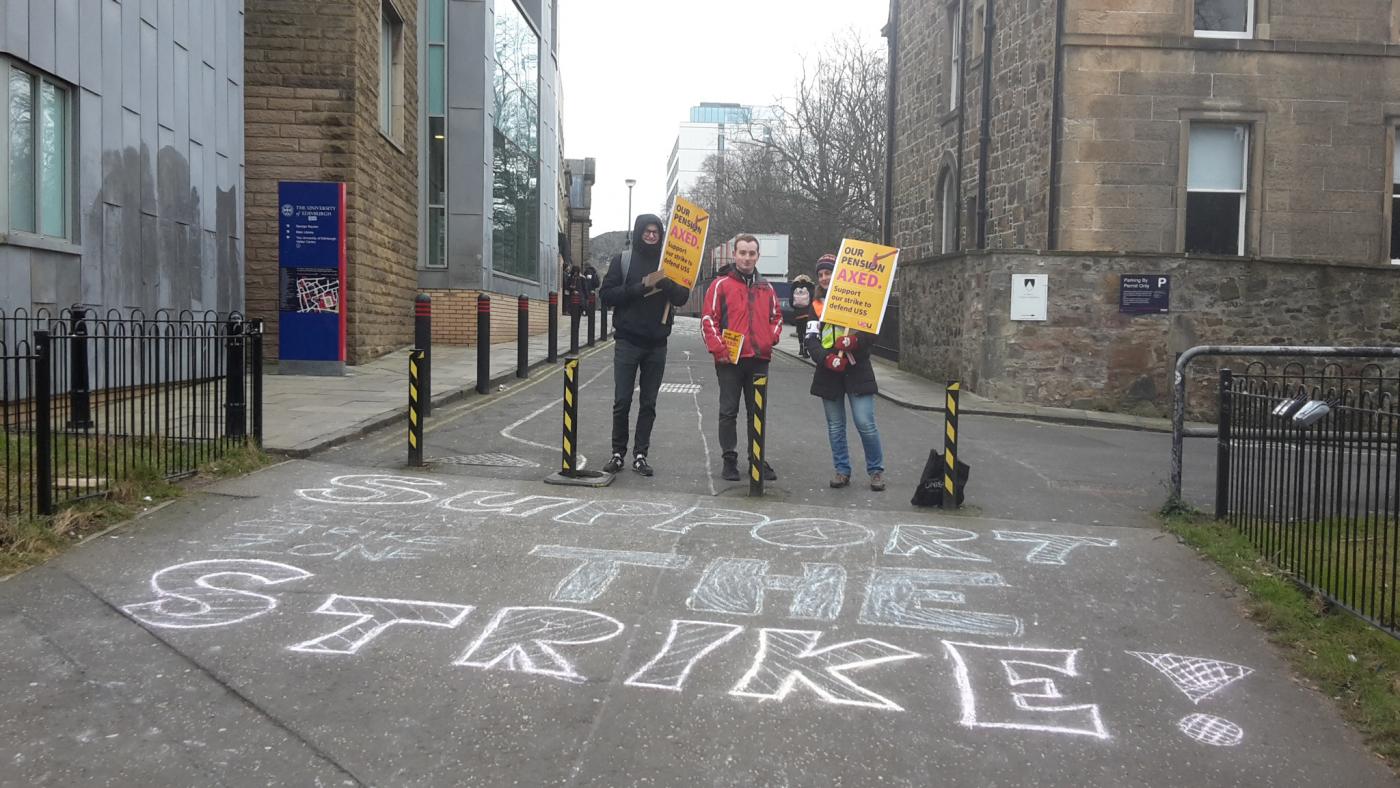 Strike of staff members of the University of Edinburgh 2018. Photo DUB
Don't work more hours than you're paid for. That was the idea behind the 'white strike' the WOinAction committee announced late October. The idea came from UU professor Ingrid Robeyns, who'd mentioned the plan in an episode of TV show Buitenhof, which dealt with workloads in higher education.
The result: in November, numerous teachers sent out automatic replies in which they explained that perhaps a response might take a little longer. It's unknown how many UU teachers participated in the protest.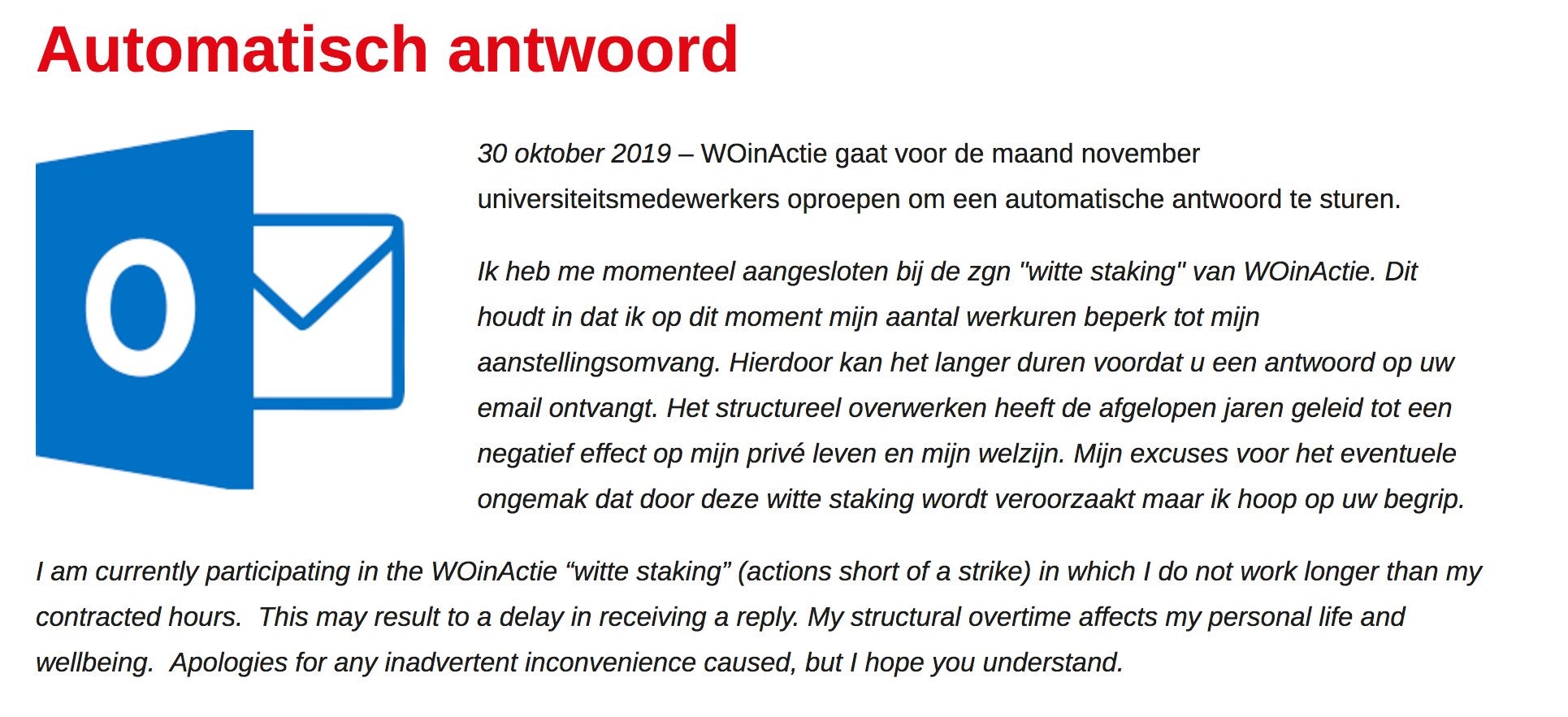 Interviews website ScienceGuide held with participants showed that it was rather difficult to stick to those set hours in practice. Teachers, for example, don't wish to disappoint their students, or burden colleagues with additional work.
Still, WOinAction is planning more protests. Not teaching, for example, or not grading. Now that minister Van Engelshoven, in her presentation of the strategic plan this week, acknowledged a lot more money is needed for higher education, WOinAction concludes: 'Protesting is useful.'
The question we asked our DUB panel via email, then, is:
Should students suffer from teachers' protests against increasing workloads?
---
Public Administration specialist Jasmijn van Harten did not participate in the white strike, and didn't notice much of the protest either. She sympathises with the protest, but also feels like a scientist's work simply doesn't fit in a 9-to-5 job. As a teacher, you need to be flexible, she says in an email. In return, the university gives teachers a lot of autonomy and freedom. "But if the work is consistently felt to be too much, and isn't alternated with off-peak periods, it's time to send a signal about this – through a white strike, for example. I think a lot of students and stakeholders probably sympathise with this strike. Perhaps it's good that students see that their teachers, like them, suffer from their workloads, and that teachers are leading by example, by clarifying their priorities about what they do and don't do in their work weeks."
Student of Earth Sciences Eise Nota:
"It's nonsense to say students shouldn't suffer from strikes. The teachers I've met are incredibly engaged with their disciplines, and with their students. This is proven by the fact that most teachers were unable to stick to the white strike. And it's about students learning that teachers deal with increasing workloads, and that something has to happen to fight that. I think most students will probably sympathise with this. Students would really suffer when teachers are absent due to being overworked."
Innovation scientist Frank van Rijnsoever:
"If train passengers can suffer from conductors on strike, primary school pupils can suffer from their teachers on strike, and drivers from protesting farmers, then yes, students can suffer a little bit from their teachers being punctual. And regardless, the question is whether the students would truly experience this as suffering. It's possible that in a white strike the quality of education could be lowered a bit, for instance by becoming less intensive. In short term, students will have a little more free time, which many will see as a benefit."
I don't feel like society or politics see any urgency in the issue of workloads at universities
Social geographer Bouke van Gorp:
"If everyone were to participate in a white strike, we'll get a clear overview of how normal it's become to work overtime (even if many of us probably do so out of enthusiasm, involvement… there's also the part of 'otherwise the work won't get done'). If all of us were to join in for a month, you'll see which things won't get done, which choices constantly have to be made in what to do and what to leave. Whether that would help bring in more money for higher education, I'm not sure. I don't feel like society or politics see any urgency in the issue of workloads at universities. In the current government, I haven't seen a progressive vision on higher education and research anyway."
Student of Educational Sciences, Leonie Schiphorst:
"I have to confess I didn't notice this strike at all. I think it's a good thing to pay attention to structural overtime, although this isn't just a problem that's exclusive to university employees, of course. I think students suffer less from a white strike than from general strikes. I can imagine that for teachers, it's tough to stick to this type of strike because you'll disadvantage either yourself or others. An out of office reply, I think, does contribute to creating more awareness within the university, but it won't really help reduce people's overtime."
Protest without nuisance aren't protests
Art historian Annemieke Hoogenboom:
"I doubt whether it'd be possible to move the UU teachers to actually take action at any scale. But it's inevitable that if it did happen, students would experience some negative effects. The alternative would be for teachers to protest 'in their own time'. The point, however, is that that time hasn't really existed for a long time. And anyway: protests without nuisance aren't protests. It's imaginable that students would show solidarity, because they know educational quality could benefit from relieving workloads."
Social demographer Fred Toppen:
"I didn't participate in this white strike, although I do sympathise with the idea. It's evident others will be bothered by this strike, because otherwise a protest like this is a toothless weapon. But for many, that disadvantage is temporary. When public transport goes on strike, you work from home for a day; in a primary school, the lessons won't be taught that day but on another day that school year. Missing out on a course day at university is different. The schedules are often tight, making it nearly impossible to reschedule a lecture (time slots! No rooms available!) and you still want to give them feedback. I think students have a right to their lectures and feedback, and by not giving either of these on any given day, I'd have to jump through all sorts of hoops to reschedule it on a different day. I simply don't have the time for that."
Finally, educational expert Casper Hulshof has a short but strong message:
"Students are already suffering from the increasing workloads."