Student debt: 'It's something that constantly eats at you'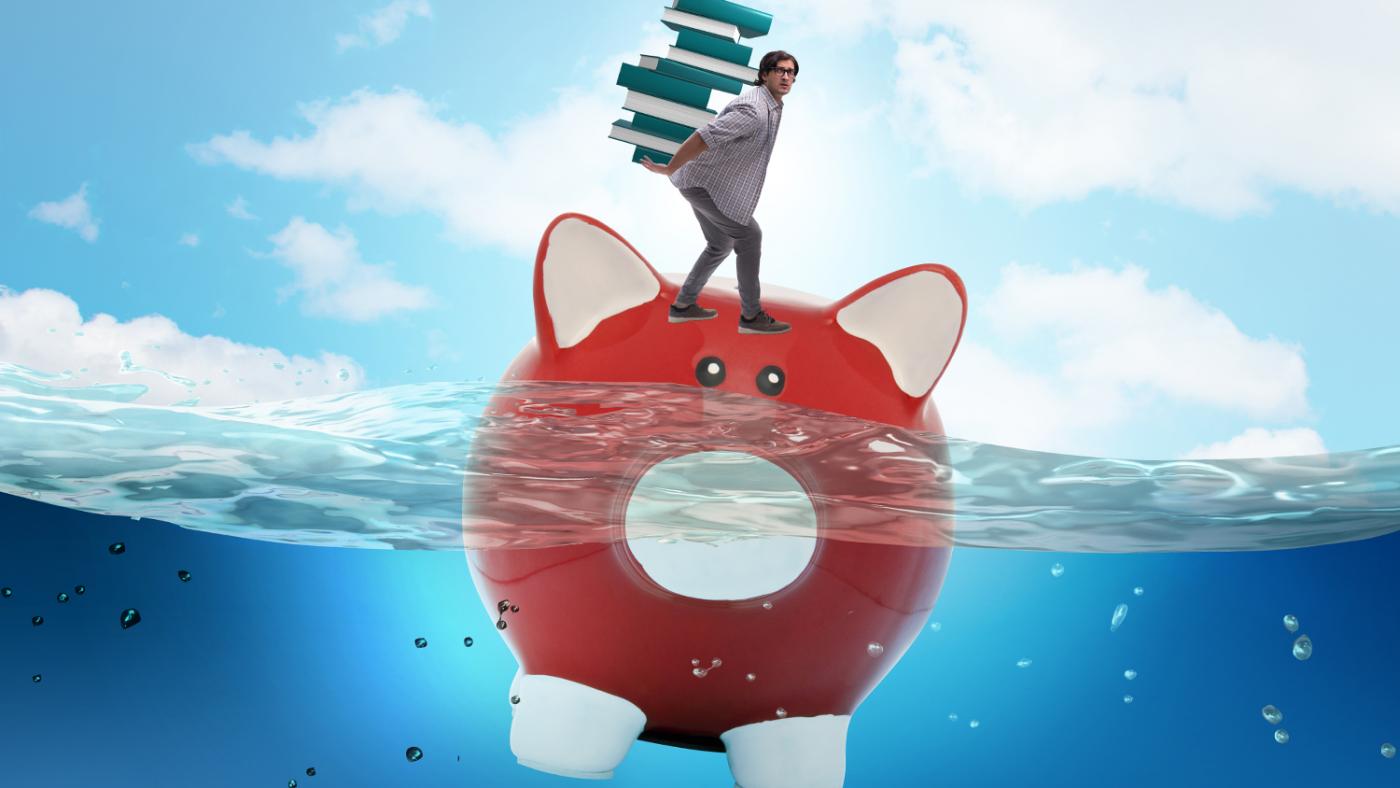 In September 2023, the basic student grant is going to be reimplemented in the Netherlands, replacing the loan system in place since 2015. It's not yet known exactly how much money students are going to be entitled to, but either way, it doesn't matter to the current generation of students, who are still contracting debt in order to go to college. The amount owed can pile up pretty quickly. In a survey of 553 students conducted by StudeerSnel, a Dutch platform for university students, 67 percent of respondents stated that they worry about their debt regularly or often. The same study showed that 5 percent of them are not sure how much they owe.
Merel is a student of Cultural Anthropology at Utrecht University, and she knows what it's like to have a huge student debt. She preferred not to think about it too much until she ran out of money a few months ago. She had just paid for her summer holidays with a big group of friends, and was planning on going on a ski trip in the winter. But her savings account was empty, as she worked at a theatre on a flexible, "zero-hour contract", and the pandemic had left her without a source of income. That's when Merel decided to increase her loan from 700 euros to 990 euros a month.
She hasn't looked at her DUO account for the past two years, ever since she got a letter informing her of her total post-graduation debt. If she were to remain consistent and loan 700 euros a month, she would have ended up with a total debt of 55,000 euros. "I can't loan any less now, so checking how high my debt is wouldn't really help me. It would just make me feel worse." After all, she can't even imagine such a huge sum of money. "It's something that's always eating at you, though. I used to panick about my debt from time to time, but now that I have so little money, it's on my mind every single day. I have a huge student debt and no more savings. I'm embarrassed." Merel prefers not to talk about it with friends and family.
Now that money is tight, she's been more conscious about the way she handles her finances. She has a monthly budget and pays close attention to her bank account. She makes a grocery list before going to the supermarket and keeps an eye on deals and discounts. But it isn't easy. "Maybe later I'll feel like I wasn't able to make the most of my time in college, or perhaps I won't be able to get a mortgage."
A university diploma is no longer an investment
Speaking of mortgages, the study conducted by StudeerSnel shows that 90 percent of students in the Netherlands worry about that, as they foresee their student debt having negative consequences to their credit score in the future. Some graduates even go as far as concealing their debt when applying for a mortgage. According to Karin Radstaak, from the National Institute for Budget Information (Nibud in the Dutch acronym), since the introduction of the loan system, most university students have stopped regarding higher education as an investment. Even so, about 25 percent of students prefer to enjoy their college life without a care, reveals the StudeerSnel survey. They would rather worry about their finances later, even though their current spendings matter in the long run.
Radstaak acknowledges that it's hard to decide whether or not to loan money -- and, if you do, how much to loan. "When you're dependent on a loan to be able to go to university, you haven't got many options. Assess your needs carefully beforehand and don't take out a higher loan than necessary." In addition, she recommends students to have an oversight of their expenses: "List everything you earn and pay every month, stay on top of where the money is going, and reduce your loan if you can."
Merel realised that her financial issues were partially caused by her getting used to certain spending habits. "Your social environment is a significant factor, because how lame is it when you're the only one in your group of fifteen friends saying 'No, I'm not joining the holiday trip this year because I can't afford it? That's so embarrassing, so you join even though you can't actually afford it," she explains.
Still, she says she doesn't want to play the victim: "Yeah, I'm broke now, but that's because of the choices I've made. I chose not to study something that will turn me into a millionaire, I chose not to have a job that pays well, and I chose to live on my own and pay rent". She's not very hopeful about the future, though. She's afraid she won't be able to find a job fast enough, given her choice of study, and she's aware that the housing market doesn't look too promising, either.
There are a lot more students whose debt is higher than average
Emma Mouthaan (26), who's recently graduated from her Bachelor's at University College Utrecht (UCU), can relate to Merel. She owes DUO 72,000 euros, and has discovered that it's hard for students to find information on how to deal with such a debt. She says she had to educate herself by googling "endlessly" and watching a lot of YouTube videos. The experience motivated her to start her own blog, titled Skere Student (Broke Student). "I'd acquired all sorts of knowledge from so many sources, so I felt like making a website to gather all that information in a single place and help other students."
In addition to student debt, Emma uses her blog to talk about budgeting, saving, and investing -- basically, everything surrounding the finances of young people. One of her posts discusses the average debt contracted by university students in the Netherlands, a topic of utmost importance in her view. She thinks the official statistics provide a skewed image of reality: "That average debt of 15,200 euros was calculated by looking at everyone who has a student debt in the country – including, say, 35-year-olds who have already paid back part of their debt, and students who have only just joined the university. That's why the average is much lower than one would expect and it's a useless figure for current students to compare themselves with. Many students will have a much higher debt after graduating. For this reason, I think the messages we get from Statistics Netherlands are super toxic. There's still so much shame surrounding student debt, and this doesn't make things any better. I think I'm one of the few people in the Netherlands who dares to openly say 'I've got a huge student debt'."
Financial education
Emma, who's now pursuing a Master's degree in Writing at VU University in Amsterdam, thinks personal finances should be part of the educational curriculum: "Making financial education mandatory would be useful in all the phases of a young person's life. After all, it's something you'll deal with for the rest of your life." Emma says the topic can be made interesting by adapting it to the phase students are going through. For example, Utrecht University and the Utrecht University of Applied Sciences (Hogeschool Utrecht) could scheduled a mandatory course as part of the introduction week. She would love to give guest lessons as someone speaking from experience. According to Emma, the responsibility to provide financial education still lies too much with one's parents.
Radstaak, from Nibud, agrees: "People become financially independent once they turn eighteen. That means they have more rights, but they have more obligations, too. Not everyone is taught at home how to deal with financial responsibilities, which is why it would be good for everyone to receive timely information about finances in high school. Studying at a university isn't just about choosing the right major. There's a whole financial side to it, too." In addition, she feels that the Dutch government should make certain processes, such as requesting an additional scholarship, easier and clearer. "People are often unaware that they're eligible for a scholarship", Radstaak says.
Last but not least, Emma would like to send a message to Merel and all other students refraining from checking their DUO accounts: "It can be very annoying to know exactly how much you owe, but at least you'll know. Then you can anticipate and calculate whether you really need your loan to be as high as it is. Unfortunately, the government and the university don't provide any financial education, so it's up to you to take the responsibility to learn about financial affairs. As soon as you know how to handle money, it'll become less scary." She herself feels more calm since she's learned the exact status of her student debt. According to Emma, it's best to be open about your debt, so other students can see they don't have to be embarrassed about it either. You're certainly not the only one going through this. This way, you can help each other out.