Students behind Instagram account sad_uithof want to create a sense of community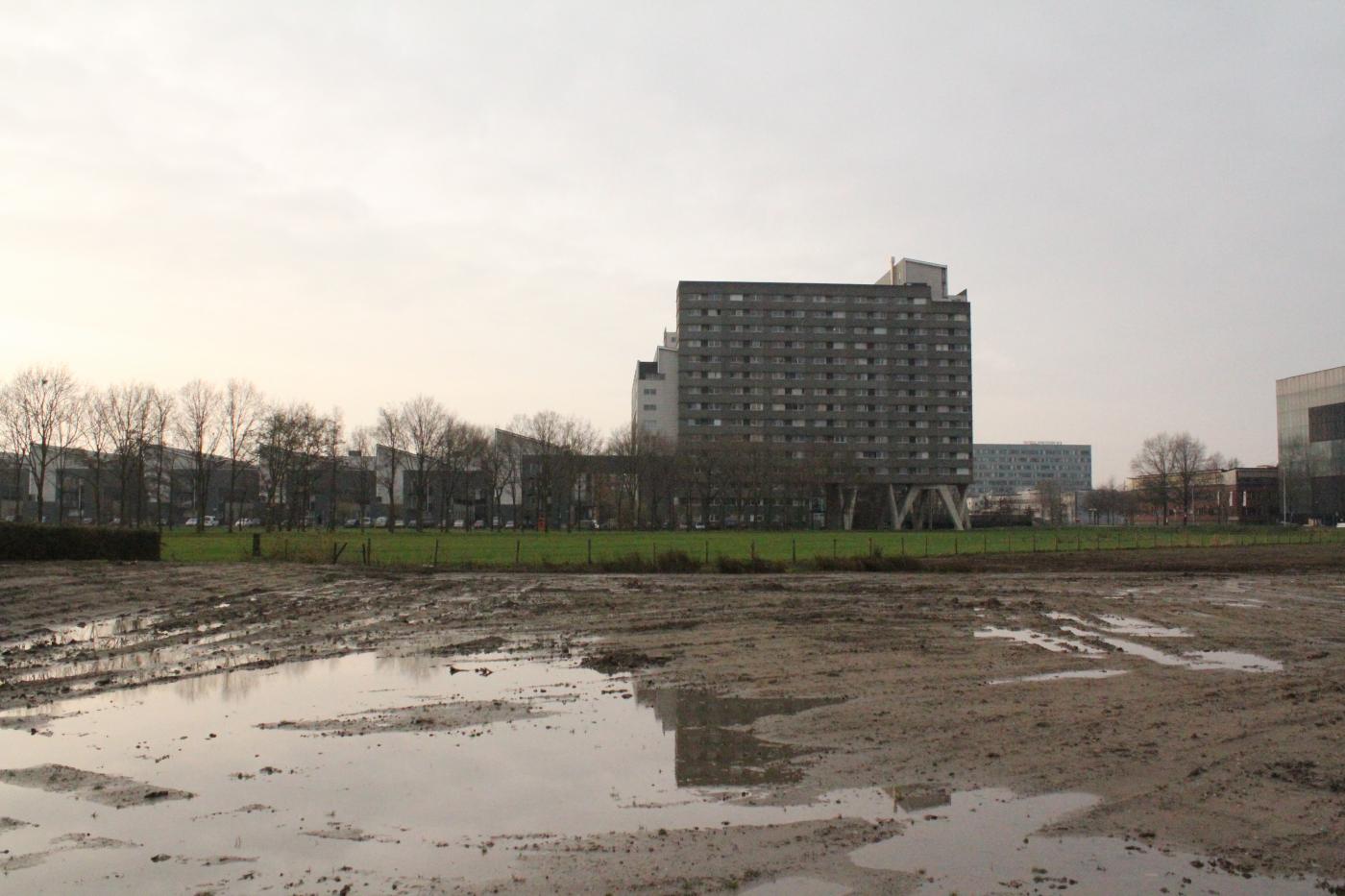 Photo DUB
The @sad_uithof account is filled with photos and videos of different locations at the Science Park. Meagre, sunken fields with a handful of sheep, or the Uithoflijn tram running its umpteenth test run. The students running the account write the craziest captions to accompany the posts. One post, for instance, about the Masters Open Day in the Koningsberger building, spoke about a 'sad situation' as they claimed nobody showed up. Who comes up with these things?
Who are you, and why did you create this account?
"We're all UU students, and we're at De Uithof regularly. We joked about the Science Park's sad looks amongst each other. One of us had had a weird dream about it: in the dream, a deep voice echoed across a deserted Uithof – it turned out to be the Van Unnik building. The building was complaining about how sad De Uithof is. Our jokes, combined with that dream, sparked the idea for the Instagram account. We thought it might have some potential."
Do you want to tell people who you are?
"No, we wish to remain anonymous. We're regularly asked, on Instagram, who's behind the account, but we prefer keeping that secret."
Why do you want to keep this a secret?
"We think it creates equality between us and our followers. At the end of the day, all of us are connected through the account, and we urge our audience to think along with us, and to send in photos and videos. That way, we hope they feel like they're a part of @sad_uithof."
What do you want to accomplish with the @sad_uithof account?
"It's important to know that the 'sadness' of De Uithof is, above all, a theme many people relate to. Our main goal is creating a sense of community. There are plenty of people who visit De Uithof and share our thoughts, but never really say them out loud. We see things around us that appeal to our imagination, things we find funny. Others apparently also think they're funny, and started following us. We feel like with this account, we've got something many people think and feel, but don't share with each other."
Are you succeeding in creating a sense of community?
"We've got a few people who regularly send in photos and videos for us to post. We also see some followers coming up with really funny stories, like the ones we post. We received a message from a meme account about the Utrecht University of Applied Sciences, who might want to collaborate with us. We can see whether we can create some common ground with other groups as well. We recently went to visit the new building for student boards, here in De Uithof as well, just after it had been announced. That way, you're in contact with that group as well. The goal, really, is endless. Because we're striving to involve as many people as possible in our theme, and our account."
Who's your account meant for?
"For everyone who lives and walks around here. It's a fascinating location with tons of undiscovered places. Sometimes, we post photos you may not recognise instantly, because you've never been there. In your first year at university, you quickly accept that what happens around you is normal, and you don't look beyond that. No one takes the time to reflect on what De Uithof actually is. We really love De Uithof, there's never been an intent to ruin this place's image. Although we can imagine it might look that way sometimes."
What caused your enormous growth?
"When we started this summer, we had about five followers. We did feel like we could reach a lot more people with @sad_uithof. Only in the past few weeks, we actively started following other users. That's when things sped up. Now, we're at over a thousand followers."
What is @sad_uithof's future?
"Eventually, we want a bigger team, and more content. But we're afraid our posts will be less consistent. Now, we're with enough people who post the same types of photos and stories, and we're very in tune with each other. It's important to us to have all our posts have the same vibe. On the other hand, there are more than enough followers who've got interesting ideas, and respond to our photos. We could perhaps hire them."
The creators of @sad_uithof mostly hope to reach a lot of people with their sad photos and corresponding stories. Their account sometimes hints at a possible sad_uithof meeting, to bring together the entire community. On Friday, November 1, @sad_uithof took over DUB's Instagram account to publish the best sad corners and locations of De Uithof on our account.