Students discuss the war: the question of 'right' and 'wrong' is a nuanced one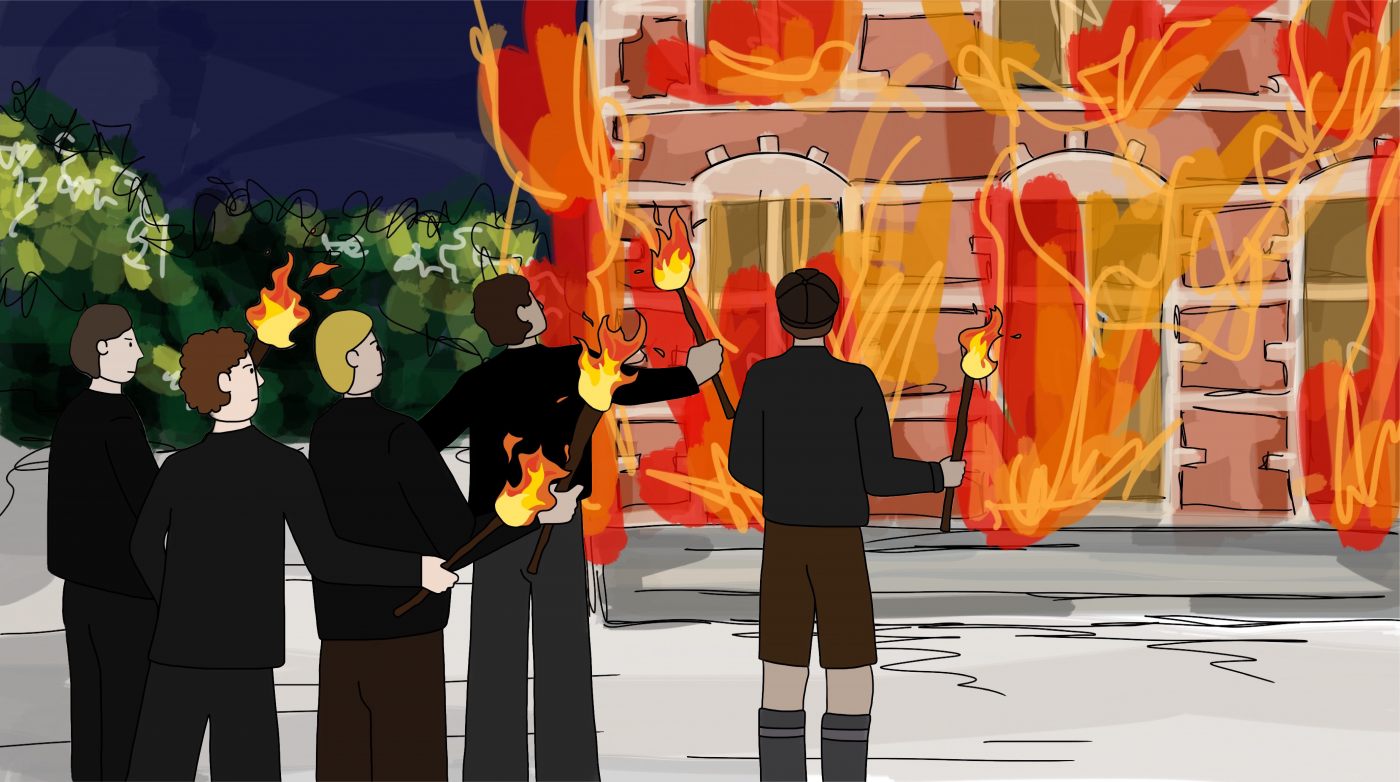 Illustration taken from graphic novel. Made by Silke van Veeren
In the early morning of December 13, 1942, flames are billowing out of the registration office in the University Hall. Five shadows flee from the front door out into the Domplein at around 4:00 am, each disappearing into a different direction into the unlit streets of the silent centre of Utrecht.
It's an act of resistance by five students, who just burned all the cards that listed names and addresses of registered students. They did this because the German occupiers wanted to send half of Utrecht's students to Germany to work in the so-called Arbeitseinsatz, a forced labour camp. But with the names and addresses of the students reduced to ashes, their systematic removal for forced labour couldn't happen.
Three acts of resistance
The story above is one of the three acts of resistance featured in the digital graphic novel created by Hanna van Veeren, Thom Ponssen, and Rick van Huizen for the course Living Pasts. When choosing the stories, the students found inspiration in an article published by DUB in 2015 (only in Dutch), in which former UU teacher Frits Broeyer listed five acts of resistance by UUers.
The graphic novel is like a comic book and a game at the same time, as the reader is invited to make a decision after a short introduction to the situation. What would you do if that was happening to you? Your choice decides what happens next.
"In the story about what happened at the University Hall, the reader must decide whether they will join in on this act of resistance, or whether they would prefer to go to their family to help support people there", explains Hanna, a fourth-year student of Liberal Arts & Sciences. "That way, we tries to make people experience the kind of dilemmas students had to deal with back then. Joining in on an act of resistance comes with plenty of risks, but then you can also help ensure fewer students are sent to Germany."
She found it really interesting to work on recent history. "It's about young people our age, who walked around in places near the Domplein that we frequent, too".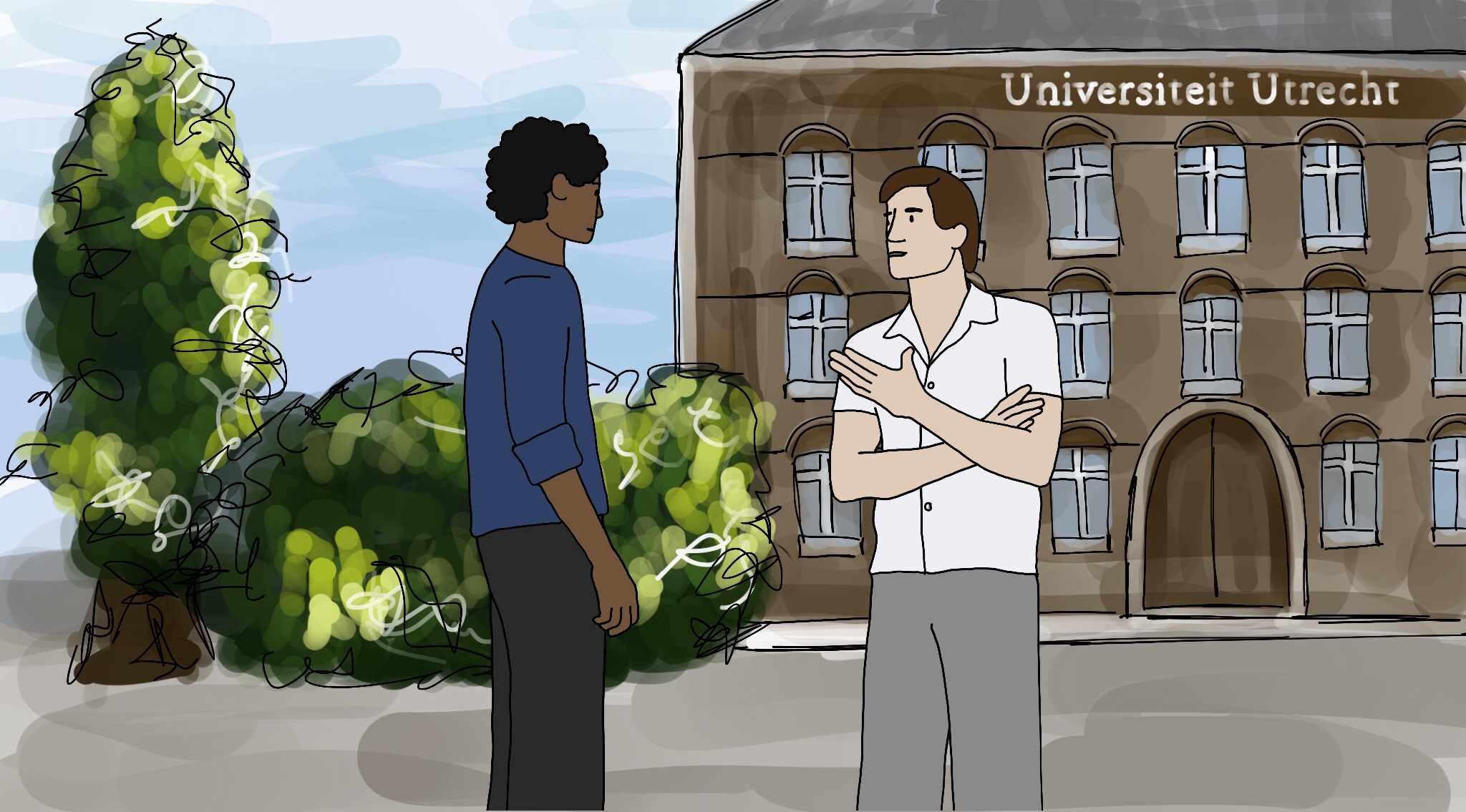 Illustration by Silke van Veeren, from the graphic novel
The production of the graphic novel also made her reconsider her idea of 'good' and 'evil' mean. "People often say that the students who joined the resistance were 'good', and the ones that joined the NSB [Dutch nazi party, ed.] were 'wrong'. But how black and white were things, really? Try to imagine what it was like for the students back then. It wasn't that easy to take action, especially considering all the risks that such a decision entails. They're people from their time. The Germans were in power. How can an individual student handle that?"
Covid resistance
Rik, a first-year student of Liberal Arts & Sciences, tells us about the online event they held to launch the graphic novel in April. "Representatives from the municipality of Utrecht and the Old Utrecht association were among those present. One of the questions we were asked was what all these scenarios tell us about the time we live in now. I thought that was an interesting question, considering we're in the middle of a pandemic. You notice yourself having an opinion about all those people gathering at the Museum square, protesting the Covid policies. Is that also a form of resistance? It's tempting to assume an 'us vs. them' point of view. What we've learned from World War II is that we should always be prepared to put ourselves in another person's shoes, as hard as that may be. That prevents division in society."
Thom, a third-year Governance student, adds: "In any case, there are people stuck in their filter bubbles, where they only seek information to confirm that what they already think is right. That makes it hard to communicate with others."
Secondary school students
For the elective course Living Pasts, which is open to students from different disciplines and academic years, students were tasked with forming groups to work on a history-related product in which the Dom square would be central. Apart from the fire at the University Hall, Thom, Rik and Hanna's graphic novel also tells the story of students who stood watch at the Dom in 1940, to see whether German planes were coming, and the story of the group of students who founded the illegal publishing house De Bezige Bij [the busy bee, ed.]. Illustration Silke van Veeren, from the graphic novel
Their chosen target audience was secondary school pupils. "Our goal was to make history tangible for those students. Since they have to make hard decisions themselves, teachers are given the chance to talk to them about themes like freedom, and freedom of speech. They also learn how people really experienced World War II."
Living past
The students were responsible for creating the scenarios and programming everything. The illustrations were made by Silke van Veeren, Hanna's sister, who's a student at the Willem de Kooning Academy in Rotterdam. Several teachers have already tested the graphic novel in their classrooms. "We've heard that secondary school children thought it was really cool to have history lessons like this. They said it made the past really come to life. The only aspect in which they see room for improvement is that they would like us to make the stories a little more elaborate. It was too brief at times", says Rik.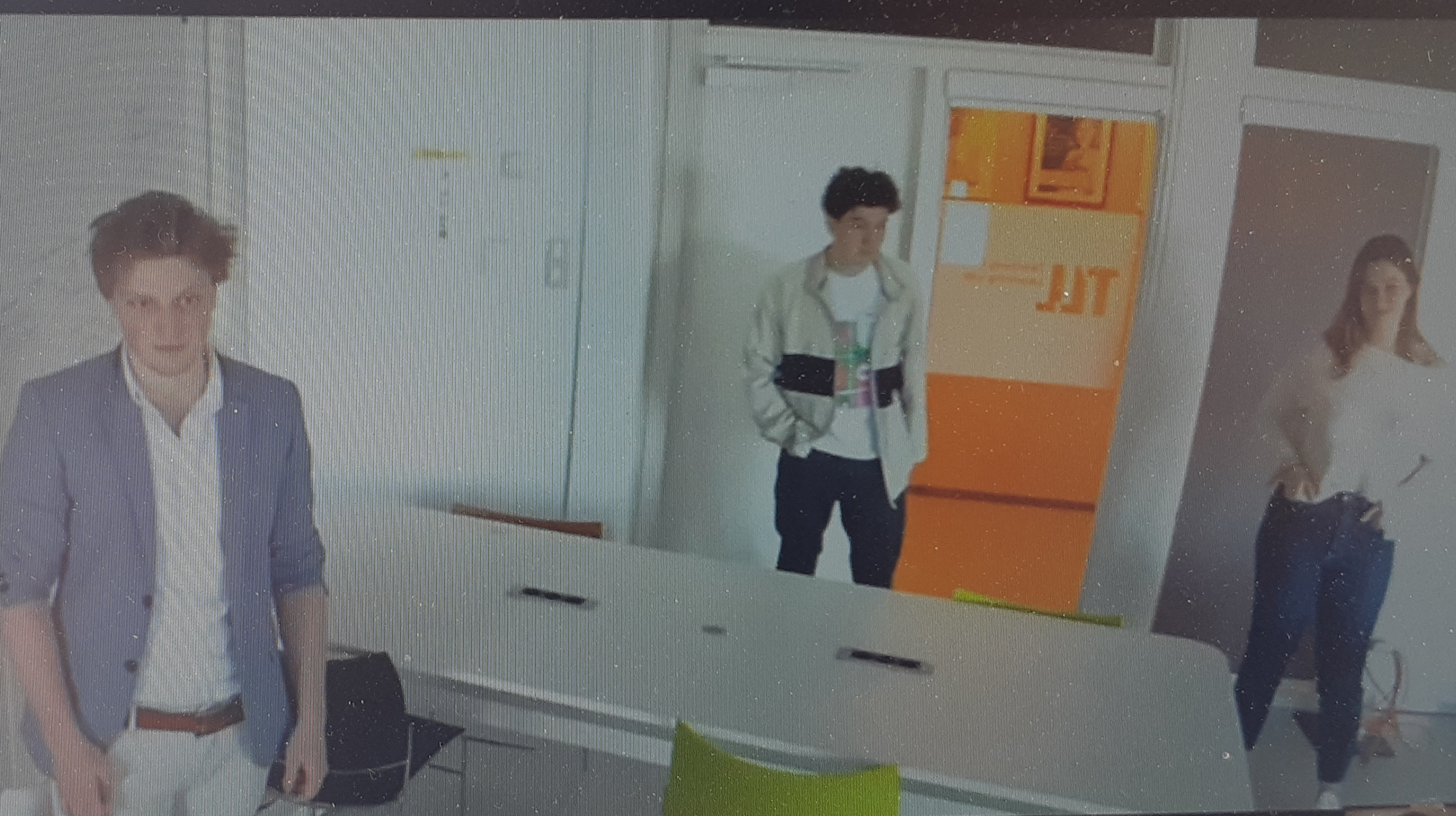 Rik, Thom and Hanna in the online launch of their graphic novel. Photo: DUB
Other cities
For the students, the project is over when the course is over, but they don't discard the possibility of taking the idea further. Thom: "We've heard that U-Talent, the UU programme in which the university collaborates with secondary schools, is interested in using our novel. The honours programmes for secondary school children have also shown interest. We could keep going by adding interviews. We would like to ask Frits Broeyer some questions. He's the one featured in DUB's article. He wrote a book about Utrecht in the resistance and he's also the director of De Bezige Bij. The publishing house still exists today."
"You could say we've created a foundation for this type of education about World War II. There are many ways to continue it. For instance by adding new stories, like the one about Trui van Lier, the student who helped to hide children, or her cousin Truus, who shot a commissioner. But we could also create a similar graphic novel about other cities", adds Hanna.