Students rarely get their moocs approved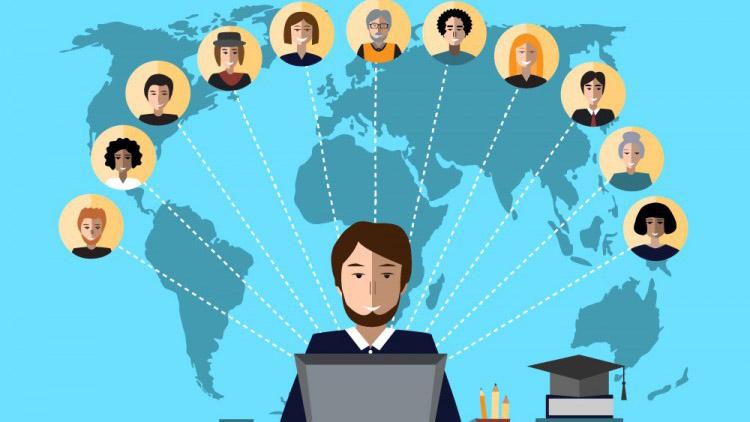 Online education is booming. Many prestigious universities over large-scale moocs (massive online open courses) or small-scale spocs (small private online courses). Students follow an online programmes that generally consists of video lectures, reading books, completing assignments, giving feedback and discussing on forums.
The moocs are large-scale: sometimes you'll be doing the course with thousands of others at a time. The participants come from all over the world. Remarkable is that the assignments aren't checked by teachers, but mostly by a number of fellow students. The peer reviewers receive instructions on how to grade.
Getting to know people
Renée Filius, who's coordinating the Utrecht moocs, took several of them himself. On creating a digital learning environment, for example, a class offered by Stanford. "I was really impressed with the feedback and the discussions in the forums. I've gotten to know many people in Germany, Sweden, Canada and the US."
Doing a mooc is generally free. The Utrecht ones are, at least. If you want to receive a certificate, you have to pay 60 dollars. Students can sign up for the UU moocs through American platform Coursera. "You can use the certificates to ask for dispensation at your bachelor's or master's."
Acknowledging moocs seldom succeeds
The exam committee judges your request. They look at the content and size of the programmes, and whether there's any supervision from the UU at the exams. In spocs and at the online master's, that criterion is generally met, but in moocs, that's less self-evident. As a result, the exam committee is very reluctant in acknowledging the online courses.
Joost Koedam is master's coordinator at the master's programmes Cancer, Stem Cells and Developmental Biology, and has already seen several times that students who had been trying to get their online courses acknowledged, eventually had to give up.
He'd like to see things change. Following moocs offers students the opportunity to take a valuable course at other universities, sometimes in disciplines the UU doesn't offer. Additionally, a course like that can be combined with an internship abroad, and it could offer a partial solution for overworked teachers and waitlists for courses.
Professor wrote recommendation letter
Late in 2016, a student wanted to go abroad for her internship, and wanted to take a preparatory online course in computer programmesming and data science offered at MIT. It was a three-credit course that would fit well in the Theoretical Courses element of her study programmes, which required a total of 15 ECTs. Koedam had offered to act as examiner, and professor Harold van Rijen had written a recommendation letter, in which he asked the exam committee to think about a reliable exam. In the grading, the UU rules for small-scale online education would be taken into account. The student herself had written an elaborate clarification and motivation.
A few years earlier, in a comparable situation, the exam committee had agreed with the plan, but now, in early January 2017, it turned the request down. It would only be allowed to fit in the student's 'free space', where the student already had more than enough study credits. She didn't want to fit the online course in a section of her programmes where she didn't need any additional credits.
Looking for a UU teacher for the exam
A few years later, the same student tried again with a different course, one worth 1.5 ECTs, on DNA analysis. Koedam had, again, offered to act as examiner. The exam committee wanted to 'make an exception' and agreed to acknowledge the course as one of Theoretical Courses, but then stated as a requirement that a UU teacher in that discipline acted as examiner. The student then searched the entire country for a suitable UU teacher in the discipline of biotechnology, which failed – because there's no such course taught at the UU, and because any teacher who would want to do it wouldn't receive any educational compensation.
The student gave up. She finished the mooc, took the exam and received a certificate, but wasn't able to receive any credits for her study programmes.
Koedam has more examples like this. One student wanted to have some recently taken moocs acknowledged as electives. She'd received a statement from a UU teacher that these courses were on a master's degree level, and she'd paid for a Coursera certificate, in which the student's identity is checked via webcam. This request was also rejected.
The UU is now offering 70 spocs
Aside from the large-scale moocs, there are also small-scale spocs, in which you take an online course with a maximum of 25 others. The contact is more intensive, both with students and and teachers. The courses being offered also match more closely with the master's programmess of several disciplines. Some courses are set up as postgraduate courses. The UU itself is currently offering around 70 spocs through platform Elevate, as part of master's programmess. You can also do one entire UU master's degree online – epidemiology.
Development of spocs in master's programmess will increase
The costs of spocs are comparable to the costs of regular campus courses. Costs are based on the amount of credits. For non-EU students the costs are higher – just like the regular master's programmess.
"Students often express their wishes to be able to do a master's programmes partially on campus and partially online," Filius says. "You can imagine it'd be nice for a student from Groningen to not have to travel to Utrecht all the time, but instead take an online course." The development is still in an early phase. If this is what you want to do, you need to have your plans pre-approved.
Filius expects the development of spocs within the master's programmess to increase more than those within the bachelor's programmess. "Those students want to live in a student city, and physically go to class."
Moocs to draw more international students
Although it's hard to get a mooc approved for students' regular study programmess, the UU itself is creating its own new moocs. "We've chosen to develop a new mooc for each strategic theme. That's how we want to show what Utrecht University has to offer – internationally, too."
Filius thinks the moocs can help draw more international students, and graduates who want to keep learning. In this way, they also fit in with the UU programmes Life Long Learning.
Moocs fit with the strategic themes
The first mooc was about ebola, which was a relevant topic at the time. It was followed by moocs on epidemiology, future food, human rights and child development. The moocs start at a set date and generally finish after about six weeks. That's followed by six weeks of silence, before the same programmes starts again. It's a lot of work for the scientists to set up the programmes, but once a mooc is running, their work load is minimal. Each mooc has a UU moderator who follows the programmess and checks whether everything is going well. If there's a mistake in the questions or the material, the moderator goes straight to the scientist.
A scientist who wants to start his own mooc, can also come to Filius. "It's not that there's any money available for moocs outside of the strategic themes, but we can advise in the setup. In that way, a mooc can also add to educational innovation, and teachers don't all have to reinvent the wheel each time."
Translation: Indra Spronk