Students visit the Pieter Baan Centre: 'Dry theory comes to life'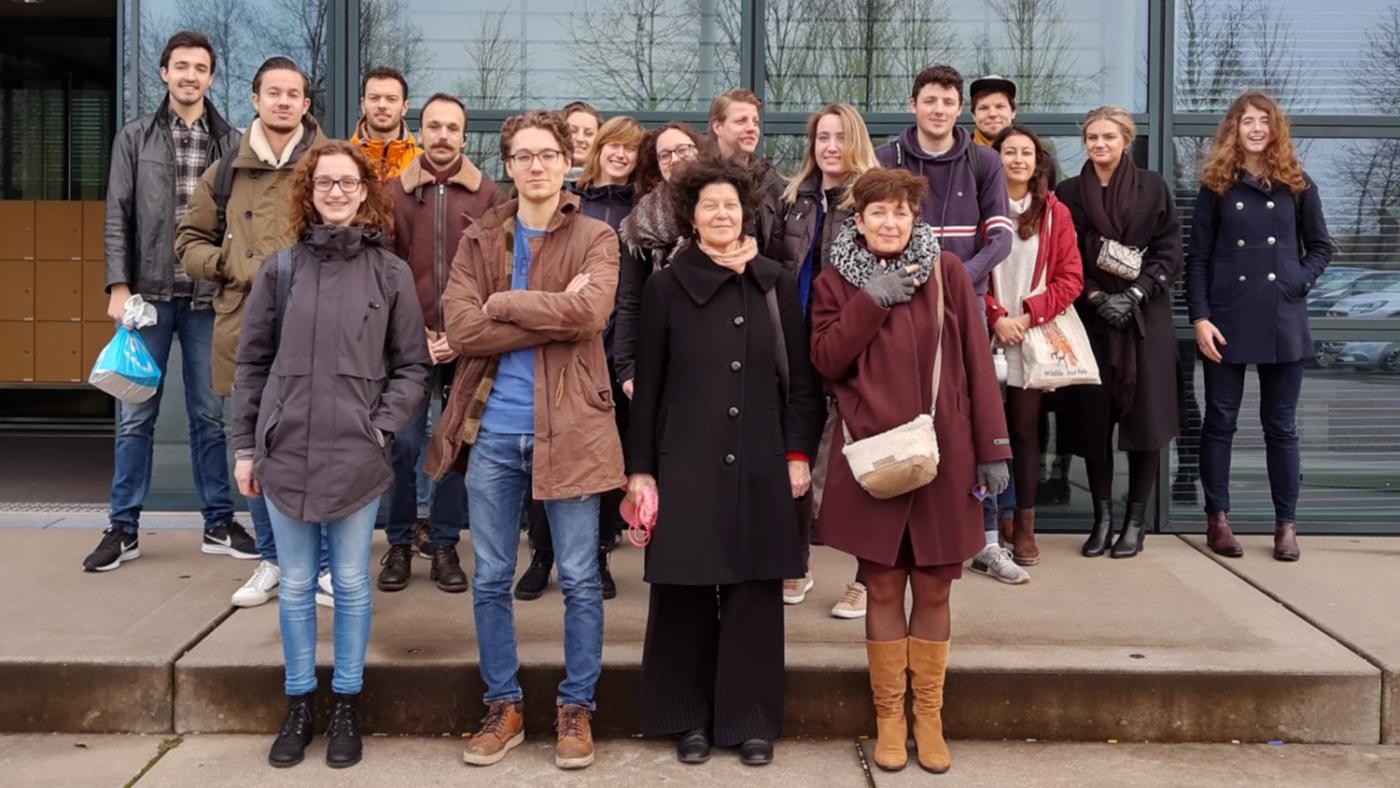 Students of the multidisciplinary course together with their teachers Liesbeth Sterck and Minet de Wied. Photo: DUB
While the atmosphere in the van somewhat resembles a school trip, the mood quickly changes once we drive onto the PBC grounds. The modern, flat building at the outskirts of Almere looks gloomy. It's serious business: after passing through the first doors, everyone has to hand in their passport or ID card, all 'data carriers', such as cell phones, are locked away in safes, all bags are checked, and everyone has to pass through security gates.
The reason for this visit is to get to know the practice. All the students are taking a multidisciplinary course called 'Empathy for biologists, lawyers, and behavioural scientists', which is new in the curriculum this year. It takes half an hour to get everyone inside the building. The entire building consists of hallways with interlocked doors – one door cannot open until the other is closed.
The students end up in a recreation room, where suspects can make music, or pray together, for example. The group is welcomed by Maaike Kempes, head of the department of Science & studies at the PBC, and legal expert Merel Prinsen. They explain what happens in the observation facility, where they also work with a multidisciplinary approach.
Extreme tool
After Prinsen's presentation, it's time for a tour, led by group leaders Peter and Sergio. The group leaders wear regular outfits, and don't carry guns or handcuffs. Their job is to supervise a group of suspects and to write reports on their behaviour. "We only have an emergency pager in case something happens. If it does, security can be there within two minutes." One worried student raises his hand: "Yesterday, there was a police officer in the TV show Jinek, who said that pagers don't actually work that well."
Still, the group leaders feel safe. They receive resilience training, and there are violent incidents only about once, twice a year, they say. These are incidents either amongst the suspects or towards employees. Sergio, a group leader who's not much older than the students, says: "When I started here, I thought there'd only be people here who are suspects in the most violent crimes. And in theory, that's true, but they're still just people."
Peter adds: "We purposefully don't wear uniforms or batons, because we don't want to emanate this sense of a power relation. We want to be able to observe someone well, and that's done best standing next to someone instead of above them."
While the students are led through the building, they see people exercise. A little while later, a group of suspects have to walk right by the students, so the students have to wait in a separate meeting room. It's quiet, and the blinds are drawn, so they can't make eye contact. The atmosphere is tense; it hits a little close this way.
Grocery list
When the coast is clear, the students can leave the meeting room and explore the suspects' living room, kitchen, and outdoor space. Group leader Peter says: "A group of around eight men get 150 euros a week to cook meals with. They do that themselves. That, too, is part of the observation: is someone capable of planning, writing a grocery list, considering the dietary preferences of others?" The students are also allowed to sneak a peek into a cell. It's sober: a bed, a cupboard, a TV, a sink.
"Suspects can work, and earn 17.50 an hour," Peter continues. That work can be, for instance, filling jars with candy for the Kruidvat, or technological manual labour. "But working is not mandatory. None of the activities are mandatory, but everything is observation. If someone decides not to participate at all, and isolates themselves, we can't observe as well how someone behaves."
Earlier that day, Merel Prinsen had already said that the great value of the PBC lies in its group observation. For six weeks, the observed are in the picture all day, every day, which provides a lot of information about suspects' possible mental disorders. Peter: "In groups, some types of behaviour surface even more strongly. So when a suspect wants to exercise, they will have participate in group exercise first."
Living room feeling
After the tour, the students and supervisors get together for lunch. As he's eating a sandwich, microbiology student Jeroen (22) says he thought the group leaders were very 'chill'. "They were very open. It's not the stereotype of the warden exercising his power and such."
Sara, a 20-year-old law student at Utrecht Law College, agrees. "It was so different from what I'd expected. There was really a kind of living room feeling. I thought there'd be cameras, and that people would be observed via screens all the time."
"There are never any field trips in law studies," she continues, "it's rather dry, and mainly a lot of memorising information. But I've got a broad interest, which is why I chose this elective. I already wanted to specialise in family law, because it's more human, but it wasn't possible to take additional psychology courses. I was really missing those social bits."
On 23-year-old Jamie-Lee, student of Social Sciences, it was especially the discussed cases that left an impression. "It really brings to life dry theory." Jamie-Lee previously studied Children's and Youth Psychology, and in her electives, has started studying criminology. She thinks psychopathy is very interesting. Psychopathy is a rare personality disorder in which the development of a consciousness lags behind, or doesn't take place at all. "And psychopathy is often linked to empathy."
Empathy
The goal of the course is to develop an instrument that can measure empathy. "The approach from these different disciplines is very interesting: biologists have a different approach to behaviour than social scientists or lawyers," says behavioural scientist Liesbeth Sterck, one of the three teachers who created this curse.
Forensic psychiatrist Ronald Rijnders, who works at the PBC, is specialised in empathy. Once returned to the recreation room, he tells the students a little more about the subject. Together with the UU's Jack van Honk, he studies (link in dutch) the influence oxytocin (sometimes called the 'cuddle hormone') has on social-emotional behaviour in male 'tbs'ers' (the Dutch name for mentally ill convicts) who show a high level of psychopathy.
The study includes administering oxytocin (or a placebo) to psychopathic test subjects through a nasal spray. The research hypothesis is that administering oxytocin will increase the recognition of emotions, thereby improving one's empathic functioning. There are no results yet: the first statistical analyses will be done this summer.
Wedding dress
To ignite some discussion about what 'emphatic functioning' is, exactly, Rijnders confronts the students with a real-life example. They're given a few snippets from newspaper articles to read. They're so-called 'Ikjes' from newspaper NRC: funny anecdotes sent in by readers. An example: there's a note on the door of the drycleaner's, which has been closed for a few days. The note reads: "Mama has died, I'll be back 31-5. Apologies for the inconvenience." Below this note, another note reads, in printed text: "I urgently need my dress, this is ridiculous. Make sure you deliver it to me before 28-5. Phone np. 06[…]."
The students laugh a little. Then, Rijnders asks: what went wrong here? It doesn't take long for a student to raise her hand and say the woman in question was unable to truly empathise with the shop owner. Another student counters: "But yeah, what if it's your wedding dress? In that case, I can understand her reaction." Rijnders looks on with a twinkle in his eyes.
The day is done and freedom beckons, but it takes around fifteen minutes to even get outside. Everyone once again has to pass through the security gates, return their visitor's passes, wait for their passports to be returned, and of course stop by the safes to grab their phones. And then, it's back to the outside world, where a pandemic is waiting for them to, not long after this visit, force them to lock themselves up in their student homes.