Teachers often following compulsory course in their own time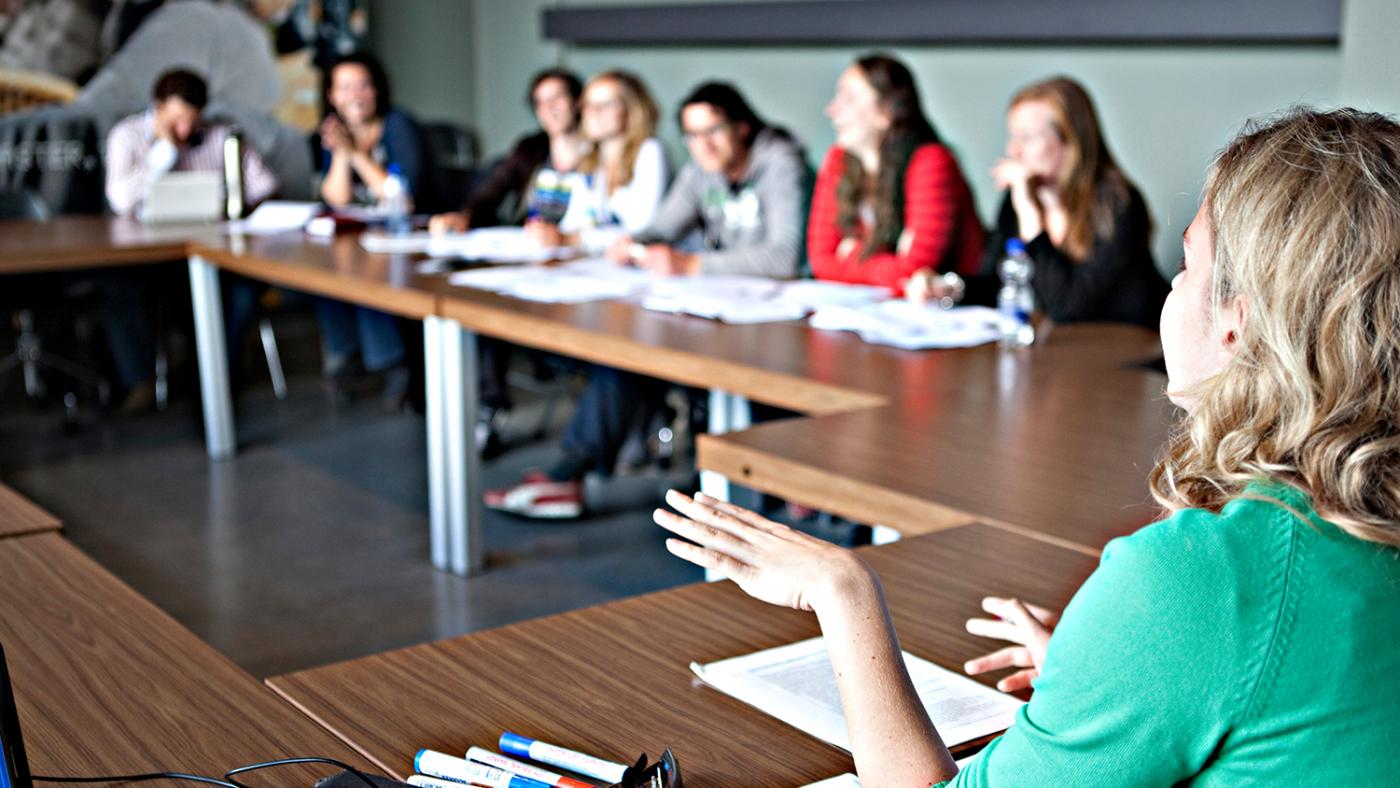 Photo: Anthony Donner, DUB's archive
According to an agreement from 2008, everyone giving lectures or teaching workgroups in a Dutch university must have a license called BKO (Dutch acronym for Basic Teaching Qualification). Those who do not yet have it must follow a training.
The agreement initially caused the number of licensed teachers to shoot up, but in recent years the growth has been slow, from 63 percent in 2018 to 64 percent in 2019. The number of licenses is especially low among temporary teachers.
Under pressure
For most teachers, following the BKO training is not something they can do 'just like that'. At Erasmus University, for example, the amount of time necessary to obtain the license (including self-study) is estimated at 80 hours. At the Vrije Universiteit Amsterdam, it's even worse: 150 hours. Bear in mind that the workload in higher education is already skyrocketing.
The time spent by lecturers on these courses is by no means always compensated, according to an assessment by news agency HOP. At the Open University, the Delft University of Technology and the universities of Twente, Leiden and Tilburg, to name but a few, lecturers do not receive any compensation for the hours dedicated to the BKO.
Maastricht University offers all lecturers obliged to take a BKO forty working hours to compensate for the training. After all, the university acknowledges that gaining practical experience largely overlaps with carrying out regular teaching tasks.
At Utrecht University, the policy differs per faculty, or sometimes even per department. The same goes for the University of Amsterdam and the Vrije Universiteit Amsterdam. Some lecturers are compensated, while others are not. However, UU has promised to make its BKO programmes "more egalitarian" next year, as to reduce the differences in study load and compensation.
The boss's time
So, how do teachers make time for their BKO training? At the UvA, participants usually manage to do it "during working hours", according to a spokesperson. Lecturers at the Open University and the Delft University of Technology are also allowed to do the same, as it is expected that their BKO takes place "within the boss's time".
The question is what "working hours" or "the boss's time" actually mean. After all, a teacher's work doesn't always fit neatly within the 9-to-5 timeframe. If a teacher spends her Thursday afternoon following a BKO training, for example, a pile of unread papers or exams will still be waiting for her. She'll have to grade them in the evening or the weekend.
Extra time for PhD students
"In practice, it's often up to lecturers themselves to decide when to follow the training," explained Marc van Mil, teacher of Biomedical Sciences at UU and board member of the ComeniusNetwerk, a network of higher education innovators. "You can't just put such a programme on the table. You can only do that if you leave other tasks behind or extend the contract".
That's why Van Mil started a pilot within his own department at the UMC Utrecht, aimed at PhD students who would like to obtain their BKO but do not have the time to do so within working hours. Now they get a six-month contract extension for this purpose.
Serious training plan
"You may wonder if someone without a BKO license should even be teaching at all," says Van Mil. "That's why we should make sure that junior lecturers are placed in a BKO training programme right away, so that they are qualified early on in their careers. In principle, there's nothing wrong with learning on the job, as long as teachers have a serious training plan from the start and are given the space to learn from and with each other".
Van Mil thinks that managers who don't allocate time for a BKO training are actually implying that the BKO isn't important enough. "Unfortunately, the BKO is still often regarded as an obligation that needs to be ticked off, rather than an opportunity to let someone's talents flourish."
Generous compensation
The demand for compensation for the hours dedicated to the BKO is not entirely new. In 2016, a working group within the Higher Education Expertise Network (EHON in the Dutch acronym) analysed all BKO programmes at Dutch universities. The resulting report (in Dutch) concluded that lecturers should be compensated for the time they invest in the training, as "most universities" did not do that. A similar call followed in 2018, after Dutch universities carried out a BKO peer review (in Dutch).
"Some institutions and faculties have become more generous," says EHON President Jaap Mulder. "We hope that others will follow suit, and that they will also reduce teaching time by the same amount of hours".
A career in education
Last year, several universities and funding providers proclaimed they wanted to 'recognise and reward' teachers in a different way, evaluating not only their research performance, but also good teaching, strong leadership, the impact of their research and, in the case of doctors, good patient care. All these aspects of their work should be given more weight in the assessments.
Mulder sees this as a step in the right direction. "If a career in education becomes more valued, lecturers will also have more time and money to develop themselves. Some places are already working on it. Tilburg University, for example, is examining whether a BKO compensation can be included in a project's recognition and appreciation, according to a spokesperson.
National agreements
What about a national compensation agreement? Jan Boersma of trade union FNV says there's no such thing in the collective labour agreement for universities. "The demand for compensation has never been proposed to us."
He wonders whether the matter should be regulated at this level. "Above all, there must be enough room within the employment contract to go through a BKO trajectory. This means that you can't completely fill their schedules with teaching hours, because then they would have to do it in their own time".
Boersma finds it particularly problematic that many young lecturers are given temporary appointments at Dutch higher education institutions. "They don't stay in the job long enough to obtain the BKO," he laments.
Sector director Donald Pechler, of the General Education Association, agrees. "A vocational training programme must fit within the scope of the appointment. It's hard to do that if you have a temporary contract for a year." He also believes it is the employer's responsibility to facilitate the acquisition of a BKO license by giving teachers time to do it.
Perhaps this is another subject for the next collective labour agreement negotiations, both trade union leaders suggest. They are set to take place soon.
What's it like for teachers working for universities of applied sciences?
The collective labour agreement (CAO in the Dutch acronym) for universities of applied sciences contains clear agreements on compensation for compulsory training courses. Junior HBO lecturers can obtain the 'basic qualification in didactic competence'.
Nevertheless, universities of applied sciences are finding it difficult to attract new, highly educated lecturers. "It looks very good on paper", reports AOb Board member Douwe van der Zweep. "The basic qualification is completely paid for in time and money, but, in reality, the workload is high and young teachers still have to learn how to teach. In addition, the employee turnover rate is high because of how common insecure contracts are. Many starters leave the sector quickly."