Dropped out of UU
Thymen Arensman committed to rank in "Utrecht's" Vuelta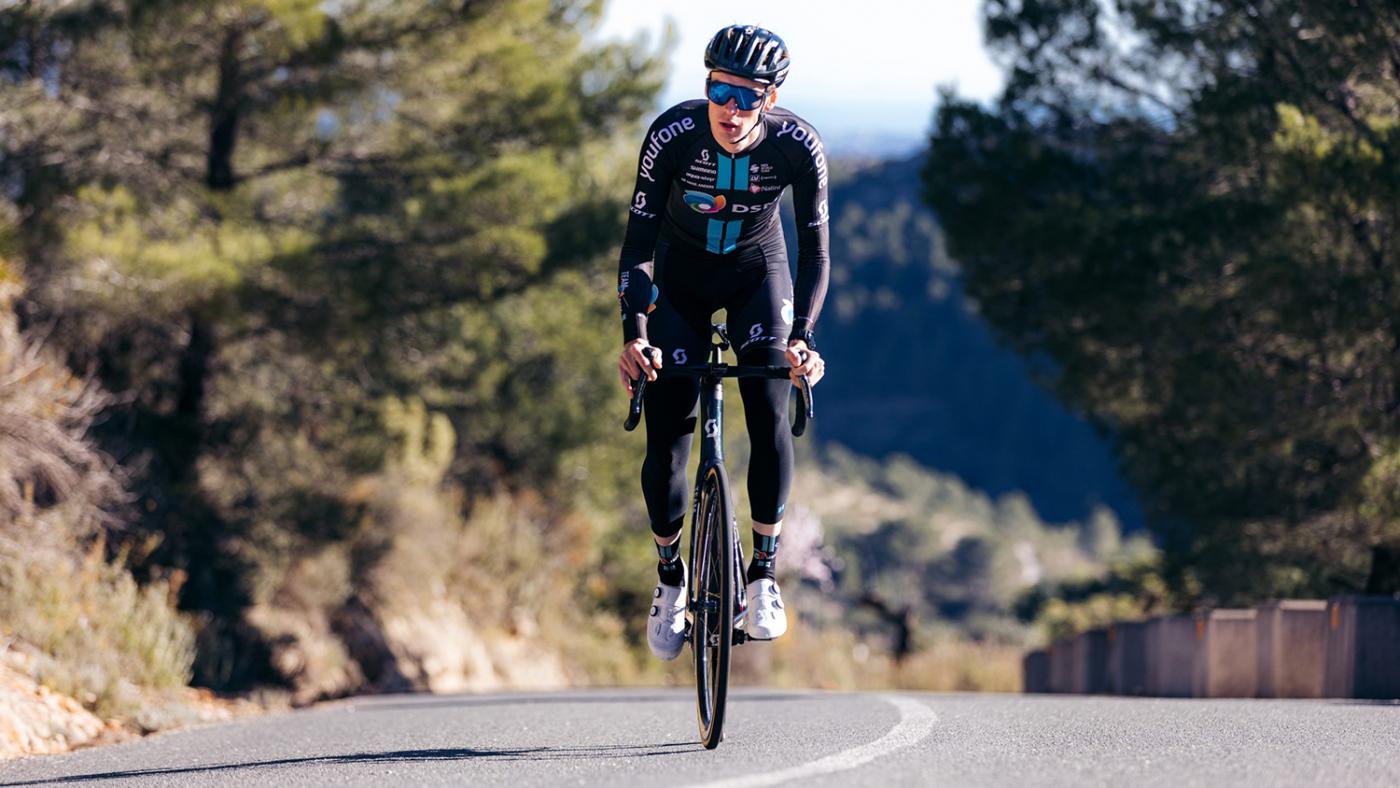 Photos: DSM
It is a weekday afternoon at the end of June. Cyclist Thymen Arensman puts a glass of water on the kitchen table, pulls out a chair and sits down. He has just trained for four hours, including two twenty-minute sessions and one ten-minute session of more vigorous training. "I even did a little more than I'd planned. It was easy, so I thought: why not? Pushing yourself a little further can't hurt."
The table at which Arensman is sitting is in the kitchen of his parents' home in Beesd, a little village in Gelderland, some 30 kilometres from Utrecht. It's been over a month since the final stage of the Giro d'Italia, a time trial of over 17 kilometres, in which he placed second after the Italian Matteo Sobrero.
De tafel waaraan Arensman is gaan zitten, staat in de woonkeuken van zijn ouderlijk huis in het Gelderse Beesd, een dorp in de Betuwe op zo'n 30 kilometer van Utrecht. Het is ruim een maand na de slotetappe van de Giro d'Italia, een tijdrit van ruim 17 kilometer waarin hij tweede werd achter de Italiaan Matteo Sobrero.
After the Giro, he and the other members of the DSM team participated in the Tour of Switzerland, but he had to give up after four days because he was exhausted from the heat. Once he got home, he found out he also had Covid. He was fully recovered when we spoke with him. The training was going well again — so well that Arensman could hardly believe his stats the day we met him. "I stopped to recalibrate my power meter," he says, laughing. "I thought: after the illness, it's probably going to be harder, but it looks like I'm still fit."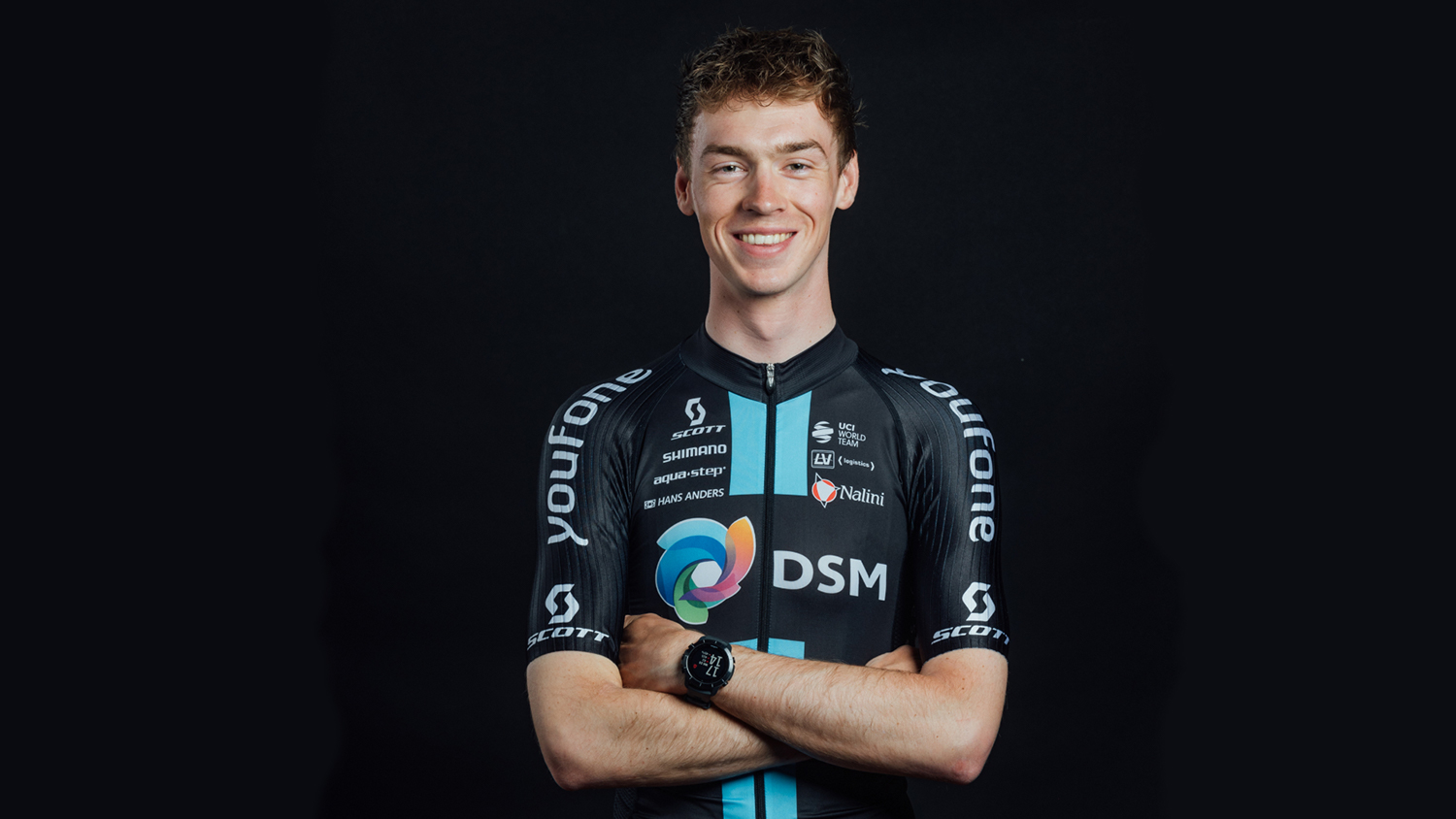 Mental strength
The last time DUB spoke with Arensman, three years ago, Vuelta was supposed to start in Utrecht a little less than one year from then. But, because of Covid, Vuelta 2020 was moved to 2022. This Friday, the competition will start with a team time trial through the city centre. On Saturday, another stage of the race will finish at the Utrecht Science Park.
Much has changed since the last interview. At the time, he was still studying History at UU, but he dropped out of the programme two years ago. It's been recently reported that he will move on to the successful British formation INEOS Grenadiers after this season. That transfer hasn't yet been confirmed by INEOS, and Arensman cannot tell us anything about it, either. "But the fact is that I'm leaving DSM," he confirms.
In the last Giro, Arensman's status as the great promise of Dutch cycling was confirmed. In addition to finishing second in the final time trial, he also finished second in the sixteenth trial, a mountain ride to Aprica.
"I think I've delivered good results", Arensman says about his weeks in Italy. "It's just... Three or four times, I was really close to a win. It's a pity that there is always someone stronger than me."
Do you consider the days when you came close to a win the highlights of the Giro?
"That's a difficult question. I went to Giro with a different goal, namely to support my team leader Romain Bardet. But he fell ill."
So what you're saying is that Giro actually wasn't that great. 
"What you see on TV is just the run itself, but Romain and I knew in November already that we were going to Giro with the goal of giving him a good place on the leaderboard. We did our altitude training together, spending about ten of the first twelve weeks of the year together. If your team leader suddenly wakes up with a stomach virus, everything you have trained for is gone. But I still managed to switch and compete for a trial win. That takes a lot of mental strength, so I'd call that process my highlight."
Suffering from study deadlines
A month after the interview at the kitchen table in Beesd, Arensman won his first professional competition in the Tour of Poland thanks to a victory in the time trial. This week, the DSM team announced that Arensman will be the team leader at Vuelta's starts in Utrecht.
That Arensman was able to develop himself so much in the professional circuit, is also due to him deciding to quit his studies in History after almost two years. In his previous interview with DUB, he said he wanted to finish his Bachelor's, but being a university student made for a lot of additional stress, explains the cyclist. "I became a professional athlete while still studying full-time. I felt as though I had two full-time jobs for two years."
You couldn't combine professional cycling with studying?
"I couldn't, no. I think it would be difficult for everyone, but I can only speak for myself. When I trained, I'd be struggling with all the stress and the deadlines from my studies. And when I was studying, I was exhausted from training. It was definitely a hard decision to drop out, but I can comfort myself with the fact that I have my propedeuse (an introductory course into an art of science, Ed,) and can therefore return to the university if I want to."
Do you miss being a student?
"Yes and no. It's simply impossible to do anything else next to professional cycling. I'm still young and trying to find my place in the peloton and discover the life that comes with it. That lifestyle can't coexist with a full-time study. Luckily, cycling is going well, so I think it was a good decision to quit."
Do you still think about History?
"I still love it. To name a recent example: when you cycle in the Giro, for three weeks you only see beautiful buildings and churches. For instance, the team presentation that is given before the start of the race is held in a beautiful village or near the sea. Most cyclists are focused on the competition at that moment but I like looking around at all the history around me. I really like that."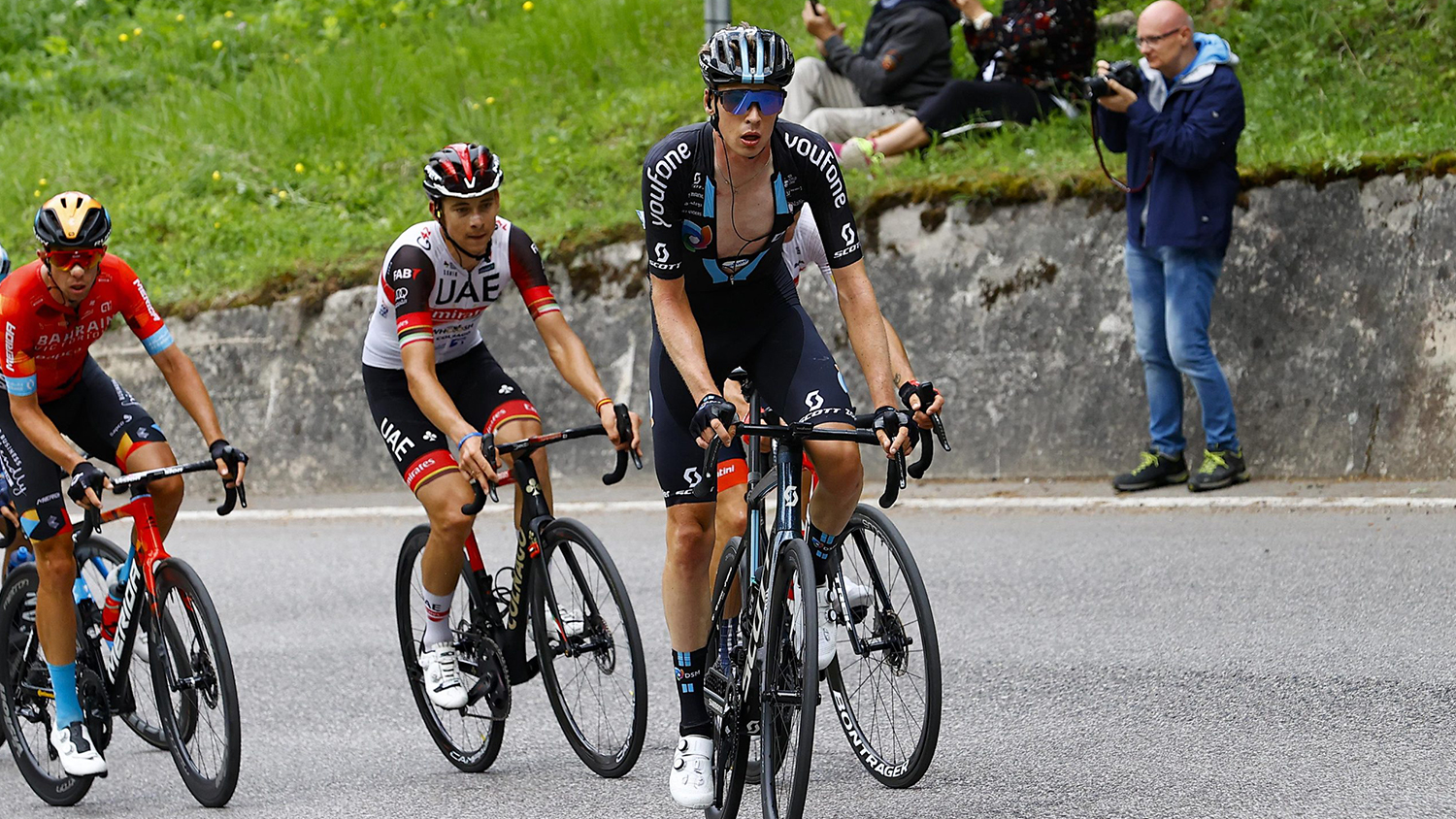 Have you already studied the Vuelta route?
"Not in detail, but I have looked at the Dutch trials. It's really cool that the trials match my training roads, like the Utrechtse Heuvelrug, across the Soesterberg airbase and a little bit through the Betuwe in the second trial,  when we start in Den Bosch. And, of course, across the Amerongse Berg, where I trained today. I've cycled there tens of even hundreds of times."
You can even earn points for the mountain classification at the Amerongse Berg…
"Yes, that makes me laugh, really. When we cycle on such a large road, the peloton speeds upwards at 40 kilometres an hour. You may have to get off your saddle a bit, but it doesn't feel worse than a viaduct."
Is a podium spot in the big trial your dream for the future?
Vuelta is the last major cycling tour that Arensman will cycle with the DSM team. He is planning on spending the next few years developing himself as a trial cyclist. A spot on the podium in a three-week competition is definitely one of his dreams for the future, but the developmental process is the most important thing for him.
"I hope I can keep making strides in my ability to do time trials and climbing. If I had cycled for the leaderboard on Giro, I would have finished in the top 10, I'm certain of that. In the next few years, I'm going to give 110 percent. If I do that, I'll be happy regardless of the results."
Thymen Arensman's favourite training route
Of course, Arensman wanted to record a route with a starting and ending point near Utrecht in the cycling app Strava: "Aside from cycling, building routes is a great hobby of mine."
Starting in Amelisweerd, the route is about 145 kilometres. A long distance, but it involves almost everything that makes Utrecht and its surroundings the ideal location for training.
"It's not really ideal", Arensman says. "there are no mountains, of course. But the polders and dykes are perfect for time trial training. When I finish those, I cycle over to Heuvelrug."
The polders, the dykes and the Heuvelrug are all part of the route, which also passes through Beesd, Arensman's hometown. If that doesn't make for an ideal route…
Click on the image for more details about the route.