Tokyo tops great year for Jorinde van Klinken and Thierry Brinkman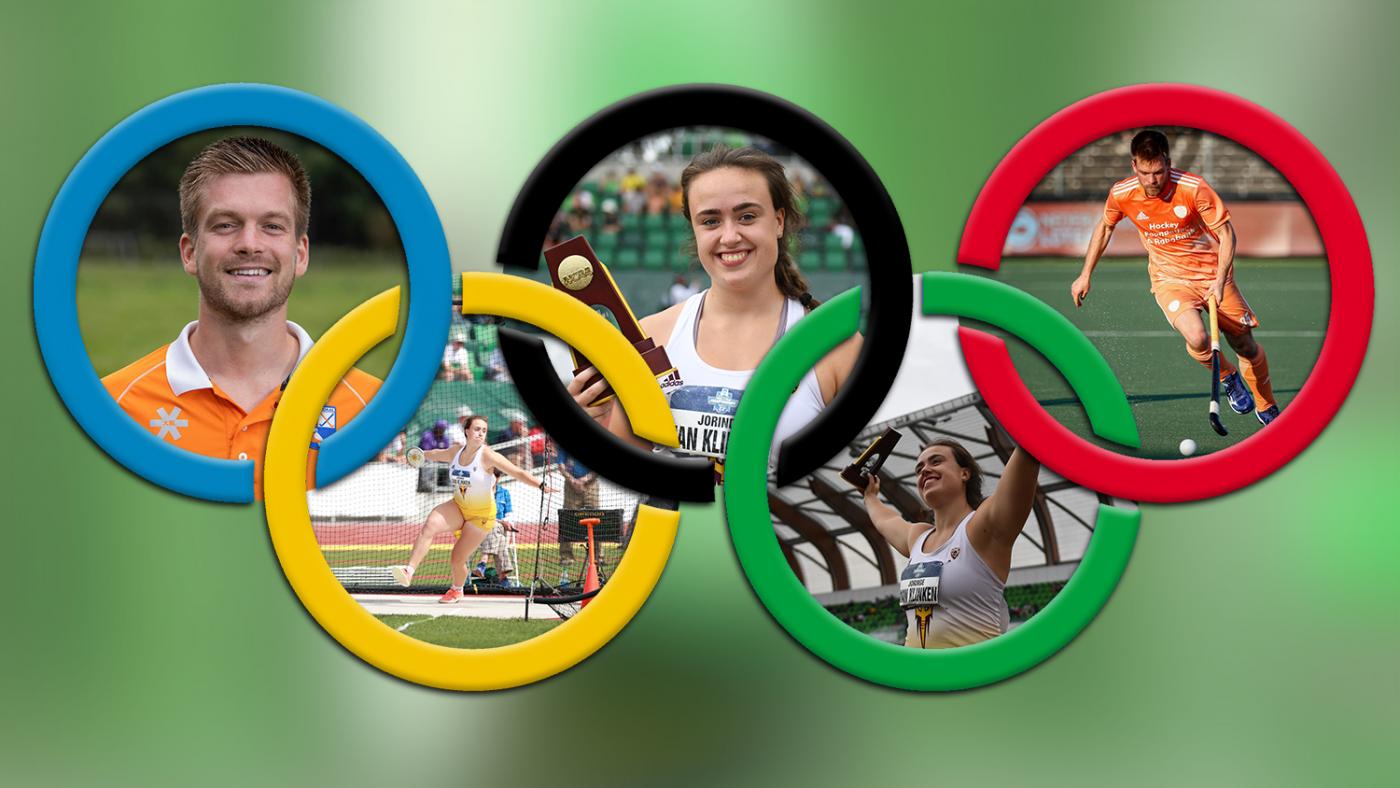 UU is part of the past of eight athletes competing at the Tokyo Olympics, which starts on July 23 (see box). For some of them, this is the second or third time they're taking part in the Olympic games. Hockey player Caia van Maasakker, who studied Economics in Utrecht, might just become the most successful UU athlete at the Olympics, dethroning former colleague Marilyn Agliotti, whose team won gold twice. Van Maasakker has won one gold and one silver medal so far.
In that regard, discus thrower Jorinde van Klinken and hockey player Thierry Brinkman are rookies. They both graduated from UU this year, and both have accomplished remarkable athletic successes. Tokyo is likely to become the icing on the cake for them. How do they look back on the past few months and in what mood are they travelling to Japan?
Discus thrower Jorinde van Klinken moved from Utrecht to Arizona. She's a serious contender for an Olympic medal: 'I still need to learn to believe I really am that good'
Photos: Arizona State University
Around a year and a half ago, we interviewed Jorinde van Klinken (21) in a crowded Jazzmans café in the Minnaert building. Now that she's studying at an American university and she has emerged as a serious contender for Olympic gold, a spontaneous meeting like that is no longer possible. We first had to speak with a press officer called Will, who arranged a zoom call on a Friday night alongside an American website.
Van Klinken talks witj joy about her remarkable progress since graduating from her Bachelor's in Liberal Arts & Sciences and starting a Master's degree in Global Management at the Arizona State University. Although Covid-19 and the American strict visa policies practised by the American government meant that she couldn't travel to Arizona until June, the move turned out to work really well for her.
Since she began training in the United States, Van Klinken has improved her own personal record by around nine metres. With a sensational record of 70.22 metres, she's leading the seasonal ranking. There's not a single woman in the world who has thrown a discus further than this in the past three years.
Jumping technique
She feels good in the heat of the 'copper state'. "I can train well here every day. My muscles have a much harder time in the rain or cold." But the main reason she moved to the US wasn't the climate, but rather university coach Brian Blutreich, who urged her to adjust her technique.
"Now, I jump after throwing instead of keeping my leg still. And I stretch my arm out more." To a layman's eyes, these seem to be tiny details, but Van Klinken says they make a huge difference. Two months ago, she wouldn't have dared to dream about the distances she is capable of achieving now.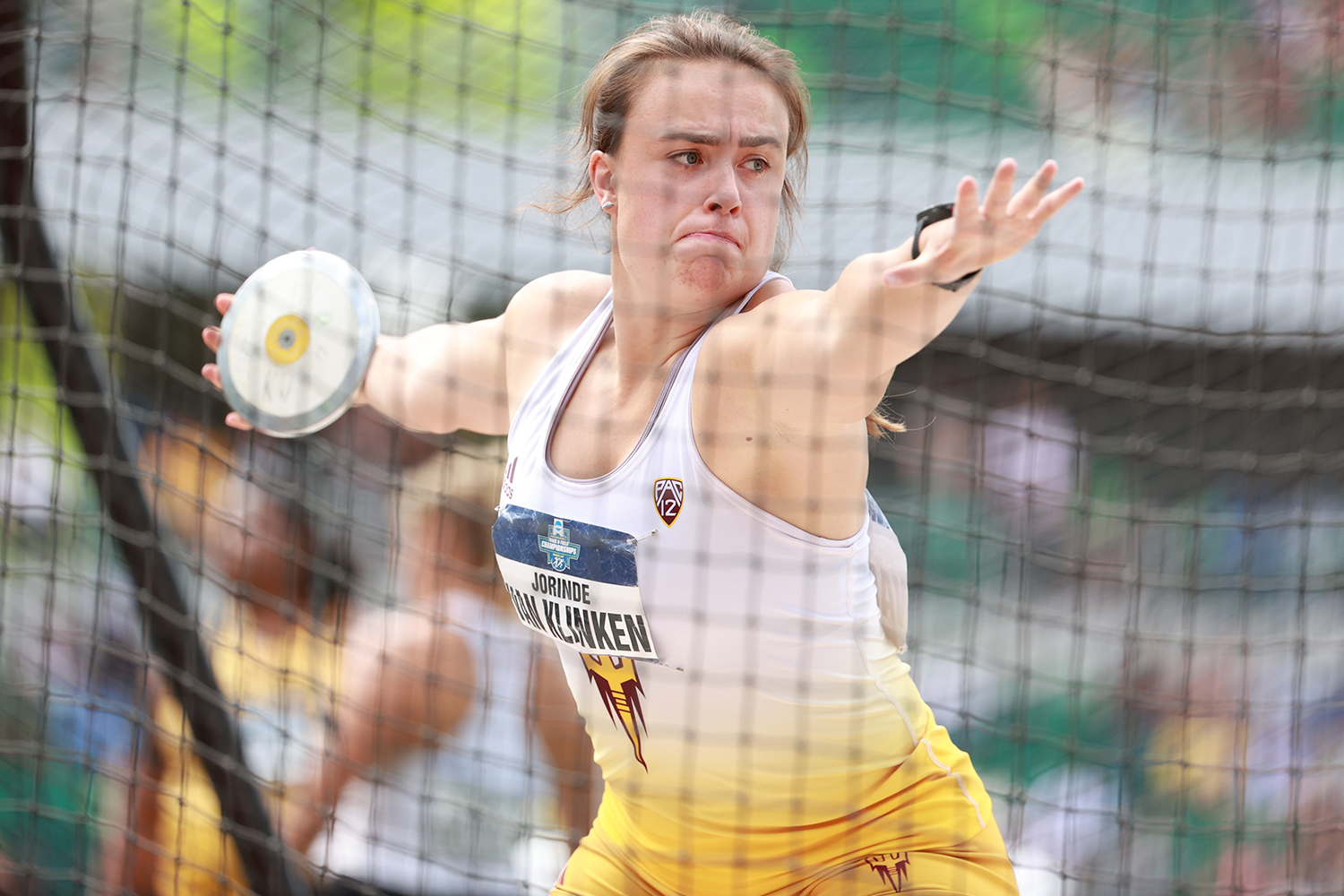 Enthusiastic response
Last summer, when Van Klinken wasn't able to go to the US as she had planned, she went back to her parents' home in Assen. Her father made a weight room in the garden, so she could keep exercising while all sports facilities were closed. She attended her classes online. "They often happened at ten o'clock in the evening. But to be honest, they went well. After my training session, I would just relax at the computer and then go to bed."
Even though everything was working well, she was happy to finally go to Arizona in January. As part of the Sun Devils (as the star athletes of the university are called), Van Klinken gets a lot of enthusiastic responses from her fellow students – especially now that she's been nominated for The Bowerman, a well-known sports gala awarding the best athletes in the United States.
Van Klinken sometimes frowns at the fake optimism displayed by the Americans, but she enjoys the appreciation. "Recently, I met a student who passed me the regards of an American friend who's now on exchange in Utrecht. I don't think any Dutch student knows who I am."
According to her, one thing Dutch professional athletes could learn from the Americans is their emphasis on the importance of combining sports and studies. "In the Netherlands, everyone discouraged me from going to college, especially fulltime. I've always been stubborn, so I did it anyway. Here, I can't even get a scholarship if I don't study and develop myself alongside playing sports. It's heavy, but it's doable."
Getting used to success
Van Klinken will be the second discus thrower connected to the UU to compete at the Olympics. In 2012, chemistry alumna Monique Jansen competed in London, but didn't make it to the finals. Van Klinken: "I've had training sessions led by her. So, she also contributed to me being where I am now."
Van Klinken still has some trouble getting used to the idea that she should regard herself as a serious contender for a medal in Tokyo. She's still very young for a discus thrower. The World Championships in Doha are the only big international competition she's participated in so far, and she didn't even come close to the finals. A month and a half ago, winning the European Youth Championship was her biggest goal.
"Apart from refining my technique, believing that I really am this good is something I've got to work on over the next few weeks. I have to believe that I can be better than the heroes I used to look up to, and whom I've never actually met in a competition."
Her ultimate goal is to win Olympic medals in discus throwing as well as shot-put. There's never been an athlete who's managed to do that. The United States will remain the location of her training sessions for now. "I want to continue to improve myself here."
Hockey player Thierry Brinkman has just graduated from his Bachelor's. After a year of Covid, he is aiming for more athletic success: 'We could finally show we were the best'

Photo: hockeyclub Bloemendaal
We called hockey player Thierry Brinkman (26) shortly after his training session with the Dutch national team. He's just had a week off, which granted him the opportunity to pick up his Bachelor diploma in Law at Janskerkhof, accompanied by his sister, who's also studying in Utrecht. "We couldn't throw a big party, but it was still a great moment."
But that wasn't the only highlight of the year. In April, his local team, Bloemendaal, won the European Hockey League. He scored twice in the finals in Amsterdam, amidst a snowstorm. Spanish opponent Terrassa was defeated rather easily by 5-2.
A month later, Brinkman was once again of great value for his team, scoring twice in the deciding game of the play offs for the Dutch national title. His former team – Utrecht-based Kampong, which he had left six years before – was beaten ("but those sentiments have faded by now").
Brinkman: "Because of Covid, the competition was put on hold last year, we weren't able to play any matches until January. All that time, we felt that we were the best, but we couldn't show it. That was so frustrating. It was really satisfying that things worked out that way"
Ready for the Olympics
It was a no-brainer that Brinkman was selected for the Olympian team of national coach Caldas. He was dropped in the final selection for the Olympic Games in Rio de Janeiro four years ago. "That was justified. I wasn't ready then. I am now."
Brinkman now follows in the footsteps of 25 other women and men who once studied in Utrecht and played hockey at the Olympics. Among the men, famous names like André Bolhuis and Paul Litjens are among his predecessors.
With Brinkman as an important player in the offense, the Netherlands also won the European Championship finals against Germany, after shoot-outs last June. It was his third European title, and his third hockey highlight of the year. "Most of all, it's a beautiful step towards Tokyo."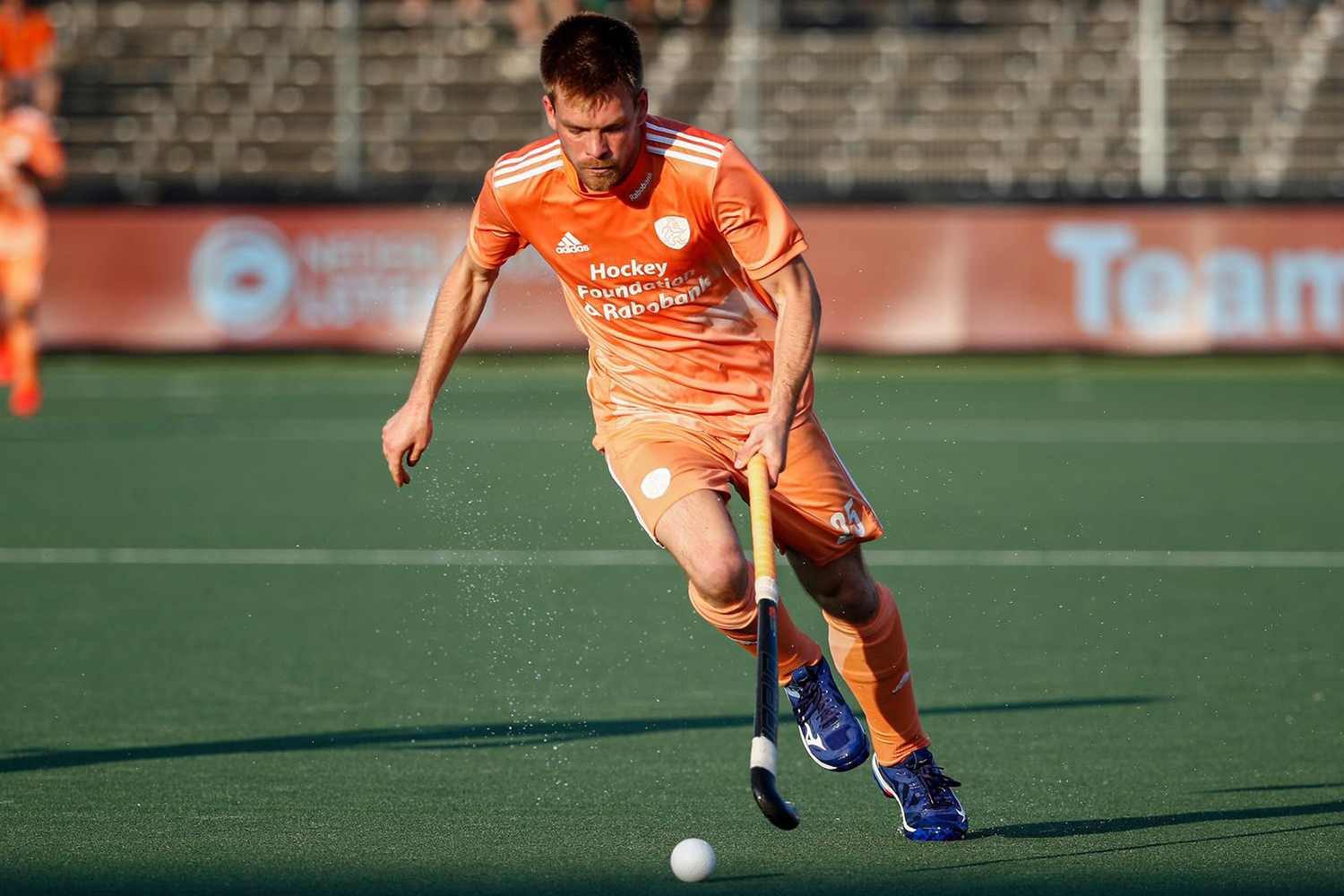 Photo: Willem Vernes
Diploma is a relief
Completing his studies was something he'd struggled with for years. He did gather a few credits here and there, but didn't manage to advance very fast. He's grateful for all the help he's received from the university and the hockey union, "but in the end, you have to do it yourself, you're the one who has to pass those exams."
But that did not go smoothly. He had to talk to course coordinators often. "I was just away too often. I'd either be abroad, or simply didn't have the time. Sport is becoming more and more professional to me, so it brought about more and more duties."
Covid allowed him to breathe a sigh of relief in that sense. There were no hockey matches, so Brinkman could focus on his classes. "Suddenly, my studies were the thing bringing structure to my life. The online classes gave me a routine every day, so I was able to study the whole time. In February, I received my final grade, and I was done. At home in Amsterdam, my parents and my girlfriend were waiting for me with a surprise dinner. It was such a relief."
Following in his father's footsteps
Thierry Brinkman thinks the Netherlands is one of the favourite teams for the Olympic gold medal in field hockey, next to countries like Australia, Belgium, Germany, and possibly Argentina and India. "But we've got faith in ourselves, especially after the European Championships. I'm looking forward to it a lot."
In case the Netherlands succeeds in its mission, Brinkman will follow in the footsteps of his father, Jacques, who has two gold medals at home. "What his generation achieved is unique, of course. I'm not sure the Netherlands will ever repeat it. But I'd like to try."
Regardless of how the Olympics will go, Brinkman will keep playing hockey at a professional level. Next year, he's registered for a Master's in fiscal law at VU University in Amsterdam. "It'll be be tricky and lots of hassle once again. There are already two courses I'll have to catch up on. But that's the plan now."
Who's going to Tokyo?
The Netherlands has never sent
 this many athletes to the Olympic Games: in total, 292 of them will represent the country in Tokyo. Here are the athletes whose past includes the UU who are going to Tokyo this year. 
Thierry Brinkman – hockey (Bachelor in Law, 2021)
Dagmar Genee – water polo (Master in International Economics & Business, 2012)
Inge Janssen – roeien rowing (Master in Geocommunication, 2013)
Jorinde van Klinken – athletics (Bachelor in Liberal Arts & Sciences, 2020)
Josine Koning – hockey (Master's in Private Law, 2021)
Laurien Leurink – hockey (Bachelor Psychology, 2018)
Caia van Maasakker – hockey (Bachelor Economics, 2015)
Madelein Meppelink – beach volleybal (Bachelor in Pharmacy, 2014)
Anne Terpstra – mountain biking (Medicine)
Triton rower Jacob van de Kerkhof (Master in Law, 2020) will be a second string player for the Dutch rowing team.
Eleven UU athletes competed in the Olympics in Rio de Janeiro, in 2016. At the time, DUB published an overview of all athletes who had ever studied at UU and competed at the Olympics: around eighty in total. Click
here
for all names and portraits (in Dutch only).
*We're aware that this overview might not be complete. If you can help expand it, please e-mail us at
dubredactie@uu.nl
Advertisement