Uncertain times for young UU researchers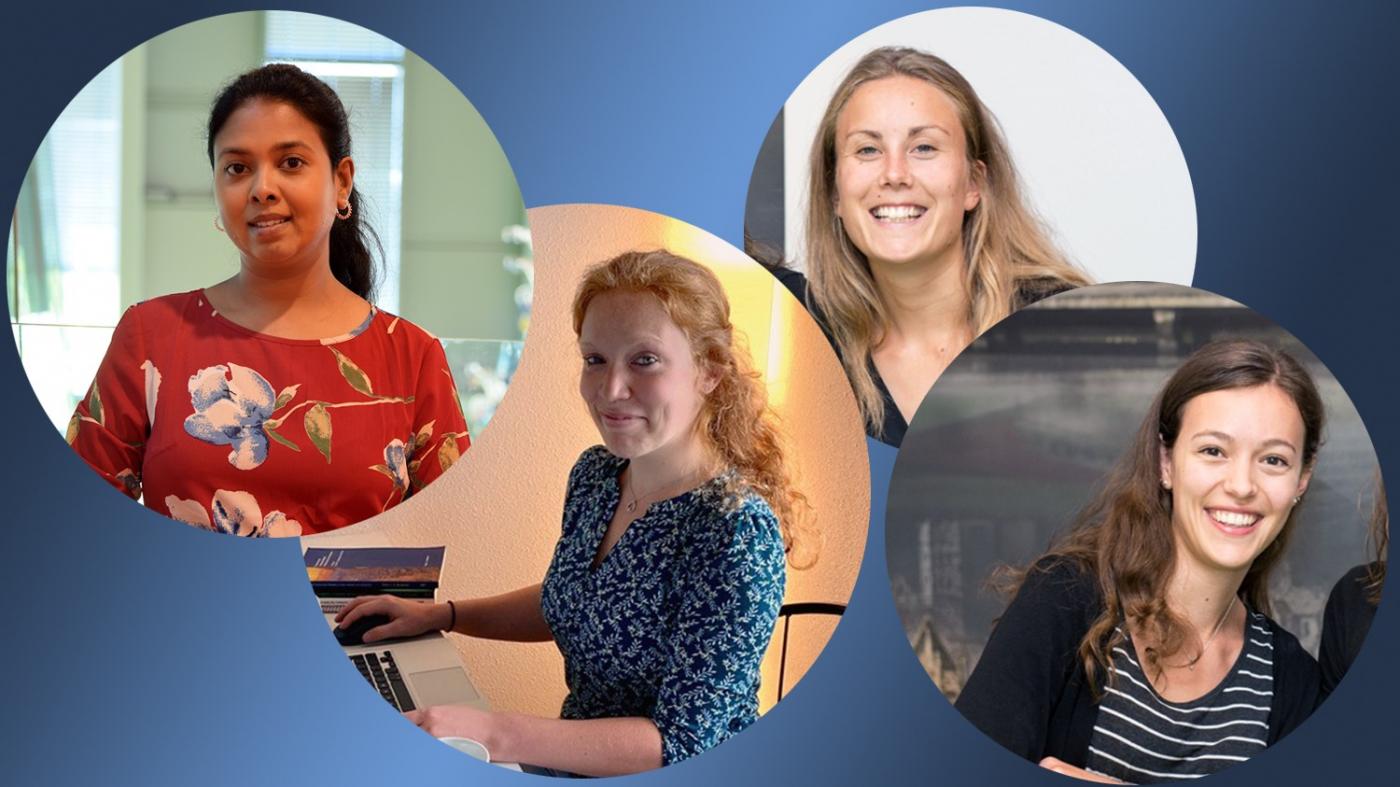 Photo: made by DUB on the basis of own pictures
Labs are closed, test subjects are unavailable, grant programmes and publications are delayed. It's no wonder that there's unrest amongst PhD candidates and Postdocs about the delays their research will face. Two surveys conducted amongst young UU scientists illustrated the same worries.
All the more reason to speak with three UU PhD candidates and a Postdoc. The corona measures are frustrating neuroscientist Divya Raj's aspirations of continuing her scientific career in the Netherlands with a research grant. Iris Selten and Emma Everaert have to let go of the original setup for their PhD research. And Chemistry PhD candidate Emily Monkcom will have to wait until her lab opens again.
---
When there are no more research grants…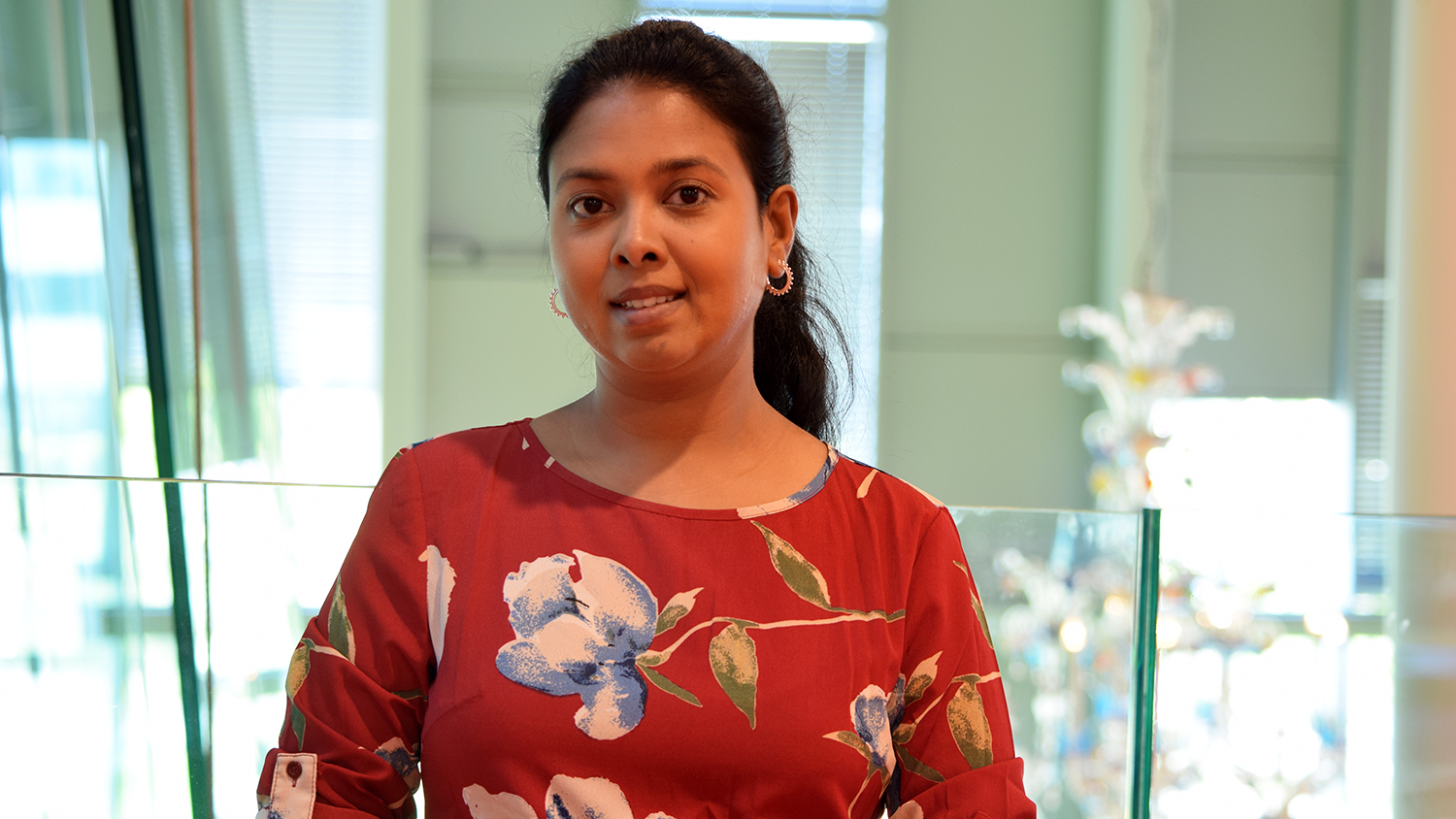 At the end of December, Postdoc researcher Divya Raj's UU contract ends. She would love to obtain a research grant to continue her scientific career in the Netherlands, but many of the application processes are on hold. 
"The corona crisis is forcing many young researchers to make decisions that could impact their entire career," says neuroscientist Raj.
Raj sees how mainly PhD candidates in their final years and Postdocs at the end of their two- or three-year contracts are experiencing problems. "In that phase, you're either busy expanding your network of international contacts and preparing yourself for the next step in your scientific career, or you're orienting yourself on a career outside the university. We have to properly guide this generation of highly educated scientists through the corona crisis."
She herself submitted a grant request for a Veni grant from research financer NWO. The interviews for the grants have been postponed because of the corona measures. "Now, who gets a grant won't be announced next month, but likely in October instead. Because my contract here in Utrecht – on which my residence permit also depends – runs out in December, I just don't know where I stand."
Even worse, the delays will probably mean she'll also miss the chance for a next round of grants for a second Veni application if the first one is rejected. Young researchers are allowed two attempts at a Veni grant within the first three years after obtaining their PhD.
Knowing the competitiveness of the Veni programme, Raj had also set her sights on several other research grants. But many financers are experiencing similar problems right now. Charities, for instance, are seeing fundraising events being cancelled, and sponsors dropping out.
Raj: "I had a very clear plan in mind. In June, I'd know what my next step would be. But now, it's possible that I'll be forced to make a decision that I wouldn't have made otherwise. Or perhaps I'll have to put my academic career on hold for a while."
Thankfully, she completed the first large project she worked on in Utrecht shortly before the introduction of the corona measures. In the nick of time, the revisions of the manuscript for a scientific publication were also finished. A second project for which she needs test animals is paused now that the Central Laboratory Animal Research Facility is inaccessible. "Right now, I'm working on the preparations for that project, and I'm trying to get some satisfaction from that."
The ideal solution, she says, would be that the government aids the PhD candidates and Postdocs in limbo right now. "All researchers are experiencing the effects of the corona crisis, of course, but this specific group quickly needs a perspective. They can't ask the leaders of their research groups. They only have limited financial means, that come with all sorts of stipulations to boot. Moreover, they too are experiencing uncertainty about whether or not they'll be able to obtain new grants."
In the meantime, Raj thinks, universities should urge professors to talk to researchers who now have to decide whether to continue their academic career or to switch to a corporate career instead. "The professors have the knowledge and experience to tell us whether we might be overlooking other options."
Despite the dependency of her position, Raj tries to stay optimistic. "I'm trying to make my peace with it. I keep looking for options of obtaining a research grant. If that fails, I'll have to consider other options. And perhaps I'll have to accept that I'll have to wait a while for the next step in my career. I don't think it'll help me any to spend my time being afraid and cramped right now."
---
When the schools close…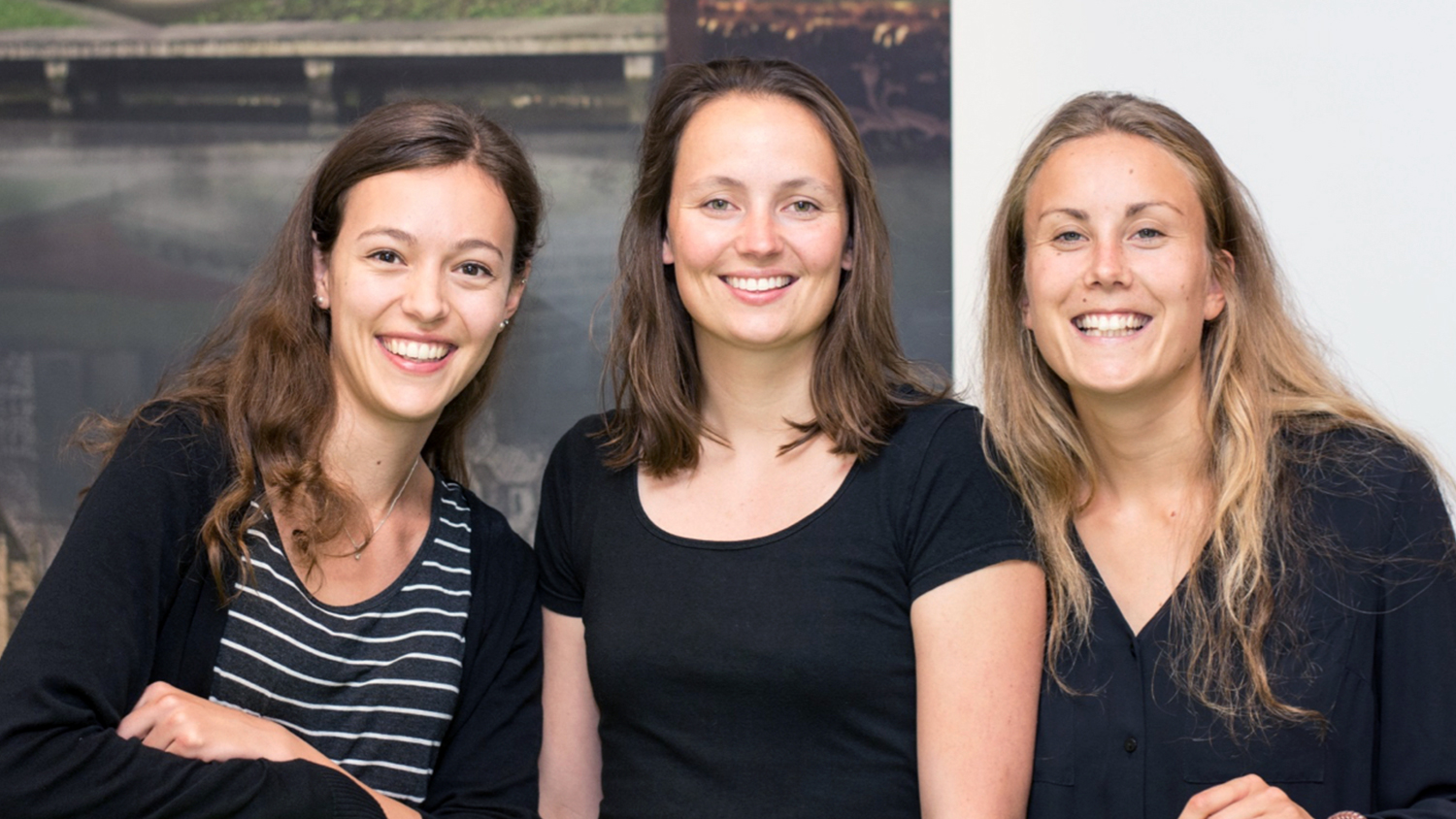 Emma Everaert on the left, Iris Selten on the right. In the middle: Tessel Boerma, postdoc in the 3T research project
Before primary schools closed, PhD candidates Emma Everaert and Iris Selten, along with others from their research team, travelled the country to visit around 190 children. Now, collecting data is impossible, and will likely not be resumed until after the summer holidays.
"There was some time where I was convinced that a country like the Netherlands wouldn't close the schools, but reality soon caught up with me," says Iris Selten about the corona measure that has far-reaching consequences for the research she's working on with Emma Everaert.
In the 3T study (link in Dutch, ed.), the two study the linguistic development of children and adolescents with the so-called 22q11.2 deletion syndrome, a genetic defect that affects around seventy babies in the Netherlands each year. The development is also compared to that of a group of children that do not have that defect but do have another language development disorder, as well as to a group that has no linguistic issues.
In the original setup of the NWO-funded study, Everaert and Selten had scheduled three test sessions at schools, each six months apart, to identify the linguistic and cognitive functioning of their 190 participants. Although the schools reopened this week, that goal has become unattainable within the time they have for their PhD tracks.
Everaert: "And that's not just because schools have enough of their mind without worrying about receiving external researchers. It's now become impossible to stick to that six-month interval. Thankfully, we do already have one or two test sessions for the majority of the children."
The two are now uncertain how their project can continue. They're hoping that with a new research setup, they can work with two instead of three test sessions. But even then, they would need a six-month extension of their contracts. And the question remains who'll pay for that.
They feel that a definitive answer should come as quickly as possible. Everaert: "You have to realise that if we create a new study design, we'll also have to send it to the medical ethical committee again, and that parents will have to be informed."
But even if the extension doesn't happen, Everaert and Selten think they've gathered enough data to obtain their PhDs with a number of beautiful publications. "Because we've already met with a lot of children, we can still publish new insights. We just have to rethink how we process, analyse, and publish our data."
Still, it's a lot to take in. Selten: "We realise that everyone's affected by this crisis and that there are more important things to worry about. But of course, it is a shame when you have to overhaul your original plans, and you have to adjust certain goals. This is a unique longitudinal project with a lot of scientific potential. Moreover, there are parents, teachers, and carers who really need this type of knowledge for helping their children."
At home, the two continue to work hard on transcribing their recordings and score forms. And they're working on their first article. Everaert: "That was already scheduled; we can use the information from the first test session."
Working from home is going well, but Iris Selten misses the chats she usually has with colleagues at the Trans and the UMC Utrecht. "Those really do a lot of good for me. Sometimes they'll inspire me, other times they ease my worries. Those chats with colleagues, or with researchers from other disciplines, are also a part of the path to becoming a scientist, and those simply aren't happening right now."
---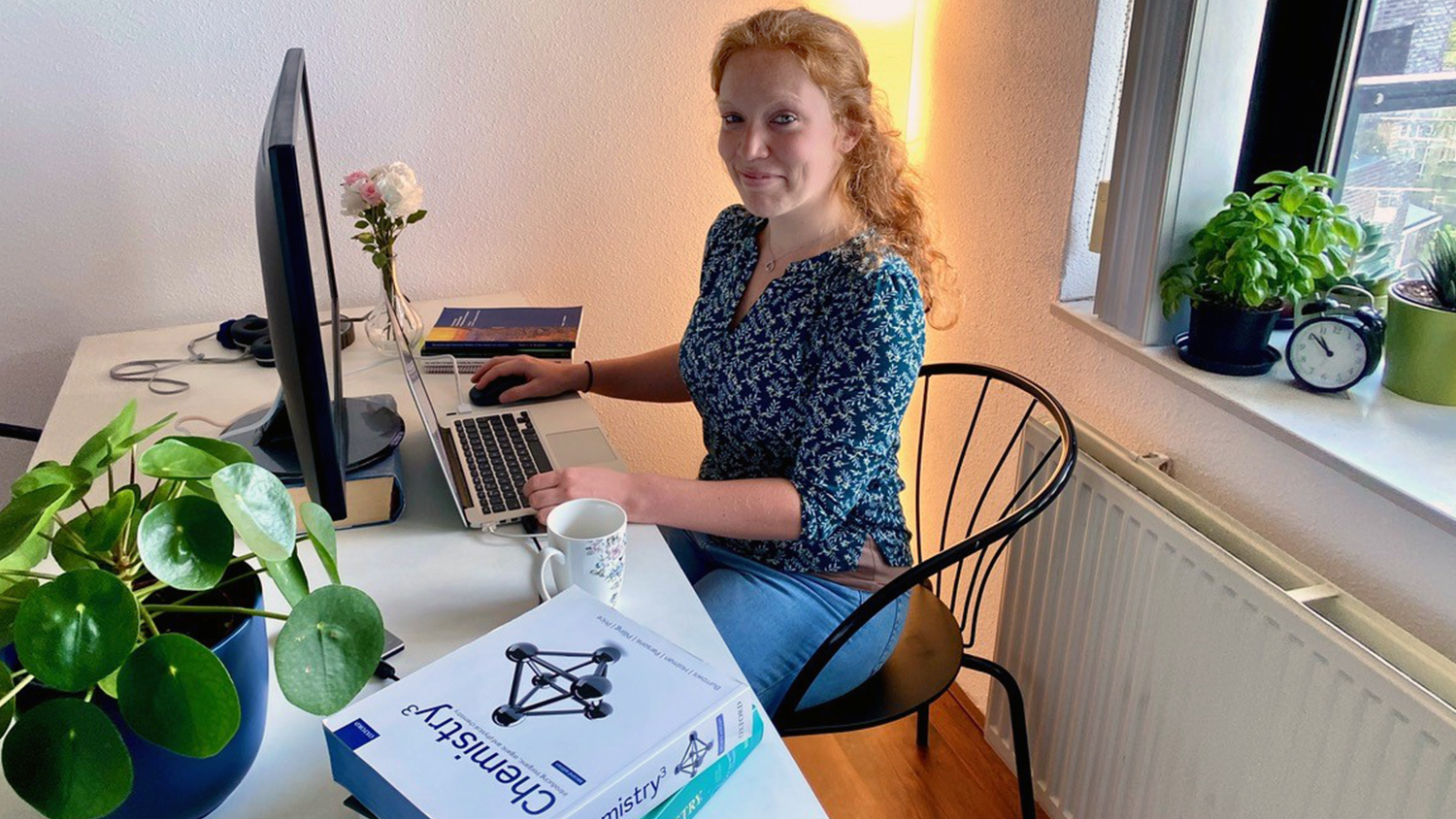 Emily Monkcom is in the final year of her PhD track. The forced closing of the UU labs meant the planning of her last batch of experiments had to be cancelled.
Mid-March, she was able to quickly go back to the David de Wied building to stop her experiments and to store everything safely. Since then, the PhD candidate has been stuck at home in Oog in Al.
She understands that the spread of the coronavirus demands measures at universities as well. "In our lab, for instance, we have glove boxes in which we work very closely together, with gloves on, on air-sensitive samples. There's no way of standing 1.5 metres apart."
Things are no different outside of Utrecht, she knows. "The colleagues that I met during my Master's at the Imperial College in London are in the same boat. The labs are closed there, too."
In the research group led by professor Bert Klein Gebbink, Monkcom studies whether the way proteins act as efficient catalysts in numerous processes can be imitated outside of the cell. In March, she worked on her final round of experiments. Those have to be postponed now. "The end date of my PhD track has become somewhat vague now."
For now, that delay is no big disaster yet. Monkcom, like many other Chemistry PhD candidates whose contracts are nearly ending, has been offered a three-month extension to her PhD contract. She's curious about when and how the UU will reopen its labs. "We're hoping to return to the lab in the summer to finish the experiments."
For now, there's plenty to do at home, and the quietude is rather nice. Lab work has been replaced by writing and creating theoretical calculations. She's also thinking a lot about how she'll be able to conduct the final tests as efficiently as possible. "I have to write a lot on my manuscripts and thesis anyway; there are far fewer distractions for that now."
Aside from that, there are virtual coffee breaks with colleagues, and virtual group meetings in which scientific joys and sorrows are shared. That's going quite well. "Although I do miss the human contact with my colleagues, of course."
The delay in her PhD track won't have many consequences for her career. After her PhD, she will likely work for the UU as Postdoc. "In a slightly different research discipline, but that does make a smooth transition possible."