University Festival
'Universities should pay more attention to students' mental health'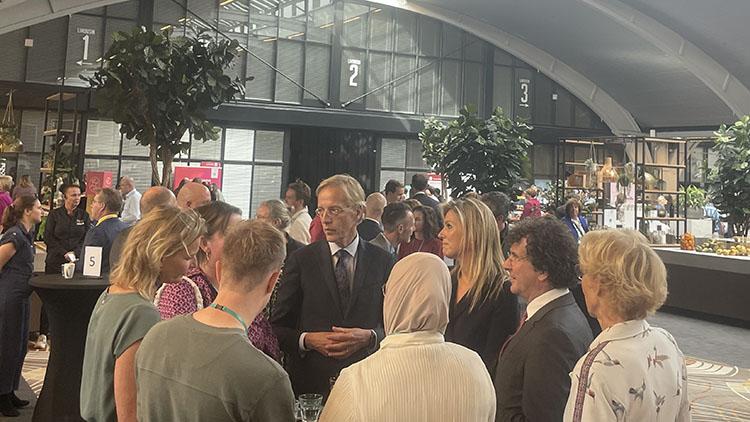 "People say that university is supposed to be the time of your life but it can be quite a stressful time as well," noted Queen Máxima, addressing an audience of five hundred people in Den Bosch. Her speech emphasised that life sometimes isn't easy.
The UNLimited festival, organised by the umbrella association Universities of the Netherlands on September 28 and 29, gathered students, teachers, scholars and policymakers to talk about students' expectations and the future of universities in the country.
Speaking on behalf of the MIND Us Foundation, an organisation that aims to improve young people's mental health in the Netherlands, Queen Máxima raised awareness of mental health issues among this demographic. Her own daughter, Amalia, isn't exactly having a carefree time at university either, considering she's recently received death threats, but Máxima didn't bring that up.
UU student Benjamin Bengsch is affiliated with the MIND Us Foundation. He used to serve on the board of a student association and, during that time, he met students who took their own lives — a tough situation not only for the families of the deceased but for the students around them as well. For this reason, he decided to commit himself to investigating where students' struggles stem from, how they can recognise the signals, and how they can deal with them.
Another UU student, Mariam Ikassrien, who is pursuing a Bachelor's in Pedagogy Sciences, also spoke at the university festival. She too is affiliated to the MIND Us Foundation. Mariam moved from Morocco to the Netherlands at age thirteen and she didn't speak Dutch at the time. But she wanted to go to university. "This meant that I had to work extremely hard. In secondary school, I was classified as the lowest level, which really stressed me out. I'm so grateful to my student advisor at the university for offering to see me every week. Without those talks with him, my life would have turned out very differently."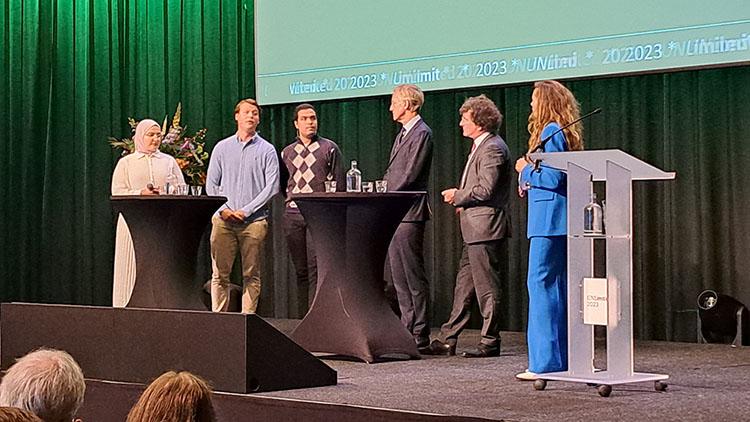 From left to right: Mariam Ikassrien, Benjamin Bengsch, Abdelkader Karbache, Robbert Dijkgraaf, Peter-Paul Verbeek (Rector of the University of Amsterdam) and the host Elke van Boxmeer. Photo: DUB
International students
The importance of student advisors, to whom Mariam owes a great deal, was also highlighted by Abdelkader Karbache, a student at TUDelft. He underscored that they are meaningful not only to students with a migration background but also — and perhaps even more so — to students from abroad. "International students are a bit of a controversial topic right now, but they are under significant pressure."
He's especially concerned about fellow students from non-European countries. "They pay a fortune to be here and all they do is work, completely isolating themselves from the rest. They don't know anyone, neither do they know what kind of help is available to them."
The Dutch Minister of Education, Robbert Dijkgraaf, acknowledges the problem. "We demand a lot from international students. Institutions should try their best to reach them as well." International students will soon be required to learn some Dutch aside from their studies.
Worrying sign
To ASML Executive Peter Wennink, that's a worrying sign. International students are exactly what the Brabant-based chip machine manufacturer needs. "I am in urgent need of sharp minds and there's a lot of talent abroad. Why should they have to learn Dutch to study here? That will only scare them off, putting us at a disadvantage that we won't be able to make up for anymore."
Dijkgraaf replied, jokingly: "I understand that others have a less nuanced vision on this. But needs vary across universities. That's something we can look at as well."
"Can we still talk about that, or is it too late? Won't the new law lead to a situation where Dutch will be the standard?" retorted Peter Paul Verbeek, Rector of the University of Amsterdam. "If two-thirds of all Bachelor's courses must be taught in Dutch, well..."
"Can I briefly say something on this subject?", Dijkgraaf interjects. "The bill does not say that anywhere. What it does say is that we want the language of instruction to be chosen carefully. No mention is made of the desired Dutch-to-English ratio. If classes are delivered in Dutch, that doesn't mean the entire programme has to be in Dutch. In the future, one-third of classes in a Dutch-taught programme can be ministered in English. People at universities are currently upholding an idea that is false!" The minister concluded by saying that he had expected better from the "smartest people in the country".
Study pressure
After the speakers left the stage, Dijkgraaf talked to the press. Asked whether his bill would increase the pressure on international students, he replied that he doesn't believe so. "The only thing that is going to change is that educators will have to come up with better arguments to explain why a programme needs to be taught in English. At the same time, we have to keep making sure that we can handle the intake of students.  We must have enough rooms and enough teachers. And that's something that also benefits international students."
Following the press conference, the attendees headed off to other sessions, while the queen and the minister continued to discuss students' mental health with students, teachers and scholars from different universities. Passions sometimes ran high and unconventional ideas abounded. In one of the sessions, a teacher, gesturing wildly, asked whether diplomas shouldn't disappear altogether. "That could take away a great deal of pressure."
HOP, Peer van Tetterode
Advertisement