The Utrecht of international students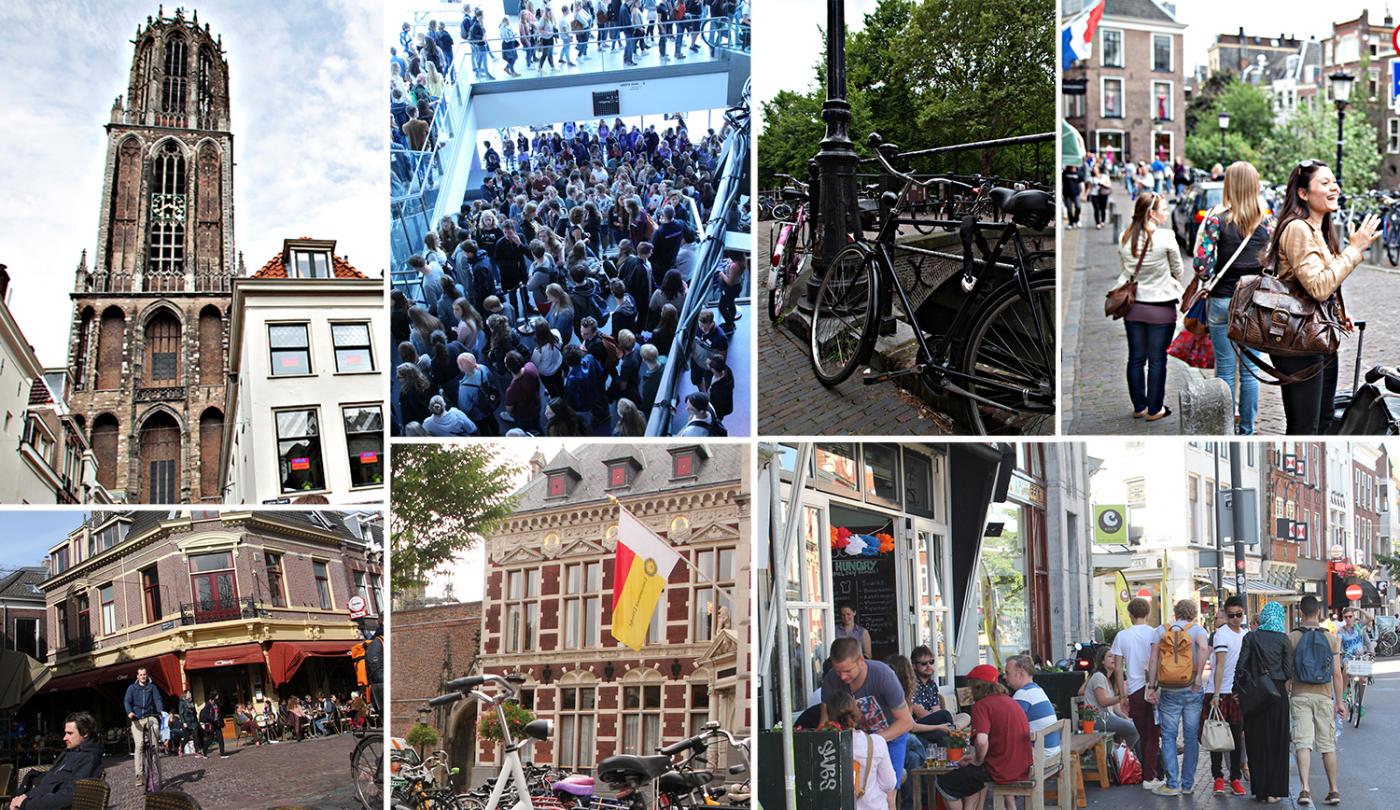 Illustration DUB, photo's: selfies of the interviewees
When you've freshly arrived in Utrecht as international student, you still have to find your way. But after a few months, you'll cycle right along with the masses. In a mini series on our English pages, international students talked about how they started to feel a little bit more like a Utrechter. Below you can read all their stories together.
---
Name: Jody Metcalfe
Age: 24
Studying: Earth surface and water
From: Cornwall, UK
First studied: at the University of East Anglia
Lives: on the Utrecht Science Park campus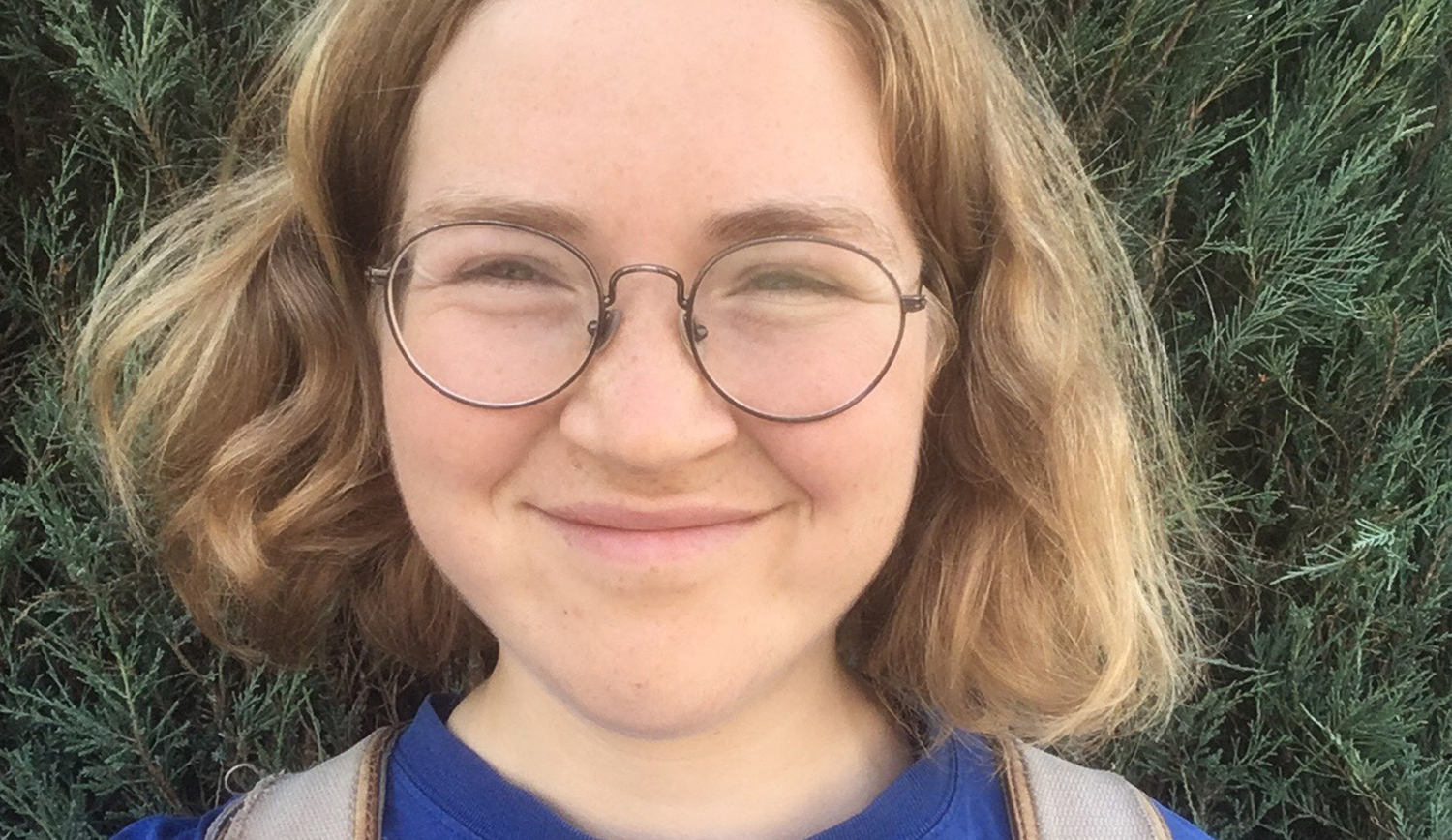 'When the weather's nice, the city comes out'
"The nice thing about this city is that people find each other outdoors as soon as the sun comes out. Kitchen table on the street, chairs at the door, bottle of wine, chatting with the neighbours. Or hanging around in the park. Lovely. And you see all sorts of groups come together outdoors. If you're new to Utrecht, it feels nice to be included in certain communities. For instance, I joined youth centre ACU as a volunteer. I've got so many lovely friends there now. They make the city feel like my home. "Moreover, people in Utrecht are truly interested in sustainability, and how to include it in their city life. Cycling, of course, is the ultimate example, and it's so great to see so many electric bikes as well, much better than mopeds and scooters. But you see it in the UU as well, and the fact that it offers so many study programmes that focus on sustainability. It's clear that the topic's much more alive here than it is in England."
'We throw away far too much'
"There's a lot of food waste here. Just look at the garbage cans in parks, or at the Central Station: people throw away so much. Another thing that makes me sad: the fact that they want to cut down trees in Amelisweerd, in order to expand the motorway. I'm so vehemently opposed to that. There aren't that many spots of unspoilt nature like that in Utrecht to begin with. In fact: there's quite a bit of green, but everything is so neatly landscaped. Where I grew up, nature is at least a little wild. And another thing I miss here: the sea. The canals are gorgeous, truly, even if I was a little scared at first that I'd fall in. but when I walk along the coast, and I hear the waves and the wind, that's when I'm truly one with nature."
When my family visits…
"It's fantastic to cycle to the Lek river via Nieuwegein. Wind in your hair, you see all these meadows and waters on the way, it's lovely. In the evenings, to recover, we'll eat at Manneken Pis – chips with peanut sauce is my favourite. And I love showing ACU to my friends and family. It's such a lively, cultural spot, with open-minded people. I think the atmosphere there is similar to the rest of the city: relaxed, young, and cheerful."
---
Name: Bennett Dubrow
Age: 21
Studying: Economics
From: Texas, United States
First studied: at the University of Oklahoma
Lives: At the International Campus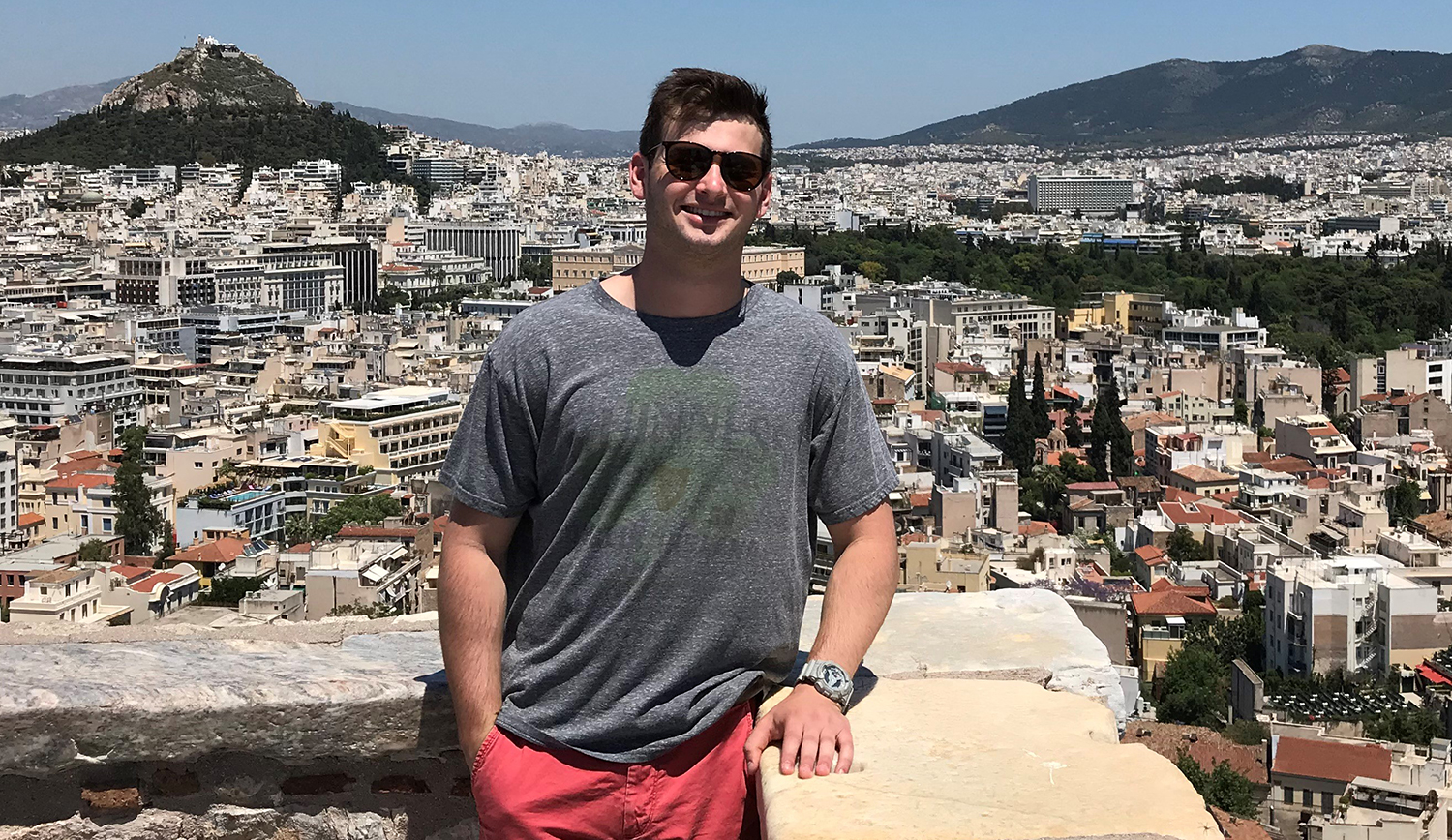 'Cycling connects you to the city'
"I love riding my bike. Where I'm from, you rarely see them, even though it's the perfect way to get somewhere fast. Plus, it's better for the environment, people become fit, and last but not least, you feel connected to the city. You see more, you hear more, you're not stuck in a metal box. A car is more like its own world. By bike, you participate in Utrecht. When I'm riding my bike, I really feel like a local – even if it was terrifying at first.
"Before I came here, I already knew Utrecht was famous for its beautiful canals. But I didn't know they brought nature into the city. Water, ducks. It's a change of pace from all the activity; when I look at the canals, I feel relaxed. I didn't know they played such a beautiful role in the city."
'Risking my life'
"I have to admit: the cycling is also a downside when you haven't ridden a bike in ages. Or, like some foreign students, when you simply never learned, but are still going to try. At first, it's truly dangerous. Everyone races past each other in a dazzling pace, close to each other, and everyone's so self-assured on their bikes. I am too, now, but it definitely took time. And yeah:  I've fallen a few times as well. That makes you feel like such a tourist.
"Another disadvantage is that living on campus means you don't really experience much of student life. That's a shame sometimes. Many people think that everyone on campus is friends with each other, because it looks so cosy and you live close together. But even there, it's not easy to make friends. You have to make an effort."
When my family visits…
"The Wilhelmina park is one of my favourite spots. It's close to where I live, it's so relaxed to sit there and watch the birds. In the United States, there are parks, but you really have to hop in the car to get there. Here, I can just walk to the park. And I think I'd let my friends and family cycle through the city. Let them experience what it's like to be a Utrechter, and to be a part of the city life. It's an amazing experience."
---
Name: Temitayo Apanishile
Age: 30
Studying: International communication and media (HU)
From: Abeokuta, Nigeria
First studied: in England, at the University of Coventry.
Lives: in a studio in the centre of town.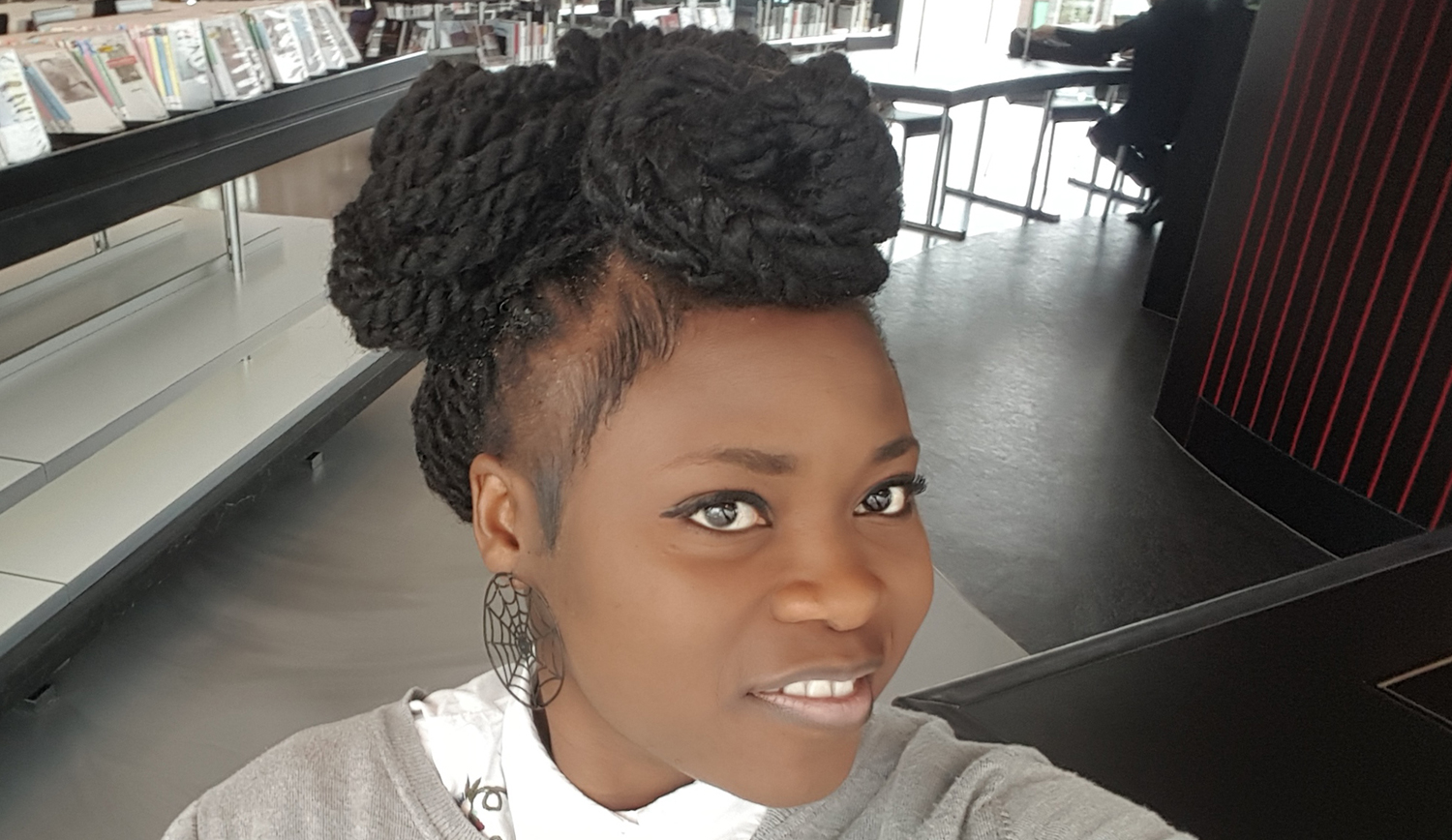 'Long live public transport'
"One of the very best things in Utrecht is the public transport. Everything runs on time. And often, even in the evenings! Oh my God, that's such a luxury. Believe me: In Nigeria, you can't trust the public transport. The drivers just do what they feel like.
"In Utrecht, you've got everything close by. It's really a challenge to travel from the Central Station through the city centre to De Uithof and not buy anything. It's ideal, though. You won't hear me complaining. When you get your period unexpectedly, there's a supermarket at every corner of every street. Or buying presents at the last minute: super easy in this city. It saves a lot of stress and time."
'The pop-up stores make me nervous'
"I feel like the Central Station is such a maze now. All those gates, and all the beeps when you check in and out. It's like a cold prison. Dutch people are kind of control freaks: they want to see everything. Where you travel to, whether you've paid. A shame, because for many people, it's the entrance to the city. The start of Utrecht. But it's not a warm welcome.
"One thing that is nice about the central station and the city centre, are the pop-up stores. Nice concept, it keeps the city alive and moving. But why are they there for such a short time? Recently I saw a book at Utrecht Central Station, in a pop-up store. When I returned the next day to buy it, the entire store was gone. It makes me nervous: you have to get there fast."
When my family visits…
"It's really crazy that you've got a life that the most important people you know don't know much about. So I'd want to show my family and friends where I study. I'd walk through the city with them, let them feel the good energy, the student atmosphere, and then take the bus to De Uithof. I'd show them the library at the Heidelberglaan. Sounds lame, but I love being there. The books, the atmosphere… there's a peacefulness there that you won't find in the centre. It's become my favourite place since I started studying here."
---
Name: Xanthe Lowe
Age: 20
Studying: Anthropology and Social Sciences
From: Wagga Wagga, Australia
First studied at: The University of New South Wales
Lives: in the Vogelenbuurt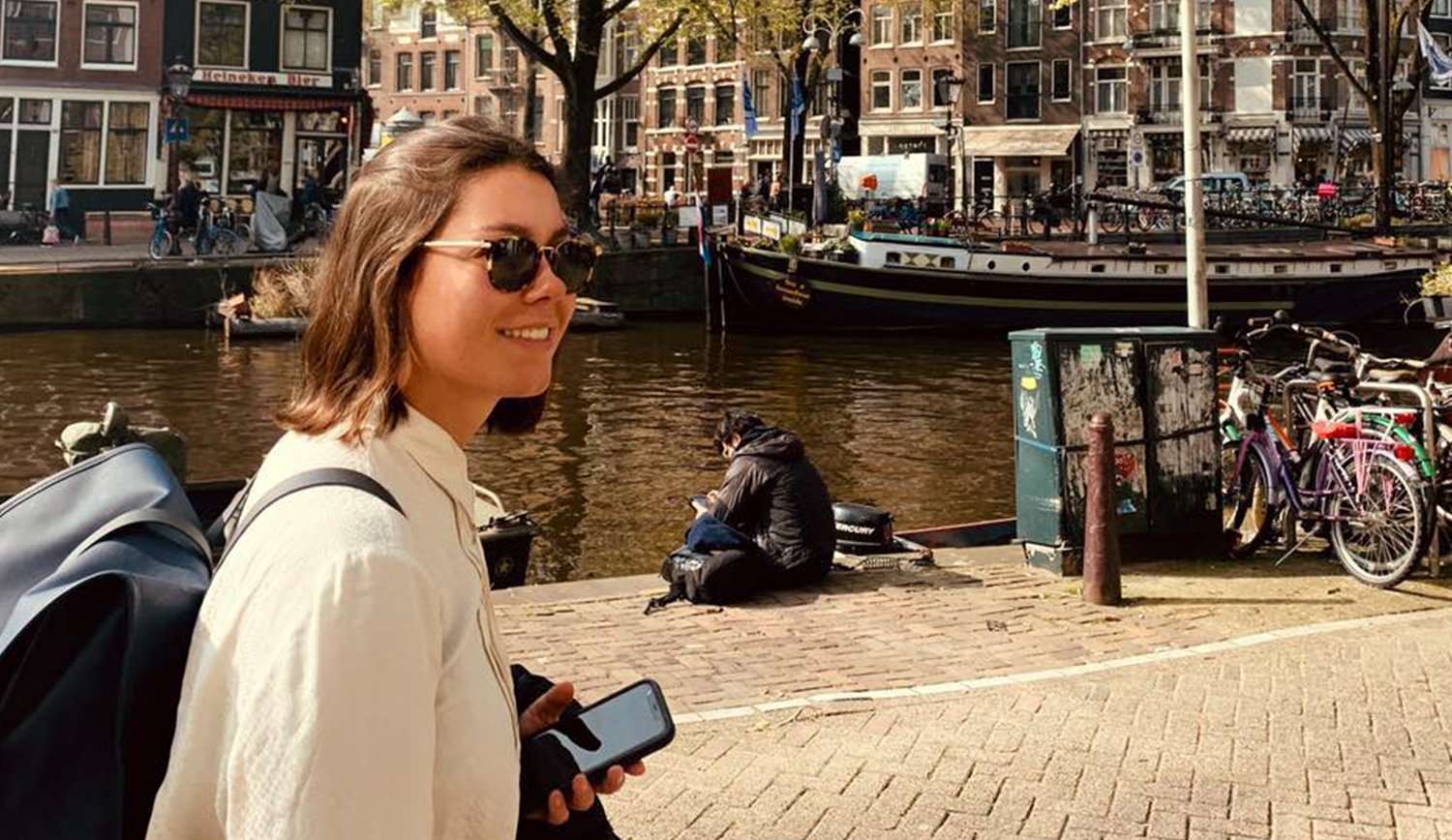 'Great to watch the people here'
"In my view, Utrecht isn't just a Dutch city: there's a perfect blend of different cultures and people and the 'traditional' Dutch society, of people who've lived here all their lives. That's what makes the city so alive, what makes me feel so at home here, in that amalgamation. Another thing I love: people truly cherish their city. Utrechters are typically outdoor people, which is pretty easy to achieve here. As soon as the weather's nice, the parks are full, people are canoeing on the canals, cycling through the woods, or organising fun street parties. It's lovely to spend some time peoplewatching then."
'That dirty water in the canals…'
"It's difficult to think of anything I don't like about the city – there are barely any negative sides to it. But there's one thing I wish I could change: how dirty the canals are. I feel such an aversion to the idea of swimming in them, I'm really scared of what might be in that murky water. How beautiful – almost magical – would it be if the canals were filled with clear, pure water, and that on beautiful days, we could all swim in them? Another downside is that the skies above the city don't contain any stars. When the sun goes down and night falls, you can barely see any stars. Kind of strange."
When my family visits…
"When my friends come to Utrecht, I'll take them to visit Fort Rhijnauwen, and the area between Nieuw Amelisweerd and Bunnik. We can have brunch at the Veldkeuken – one of my favourite spots. Another fun thing to do: have a picknick in the Wilhelmina park, mostly so we can observe all the people rushing by. Then, I'd take them canoeing in the Oudegracht, and at night, we'll have a drink at the Filmcafé, and wander through the streets. I wouldn't skip my favourite vintage shop, Roxy '97, either, and the Bakkerswinkel is another nice spot to show them. I also like drinking beer and playing board games at Olivier or Florin."
---
Name: Julio Goodsaid
Age: 27
Studying: Artificial Intelligence
From: San Diego, United States
First studied: At the University of Vermont
Lives: in a student home in Rotsoord.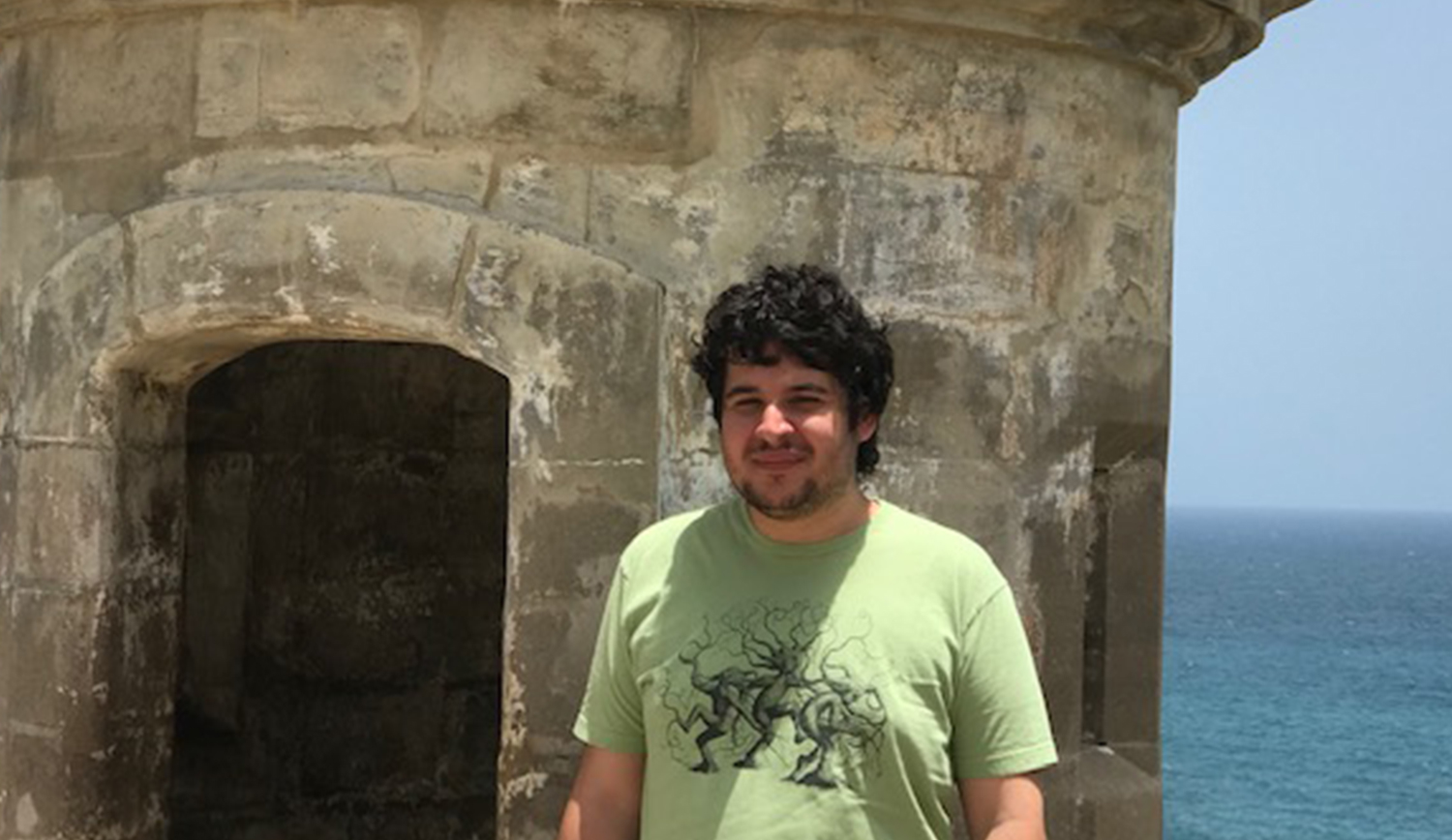 'It's so clean here'
"Utrecht might be a big city, but there's a certain calmness here. It's small, making it picturesque and convenient. Amsterdam is too big, too hectic; whenever I cycle there, I have to ring my bicycle bell a few times, otherwise I'll hit people. Utrecht is manageable. I think that calmness in the city also comes from the fact that not everything is always open 24/7. Thankfully it's never dark in the streets at night, but we don't have many extremely bright neon lights either.
"Another thing that I was pleasantly surprised by: the health care system. A while back I had to make an appointment at the general practitioner. How fast they had room for me… that would never go as smoothly in the United States, unless there's an emergency. One thing I do notice: you'd get treatment a lot faster in the US than here. Here, the doctor often says: 'We'll just wait for a bit first'. But it still feels great that they have time for you so quickly. That they truly look at you."
'I've only seen the inside of five restaurants'
"Living in the city is expensive here, though. I'm not eating out much. Even the McDonalds is more expensive than in the US. And good luck finding good, affordable sushi here. I'm not someone who lives very frugally, but I haven't gone out to dinner much either. I've been here for eight months now, and I've only seen the inside of five restaurants so far.
Generally, I feel very welcome in the city, but there are still moments when I think: hmmm, I feel like people are annoyed with all the internationals here. I was on my bike a while ago, talking to someone else, when a random guy came to me and said, 'learn Dutch'. He said it in Dutch – so I didn't understand him. I think there are probably more people who think like that. But that doesn't mean I don't love it here. Utrecht is a paradise."
When my family visits…
"I'm a huge fan of the Botanical Gardens, I can enjoy myself for a while there. I would take my friends and family there, but we'd definitely go there by bike. Because while you're cycling, you can really taste the characteristic Utrecht atmosphere – although I'd probably have to explain some things, because cycling here can be highly dangerous. I'd take them to my favourite Argentinian grill restaurant, Los Argentinos, at the Oudegracht aan de Werf, and I'd point out the UFO on the Inktpot building at the Moreelsepark. I think it's fascinating. At the end of the day, I'd take them to sit on the Neude, and let city life pass us by."
In September 2019 DUB publishes the magazine StudentEnStad. With this magazine DUB celebrates fifty years of independent university journalism in Utrecht. The theme is the relationship between the Utrecht students, the city of Utrecht and the Utrechters. The magazine was published in Dutch. 
Here
 we present a collection of translated stories and features especially written for our site.