UU student minister Jitte calls for more science in politics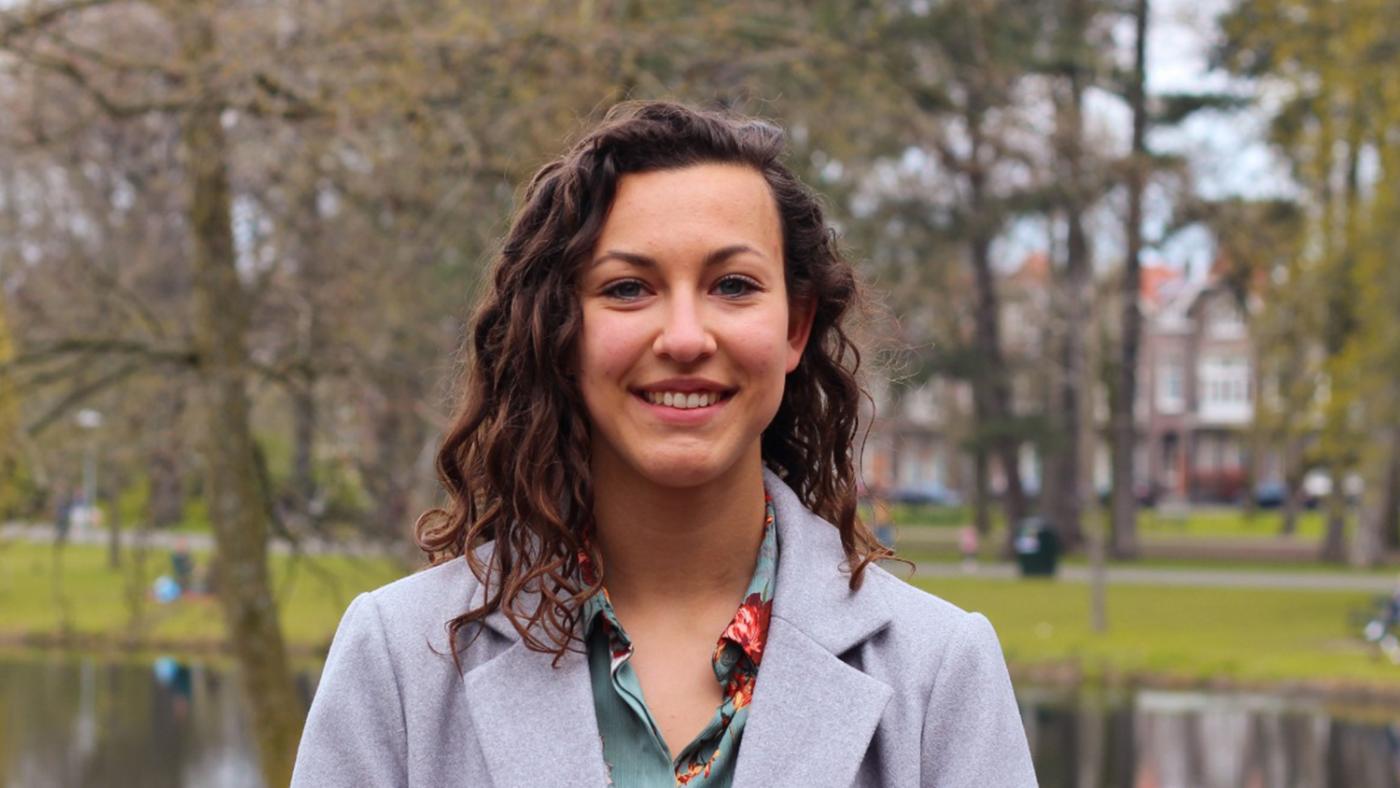 Jitte Jennekens, Minister of Healthy Living in the Student Cabinet. Photo: UU
"When I was approached to take up the post of Minister of Healthy Living, no one had any idea how long we were going to do that for, or how much time it would take. I received a two-paragraph e-mail, that's it. Now, a few months later, the Student Cabinet has been formed and we are joining interest groups, speaking at symposiums and talking to ministers. It's a job I do on the side and it takes at least one day a week. It has actually become a lot bigger than I thought it would. Initially, we, the fourteen student ministers, expected to work for a few months only. But now we meet every week and we are thinking about holding elections in September, as we are going to continue on at least until Prinsjesdag (the third Tuesday of September, when the Dutch monarch addresses the parliament and the senate in a joint session, Ed). And no, I don't get any university credits for this work."
"This first Student Cabinet wasn't elected, but chosen. Representatives of all the universities in the Netherlands were tasked with selecting a student they thought would be most suitable for the position. I was picked by Ludo Koks from UU's Marketing & Communications department. Each university has been assigned a theme: UU got the Ministry of Healthy Living because it is prominent in the field of medical research. Therefore, my research Master's in Regenerative Medicine & Technology matched it perfectly."
I'd never thought I could combine a career in science with a career in politics.
"My Master's focuses on developing methods to repair damaged or diseased cells, organs or tissues. I am now in my second year and I'm also doing an internship at the Hubrecht Institute in Utrecht for five days week, where I conduct stem cell research to help cure diabetes. If you give a stem cell the right information, it can become whatever you want it to. Thirty to forty per cent of processed stem cells can grow into a cell that makes insulin. The research is still in its infancy, but if it's successful it could have major consequences. Making people's lives better through innovative research, that's what I want to do."
"For that reason, I will probably continue on to a PhD after the Master's. But what comes after that is still completely up in the air. I'd never thought I could combine a career in science with a career in politics. I have always been interested in politics, but I never planned to do anything with it. I also didn't know any scientists who were involved in politics. All that has changed thanks to the Student Cabinet. Now I regularly speak with representatives of all kinds of interest groups, such as the Hartstichting (Heart Foundation), and I help projects such as the programme Jongeren op Gezond Gewicht (Young people with a Healthy Weight). But I also speak with members of the Senate, like Annelien Bredenoord, a professor from Utrecht who became a senator. Someone like that really inspires me. I am now also considering becoming active in a political party."
What does Jitte want to achieve as a student minister? She explains it all in the video below (only in Dutch).
We have great ambitions
"It is too early to say whether politicians will listen to us. The Ministry of Health, Welfare and Sport has indicated that it is interested in a cooperation, but it's not yet clear what this cooperation would look like. In any case, the student ministers are working hard. We all have great ambitions and we try to combine the key points we have in common. For example, I work a lot with the Minister of Innovation, who comes from the Eindhoven University of Technology; the Minister of Agriculture, Environment, Food & Energy, from Wageningen University & Research; and the Prime Minister, from the University of Twente. That is also our goal: to work across domains."
"If the cooperation leads to internal conflicts sometimes? No, we are on the same page. Politics is different from science. In science, you formulate a hypothesis and, after the investigation, you see if it was correct or not. In politics, you have to think very differently. You have to weigh up the various interests in society and make compromises. The more I get involved in this, the more I like it!"
What is the Student Cabinet and why is it necessary?
The Student Cabinet was established in March 2021 as an the initiative of the Association of Dutch Universities (VSNU). This alternative cabinet consists of fourteen student ministers, nominated by their universities. Their goal is to create more visibility for science in an accessible way. They also want to send a message to the government, who, in their view, does not enough attention to scientific research in their decision-making process. "That message is not only meant for politicians, but for the whole society"of the Netherlands," explains Piet van Ierland, Director of Marketing & Communication at Tilburg University and spokesperson for the Student Cabinet. "Dutch universities have a lot of knowledge that is worth sharing."
The student ministers are not affiliated to any political party. Nor are they representatives of the students or the universities where they study. They are the voice of science. The alternative cabinet is looking to inspire politicians to make choices based on well-founded scientific research. Choices based on knowledge. Choices that are good for the long term, instead of merely thinking about the next four years. The ministerial positions also differ from the ones in the real cabinet. For example, the Student Cabinet has ministers for healthy living, peace and justice, and new democracy, but no minister of finance or culture.
Although the Student Cabinet did not expect to talk to policymakers personally, it is now included in both regional and national interest groups. The student ministers have also drawn up a
joint coalition agreement
(link in Dutch). Timon Metz, Master's student at the University of Twente and the first prime minister of the Dutch Student Cabinet, presented the document to the Minister of Education, Ingrid van Engelshoven. Informant Mariëtte Hamer has also received it, but she hasn't responded to it as of yet.