UU students to play alongside Dutch comedian Brigitte Kaandorp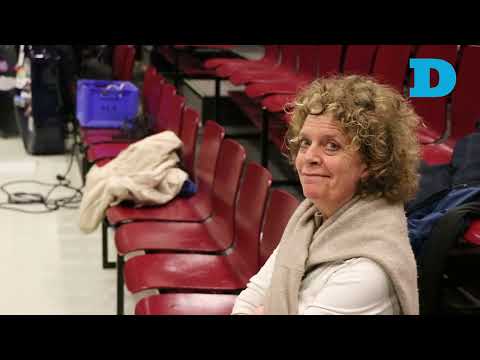 Comedian Brigitte Kaandorp in concert with students Utrecht orchesta
Brigitte Kaandorp practicing alongside the Utrechtsch Studenten Concert. Photo: DUB
This is the third time that Utrecht University, in partnership with cultural centre Parnassos, organises the UUnited festival at TivoliVredenburg. In addition to Brigitte Kaandorp and the Utrechtsch Studenten Concert, this year's lineup has many other collaborations between student music companies and famous artists. For example, female student choir Medusa will play alongside Dutch actress and singer Karin Bloemen, while close harmony company DeKoor will join forces with gospel singer Dwight Dissels, the Utrechtse Studenten Bigband will share the stage with sax player Maarten Hogenhuis, and USCantorij will collaborate with cello player Doris Hochsheid.
This year's edition stands out from the previous ones because some of the pairings are rather surprising. Huisorkest is working together with another comedian, Roel C. Verburg, while the Utrechts Studenten Koor en Orkest went for writer and literary critic Persis Bekkering, who is going to recite short introductions about Grieg and Mozart.
All music companies were free to choose with whom to collaborate and then get in touch with the shortlisted names for a formal invitation. In the video above, Brigitte Kaandorp admits she was actually surprised that young people still know who she is. The same could be said about artists like Karin Bloemen and Trijntje Oosterhuis. Still, the combination seems to work. "I find it really inspiring to work with young people", says Kaandorp in the video. 
Want to go to UUnited on March 24? Tickets are still a few tickets available. A regular ticket costs 20 euros, but students get a discount: for them, the ticket costs only 14 euros. The festival starts at 7:30 pm with the collaboration between Brigitte Kaandorp and USConcert.
Advertisement