Read in Dutch
Imagine this: you get to spend two weeks in an abandoned farm with six other students. You do have to get up at 6 am every morning to meditate, after which you'll spend two days with a well-known philosopher. The students engage in dialogue with the philosopher. In the meantime, the philosopher decides on a meal that fits the discussion, and you'll cook it together. Everything will be filmed, and turned into a high-level reality show.
This is exactly what five students from University College Utrecht did this past summer, along with two students from the University of Amsterdam. In December, a sneak peek of the first episode of Food for Thought was shown in UCU's Dining Hall, with all participating students present as special guests. On May 26, the first episode will be aired by KRO/NCRV.
The idea for the series came from an honours class at UCU, taught by Chiara Robbiano. "We have a series of courses called 'Connect', in which we let students engage in dialogue wRobbiano ith philosophers from outside the university. These are very interesting conversations. For these courses, I'd invited programme creator Valerie Schuit. She loved the idea of the classes for a TV series, but she thought the setting of a classroom didn't look great. That's how we came up with this format."
Students could sign up, after which a selection process created a reasonably mixed group of participants. A few students from the University of Amsterdam were added to the group. The students got to know each other beforehand, and travelled to France together in a van.
In France, the students stayed at a farm. At 6 am, the students all meditated. The rest of the days' programme contained all sorts of activities, such as cycling around the area, or enjoying the sunset. Every two days, a new philosopher would join the group at the farm. Each philosopher came with their own theme with certain philosophical mindsets at the heart, such as Buddhism, Islam, or Daoism. In the afternoons, students got to work to create the philosopher's recipe, and then enjoy the meal together.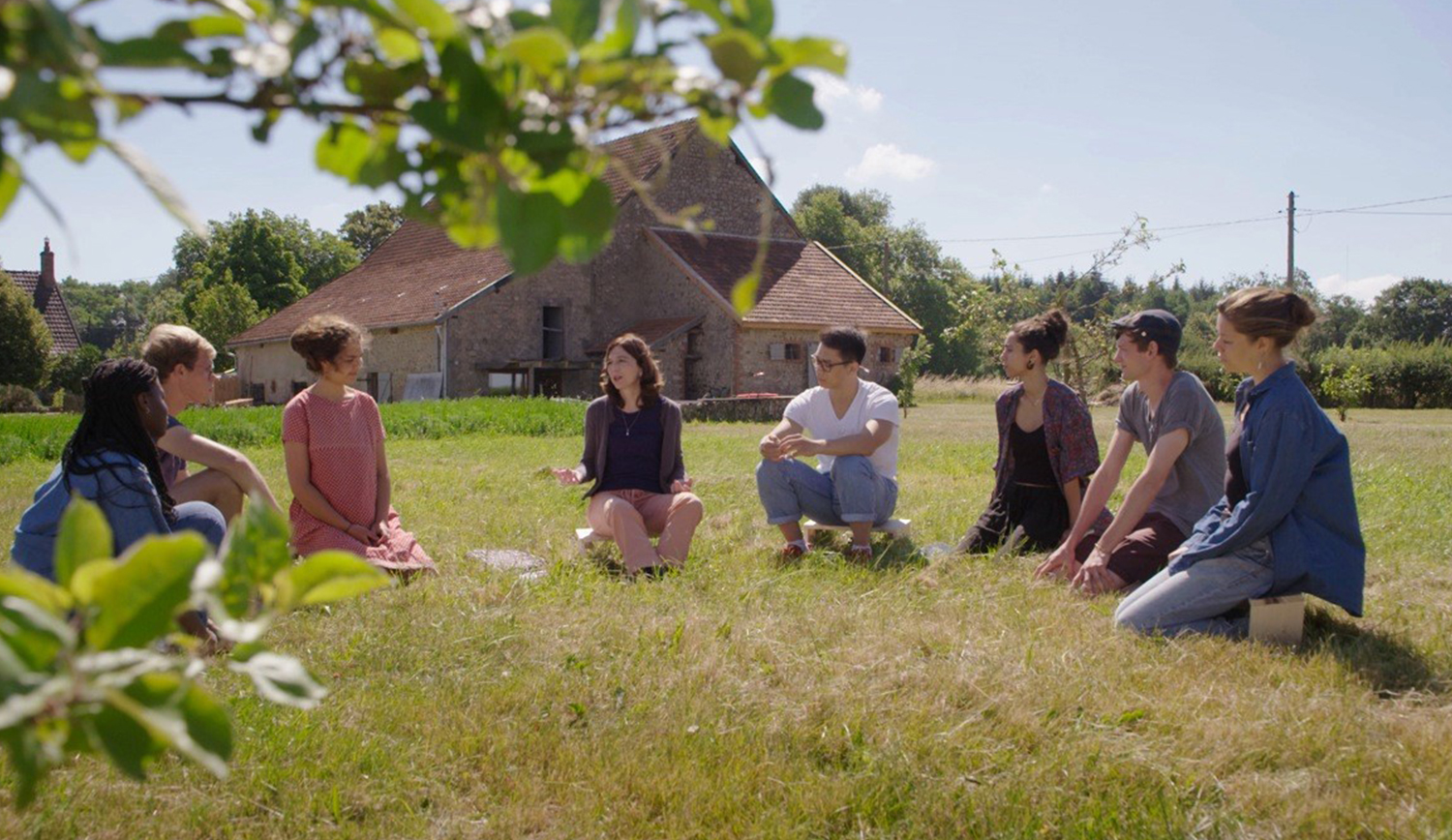 "You get to know each other in a very intense way," says one of the students during the presentation. In the discussions, personal experiences were linked to philosophical concepts such as identity or religion. In the first episode, teacher Chiara Robbiano asks the students about their families and what their families mean to them. One of the students we hear is Jin Zhang (23). His family emigrated to Portugal when he was nine, and he came to Utrecht at 19 to study at UCU. "Here, I notice how important family is to Chinese culture. My fellow students view the world from their own individual point of view. With us, the influence of family is all-encompassing. I don't think about my future, but about how my future fits in our family." His story is supported by that of Amsterdam student Joana Lamptey (23). "I was born in Amsterdam, but feel a strong connection to Ghana, where my parents come from. I don't feel as though I can make my own choices based on just me. The responsibility I feel for my family is too great for that." Recognisable, says Lebanese student Mounia Chmaitilly: "It's hard to choose between family and your own development."
In the entire series, origins and identity play important parts. The students come from Chinese, Lebanese, Ghanaian, German, and Dutch backgrounds. Aside from identity, the episodes also focus on changes and challenges in the world, for yourself and for others. The visiting philosophers take with them a philosophical concept, and confront the students with it. What does this mean to you?
Nigerian philosopher Michael Eze, for example, confronts the students with their own preconceptions. "A person is as they're seen and judged by other people," is his statement. He asks the students how open they are when someone has entirely different values. Can you truly let go of your values, and really empathise with someone who views life in such a different way? Eze links this to the African ubunti philosophy, which sees differences between people as gifts instead of as threats. He shares an example of contact with a leper community. "First I thought: I have to steer clear of these people, or I'll get infected too. But my uncle forced me to go, based on the philosophy that you should be open to one another. When I was there, I realised they're people like me, with emotions like love, anger, and jealousy. At a certain point, I didn't even notice they were sick anymore."
For the students, it was a special experience to have cameras filming constantly. "The first two days, it made me nervous; it felt as though I was on a film set. But at a certain point, you barely even notice they're filming you, even if you're looking to have a private moment," says student Lizzy Angerer.
There was no pre-written script. The conversations with the philosophers were spontaneous. "You're forced to reflect on yourself," says Yara Vrolijks. "It's as though you're looking into a mirror and you see yourself reflected in how others respond to you. That was very special."
After the summer, the students returned to Utrecht and Amsterdam. Starting this Sunday, they'll be able to see their own stories on TV. After a preview of the first episode, one student said with some surprise: "Did I really say all that?"
This is trailer (partially in Dutch, partially in English)
The seven episodes of the Food for Thought series will air every Sunday afternoon at 3.45pm on NPO, starting May 26. More information about the students and philosophers can be found on the series' website.
Earlier this year, the book Food for Thought by Jeroen Hopster was released. The book contains descriptions of the philosophers as well as short portraits of the students.