UU students yearn for new study rhythm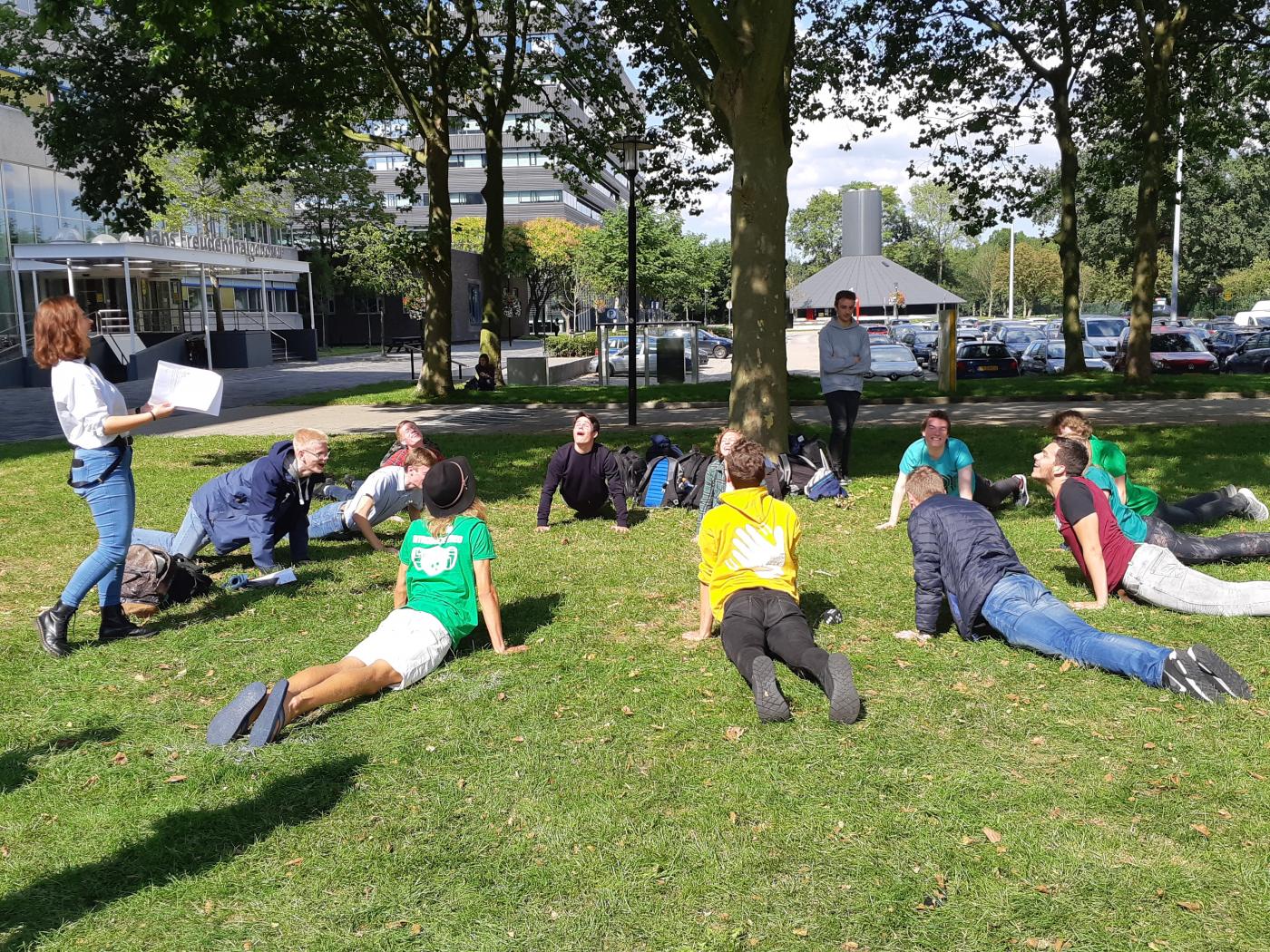 Freshmen were allowed to visit Utrecht Science Park last week, but they will be studying online a lot too. Photo DUB
Many students at the UU Faculty of Sciences encountered issues in trying to study at home. Online education caused concentration and motivation to decline. More than 70 percent felt it was 'somewhat' to 'incredibly difficult' to keep their focus.
Still, not all students are unsatisfied with online education. Some flourished, and were happy with the flexibility the new way of studying offered. A sixth of all students would prefer to keep some or all classes online – some of them from fear of the virus.
These are the results of a questionnaire (pdf, summary in English) filled out this summer by 1,448 of the more than 6,000 students of the Faculty of Sciences at Utrecht University. The study was conducted with financing from the faculty, led by associate professor Arthur Bakker. Study programmes and Sciences teachers can use the insights from the study abut how students experienced online education before the summer.
FIgure: responses to the statement 'Compared to pre-corona times, I find it more difficult to keep my focus'. Completely disagree – disagree – somewhat disagree – neutral – somewhat agree – agree – completely agree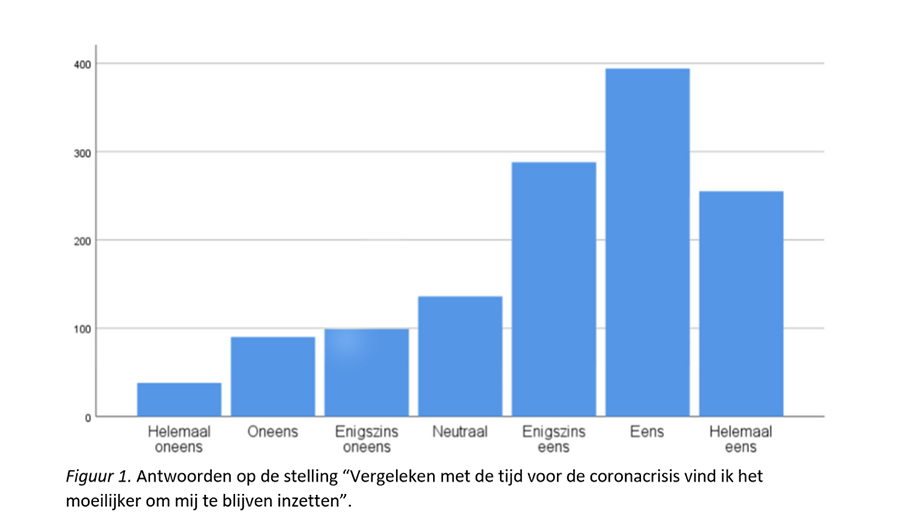 Studying and hanging out in one room
The study also shows that many students don't have a suitable space for studying at home. For that reason, some students moved back in with their parents. Most students noticed that it was hard to separate studies and private lives: this was the case with over 80 percent of students; 40 percent said this was a severe issue. Four in five respondents also said they were more easily distracted as they studied.
Asked about the greatest challenge they faced in online studying, students responded with answers like "maintaining your concentration when you're starting at a computer screen all the time", or "learning, sleeping, and hanging out all in the same room."
The respondents also stated they had less contact with fellow students (88 percent) and friends (66 percent). The majority of students (85.7 percent) missed having face to face communication. A little more than half of the students felt it crucial that online education improve this coming year.
Figure: "Compared to pre-corona times, I miss face to face communication."
Completely disagree – disagree – somewhat disagree – neutral – somewhat agree – agree – completely agree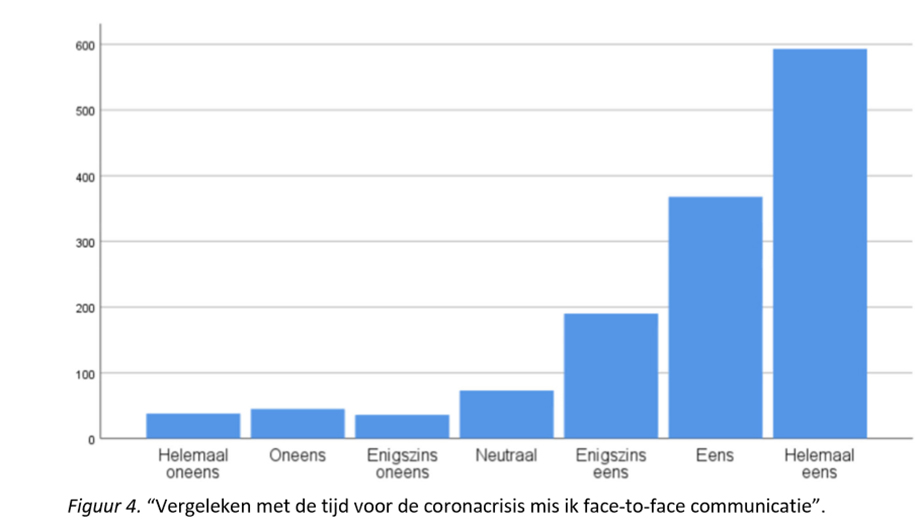 Finding a new routine
The researchers say that the results indicate that many students' study routines have been severely disrupted. They no longer travelled to university, didn't see their fellow students, and were unable to study in a suitable space. One student noted that they longed for the commute between home and university, where they could reflect on what had happened that day.
The fact that students struggled with the changes to their daily routines also became clear in their responses to the question of what the university should focus on if and when a return to in-person education is possible again: "Let everything go back to normal if it's possible, please", one student wrote. Another responded with: "The routine it gives you. I understand not everything can take place, but having students come to the university for one course, at one single time (even if it's once every two weeks), would be amazing."
Students who have to study online are trying to find a new way of working that they feel comfortable with, the researchers conclude. Teachers and study programmes could lend a helping hand in achieving this. For some Sciences study programmes, that'll be a little easier now, because practicum sessions, and occasional work groups, can take place at the university again. Other programmes may have to work on this more. Their students are still in the same situation.
Asking how they're doing
The researchers mention a number of things teachers could do to improve online education. They could ask how their students are doing a little more often, and whether online studying is going okay. A minority of students feels that teachers have been doing that more often than usual, they indicated in the study.
Teachers could also try to do more to encourage the collaboration between students and the sense of community, the researchers propose. In the study, most students were neutral about the way teachers tried to increase the involvement in online courses.
Lastly, teachers could also look at the forms of online education students prefer. Live lectures, live group discussions, group projects and quizzes increase the involvement in education, the respondents feel.
Very little help used
Another remarkable thing is that the respondents made very little use of everything the UU offers to help with online studying. Of the numerous UU initiatives mentioned in the questionnaire by the researchers, the contact with tutor or psychologist was online checked by 11 percent of respondents. For the digital study groups organised by the Skills Lab, online training sessions and webinars about studying, and online training sessions for personal issues, only a handful of students signed up.
At the same time, some of the respondents did express their interest in online study groups. Multiple students were considering asking for help in the past months, but practical hurdles, shame, and doubt about the effectiveness of the options formed roadblocks.
The results of the study by the Freudenthal researchers show similarities with the results of previous questionnaires conducted among UU students. Those previous studies did have far fewer respondents.
The UU part of a national research
by university and university of applied sciences media showed that working from home led to mental issues among students that formed obstacles in their studies. They would love to return to university as soon as possible.
After block 3 of the previous academic year, the UU itself asked students (
pdf
) about their experiences. That study among 666 students – mainly from UCU and Veterinary Medicine – also notes issues with concentration and motivation, as well as a lack of contact with fellow students and teachers.
A large-scale national study
 (in Dutch, ed.) by student union ISO and ResearchNed showed that students were mainly worried about study delays. That fear was also reflected in the study among UU Sciences students.
On another note, students in all studies do voice their appreciation for the efforts of students and study programmes to keep the quality of education up. Many students say they're satisfied with the replacement forms of education.
In an article in the Volkskrant, a spokesperson for the UU did admit that the university can't guarantee for all courses that the quality remains as high as it was before corona. "Interaction is of great value for our education."