What are the best spots in De Uithof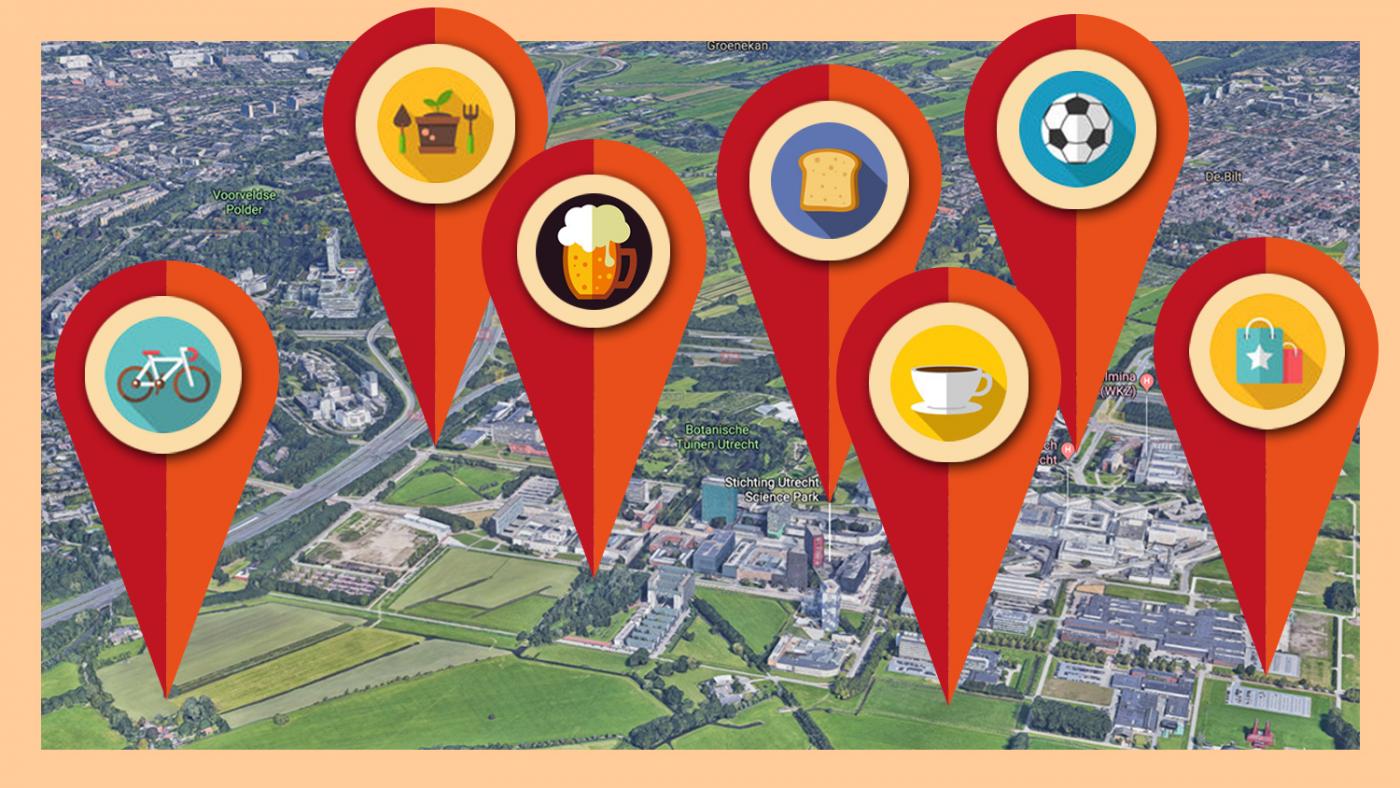 Illustrations DUB
Students and employees alike often see the Utrecht Science Park as a boring, concrete mass. They usually stick to the canteens in their own environments, and the facilities at the Coimbrapad. Still, there's a lot more to do here, as long as you know where to look. The students in the University council asked DUB whether it'd be possible for us to list the best of the unknown spots. Below are the themes we studied.
---
The Village Coffee & Music
To go café The Village to enjoy a freshly-made cup of coffee during a break in your schedule, or get a quick breakfast before your early morning lecture. The Village is a little hidden in the blue and white student housing tower Johanna. The taxidermy decoration and the relaxed music create a nice atmosphere, and the Wi-Fi helps make it a relaxed place to work. The latte art makes your coffee that little bit more special.
Espresso bar Gutenberg
Gutenberg can be found beneath the university library – the black building at the Heidelberglaan. When the weather's nice, you can also drink your black gold in Gutenberg's garden. The baristas create all kinds of artwork with your milk foam, like a heart or Nijntje. When the library's full, Gutenberg makes for a nice place to study. The coffee bar is also open on Saturdays.
Espresso bar Goliath
Go to Goliath for a cup of coffee, lunch, or (fresh) juice. You can even get a High Tea there! It's located on the ground floor of the David de Wied building at the Universiteitsweg. Don't wait too long: Goliath closes at 3pm.
Coffee corner Piazza
The coffee shop in the UMC at the Heidelberglaan serves coffee, but also offers cakes, ice cream, sandwiches, and smoothies. It's open every day until 8.30pm. You don't have to search for long because the coffee corner is located in the hospital's central hall.
MiCaffé
The MiCaffé in the UMC at the Heidelberglaan serves coffee and other hot drinks with all bells and whistles, royal-sized sandwiches and toasties. As if that wasn't enough, the café also has table football. For culture lovers, there's a classical painting on the wall.
Genmab café
Genmab, at the Uppsalalaan, is an international biotech company with a high number of scientist employees. On the ground floor, it has a coffee bar that serves quality coffee for an affordable price. Students are welcome as well.
---
Foodtruck Mo & Sons Cum Laude
For some shawarma, doner, or a Turkish pizza, go to the Mo & Sons food stall. Mo has been an Uithof presence for the past seventeen years; these days, his sons join him. Every Monday through Thursday, their stall is opposite the university library; on Fridays, they're at the Padualaan.
Food truck Broodje Ben
Broodje Ben has over fifty different sandwiches on its menu, so there's more than enough to choose from. On Tuesdays, Thursdays and Fridays, the food truck is located near the library, and on Mondays and Wednesdays, Broodje Ben can be found at the Padualaan. Don't feel like leaving your home to get yourself a freshly-prepared sandwich? Their Oudegracht location also delivers.
Food truck Tour de la Frite
As the name suggests, Tour de la Frite sells chips and warm snacks, with attention to sustainability. The hand-cut chips are made from biological potatoes, and vegetarians and vegans can enjoy egg-free mayonnaise and vegetable 'kroketten'. Tour de la Frite can be found at the Coïmbrapad every Tuesday, Wednesday, and Friday, and on Thursdays at the Padualaan.
Food truck Yoghurt Barn
The Yoghurt Barn food truck sells organic yoghurt products in all shapes and sizes. Gluten-free and vegan options are available, and you can put together your own yoghurt meal. The food truck itself is a refurbished ambulance. It's located near the Spar University store every Monday, Wednesday, Thursday, and Friday, and at the Padualaan on Tuesdays.
Food court Padualaan 101
In the food court in the Padualaan 101 building, there are three lunch rooms. Hoi Anh started as a food truck in De Uithof, and has been serving Vietnamese street food since 2016, including fresh sandwiches and spring rolls. Zenwich Café has a wide variety of options: yoghurt breakfast, pita bread, sandwiches, fruit, and hot and cold drinks. Streat offers fresh sandwiches and chips, and is open until 7.30pm. The others close at 4pm.
Food court Heidelberglaan 15
You can also find coffee and sandwiches in the new HU building at Heidelberglaan 15. Mams is known for its (or her) coffee. A little pricey, but also more luxurious than from the machine. You can also find smoothies, cakes, and sandwiches there. Luzy & Suzy serves Asian cuisine, such as wok meals and noodles, as well as freshly-made sandwiches and soups. Go to Via Vai for coffee and sandwiches with an Italian touch, or let them provide your catering any day of the week. Via Vai is open every day until 7pm.
Vitam
Vitam is very similar to a canteen, and is located in Padualaan 97 on the third floor. This building houses Sign Language and Deaf Studies, and you can only order in sign language if you go to the Sign Language Coffee bar. For those not proficient in sign language: there's a screen next to the bar that explains the signs. At Vitam, you can grab your own food, such as sandwiches, soups, fresh fruit, and smoothies.
Garden café Botanica
The Botanical Gardens aren't just for enjoying nature; you can also have lunch at a terrace with a beautiful view of all the green. Botanica sells organic sandwiches, home-made soups, cakes, coffee, and juices. If that's not enough – the café also serves pizza and Italian ice cream. You can also get a picknick basket at the café, to eat your lunch elsewhere in the Botanical Gardens. Botanica is open every day, but not for long hours: from 10am to 4pm only.
Eat Out
At Eat Out, you can both eat and work on your laptop, because this lunch room is equipped with tables with sockets. This is the place to be for Unox smoked sausages, but it also sells regular sandwiches, salads, fruit, and juice. Eat Out is located at the Coïmbrapad, on the side of the library.
Jazzmans Minnaert
Grand café Jazzmans is located in the Minnaert building at the Leuvenlaan. When you order coffee there, you can choose between several options of coffee beans. They also serve tea, muffins, toasties, hamburgers, and fries. Ordering, eating and drinking is done at the tables, both inside and outside. The music and industrial style interior create a nice ambience. There's also a piano in the café for music lovers.
Sodexo canteens university buildings
The Sodexo canteens in the university buildings offer hot snacks, freshly prepared (oven) sandwiches, paninis, daily specials, and seasonal soups. The canteens are located in the Educatorium, Androclus building, Administration building, Kruyt building, Koningsberger building, Minnaert building, the grey Vening Meinesz building, and the Jeannette Donker-Voet building. Don't wait too long to grab your lunch, because the canteens close halfway through the afternoon.
Restaurants UMC and WKZ
Restaurant De Brink in the UMC hospital (Heidelberglaan) and De Toverstaf in the Wilhelmina Children's Hospital (WKZ, Lundlaan) are also open to visitors. They offer small bites, breads, and hot meals. De Brink has a coffee corner, and you can get coffee next to De Toverstaf at the 30 Beans. For bread and salad, go to the Snelbuffet De Pitstop. The restaurants close early in the evening. Do bring your bank cards, because there's no cash option.
Pizzeria Tricolore
If you're craving Italian pizza, pasta, salads, or sandwiches, be sure to go to Pizzeria Tricolore, beneath the university library. The owner and employees are all from Italy. There's not a lot of space to quietly eat your meal; it just has a few bar tables. You can also order by phone and then pick it up yourself. Tricolore is open every working day from 11am to 8pm.
---
Grand Café The Basket
The Basket, at the Genèvelaan, stands out thanks to the basketball field on top of the café. Aside from drinks with your classmates and friends, The Basket also offers lunch, dinner, and coffee. On hot days, it's got a nice terrace to sit outside. With every craft beer you order, you receive a stamp, and if your card is full, you'll get a free macho nacho. Food and drinks are relatively expensive for a student hangout, but the staff are friendly and the café is decorated tastefully.
Student cafés HU
The science cafés HideOut and Het7de at the Heidelberglaan, as well as Het Proeflokaal at the Padualaan, offer beer, coffee, and snacks at small cost, served by students of several student associations. In the cafés at the Heidelberglaan, people organise drinks and parties, and HideOut organises karaoke nights twice a year. The science cafés are small, and not all bartenders are equally skilled at pouring beers, but students and teachers can be found here every day.
Sports café Olympos
Before or after exercising, you can go here for a coffee or tea. The menu predictably contains healthier meals, such as freshly-prepared sandwiches, salads, and daily specials. The café at the Uppsalalaan has an elaborate drinks menu as well, from energy drinks to beers. You can watch sports matches on a large screen, and it has work spots with sockets for those straining to make their deadlines. Food and drinks are relatively cheap, and there's a terrace outside as well.

Student café Cambridge Bar
The bar in the student housing building at the Cambridgelaan is also open to non-residents. The bar is open every working day from 9pm, and is a great place for people looking for cocktails. The drinks are cheap and are poured by students living in the building. The café has a homely atmosphere, and organises monthly pub quizzes and karaoke nights. The Cambridge bar is always looking for volunteers, so be sure to sign up if you've got a regular night off.
---
Climbing walls Kalymnos
There are two climbing walls, part of sports centre Olympos, right up against the walls of parking garage P+R De Uithof. The biggest is thirty metres tall: the tallest in the centre of the Netherlands. If this is a little too high for you, choose the 14-metre wall instead. The climbing walls can also be rented for events and group activities. Open every working day from 7am to 10.30pm, and on weekends from 9am to 6pm.
Running tracks
You may not have noticed it yet, but there are several running tracks spread out throughout De Uithof. Sports Centre Olympos has a 200-metre track, and there's a 400-metre one behind the Cambridge building. The Olympos Mile starts at the sports club, and crosses the Harvardlaan, Hoofddijk, Leuvenlaan and Budapestlaan. For the die-hards, there's also a 5-kilometre track circling De Uithof.
Volleyball fields
There are two grass fields with volleyball nets at the Budapestlaan and the Bolognalaan, open to anyone wanting to play a game of volleyball. Didn't bring your own volleyball? Borrow one at the reception desks at the Victor J. Koningsberger building and the Androclus building, for a small security deposit.
Football fields
Want to relax after your lectures by playing some football? That's possible at the Bolognalaan and the Cambridgelaan, which both have football fields with two small goals for football aficionadas. You can borrow a ball (for a deposit) at café The Village and the reception desk of the HU building Padualaan 97 if you forgot to bring your own.
Bootcamp field
If you're looking to work out, you don't have to go to the gym. The Leuvenlaan has its own bootcamp field, with a climbing frame, rings, sit-up benches, and step blocks. Members of sports club Olympos can join the bootcamp group classes.
Sports centre Olympos
Sports centre Olympos at the Uppsalalaan offers no fewer than seventy types of sports – from dancing to windsurfing. Relax in the sports bar either before or after exercising. Many members are students, and HU and UU students receive a discount on their subscriptions. The centre is open every working day from 7am to 11.30pm, and on weekends until 7pm. Be sure to plan wisely, because the late afternoons are often very busy.
Swimming pool De Krommerijn
People who enjoy being in water can go swim some lengths in the Krommerijn swimming pool, at the Weg naar Rhijnauwen. In the summer, the swimming pool is open every day from 6.45am to 8pm, and on weekends from 10am to 6pm for recreational swimmers. The indoor pool doesn't have many extras for recreational swimming, but the outdoor pool opens on June 5. Renovation of the Krommerijn is scheduled for late 2019, after which it will house fields for volleyball, football, rugby, handball and korfball.
---
Beauty Square
Get your hair done at small cost at the Beauty Square, by students of ROC Midden Nederland (guided by experienced teachers). You can also frequent the Beauty Square for facials, manicures, make up, and hair styling. The Beauty Square is located on the ground floor of Casa Confetti at the Leuvenplein, and is open from Tuesday to Friday until 4.30pm (starting times vary daily).
Flower shop Vermaat
Flower shop Vermaat offers many different types of flowers, plants, vases, and gifts. During Christmas season and Easter, Vermaat offers specially-made bouqets. The flower shop is open every working day from 8am to 6pm.
Bicycle shop Bike In
Did your cycle commute to De Uithof result in a flat tire? The bicycle basement of the UMC at Heidelberglaan 100 offers repairs, accessories, and new bicycles. Customers' opinions about the Bike In vary greatly. Some have exclusively bad things to say about their service, while others are absolutely content and happy with the quick service. The bicycle shop opens at 8am every working day.
Spar University HU
The 'big supermarket' of Spar University is located at the Coïmbrapad. For those who can't be bothered with the crowds, there's also a Mini Spar in the HU building Heidelberglaan 7. It sells a variety of healthy products such as fruit, smoothies, and soup, but also soft drinks and snacks. The supermarket is an open space in the central hall of the building. This Spar is open every working day from 8am to 6.30pm.
Primera
The Primera at the Coïmbrapad is a great shop for school and office supplies, books, magazines, cards, and tobacco. Convenient if you've got an exam in five minutes but forgot to bring your pen. You can also charge your OV card here, get your clothes dry-cleaned, and ship your packages. The store is open every working day from 8am to 6pm.
Barbecues
Next to the Cambridge building there are concrete barbecues, available to residents and non-residents alike. Eat your meats and other bbq snacks at one of the picknick tables. Enjoy the green scenery in summer and spring, when the trees and boxwood are in bloom. Don't forget to bring your own food and drinks!
Hammocks
In spring and summer, you can relax in the hammocks near the water at the Genèvelaan. The ideal spot on hot days to study for your exams, recharge after long lectures, or take a nap in the sun. Last year, this spot had colourful hammocks made out of parachute fabric. This year, the hammocks are made of braided ropes, and they're attached to poles. There are a lot fewer than last year, however.
---
Botanical Gardens
The Botanical Gardens at the Budapestlaan consist of over 22 acres of gardens as well as a café. They're mostly meant for academic research and education, but you can also take a tour around the gardens, or wander through them by yourself. The Botanical Gardens include spots like the Rock garden, Evolution garden, and Tropical greenhouses. There's also a bee hotel and a breeding spot for harmless snakes.
Nightingale Grove
The nightingale grove is the only piece of primeval forest in De Uithof, named for the singing bird that used to live there. The grove currently consists of willow, maple, and oak trees. The nightingale grove isn't very hospitable to humans; it has a lot of nettles. For that reason, low-breeding birds like nesting there, and insects roam aplenty.
Ringed Snake Forest
The ringed snake forest is next to the A28 motorway. It's not as dangerous as it sounds: this snake isn't dangerous to humans, and doesn't actually live in the forest anymore. You can, however, find insects here that are rare in the Netherlands, such as the purple hairstreak butterfly and the scarce chaser dragonfly. The municipality of Utrecht gave the forest to the UU in 1990 for its 350-year anniversary.
Biologist's Forest 'The Triangle'
This forest's name comes from its shape: it's shaped like a right triangle. Biology students come here to gain some practical experience. There are a number of extraordinary animal species that can be found here, such as the ringed snake, the kingfisher, and the northern crested newt. Bees are also housed in the forest next to the Cambridge building, and there's a frog pond as well.
---
Jazzmans Dining Hall
Grand Café Jazzmans is originally from the United States; this is its first location in Europe. You can find coffee, tea, breakfast, and lunch here. It's located at the Maupertuusplein, not far from the Galgenwaard stadium. Jazzmans aims to create a homely atmosphere, and the music contributes to this. In the Dining Hall, you can use a 'Meal Plan' credit card to pay for food and drinks for a semester or an entire year. That way, you'll get a discount on food and drinks, and free coffee. Note: the café is closed from July 1 to August 16.
Amelisweerd and Rhijnauwen estates
At a half hour's walk from De Uithof, you'll find the estates of Amelisweerd and Rhijnauwen. Aside from enjoying a nice walk through nature, you can also find two country homes, two restaurants, a nursery, an orchard, a café, and two forts here. On Monday, June 10, a pop-up museum will open with varying temporary exhibits. If you look closely, you'll also see some wild animals at the Kromme Rijn estate, such as roe deer, grey herons, buzzards, kingfishers, and bats.
Teahouse Rhijnauwen
At Teahouse Rhijnauwen, you can enjoy pancakes and other meals. Sitting outside you'll have a view over the Kromme Rijn river, and you'll see donkeys and goats. The teahouse and pancake restaurant are located on the Rhijnauwen estate, and a visit is perfect to combine with a hike starting at De Uithof. Teahouse Rhijnauwen has an elaborate menu, and pancakes are served fast. The food is relatively expensive.
Canoe rental De Rijnstroom
Everyone who can't get enough of rowing, can rent a canoe or a rowboat at De Rijnstroom, located at the Weg bij Rhijnauwen. You can peddle through the city, but also row your way through the Amelisweerd and Rhijnauwen estates. If you get hungry after your canoe trip, you can go there for a picknick or a barbecue. For those who prefer night-time river trips: De Rijnstroom also offers full moon evening trips.
Stayokay hostel
The Stayokay hostel Utrecht-Bunnik and its accompanying café on the Rhijnauwen estate are situated in the middle of nature, right next to the Kromme Rijn. It's not very luxurious, but spending a night in the castle isn't expensive, and you're at De Uithof within half an hour. You can also rent a bike – that way it's only a ten-minute trip.
Oostbroek Estate
This estate is a forest, swamp, grove, and monastery garden all at once. Cows graze here, but there are also numerous types of birds that frequent the estate. The Oostbroek estate is located in De Bilt, a fifteen-minute walk from the UMC. It has two short walking routes, and dogs are welcome.
Bakery De Veldkeuken
Visit De Veldkeuken for organic bread and cake. Vegetables, fruit, and herbs all come from the Amelisweerd estate, where this bakery is located. Through a glass door, you can watch the bakers prepare the food. This bakery sells a cookbook of its own making, so you can prepare the same meals at home as well.
Restaurant Het Oude Tolhuys
Het Oude Tolhuys is located opposite the Krommerijn pool. You can have lunch or dinner at this restaurant, but it also serves tapas and buffets. Food and drinks aren't exactly served at student-friendly prices, but it does at least come with a varied menu. The Oude Tolhuys is more than just a restaurant: it even has its own escape room.
Fruit company Westeneng
Fruit company Westeneng in Zeist grows apples, pears, prunes, and strawberries in its orchard. You can also find potatoes, eggs, and vegetables at this family-owned business. Fruit isn't expensive, and you can pluck it off the trees yourself. Do bring cash, though. Fruit company Westeneng can be found at Oostbroek Estate, at the Tolakkerlaan.
This article was realized in collaboration with Sebastian Wijnands, student member of the University Council for De Vrije Student.