A whole weekend of public activities
Where is the Professor in Public Engagement going? Five tips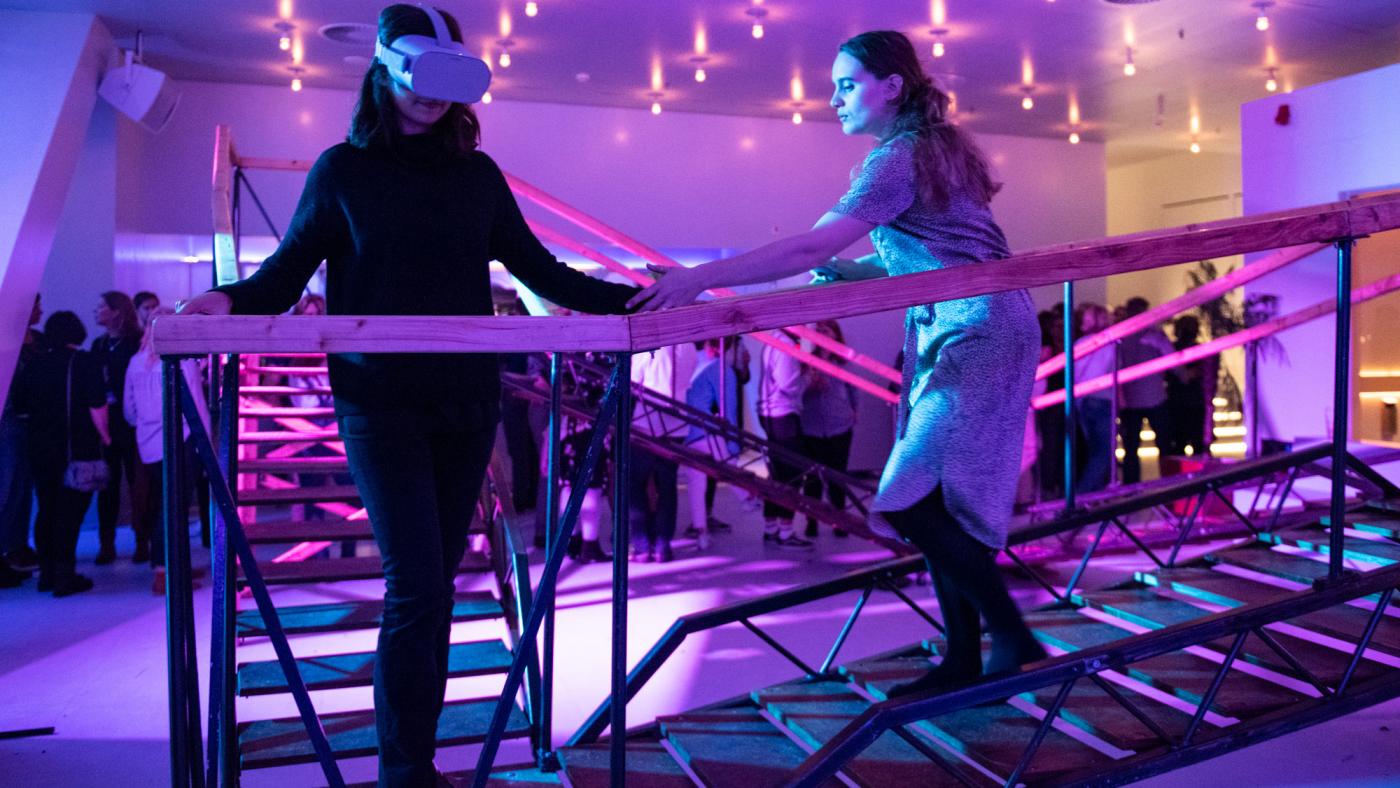 1 Climate voting
Betweter Festival is going to take place this Friday night, at the TivoliVredenburg concert hall (tickets are almost sold out, by the way). Upon arrival, each attendant is going to get two marbles: one to tell how worried they are about climate change and another one to guess how worried the other attendants are. To answer the two questions, they have to deposit the marbles in one of the five tubes available; each one of them designates a level of concern, from "not worried at all" to "extremely worried". The experiment was devised by designer Frank Goethals. Erik van Sebille is also involved in the project.
"We'll reveal the results in the middle of the evening. We expect most people to say they are very worried but others are not as much. Making that visible can have a cathartic, perhaps even therapeutic, effect. Many students tell me that they're extremely concerned about the climate but they feel lonely and don't dare talk to other people about it. An activity such as Climate Voting can help get this conversation started."
---

2 Knot
Knot is the annual project of the new generation of the Utrecht Young Academy (UYA). Young researchers and artists will work together and then show the results of their playfulness at the festival. Then, they'll reflect on how this playfulness can be applied to science.
"To be honest, I have no idea what to expect but the new members of the UYA just keep saying that we absolutely should come. It's definitely going to be something interactive and interdisciplinary, so I'm looking forward to it. Also because I like the idea of playfulness, I think it's interesting. To explain what science is, you don't necessarily have to make it heavy. Science doesn't belong to researchers alone, it belongs to everyone."
---

3 Science pitches at Cloud Nine
Speaking of Betweter Festival, on TivoliVredenburg's top floor, young Utrecht-based scientists will be giving short presentations à la Ted Talks, explaining their research. One of the participants will be the media researcher Abby Waysdorf, who will tell how pop music fan culture is making its way into politics.  
"A few years ago, I did so myself. We used to work with a playwright who showed us how we could incorporate theatrical elements into our story, which makes it much more effective as it doesn't appeal only to people's rational side but also to their emotional side. I think we can learn a lot from art.
"I realised how good surrendering myself to the audience like that made me feel. At the same time, I noticed that it inspired people to think differently. Many of the subjects covered by science have to do with morality and the feelings that come with it."
"With these short presentations, some of the scientists pitching on Friday night would like to spark people's interest or wonder. Others would like to convince the audience from an activism perspective, which is also okay."
Erik van Sebille performs at Betweter Festival 2018:
---

4 Imaginary Math
During the National Science Weekend, many labs and buildings at the Utrecht Science Park will open their doors to the public. There are going to be lectures, workshops and walking tours.
One of the activities set to take place is a travelling exhibition called Imaginary, which you can visit in the Minnaert building. The beauty of science is going to be shown with remarkable 3D objects, puzzles, apps and graphs. Van Sebille drew some of the images of ocean currents himself. The exhibition will last until October 21.
"It shows how inspiring Maths can be. Once more, you'll see that connecting science and art is a really powerful way to tell a story. The good thing is that there's also going to be a series of lectures and school pupils will be visiting the Minnaert building." 
---

5 Sweaty feet man's lawsuit
Kids aged 8 to 14 will be able to enact a trial on Science Weekend. In the workshop De rechtszaak van de zweetvoetenman (Sweaty feet man's lawsuit, Ed.), they will learn about the lawsuit concerning a student of the University of Delt who disgusted the visitors of the University Library with the stench of his feet.
"The title alone is awesome. That got me curious, for sure. And what a beautiful way to show kids what the law is and how it works in practice. Last but not least, I think it's important to show that science is not only about the STEM subjects, so Weekend van de Wetenschap (Science Weekend) should also have space for other disciplines."
---

But there is much more…
Betweter Festival and Science Week are not the only occasions in which scientists will interact with the public in Utrecht. Next week, there are going to be a whole lot of activities at the Utrecht Science Park, as part of Science Week. 
Students, researchers, stakeholders and interested parties will gather for get-togethers, workshops and lectures talking about a healthy, sustainable society. On Thursday, for example, virologist Marion Koopmans, alumna of the year, will give a college tour.
Erik van Sebille, the first UU Professor whose teaching duties include public engagement, is happy to see the attention being paid to science communication. He's noticed that more and more researchers are coming to understand the importance of involving society in their work. "Young researchers are particularly supportive of Open Science and they seem to really like getting in touch with people. That's crucial. People's trust in science is still significant, but suspicion is growing more and more. We must keep explaining what science is."
In his view, there is no such thing as overkill, at least not yet. He only wonders whether the activities are focusing too much on a single target group or whether there are any blind spots. "We must try to reach as many people in society as possible. That's pretty hard for scientists to do, which is why it's important for the university to also have staff dedicated to public engagement. For instance, I know that this weekend will also include a special programme for 'weekend school' children who are less familiar with what a university is." 
Van Sebille underscores that science communication doesn't necessarily have to be connected with a university. "Sometimes, it's even more effective when people are confronted with science in another context. Think of the experiments at the music festival LowLands, for example, or what my field does on World Ocean Day."