Why are the lecture halls still vacant so often?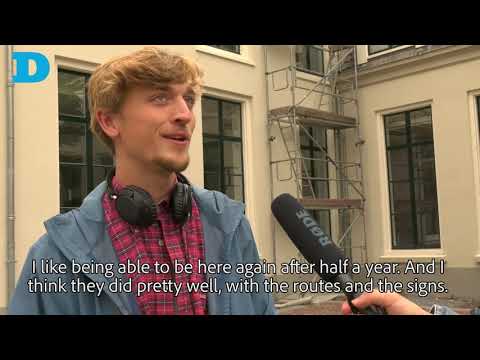 How how accessible the lecture halls are in corona time ?
Students are hungering for in-person classes. Not just the first-year students; the second- and third-year students would also love to sit in the lecture hall seats again. During the summer, a team from the Facilities Service Centre worked hard to make this possible. It wasn't an easy job in the monumental buildings of the city centre, as the video shows. Students are happy they're allowed back in, even if the walking routes require some puzzling.
During the filming of the video, DUB noticed that many classrooms sit empty. Housing coordinator Fokke Walstijn agrees. "In the humanities there was a plan to give college hybrid form. That means with some of the students in the lecture halls and some at home. In the halls at De Drift it was not possible to realize this with sufficient quality. As a result, many lecturers have switched back to fully online." In addition, according to him, there is the impression that some teachers are a bit reluctant to give physical lectures after all.
Another reason, according to Miranda Jansen, director of Faculty of Humanities and chairman of the roster committee, is that in the 30 percent occupancy, the exams were also included. In fact, the emphasis was on exams on campus. This also ensured that the halls are now more often empty. The idea is to separate these exams and lectures from block two. Incidentally, Jansen points out that there are also times when it is very busy in the buildings. That too is a point for attention.
Not just in the city centre – you can spot many vacant lecture halls in De Uithof as well. President Anton Pijpers has seen this, too. "We're still in the introduction phase, but we do want to offer students as much in-person education as possible. For that reason, I've assigned someone to monitor what's up. And if more is possible, we're going to adjust that."