Young blood, old dog: 'Quick medication releases cannot be done at the expense of quality'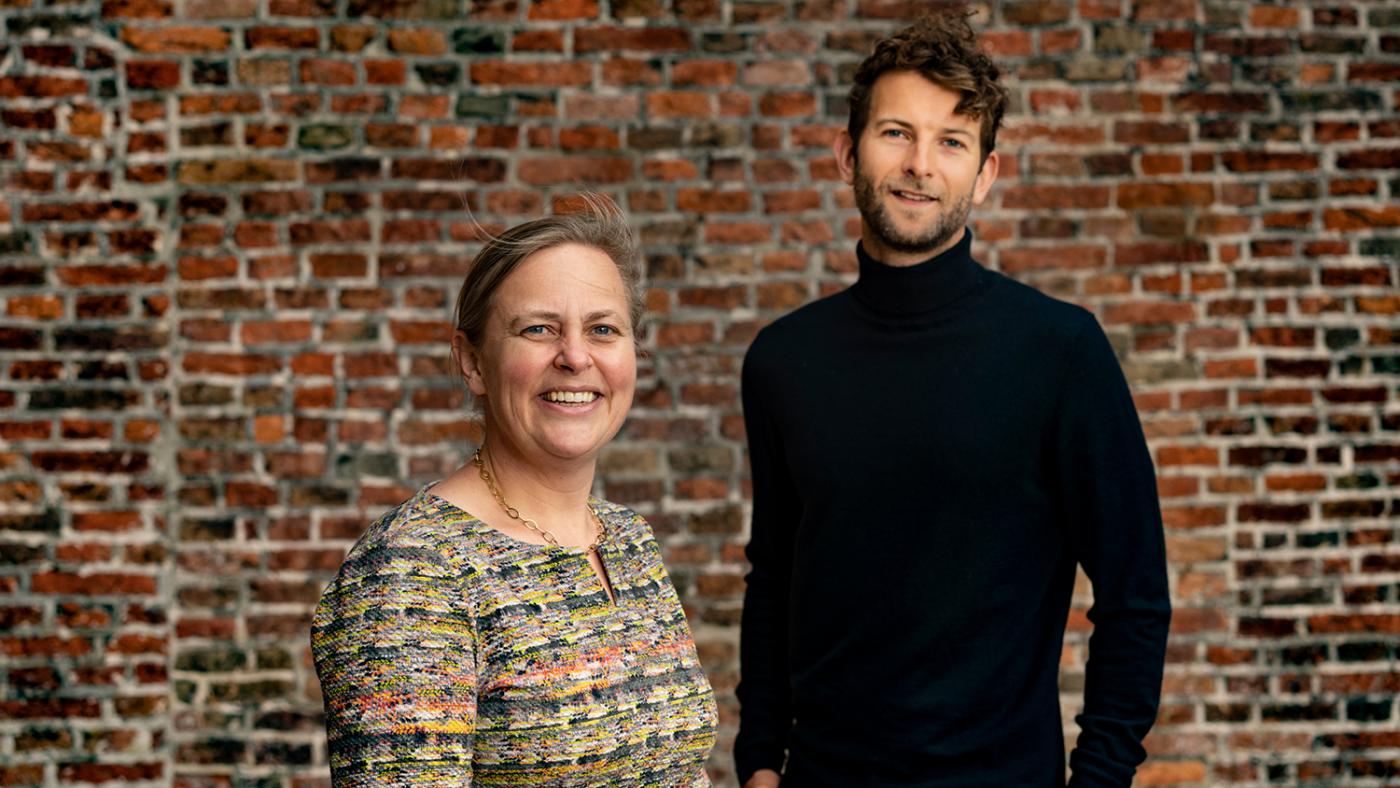 Aukje Mantel-Teeuwisse and Lourens Bloem, fotos: Ivar Pel
When Lourens Bloem started his Bachelor's in Pharmacy, he wanted to become a pharmacist. IT wasn't until his Master's programme, part of which he's taking in Sydney, that he discovers how much fun the research side of his discipline is. "Just being able to completely lose myself in a subject has opened my eyes for the possibilities of doing research." Back in Utrecht, he explores the options of obtaining a PhD. He asks his tutor, senior lecturer Aukje Mantel-Teeuwisse. She advises him to take a number of courses during the summer. "There, Lourens would get to know the right people."
The UU Summer School courses Pharmaceutical Policy Analysis and Pharmacoepidemiology and Drug Safety gave Bloem clear insight into the subjects, methods, and context of the research he's doing now. "The people teaching the classes were experienced researchers in this discipline, experts with hands-on experience, and moreover, my future supervisors and co-supervisors. That's how things got started, and I grew towards my PhD track very organically."
Research in combination with practice
Mantel-Teeuwisse is one of his supervisors now. She's been director of the School of Pharmacy since July 2014. There, she's involved in numerous workgroups and committees. In 2019, she became professor of Pharmacy and International Health Policy. Her focus is on access to medication. "In 2008, with approval of the WHO, Bert Leufkens and I established an expertise centre of which I'm managing director. There, we study the access to medication for people in low to middle income countries." She also conducts policy research on access to medication in the Netherlands and Europe. "How are those medications marketed, and how does the compensation for them work?" From 2005 to 2010, Mantel-Teeuwisse was seconded with the College for Assessment of Medicine (CBG) to strengthen the collaboration with the UU.
Bloem, too, worked with the CBG until recently, as part of his PhD research. In the core, his research is about the question of how Europe deals with the approval of new medication for the market, and how long it takes before patients can use them. "There's a tension there. A cancer patient could benefit from quick approval of a new type of medication, but what's necessary, at the least, before you make a decision? How much uncertainty can you accept in exchange for quick approval? And what does that uncertainty mean for other organisations that are involved with medicine policy, such as the National Health Care Institute, which advises about costs and compensation."
The risks of expediated marketing of medication
To answer these questions, Bloem has collected data from the CBG and the European Medicines Agency (EMA) in Amsterdam, who are in charge of the approval of drugs before they're allowed to be marketed, as well as the assessment of new data, such as side effects, which become available when a drug has been marketed. "The data that are most important to me, are the data we've got about the working and safety of medicine, including the remaining uncertainties. The earlier we approve a drug, the less research will have been done, and thus the less we know about the working and side effects, while at the same time, what we do know might be less certain and therefore less thoroughly studied. This knowledge can be supplemented after the medication has been approved, but in those cases, the expectations we have of the added value of the medication have to be greater or more important than the uncertainties that surround the working and side effects. This is the case, for instance, for treatments of rare afflictions for which there is no treatment yet, or if the new medication seems to be working a lot better than an existing treatment."
Recently, a discussion played out in the media about whether or not to expediate approval of medication for Covid-19. What do they think of this? "I think it's justified that the CBG and the EMA prioritise the assessment of requests for corona medication, that they're mobilising all means and people to do this as quickly as possible. That is, however, different from lowering the standards of quality, effectiveness, and safety of these types of treatments. In my opinion, that should never happen," says Mantel-Teeuwissen. Bloem adds: "I agree with that, and I think it's good to emphasise that these standards are, and remain, a high priority for the EMA. The EMA – as representation of all the 'CBGs' of Europe – is very actively seeking out international collaboration with all regulating organisations to proactively create a clear framework for Covid-related medicine research, whilst keeping those high standards. That way, there's the same quality, while the time to market it is reduced. Perhaps we can learn something from this for non-Covid medications."
From tutor to supervisor, from Master's student to PhD
The first meeting between the Master's student and the teacher is something the professor still remembers well. "I was Lourens' tutor for the Master's programme, and he sent me his Bachelor's portfolio with the express request of reading it thoroughly." The remark stayed with her, because it was indirect criticism of the curriculum. "He'd put a lot of time and energy into his portfolio, and so I read it. The fact that he asked me to look at his portfolio was something I found funny, and it made an impression." Later on, she started when she heard Bloem's name when it came up as a potential student member for the curriculum committee for the Pharmacy programme, which she was in as well. Bloem was chosen out of three candidates, and thus, the two worked together again. The committee talked about what pharmacy should be about, what society needs in a pharmacist, and how the academy should handle this.
Mantel-Teeuwisse's involvement in Bloem's PhD is a coincidence. "The intended co-supervisor, Marieke de Bruin, dropped out because she became professor in Copenhagen. I was asked to take her place as co-supervisor, because I wasn't a professor yet at the time. I asked Lourens whether he was all right with that because it would change our relationship. In the curriculum committee, we worked as equals, and now, I'd be his boss."
Bloem was happy she asked, because as a student, you don't feel like you're in a position to say anything about this. He thinks the collaboration leads to more depth. "Although, more often than not, I know exactly what Aukje is going to say. That's why it's a good thing that Jarno is co-supervisor, because he has a different point of view." That other co-supervisor is Jarno Hoekman of Innovation Sciences and the supervisor is Pharmacy professor Olaf Klungel.
Aukje Mantel-Teeuwisse says Lourens' PhD track demands a lot of you mentally, because he has to 'play chess on two boards'. "Lourens has to have a good command of the technical side of the research. And then there's the data he's collected from the CBG: he has to interpret it well, recognise the data's limitations, and translate it to what those data mean in practice. And he's doing that really well."
The future
Having fun in teaching is something that bonds the PhD candidate and the supervisor. The professor enjoys watching young people grow. "I try to make students think more in-depth about the material by asking questions, and it's great when you can actually see the penny drop. I can thoroughly enjoy a well-made exam, a beautiful Bachelor project, research report, a well-written report, or another type of end product of a course."
As a PhD candidate, Bloem is also involved with numerous courses for the Pharmacy and Drug Innovation programmes. When asked what type of future he sees for himself, he says he's not entirely sure yet. "One thing I do want, at least, is to retain my BIG registration, so I can always work as a pharmacist." Because that's something supervisor and PhD candidate agree on: being a pharmacist is in your DNA. He's not sure whether he wants to work at the academy yet. "At any rate, I'd love to stay involved with education, because I think teaching is brilliant. I teach through questions, helping students really reach the answer by themselves, and experience autonomy. I think this way of teaching makes contact more personal, and that students experience the room and safety to ask questions. For me, teaching is also educational because the students bring so much knowledge with them. There's always a great discussion."
Aukje about Lourens:

"For a long time, I thought Lourens and I were alike. But he's much more clinically oriented and that's intrinsic. He's got his focus on the patient and the clinic. We have discussions about that quite often, and then I've got that same focus. I think that's very positive. Advice for Lourens? Maybe come to meetings a few minutes earlier? Ha, I'm joking. I think Lourens is a little too optimistic sometimes about how much work he can do in a given timeframe. I recognise that in him. You like everything, but that leads to everything just fanning out. Sometimes, it's better to make a realistic, clear choice."

Lourens about Aukje:

Laughing: "What I can learn from Aukje as professor is endless, of course." Seriously: "What she's really good at is tying all the different aspects of Pharmacy together in a very clear, sharp way. It's very academic to focus on a single expertise, but that acknowledgment of perspectives, and seeing them and applying them, is very strong. And Aukje is involved with everything, which helps her bring those perspectives to practice. She's involved in the study programmes, she's on advisory boards and committees. She doesn't just stay in her ivory tower. Advice? Perhaps taking more time for herself? Wouldn't it be nice to grab your bicycle when the sun comes up, and not immediately dive into your work?"