Read in Dutch
Increasingly more international students are finding their way to the Netherlands. In higher vocational education they are mainly found in art institutions, and at universities in border regions and universities that are highly regarded in international rankings. Such a mix of nationalities has all kinds of advantages, but are international students not displacing Dutch students?
The Inspectorate of Education investigated this so that the escalating discussions can be substantiated with facts. "The proportion of students with a non-western migration background, women and students of parents with low incomes decreases within fixus programmes as the proportion of international students increases," writes Monique Vogelzang, Inspector General of the Inspectorate of Education. The accessibility of higher education is possibly at stake there, according to the report.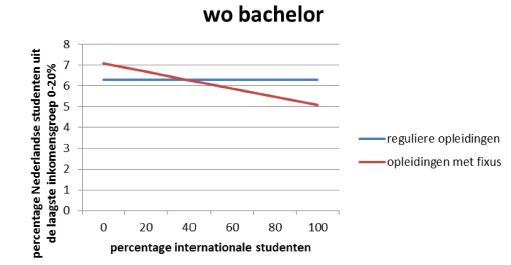 Figure 2 The effect of the proportion of international students on the proportion of Dutch students from the lowest income group for fixus and regular study programmes Source: DUO: 1cijferHO, CBS: microdata, adaptations to the Inspectorate of Education
But according to the Inspectorate of Education, it is not clear whether the oppression can only be attributed to the influx of international students. Vogelzang: "May these groups of Dutch students already let themselves be discouraged in advance - is there such a thing as self-selection?" There is no answer to this based on this study, so there will be a follow-up study.
In general, internationalisation has no consequences for the accessibility of higher education for Dutch students, concludes the inspectorate. "For the time being, there seem to be enough alternatives, but to what extent an increasing number of students will have to settle for a second choice - another institution or another programme - is unknown."
And what happens if the international flow continues to grow? Educational institutions should think about this and adjust their policies accordingly, according to the report. They also need to work on integration, as universities of applied sciences and universities "have not fully realised that by bringing in international students and converting the curriculum into English".