Explosive growth of digital UU after lockdown in March 2020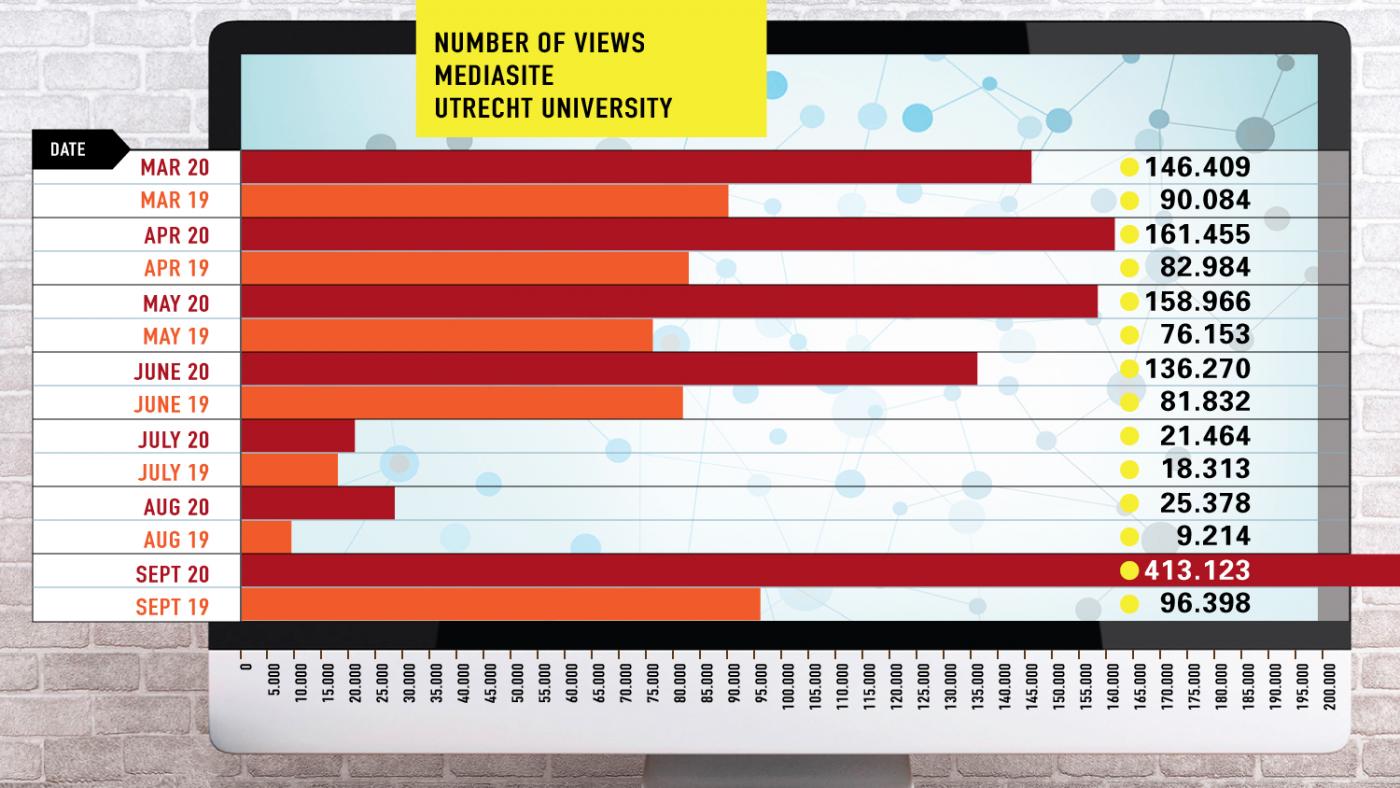 Strong increase in views on Mediasite where knowledge clips and lectures are viewed. (graphs DUB)
For a safe connection to the UU network from home, the university advises the use of a VPN connection: a virtual private network. That's necessary if you want to access files stored on the UU server. Before the lockdown, around 1,000 people a week used this VPN connection; after mid-March, this number rose to over 3,000 people a week. All in all, almost 7,000 people used the VPN at some point in the past year (the majority of these are employees). In the spring, one employee from the IT department said: "Before the crisis, the maximum number of VPN connection that could be used per day was around 1,000. In the past month, we submitted a request so we could instantly up this to 10,000 possible VPN connections. That scaling up went smoothly." He could not suppress a smile. There were some upsides to the lockdown.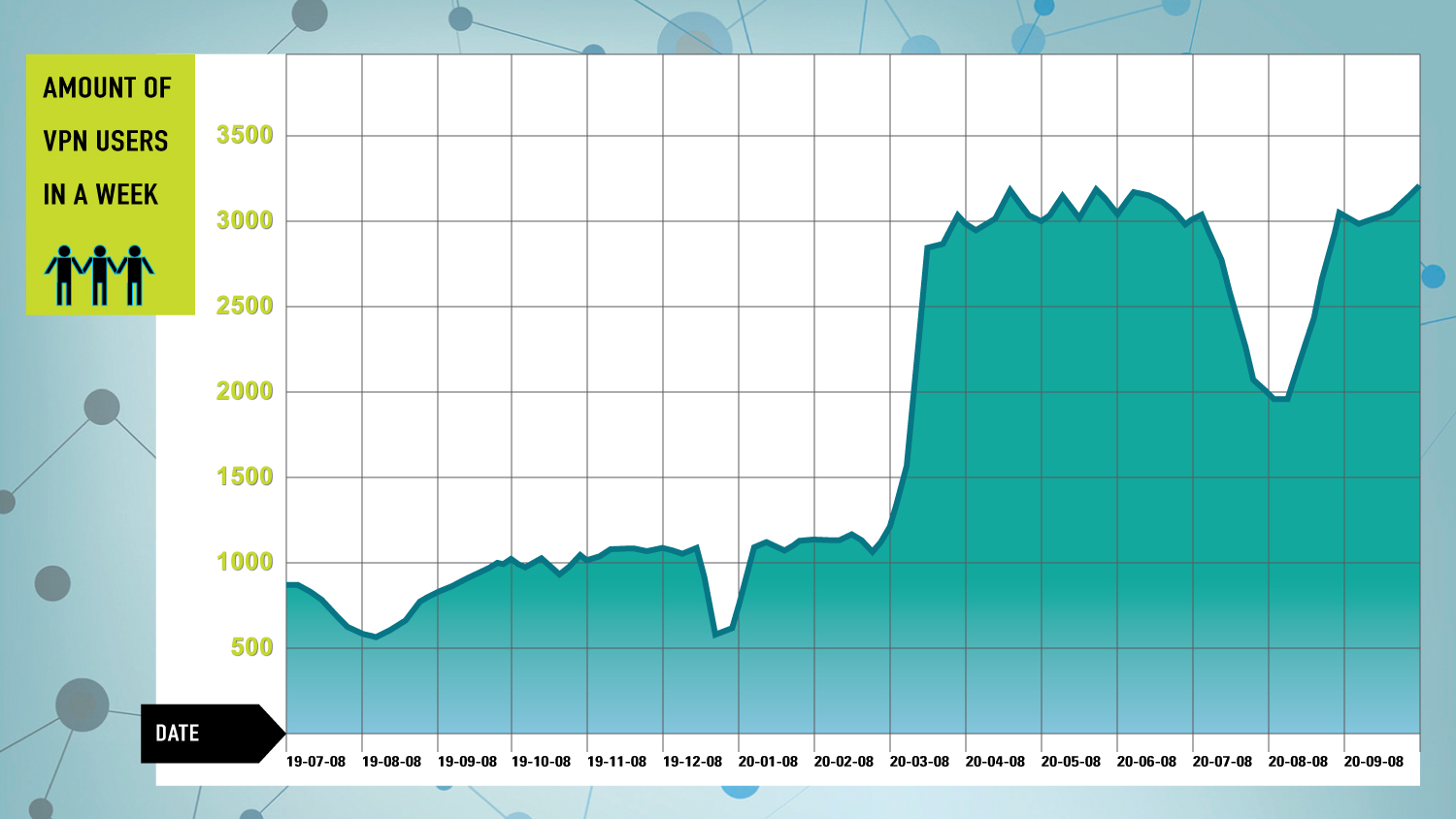 Before the lockdown, how many people were familiar with Teams? Be honest. The video calling software, which also allows large-scale meetings, already existed, but at the UU, barely anyone used it. That changed abruptly after March 17. Both the number of conversations and the number of classes and meetings saw an explosive growth, at times up to 20,000 users a day. And these are only the meetings for which a Teams invite was sent via Outlook. These can be for classes, but also for meetings. Teams is also used for chats, or one-on-one conversations. The number of activities via Teams increased even more after the summer. The most recent record day was September 10, with a total of 44,447 activities on Teams (see 2nd table).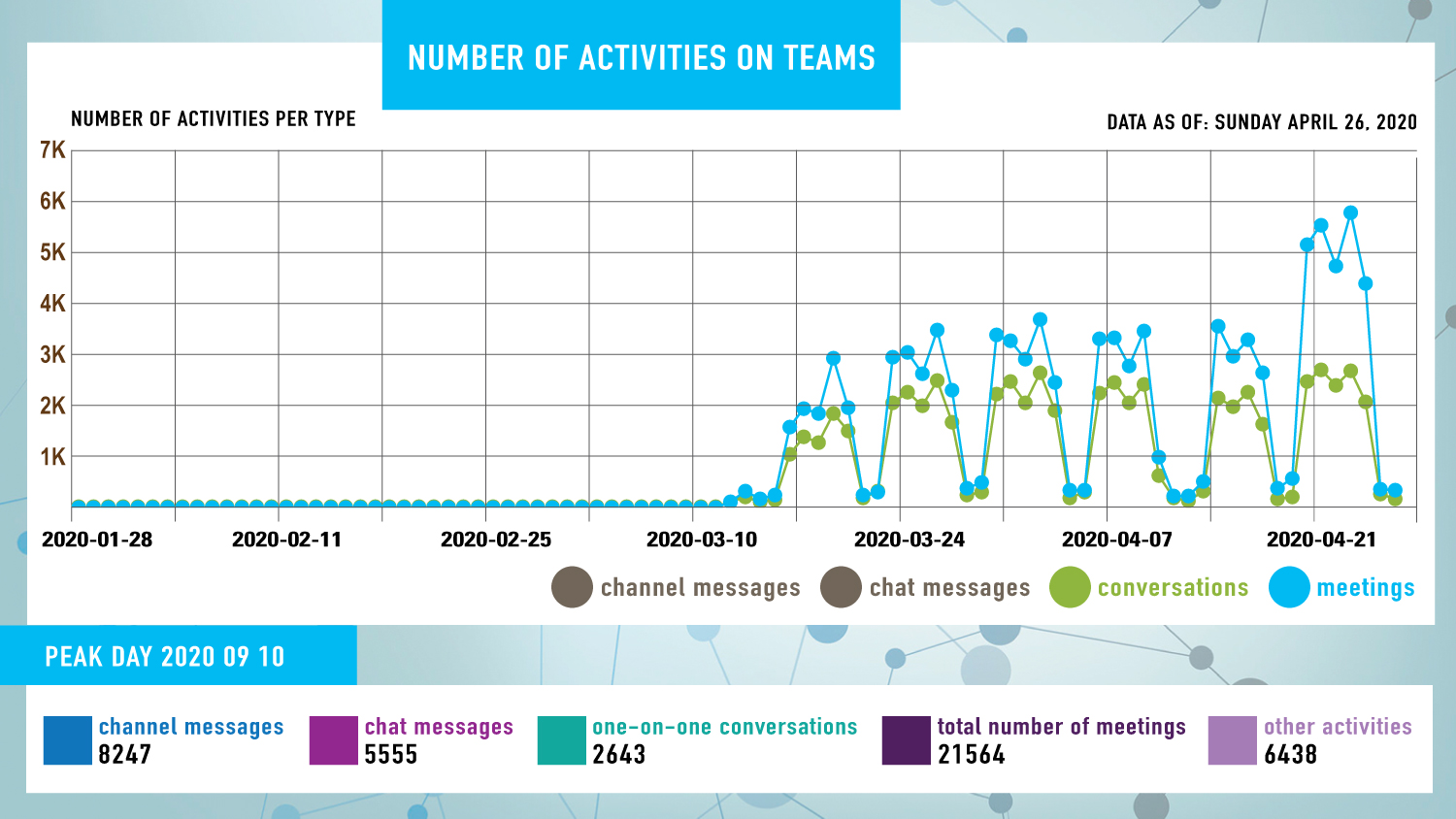 Just like with blended learning, online education also uses knowledge clips. This is facilitated by the UU's media site. These clips are recorded, stored, and played via the Mediasite, UU's video platform. Both video and audio presentations can be recorded and played using this application. There are 22 lecture halls where you can record a lecture that you teach. There are also Do It Yourself studios for if you want to record knowledge clips and you can also do so sitting at your own computer. The use of the media site increased enormously when education moved online. Remarkably, a lot more knowledge clips were recorded as well, despite the fact that the Do It Yourself studios were closed for quite a while because the university's buildings were all closed. In this past academic year, 2,104 new knowledge clips were created: double the number of last year. A total of 3,238 clips were reused: a 150 percent increase.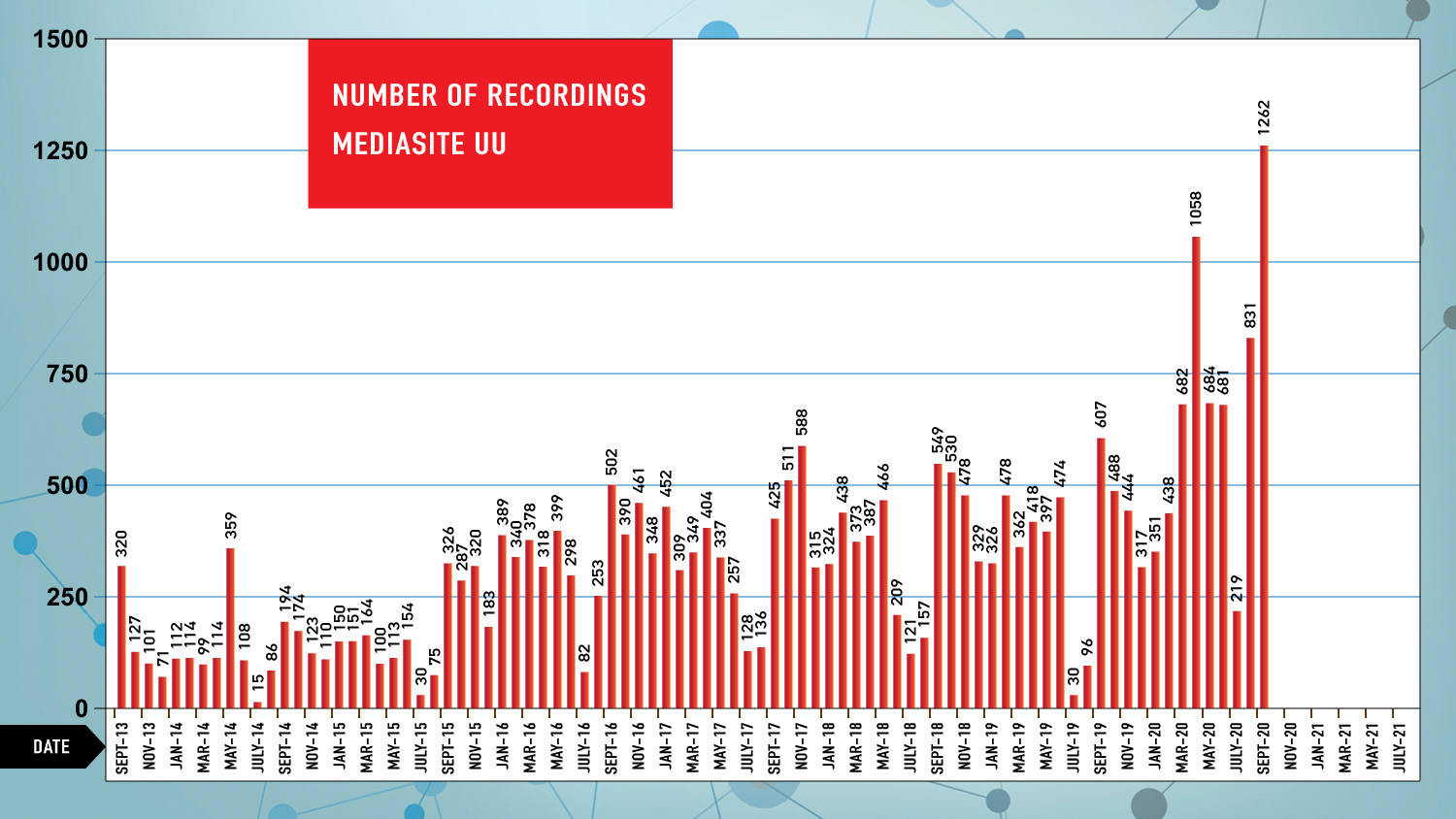 Online education requires more creativity from teachers regarding the content of their lectures. They can't simply move the on-campus classes to an online environment. To make their classes more interactive, teachers used more and more tools, like voting tool Mentimeter, or feedback tool Pitch2Peer. Educate-it has been encouraging teachers for years to make their classes blended by using these tools. In the graphic you see the rise in the use of these tools when you compare September 2019 - February  2020 with the period after March. Also Educate-it has noticed that since the lockdown, they've received four times more questions than usual.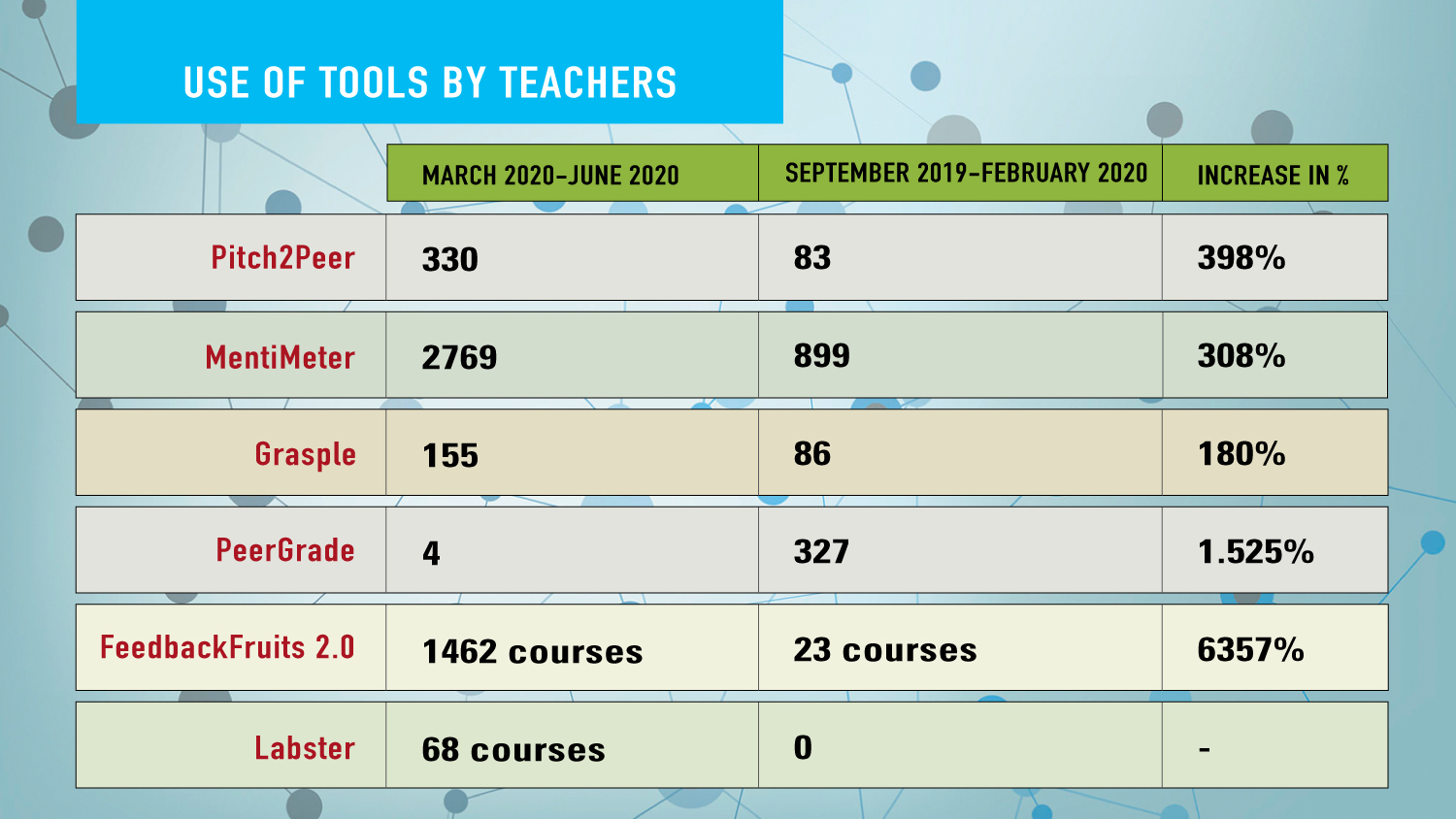 The Educate-it website has also seen an increase in the number of visitors. The homepage and tool guide were visited around eight thousand times; doubled from last year. Educate-it has tried to facilitate the use of tools since March by organising additional webinars about these topics. During the webinars, teachers could prepare for their courses online with the use of the available tools, ask questions about the use of specific tools, or listen to how fellow teachers handle their virtual classes.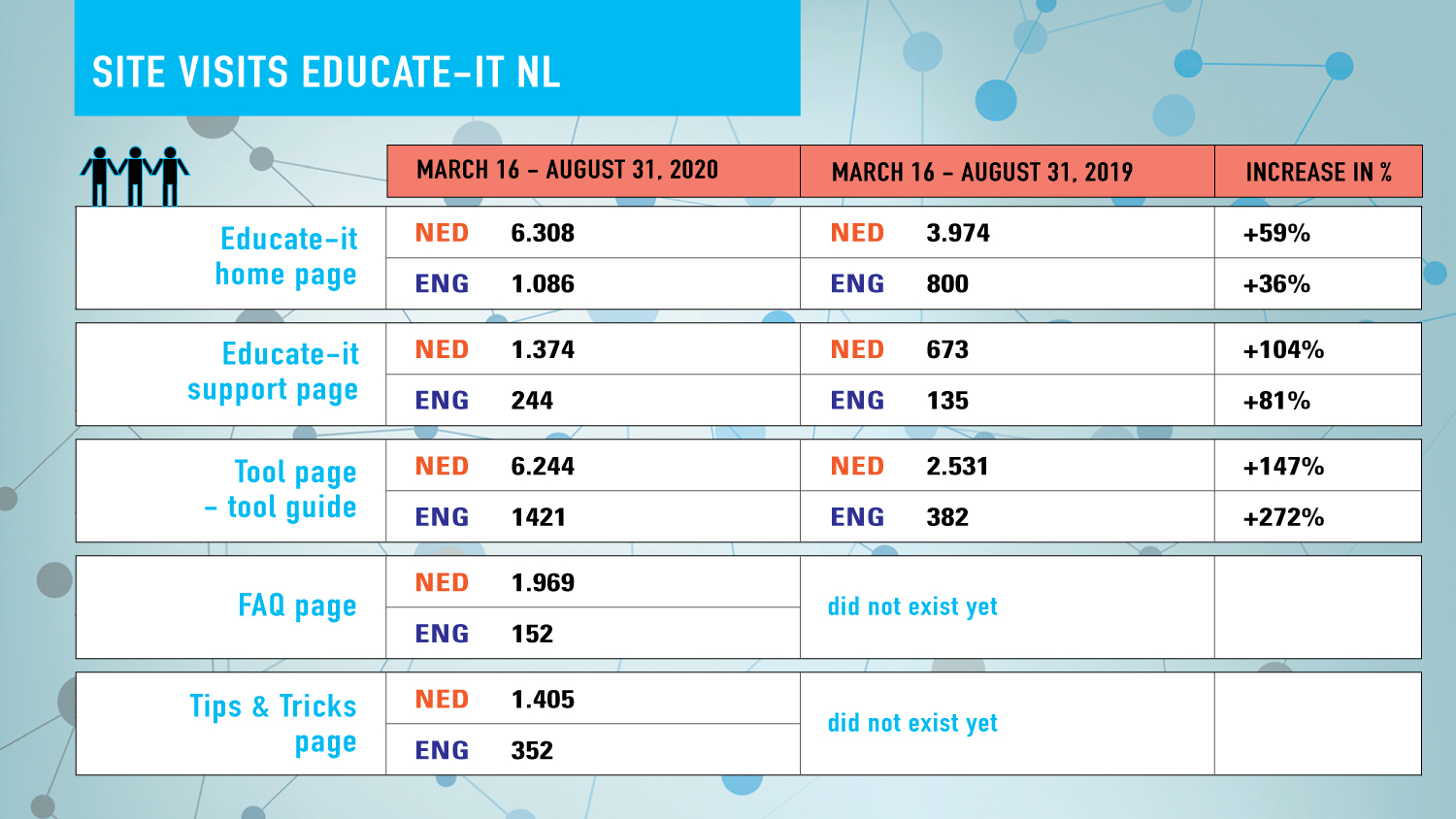 Not only the lectures and classes, but exams too had to be moved online. The UU has had online exam rooms for several years, but the use of them was limited due to numerous restrictions. That meant more exams had to be taken at home. For knowledge tests, that also meant that surveillance needed to be taken care of. To do so, the university has used – among other things – a form of proctoring. This surveillance method was quite controversial because of the invasion of students' privacy that it entails. Below, you will find an indication of the registered number of virtual exams taken between March 16 and August 31, and the number of students that participated in those exams. If a student took multiple exams online, they will show up in the data multiple times as well.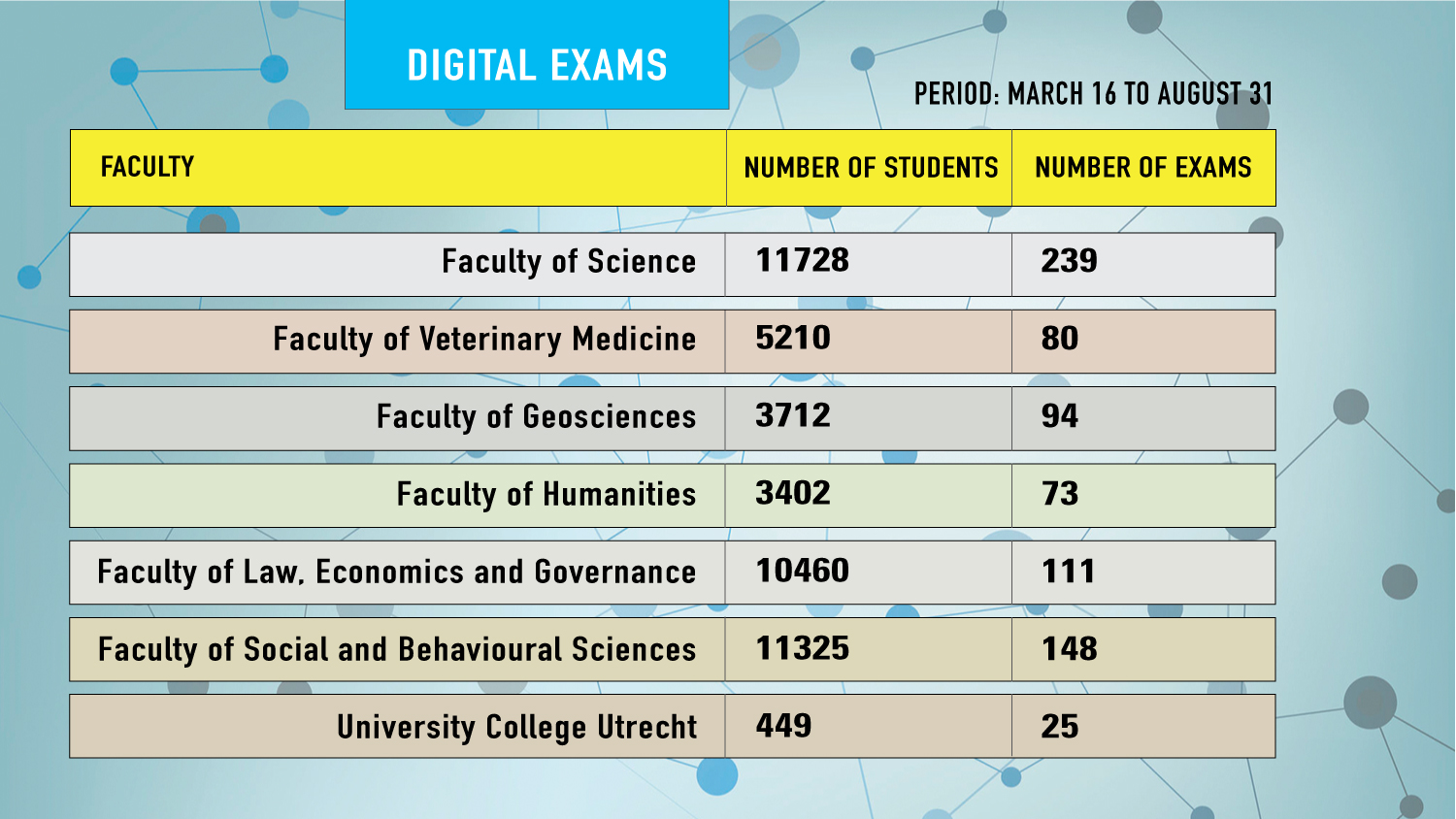 This article was created with the help of Daphne van Roosmalen (Educate-it) and Saskia van Dijk (Information and Technology Services).