20% fewer athletes at Olympos, but it's not going under for the time being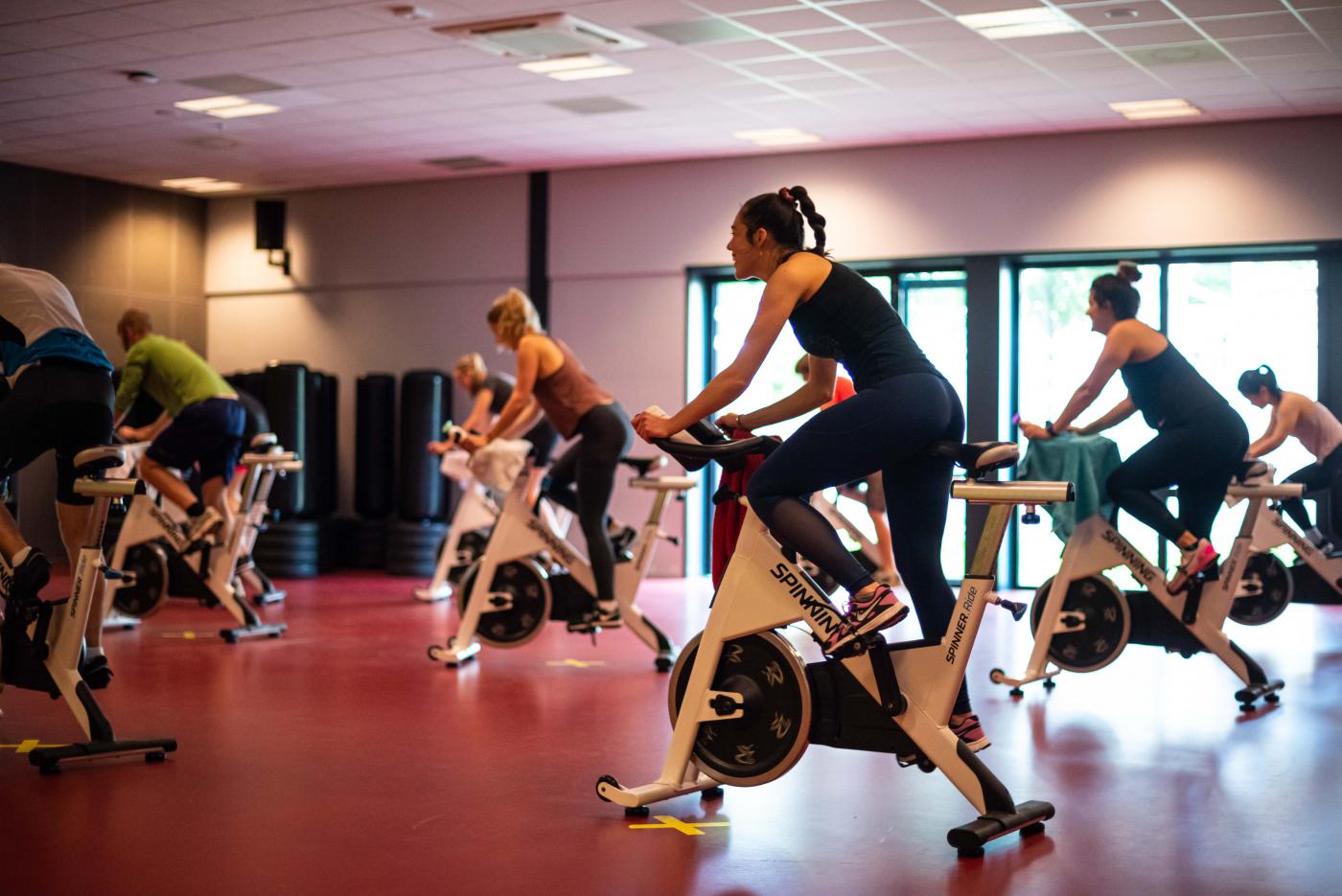 Spinning classes can continue at Olympos for the time being, provided that participants keep sufficient distance from each other. Photo: Pierre Banoori
The first lockdown was a big blow for Olympos and Parnassos: suddenly, they had to shut their doors and they weren't exactly prepared to continue digitally. With the summer came a sigh of relief, as the measures were relaxed and people could work out, take part in classes and grab a drink at the sports café again, provided that they kept distance from each other. Now that the measures are being once again tightened to contain a second wave of the virus, the two institutions are having to take stock of their financial situation.
Not all fun and games
The number of subscriptions fell by more than 20% at Olympos, led by people who are not affiliated to any sports club. Director Cees Verhoef says that, normally, some 3,500 athletes without ties to sports clubs train at Olympos, but this year many of them have not renewed their subscriptions. Meanwhile, the sports centre's fixed costs, such as rent and maintenance, go on as usual.
Olympos is an independent company that pays rent to UU and receives a subsidy from the University and the University of Applied Sciences (Hoogschool) so that students and staff can train at a discount. Verhoef is worried, but fortunately has been able to make a financial arrangement with Utrecht University and the University of Applied Sciences. UU has granted Olympos a €500.000 loan to compensate for the losses caused by the pandemic. "We are not going under yet, but it is not all fun and games. We will evaluate the situation in the spring," says the director.
Olympos' sports café also had to close its doors again at the end of September – another source of income that disappears. Although the sports centre has not yet had to lay off any staff, the payroll has been considerably reduced. Verhoef: "Normally we have an employee turnover: the people who leave are immediately replaced. We haven't done that this year, we haven't hired any new people, so things are slowly running a little empty. There were dozens of people working at the café alone. It will soon be a challenge to find enough staff if we are allowed to work at full capacity again."
Physical classes for as long as possible
Parnassos Cultural Centre employs only a handful of permanent staff members, who are employed by Utrecht University. All teachers are self-employed. They are allowed to offer their classes digitally, provided that the digital courses offer an equivalent alternative to the physical ones. It's up to the teachers to assess how to achieve that.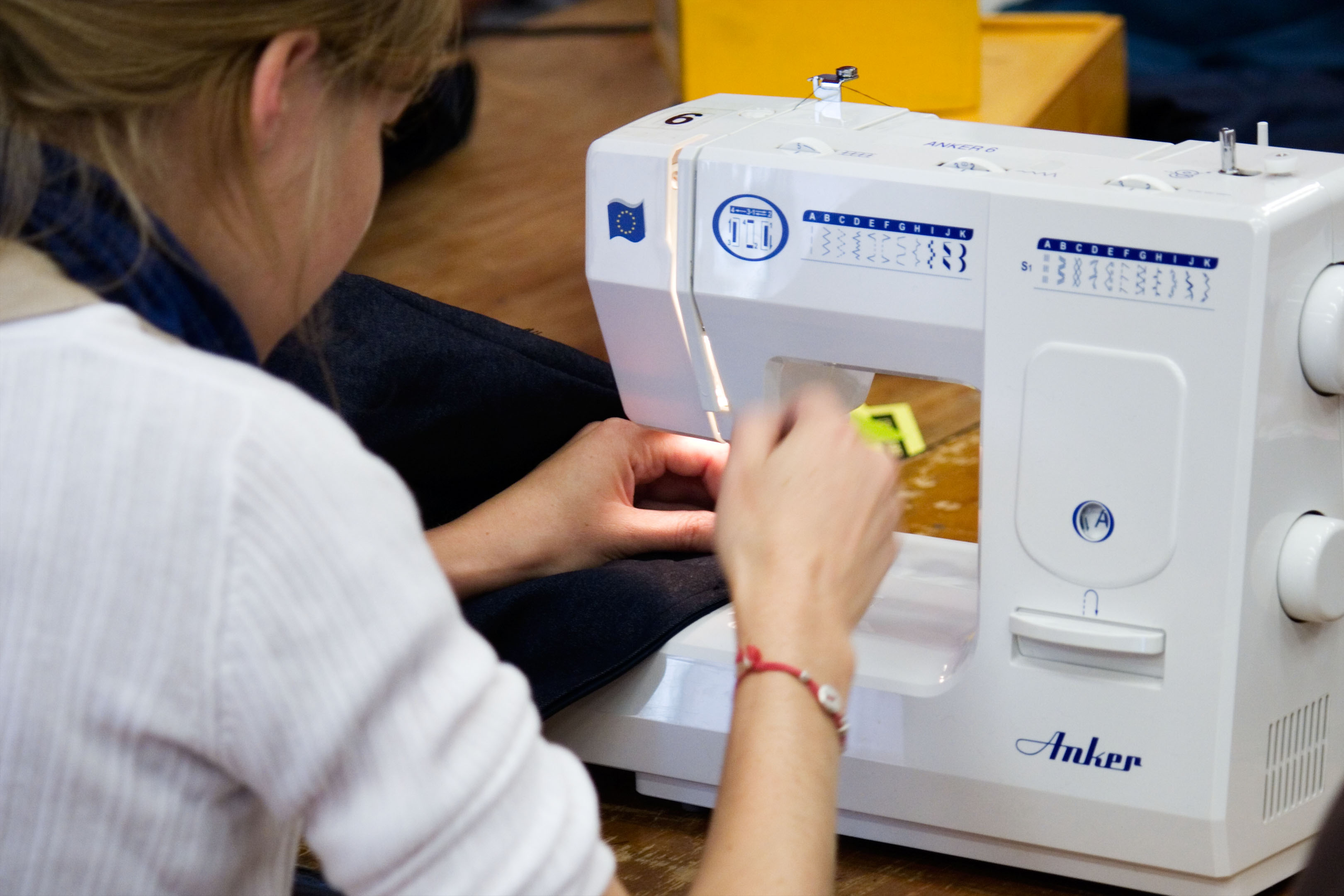 'Upcycle', a course on sustainable sewing, is one of the options offered by Parnassos. Photo: Leonard Schmal
"In most cases, a digital alternative is possible," says director Marieke van Merriënboer. "We have divided the courses into three groups: a small group that can only be taught physically, a few courses that are digital anyway, and a large group of courses that will continue to be taught physically for as long as possible, but they will be switched to digital if necessary."
Certain singing and theatre courses, for example, are difficult to teach digitally, but the Photoshop course was already held online anyway. Other courses such as writing, dancing, music, and photography, belong to the group that will be held at Parnassos' premises for as long as possible. Van Merriënboer: "Students were informed beforehand that their courses could go online if need be, so they agree with that."
Parnassos' bar hasn't been open since the first lockdown, even though it could have reopened in the summer. Van Merriënboer: "The space is also used for courses like photography and writing, in which people sit at a table. And the Theatre Hall, with its folded grandstand, has been used as a dance hall." They have changed the layout of the auditorium to make maximum use of the building, now that its capacity is a lot lower because everyone has to keep a distance of a metre and a half from each other.
Singing is permitted by the RIVM (National Institute for Public Health and Environment), provided it's done at a sufficient distance from the audience and in a zigzag setup. "We are extra careful with that. In a room where twelve people are allowed to sing, according to the guidelines, we're only allowing eight."
Relatively small loss
During the first wave of the virus, Parnassos was not yet prepared to offer fully-fledged digital alternatives, so a lot of course fees were refunded. Despite the availability of digital alternatives this time around, course registrations in the current period (September to January) are down 40% compared to last year.
This is partly because there are fewer courses in the first place: last year a total of 164 courses were offered between September and January, while this year there are only 134. In addition, Parnassos is admitting fewer people per course to follow the social distancing regulations. Van Merriënboer prefers to look at the bright side of things: "the number of people enrolling on our courses is still quite high, given the situation", she says.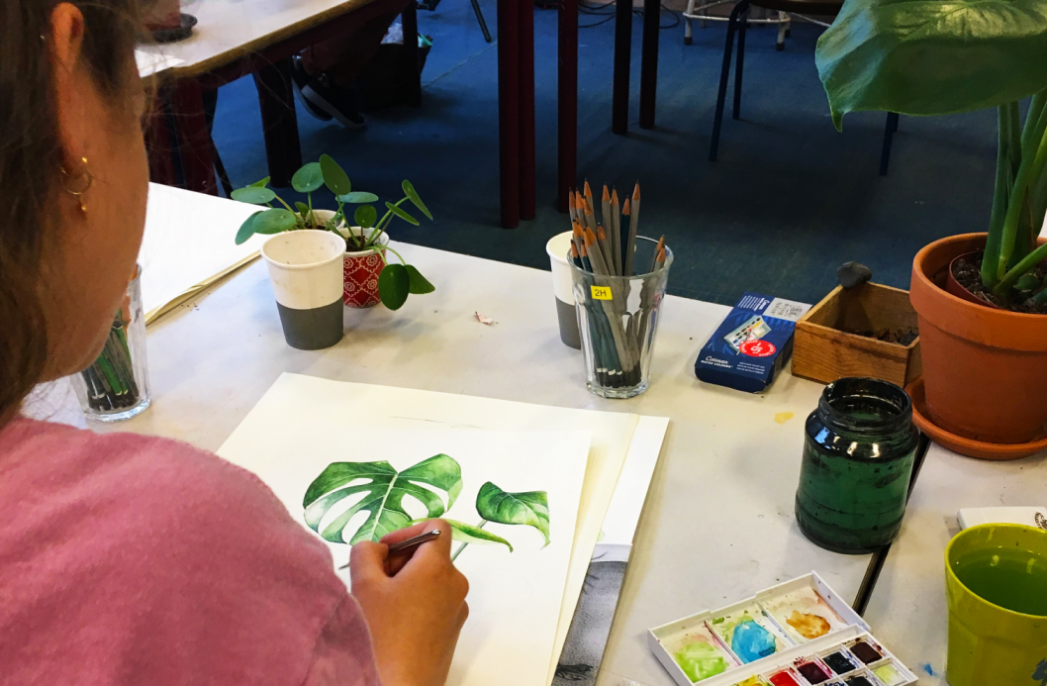 At Parnassos you can also follow the course 'Botanical illustration'. Photo: Parnassos Cultural Centre
Parnassos is still renting spaces within its premises, but will stop doing so if there's another full lockdown. "Besides, we organise a lot less activities, which means that we spend less money," Van Merriënboer explains. Right now, it doesn't look like Parnassos is going to finish the fiscal year in the black. "It is uncertain [whether the cultural centre will finish the year at a loss] because we don't know what will happen in the coming months, but all in all it seems to be going well under the circumstances. If we can carry on like this until January, we will finish the year with a relatively small loss."
Van Merriënboer is pleased that there are still a few possibilities to come together physically. "People are so happy that they can be here again, they really missed it. Culture is important, and we feel privileged to remain open. The group dynamics is lost when courses are followed online. Something special happens in a group when you make something together. That's exactly what we want: to have people get inspired together. People want to see each other physically, they don't come here just the courses, but also for the atmosphere and to meet new people."
Sport capacity
At Olympos, restitutions were not possible during the first Corona wave, but the sports centre did offer online training videos on an almost daily basis. Once it was allowed to open again, Olympos held fitness and group classes outside. "But the weather does not allow that anymore," laments Verhoef.
The sports centre currently operates at limited capacity and with limited opening hours. "We do what we are allowed to do, without pushing the boundaries. The gym is still open, but people need to make a reservation to be allowed in and keep their distance from others while working out. Group classes are also going on, with a maximum of 30 people in the room, and once again participants have to keep distance from each other. In practice, this means that there are often 20 people per room," Verhoef explains. Outdoor running courses are no longer held because they must be offered in groups of four, which is difficult for the supervisors. Bootcamp training, which also happens in groups of four people keeping distance from each other, will continue as long as it is still popular. Student sports associations work in the same way.
There are no more competitions at all and contact sports are out of the question. Verhoef: "You can kick a ball, but you can't get any closer than one and a half metres. Tennis is doable, but doubles are not allowed. If you were to go for a ball at the same time, you could get too close. The tennis association is a bit looser in this respect and does allow doubles, but we have agreed to be more careful."
Certain sports classes are now livestreamed, with subscribers receiving a link to watch their instructors live. Verhoef: "We also want to stream new sports classes on our YouTube channel. We've already built up a nice little library, so people can go through our archive for more classes. Additionally, we will soon start livestreaming short 'active breaks' for all the people working and studying from home."