Alarm Day at the Dom square: 'Don't let the universities flood'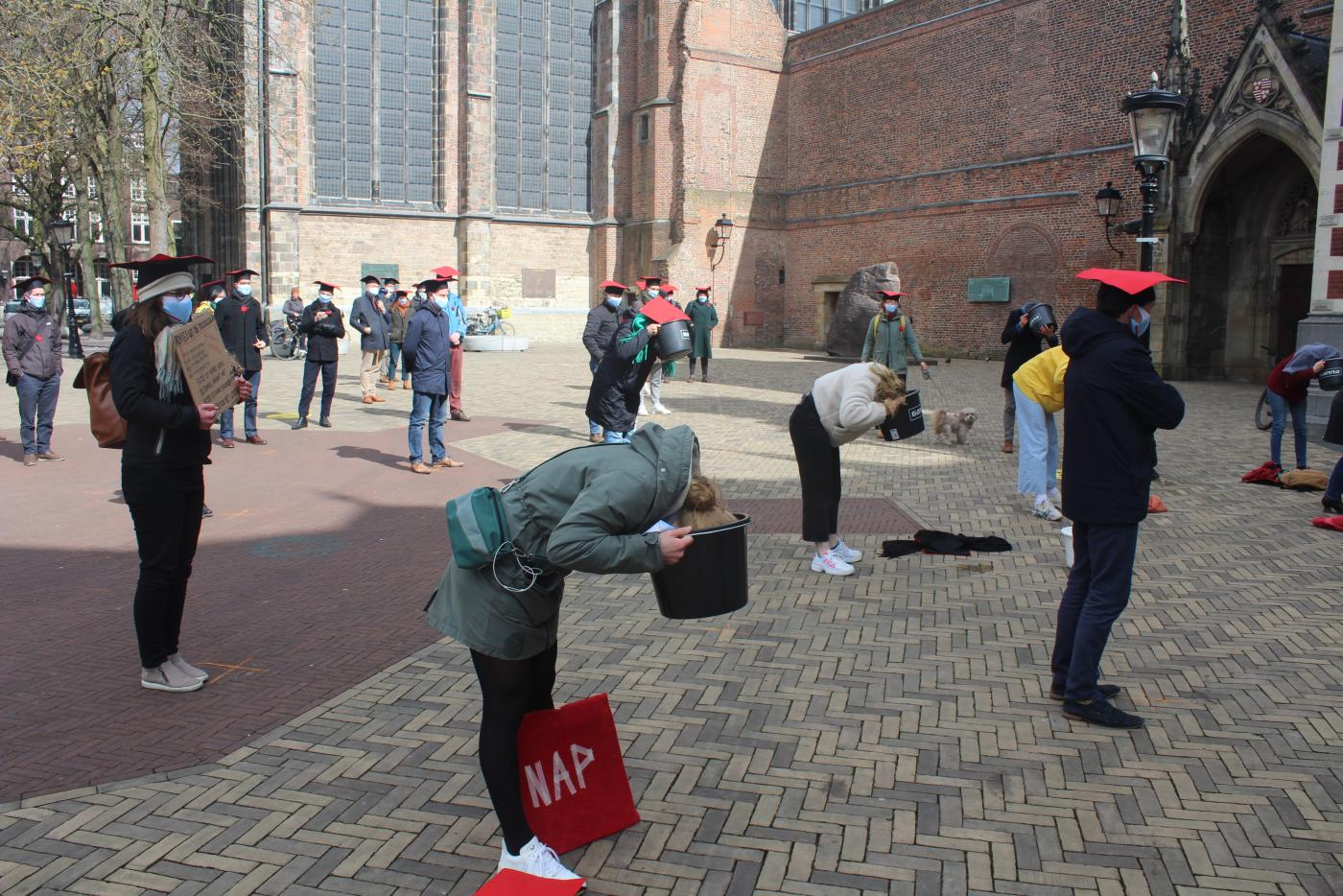 "Invest in education and research! On to a normal academic level", said a pamphlet attached with sticky tape to the sol in front of the University Hall. The national Alarm Day, organised by protest movement WOinActie in collaboration with unions and the boards of the fourteen Dutch universities, aims to obtain more money for universities across the country. The Utrecht initiative took place at the Dom square last Tuesday.
About sixty UU students and staff members went to the square around noon. Some were wearing face masks carrying the motto "the water is up to our necks". Berets with a red square on them were also handed out, a sign of academic resistance against the mounting work pressure and underfunding that has been going on in Dutch universities for years. Furthermore, there were buckets at the ready for those willing to answer the call to symbolically go under.
Extreme weather
But first there were three speakers who, fortunately for those present, kept it short because of the bleak weather. Protest coordinator Katell Lavéant kicked off the meeting, saying enough is enough. "We are working evenings, weekends, holidays".
Her speech was followed by a mini-lecture by UU hydrologist Niko Wanders, an expert in the field of - oh, the irony - extreme weather conditions. He tried to link his field of expertise to the protest's theme. "Don't let the universities flood, ensure that the academic level stays normal", he pleaded.
After that, it was UU Rector Henk Kummeling's turn to thank those present for their support of the Dutch universities' struggle to increase structural funding significantly, which, according to him, is extremely necessary due to the increasing number of students. Kummeling referred to the symbolic bucket action. "I am sure that an active memory of this meeting will remain".
Then, at Lavéant's signal, about fifteen protestors put their heads in a bucket of water. A few dared to pour it over their heads. One of them brought their dog along, which jumped back and forth nervously. Finally, after just half an hour, it was all over. At that precise moment, a shower of frozen water erupted above the Domplein.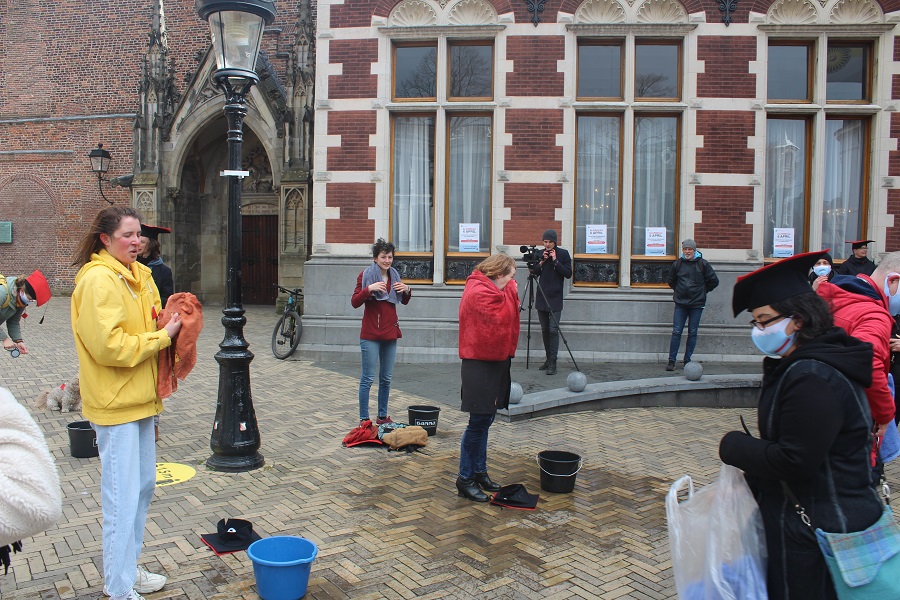 The reserves are depleted
Professor of German Literature and Culture Ewout van der Knaap turned his back to the drifting snow. To participate in the protest, he attended the online matching day for the German programme from his office that morning, instead of from home.
Normally, van der Knaap is not much of an activist. He prefers to let his pen do the talking, for example in a recent opinion piece (in Dutch) published by the newspaper NRC Handelsblad in which he and his colleagues stood against the "economic" mindset prevalent in academic education. "The cliché is true: the water is up to our necks", he said. "The reserves are depleted, people are literally collapsing due to work-related complaints".
Further on, law student and university council member Stephan Verhulst was still dripping. He is one of the organisers of the Utrecht initiative. According to him, students increasingly notice that their teachers are on their last legs.
"The quality of our education is really under a lot of pressure. Students see that their seminar groups are getting bigger and that they have to wait longer for their grades. But the most important thing is that academic education presupposes personal contact with your lecturers. There is almost no room for this anymore. That's why students have to make themselves heard as well".
It was around half past one when the square got almost empty again. Hot coffee was brought from the University Hall for the few frozen people who stayed behind. Not long after that, the door was once again locked.